Whew…I've gotten a lot done this morning! Eric finished cleaning (stairs, bedroom, mopping) and I did the prep work in the kitchen. Eric also made a last minute run to the grocery store!
Joanna suggested that I made kabobs and as soon as I saw that suggestion, I knew that was it! We had previously decided on doing a BBQ (I had just forgotten), so kabobs would be the perfect compliment!
I prepped the chicken and veggie ones: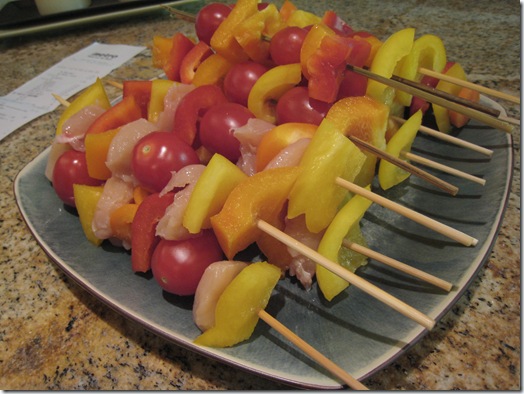 Then I prepped dessert: fruit kabobs: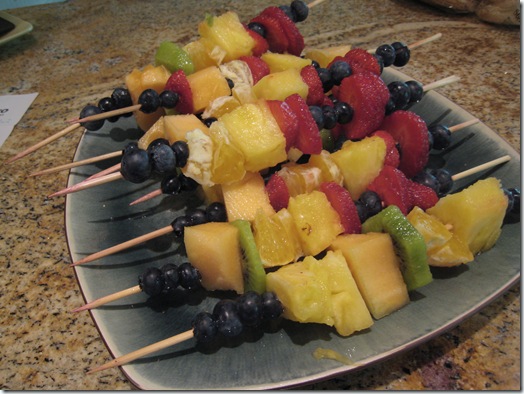 And then a strawberry yogurt to go along with it:
We are also grilling Sirloin burgers and Money's veggie burgers! I am also making my favourite spinach salad. There will be tons of food! :) My aunt is bringing her famous spinach dip too.
I sorta ruined my appetite for lunch by snacking on so much fruit and veggies this morning (and cereal as a snack!). So my lunch was fairly light:
In the wrap:
Moneys' veggie burger
1/2 avocado
wheatberries
3 T salsa
1/4 tomato
ground black pepper
This was my favourite wrap combo yet!! It was to die for!
And the yogi tea quote of the day: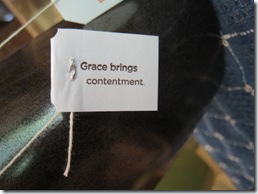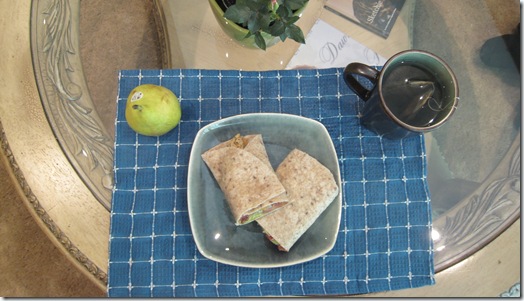 I was too full for the pear- too much fruit this AM!
Dinner is early tonight (5:30pm) so I should be nice and hungry by then.
I might squeeze in a workout now before the family arrives (4pm).
Don't forget to vote for your favourite post of the week!
See you tonight for a recap of events!