I was putting off my workout all day yesterday because it was cloudy. As you may know, I am a Sun Snob Runner (SSR). I only like to run outside when it is sunny! lol. With that being said, I am a huge sunscreen fanatic and usually spray on Neutrogena 60 SPF before heading out! :) I waited and waited and finally around 3 the sun broke. I left the house to find a glorious sun, warm temperatures, and a great day to run!
My runs have been feeling stronger lately (knocks on wood) and I really like that feeling. I started off my run at a fast pace (9 min/mile). Typically my runs have been around a 10-10:30 min/mile pace while I have been easing back into it. Yesterday I just wanted to run a bit faster though and it felt good.
Although, I think I burned myself out a bit by running faster early on because by mile two I was dragging a bit and thinking about stopping. I just slowed my pace and thought about our discussion about powering through workouts from the other day. I said to myself "I am strong, my heart is strong, my legs are strong" and this got me through the draggy feeling!
The cardio workout:
Out door run
Duration: 35 mins
Distance: 3.75 miles
Max heart rate: 169 bpm
Avg heart rate: 157 bpm
Avg Pace: 9:26 min/mile
I came home and did Circuits 2 and 3 (Level 3) of the 30-Day Shred!
The strength workout:
Duration: 14 mins.
Max heart rate: 159 bpm
Avg heart rate: 137 bpm
Man, I am loving Level 3 of the Shred!!! It is so challenging! I really do feel like my body is getting ripped when I do it. I also like that I am splitting up the strength circuits and doing them as I please. I find I am much more likely to do strength training when I know I don't have to 'do a full 30 minutes'. Last night before bed, I also did some more core work when we were watching TV.

Yesterday morning, I set out to make my own doughnut recipe from scratch!! Some of the ingredients I used were (cake flour- would it make the doughnut more fluffy?), coconut oil, applesauce, agave, and lemon zest.
The doughnuts turned out, but they were too chewy. I find that sometimes when I add applesauce to baked goods they come out with that chewy and rubbery texture. This batch sure had it: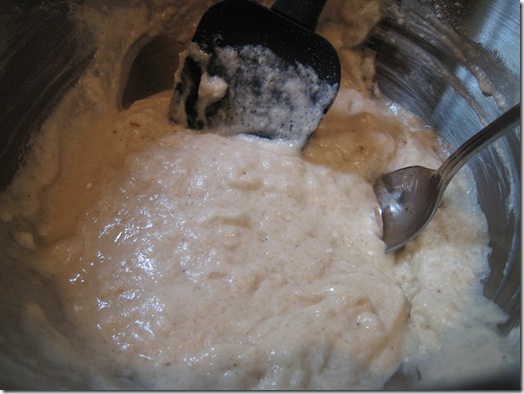 They were decent healthy doughnuts, but not Glo Bakery worthy! What I liked about them is that they were smooth. I didn't notice a big difference using cake flour, but then again, I used so many new ingredients, it would have been hard to tell what was causing what!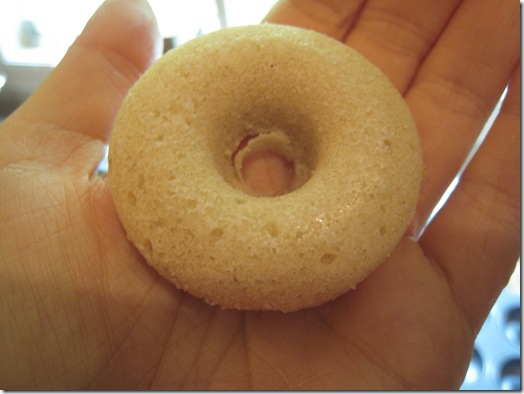 Later on, I decided to roll up my sleeves and work out a new recipe for doughnuts, learning from my previous failure. This time I was feeling a bit more ambitious. I wanted to make healthy pumpkin spice doughnuts!
I was quite pleased with my first attempt. I will share my recipe with you all and then note what I would change the next time I bake them.
Maple Glazed Pumpkin Spice Glonuts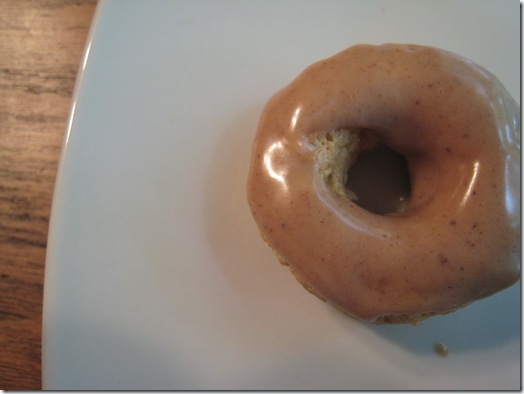 Ingredients:
1/2 T ground flax
1 T water
1/4 t apple cider vinegar
1/4 cup soy milk
1/2 t egg replacer (optional)
3/4 cup + 1/8 cup all purpose flour
1 t baking powder
1/2 t salt
1/2 t cinnamon
1/4 t nutmeg
1/4 t ginger
1/2 t blackstrap molasses
1/4 cup + 2 T raw cane sugar
1 T EVOO
1/2 t vanilla extract
1/4 cup pumpkin
1 T Soy yogurt
Maple Glaze:
1/2 cup powdered sugar
1 T pure maple syrup
1/2 t- 1 t of soymilk to thin out if needed
Directions: Preheat oven to 350F. Mix the egg replacer with the tablespoon of water and whisk together in a bowl. Next add the ground flax and whisk. In a separate small bowl mix together the vinegar and the soy milk and set aside. In a saucepan over low heat, add the pumpkin, vanilla, sugar, EVOO, soy yogurt, and molasses. Stir well several times until sugar dissolves. Now add the flax mixture and stir well. Finally add the soymilk mixture and stir well. Make sure you keep the saucepan on the lowest heat setting as you only want it to get warm. In a large bowl, mix the rest of the dry ingredients (flour, baking powder, salt, cinnamon, ginger, nutmeg). Now take the wet mixture and pour over the dry. Stir just until combined but no longer. Now spoon the dough into ungreased doughnut pans or shape the doughnuts or doughnut holes by hand. Bake for 12 mins. While baking, make the maple glaze.
Maple Glaze: Stir the powdered sugar and the maple syrup very well. You might want to sift your icing sugar beforehand to get the clumps out. If your mixture is too thick, add soymilk gradually to thin out.
After removing the doughnuts from the oven, let cool for a couple minutes before transferring to a cooling rack.
Once they are cool, dip them in the maple glaze and let sit to dry.
The taste?
I was impressed with these pumpkin glonuts for a first attempt! The dough was a bit thicker than I wanted, but they were still yummy. Because the dough was thicker, the doughnuts had more of a rough appearance and weren't as smooth looking as my last batch. The glaze on top really made the doughnut, so I would not suggest making them without it unless you are looking for more of a breakfast doughnut!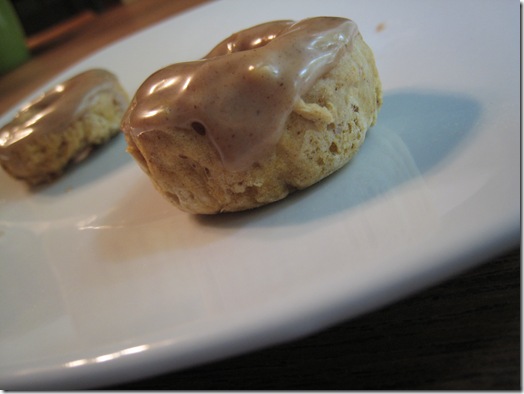 Here is what I will change next time I bake them (today perhaps?):
Increase soymilk to 1/3 cup (The batter was a bit thick)
Increase sugar to 1/2 cup (they were sweet enough with the glaze, so I'm not sure this is necessary. I just know that the dough from my first batch was much sweeter than this one)
Increase spices (you couldn't really taste them much)
Remove the soy yogurt (not sure it added much)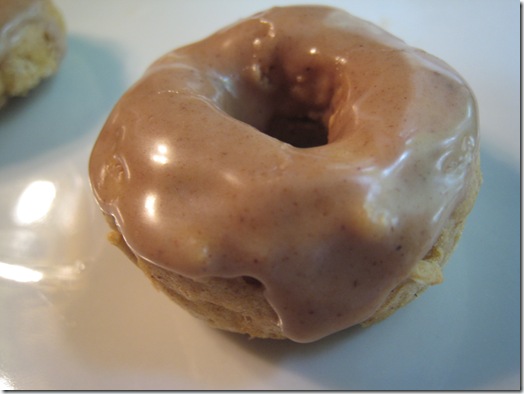 YUM!!!
My goal is to create really light and airy healthy doughnuts. Eric said the one thing he wished about the first batch I made is that they were lighter. I admit, the first batch were pretty dense and cake like. I would like to achieve a lighter doughnut that is closer in similarity to the doughnuts in stores. I am guessing a large reason why those ones are so light is because they are fried??
I was also thinking about whipping the wet mixture with my beater to make it really fluffy. I might beat it for a good 5 minutes next time before folding it into the dry ingredients.
All and all these were quite delicious! I am excited to make a few adjustments. :)
On today's agenda:
Cleaning
Run in the SUN! + shred
Finish laundry
Renos (Stain trim + paint)
Grocery shop for Sunday's dinner
Baking (Vegan doughnuts for Sunday?), Attempt #2 for glonuts?
Buy Moleskin
Glo Bakery e-work
Have a lovely Saturday! :) Have a WONDERFUL LONG WEEKEND to all of my US readers!! :)
Don't forget to enter my Align GI giveaway!
Today's question: Any ideas for a vegetarian dinner (appetizer + main+ dessert) I can make for company on Sunday? It should be kid friendly! Ideas???