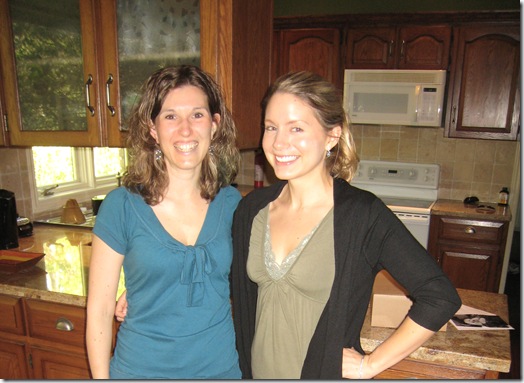 I was so excited to finally meet Krista today!! :D
She came at 9:30am to pick up her cookie order for her daughter's birthday. Krista is such a sweetheart- super friendly, talkative, and down to earth! She is so sweet- she brought me a birthday card! It is so awesome having someone close by whose blog I follow. She is under 20 minutes from me! :) We chatted until about 11 or so before she left and we are definitely going to meet up soon. She wants to take me to a health foods store in her town that apparently carries lots of Yogi tea flavours!!! It was a fun morning.
Also, check out my interview over at Team Giles!

Meanwhile, while us girls were chatting, Eric was hard at work!!!
Last night we were up until 1am. He did 2 coats of paint in one night- not bad! :) This morning he was doing some patch ups and installed the pot lights. We are both quite pleased with the colour of paint that we picked.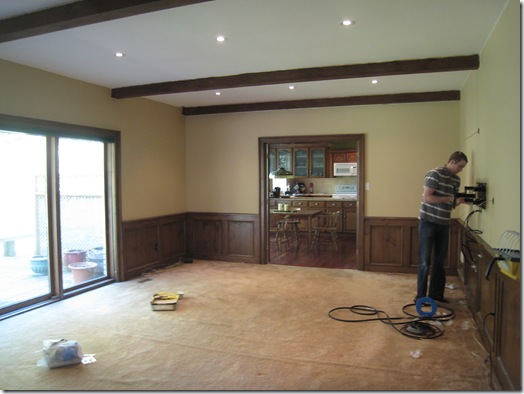 I think the paint colour we chose goes nicely with the brick!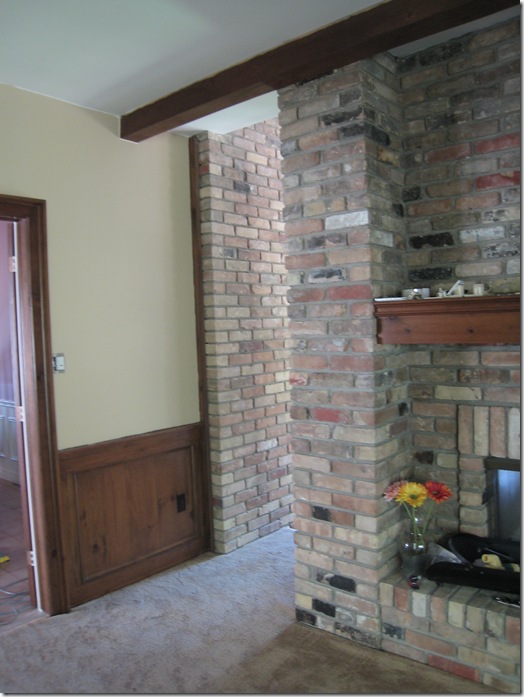 Another view: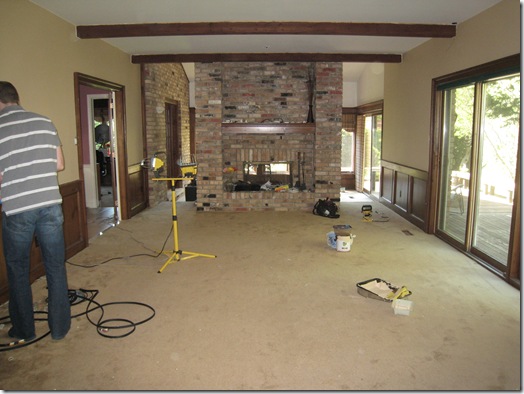 I think it is going to look quite nice once we have the wood flooring installed. :)
I have LOTS of cleaning to do before tonight!!

Today marks the beginning of a fun birthday long weekend for me!
Here is what Eric and I have planned so far:
Friday night:
Around 8:30-9pm we are having some friends come over for a PARTY! It's one of my girlfriend's birthday this weekend too so we are celebrating together. There are going to be lots of birthday shots involved. Everyone is getting one when they enter our house! :)
Saturday: (Birthday!)
Eric is taking me to Cayne's Warehouse to surprise me with a few kitchen things I need!
We're going to Whole Foods!! Can you believe I have never been before??? There are two locations in the GTA and I'm not sure which one we are going to yet.
We're going to a new VEGAN restaurant downtown Toronto called 'Fressen' Take a look at their menu, it looks RIGHT up my alley! I don't think Eric is too thrilled about going to a vegan restaurant, bahaha.
After that we are going to a comedy club called Yuk Yuk's
If we have time, we are dropping by my friend's party on the way home!
Going to be a great birthday I hope!
Sunday:
Mountain Biking?
Painting
Lowes to look for hardwood flooring
Preparing Shop 4 A Cause for Tuesday!!!
And we're not sure what else is in store because Monday is a holiday!
Ok, I better get cracking. I have work to get done, tons of cleaning, and a workout to squeeze in! Another beautiful day outside so I will likely be going for another run. :)
Stay tuned to OSG for the full recap of birthday events!
HAPPY FRIDAY!!!!!!