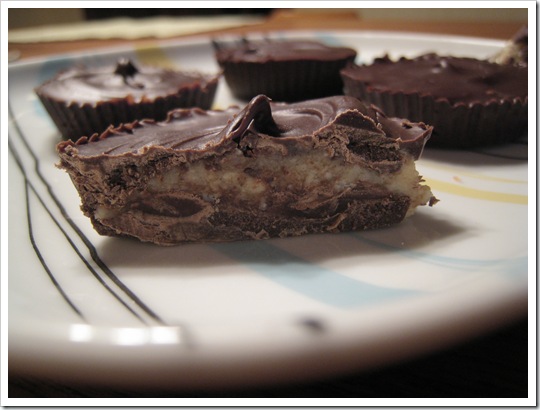 I'm really sorry to do this to you on a Monday morning, but I just couldn't help myself. Just look at these gooey wonders!
Healthier Peanut Butter Cups: Take 1
It is now my quest to create a healthier peanut butter cup. We've all drooled over the Reese Cups before, but what about trying to create a healthier version using more natural ingredients?
Well this is exactly what I attempted to try yesterday.
It was just me, my molds, some chocolate, and peanuts in the kitchen.
No recipe, no pre-meditated ideas, nadda. Just a little experiment in the kitchen.
And here is what I did.
Step 1: Fill the mold 1/3 of the way with only the best dark chocolate (melted) you can get your hands on. I used 70% cooca for maximum antioxidant power.
Step 2: In a blender, process 1/4 cup raw peanuts, 1 T agave, and 1 t powdered sugar. Place about 1-1.5 t of peanut mix onto chocolate.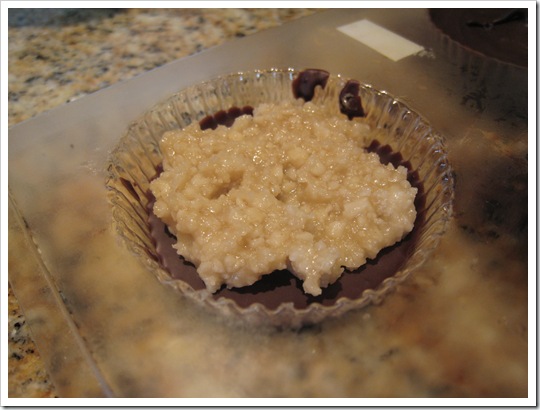 Step 3: Cover with more melted dark chocolate. Smooth spoon or finger over chocolate to spread to all sides and obtain a smooth finish.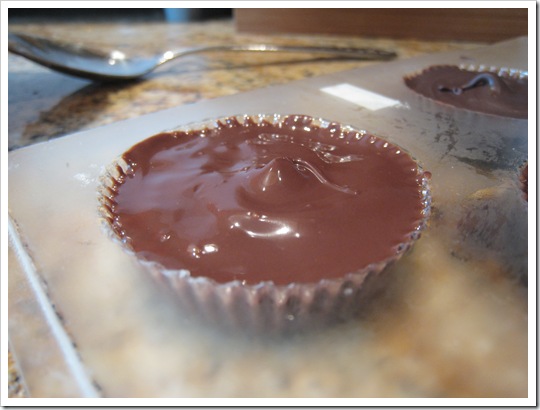 Step 4: Harden in the freezer for 5-10 mins and pop out.
Ta-da!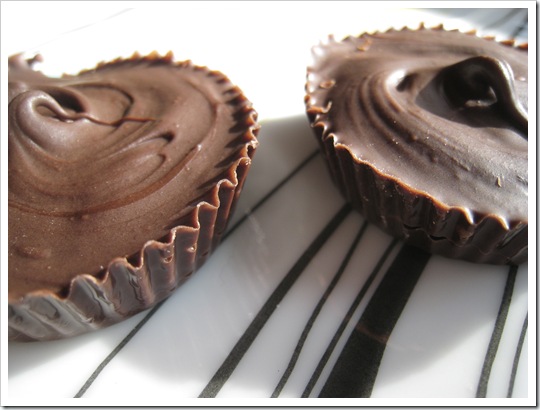 I made 2 vegan cups using carob chips and two non-vegan using the dark chocolate.
After melting for 10 seconds on high: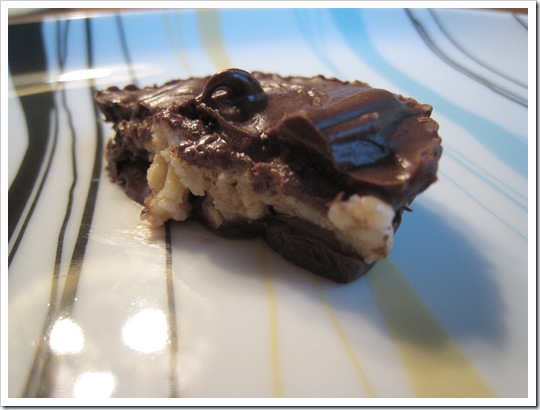 The verdict?
I enjoyed my first attempt at making a healthier peanut butter cup! I wasn't sold on this peanut + agave combination though. Don't get me wrong it was good, but I have other plans for attempt #2. I am also going to create smaller cups next time. These were a good replica size but they were a bit too big for me. Suspiciously, I could not find the ingredient list anywhere on the Reese website! If anyone can find it for me, please direct it my way. My guess is that there are additives in the cups.
Update: Here is the ingredient list off the bag: milk chocolate (sugar, cocoa butter, chocolate, nonfat milk, milk fat, corn syrup solids, soy lecithin, PGPR, emulsifier), peanuts, sugar, dextrose, salt, TBHQ (preservative)
Thanks Jen!
Stay tuned for more experiments as always!

Day 25 (April 20): Do the popular pilates core workout called The Hundred. See this description for details!
Try to do three 60-second sets! I love these. You can modify them in many ways by raising or lowering your legs, bending your knees, or resting your head on the ground.
I did some of these last night, including more planks and side planks. It is amazing the difference I am seeing in my core from just 25 days! I can't wait until June 1st. :)
Ok, back to work! See you this afternoon for my workout, knee sleeve review, and some interesting health research.
Don't forget to leave a comment in this post to enter my Maybelline Stiletto Lash Mascara giveaway! This stuff rocks my WORLD!

"The ultimate measure of a man is not where he stands in moments of comfort and convenience, but where he stands at times of challenge and controversy."
Martin Luther King Junior