Good afternoon!
I had a great workout this morning.
It was just want I needed to kick my cranky butt to the curb! I always feel better after a heart-pumping workout.
Workout details:
Duration: 57 mins.
Walk/run intervals (walk = 4mph; Run = 4.5 mph)
Max heart rate: 165 bpm
Avg heart rate: 138 bpm (again, the yoga makes it drop)
Feel the burn: 427 kcals
Today was a grab bag so I hope I remember everything I did!
Ok, I ran on every 5 min. interval for 1.5 minutes up until minute 20 (i.e., I ran 20-21.30) and then I got off the treadmill for 20 pushups (5 regular, 15 easy). I hopped back on around minute 22:30 and then I ran for 5 mins straight at 4.5 mph and incline 5-6%. This was the longest I have run consistently since before my injury! woot woot! It felt great.
The one thing I always notice though is that my heart rate is much lower when running (even at incline 6%) as compared to my high incline walking workouts. The inclines make the calorie burn so much higher for me. It is a great way to challenge yourself and turn it up a notch!
Then I did walk/run intervals until minute 50. Somewhere mixed in there, I also did 2 more sets of 15 push-ups as well as some yoga poses (down dog, camel pose, seated twists, etc).
It was really cute- when I was doing a downward dog Sketchie came in and just sat underneath me and looked up at me! I was laughing so much I almost fell on the poor guy. I think he was trying to tell me to stick with it because I was definitely tired! :)
Speaking of which…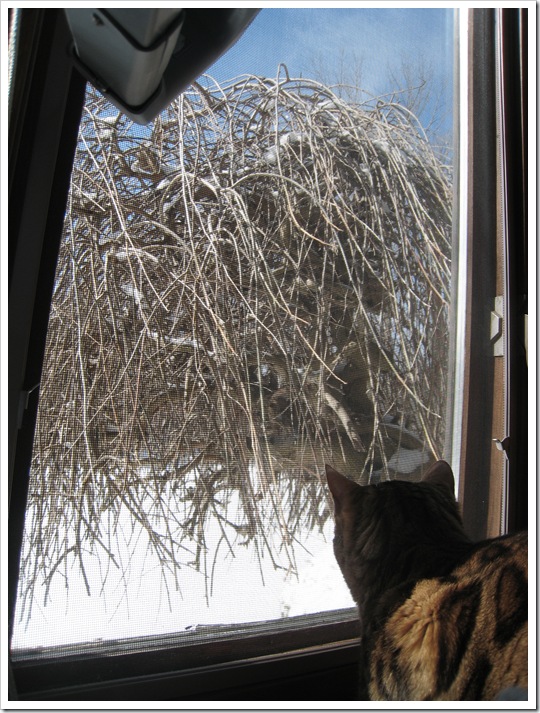 You are looking at what Sketchie does full-time. Bird and Squirrel watching. Sometimes he runs across the sun room to the family room trying to follow the squirrels! Too funny.

So if you haven't guessed already your BBBC Challenge for the day is 3 sets of push-ups! I know I know push-ups are brutal but they are going to give you beautiful toned arms come June 1st!

Mexican Sloppy Joe- healthy style
For lunch I used some of the leftover Mexican veggie Spaghetti Sauce and decided to make a Mexican Sloppy Joe!
I took 4 heaping handfuls of baby spinach and sautéed it in Kraft Balsamic Vinaigrette.
Then I took 2 T of tomato paste, a chug of Almond Breeze, and 1/2 an avocado and mixed it together. My goal was to tone down the fairly spicy and salty Mexican Spaghetti sauce by adding pure, natural ingredients.
Then I added 2 T of the spaghetti sauce: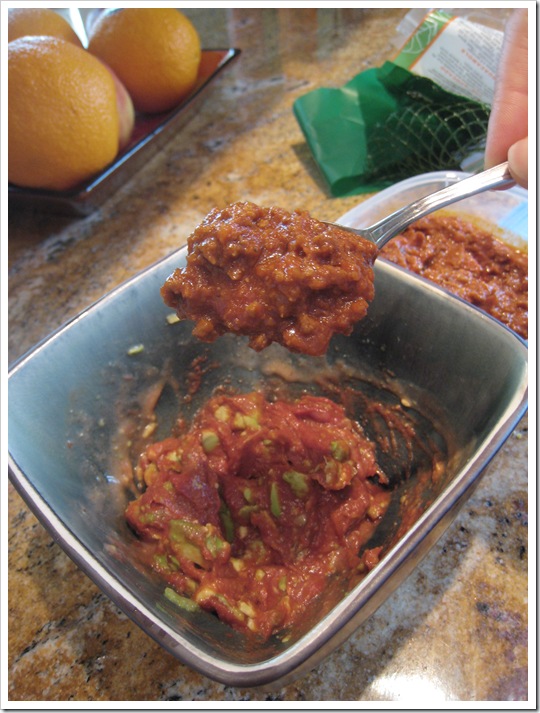 My homemade whole wheat bread served as the toasted base: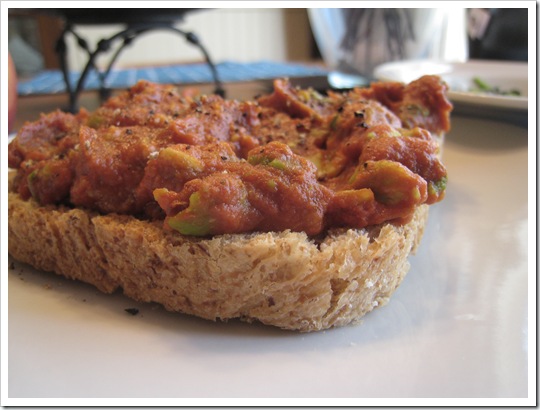 With crushed black pepper over top of course.
A Yogi Green Tea with Triple Echinacea (Still feeling a bit sick):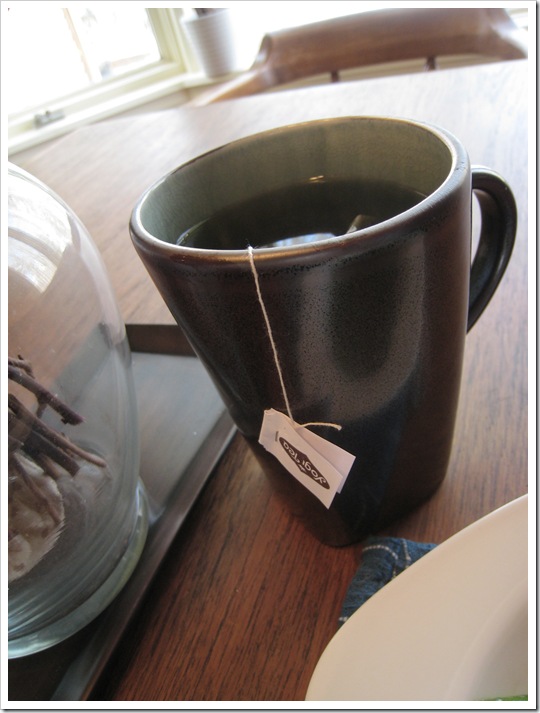 An Organic Gala Apple along for the ride: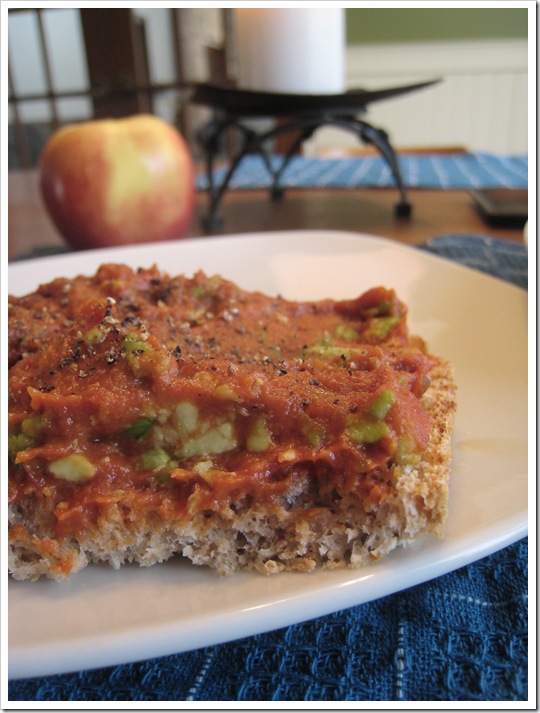 And the sautéed and now shrunken spinach: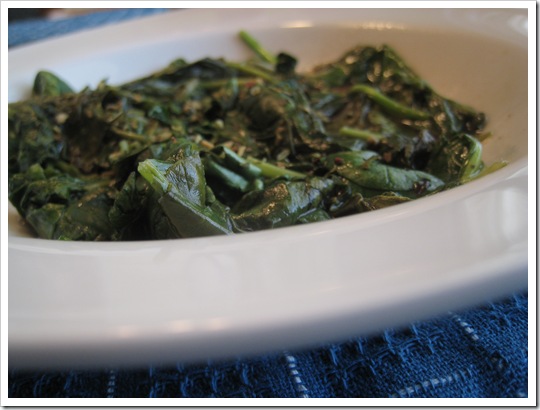 A candlelit lunch for 1: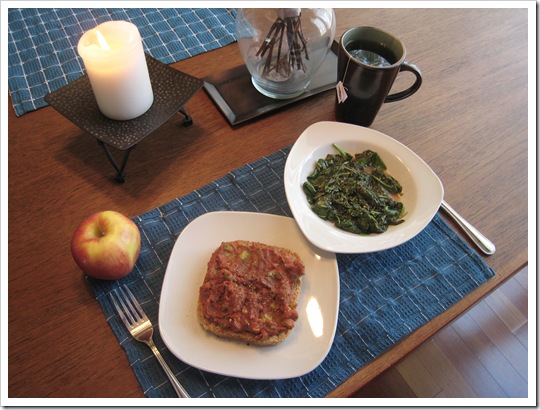 I was STILL hungry after this lunch (must have been that kick butt workout!!!) so I had 1/2 a mug of Spelt cereal + Almond Breeze: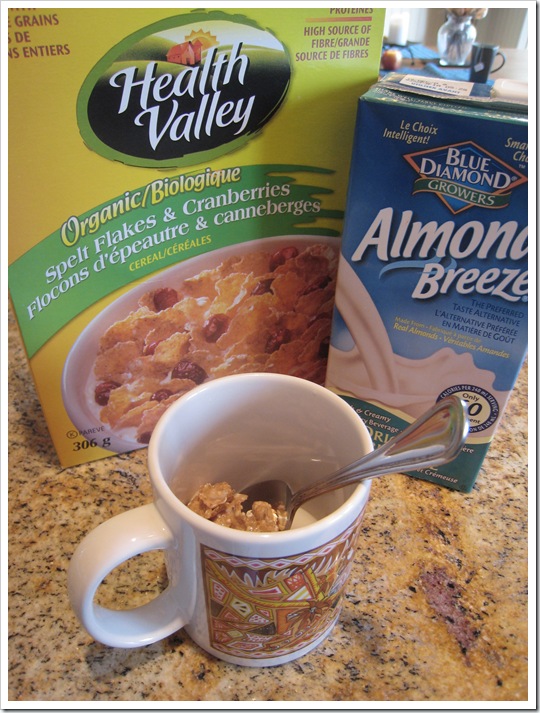 Mugs are great for portion control!
Half way through this cereal I realized that I was actually thirsty and not hungry! I found myself yearning for more Almond milk instead of the cereal. So I finished it (of course, lol) and then went and drank the rest of my tea. NOW I am satisfied! :)
I will leave you today with a quote from my Yogi tea bag: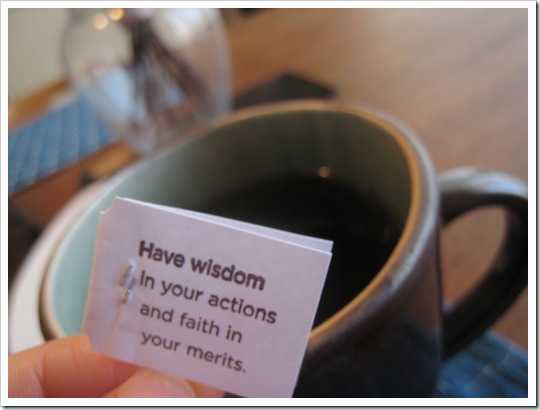 Eye Spy with my little eye…someone wrote a review on a Glo Whoopie Pie!
I'm off to dry this crazy hair and then go pick up my Food Safety Manual. Hopefully I can make it home before rush hour traffic!