Good morning!
For some reason I couldn't sleep this morning! I was wide awake thinking about ideas for Oh She Glows fundraising contest (keep those ideas coming in!) and Glo Bakery.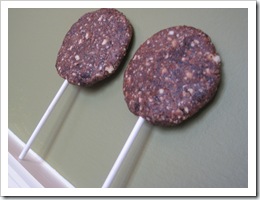 I was dreaming about what Glo bar I would make next. I have wanted to try out a raisin bar for a couple of reasons. 1) I love raisins and think they are a necessity in every diet, and 2) I think they are a great alternative to dates. Sometimes, people are not as gung ho about eating a 'date bar' as others, so I thought this would be a fun alternative for people to enjoy with very similar taste qualities.
And wouldn't you know it I had great success using raisins??
I present to you Banana Raisin Glo Pops:
I had almost as much fun making them as I did eating them! :)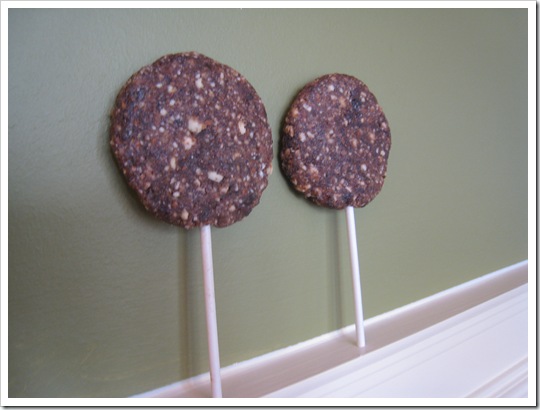 The Nutritional Stats:
Not too shabby! These will definitely be added to Glo Bakery!

Last night I was hard at work updating my 'Run' Page.
I decided that it would be a great idea to write about my injury and how I reintegrated into post-injury training.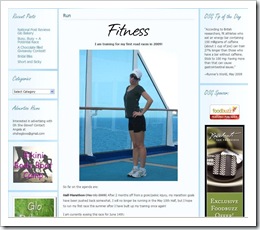 Here is a snippet of what I wrote:
"Monday Jan 19, 2009: OFF (pelvic injury)
My injury lasted for a solid 2 months where I was not able to do any form of exercise! I am currently exercising again, but I am sticking to non impact workouts and will gradually build up to running over time.
First workout post-injury:
March 3rd, 2009: 35 mins. elliptical, resistance 10, incline 12 (A tough workout but man I felt great afterward!)
March 3rd-14th– I did non-impact exercise daily for about 40-45 mins. on the elliptical and stair mill. During this time I was preparing for a photoshoot, so I dove right into the exercise each day. However, because I stuck to non-impact exercises I was not sore at all. It was a great way to ease back into it. My first week of workouts were tough. During my injury I definitely lost endurance and muscle and when I 'got back in the game' I didn't feel as fit as I did pre-injury. Such is life, though! After a week or two of exercise, my body already felt like it was bouncing back quickly (cardiovascular-wise anyways).
March 16th onward: Since my two-week pass at the gym expired, I decided to shift back to home workouts on my treadmill. I was nervous about doing impact exercise once again, so I took it really slow. I started off walking slowly at 2.5-3 mph. If I noticed any pain, I stopped. But generally I was fine. I always walk (and run) at an incline on the treadmill so I started at an incline of about 5%. Over the next couple weeks, I worked up to incline 12-15%. I told you I love my hill workouts!
April 1st onward: Around April 1st, I introduced running intervals into my hill walking workouts. At every 5 min. marker, I would run for 1 minute at speed 4.2 mph. I did this for several days and then I increased my speed to 4.3 mph and my running intervals from 60 seconds to 90 seconds. It is now April 6th and I am at speed 4.4 mph with 90 second running intervals. I am working out about 45 mins a day on the treadmill.
Another big part of my post-injury plan has been introducing core work! One part of my fitness that I neglected while training for my half marathon was my core strength. My sports medicine doctor told me that many running injuries happen because people are too weak in their core. Makes sense, right? Part of my goal for the Bikini Body Boot Camp is building back my muscle strength that I lost while in recovery."
I will continue to update this page with my daily workouts. Remember on the old OSG website I had my daily workouts on the right sidebar? Well, this will be similar only it will be all on one page for easy reference! :) I hope you will find this new feature useful!
Well, I have another order to pack and a Green Monster calling my name!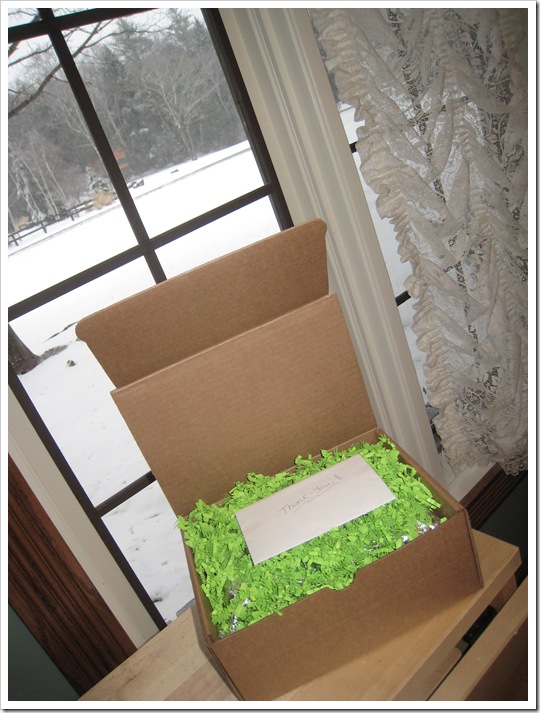 Last night I figured out how to use Quick Books (for invoicing anyways). This morning, I need to do up my invoices as well as apply for a GST and PST number. Hopefully I can cross this off the list by noon!
Today's Question: If you had NO fear of failing, and were guaranteed that you would be successful, what business venture would you get into? What company would you start up?
I think mine is quite obvious, but I still have lots of other 'goals' that I would love to do- get my certification in nutrition, write a book, write a cookbook, create wedding cakes.
What about you??