Good afternoon!
My attempt at making Chocolate Mint bars was a huge success. :)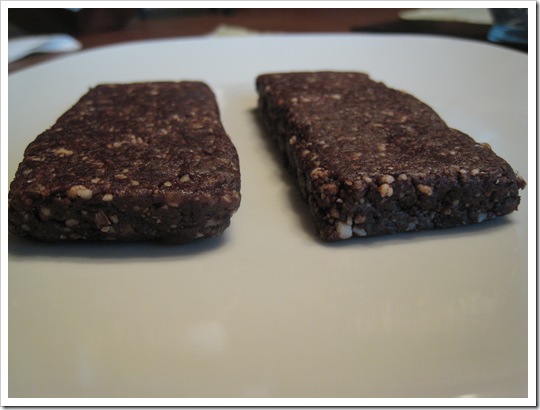 So minty and chocolaty!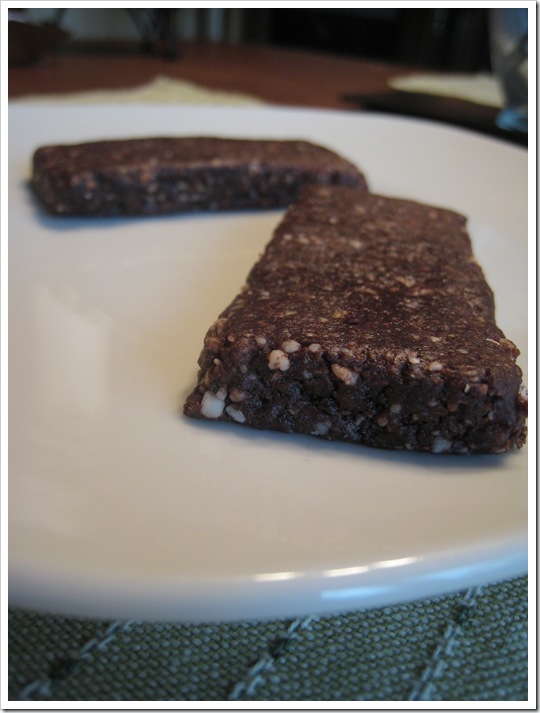 Nutritional Information (1 bar): 189 calories (kcal); 11g Total Fat; 25g Carbohydrates; 0mg Cholesterol; 4mg Sodium; 6g Fibre; 5g Protein.
Check out my bar page– I have updated it with the new bars! I am so excited to try out more versions. :)
Of course, I had to have one of my bars for my pre-workout snack.
Ingredients in these bars: Raw almonds, dates, peppermint extract, Organic cocoa powder, semi-sweet chocolate chips, Vanilla extract.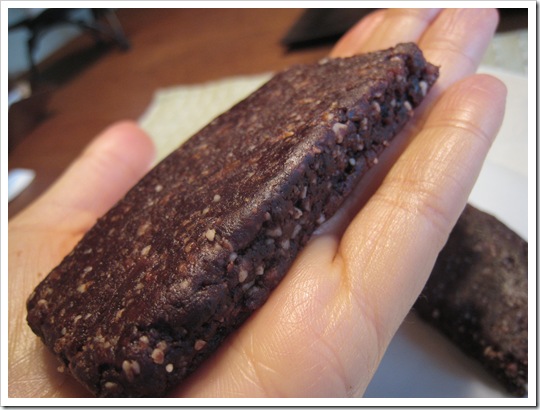 I also cranked the beats during my workout:

"Before He Cheats" by Carrie Underwood (love that song!)
"Me & U" by Cassie
"Silence" (Paul Oakenfold Mix) by Delirium
"London Bridge" by Fergie
"Touch It" by Busta Rhymes
and more!
My workout incorporated today's BBBC Challenge:
Duration: 47 mins.
Speed: 4.0-4.3 mph, incline 10-12%
I did walk/run intervals. On every '5' min. marker, I ran at 4.3 mph for 1.5 mins.
At minutes 22, 27, 32, and 37 I got off the treadmill and did the following (1 60 sec side plank, left; 1 60 sec. side plank, right; 1 60 sec. camel pose; 1 60 sec. Down Dog pose). I still have one pose left to do later tonight!
It was a fun workout.
Hope you health nuts have a NUTTY Friday.