Happy Valentine's Day everyone!
I thought I would start today off with posting the most amazing cupcakes that I have ever made!!! You will seriously want to make this recipe when you see these bad boys.
I actually wasn't anticipating that these would turn out as delicious as they did. All I can say is I am lucky I only ate one of them last night!
I wasn't planning on having any sweets last night, but how could I pass this up? I rest my case.
Angie's Famous Strawberry Cupcakes
This recipe was adapted from Good Things Catered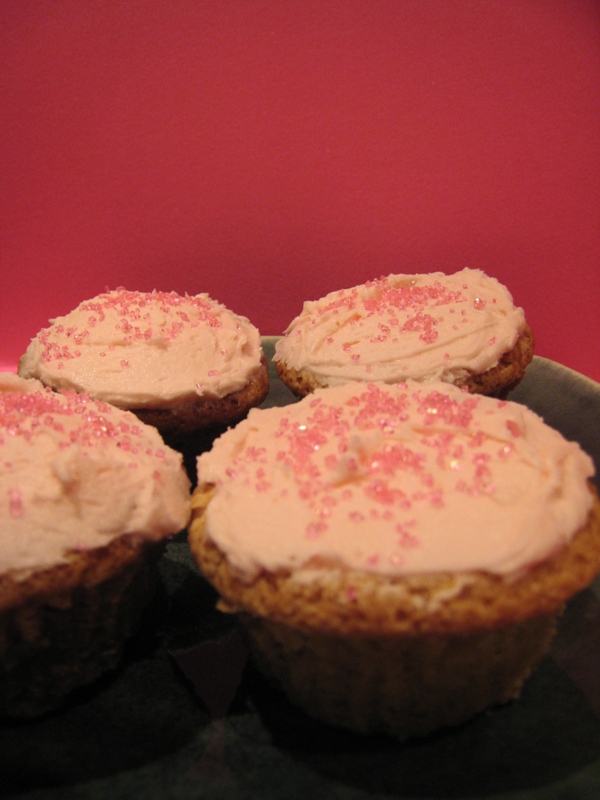 Ingredients:
2 1/2 c. cake flour
1 tsp baking soda
1/4 tsp salt
1/2 c. unsalted butter
1 1/2 c. sugar
2 eggs
1/3 c. buttermilk
1/4 c. oil
1 tsp vanilla extract
2 c. chopped strawberries (I only had 1 cup defrosted + drained strawberries, not ideal but worked out!)
Strawberry Icing
1/4 c. strawberries
1 Tbsp. strawberry liquor
1/2 tsp lemon juice
8 oz. cream cheese, room temp
1 1/2 sticks unsalted butter, room temp
1 3/4 c. powdered sugar
1/2 Tbsp vanilla
I actually decided to make my own icing as I didn't have cream cheese. I used a classic buttercream recipe:
Pink Buttercream Icing
3 cup icing sugar
1/2 stick butter
2 Tbsp milk
1/2 tsp almond extract
Directions:
1) Preheat oven to 350 degrees and prepare 2 cupcake pans.
2) Beat butter and sugar until light and fluffy. Add eggs one at a time until fluffy. Add buttermilk, oil, and vanilla. In a different bowl mix together or sift the dry ingredients.
3) Add dry ingredients to wet and stir until just combined (I used level 1 on the mixer to achieve a 'stir')
4) Fold in berries
5) Evenly distribute batter into cupcake pans. Bake for 20 mins.
6) Icing: Mix softened butter and gradually add icing sugar. Add 2 tbsp. milk and almond extract. Mix until light, smooth, and fluffy.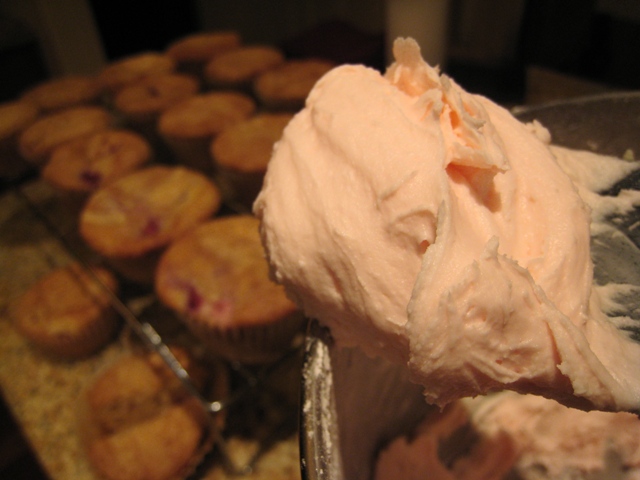 7) Have fun decorating and enjoy!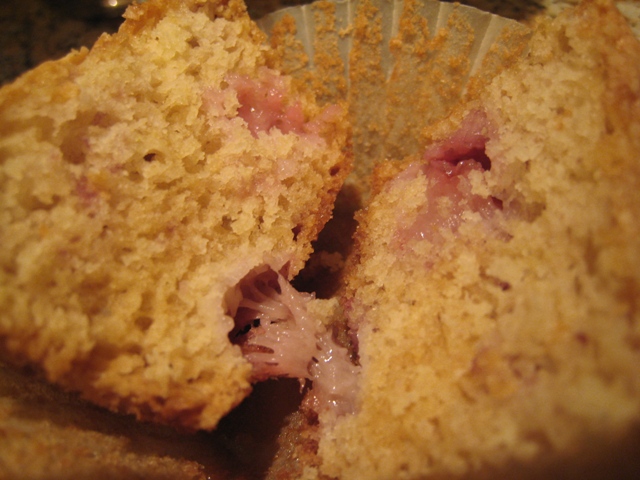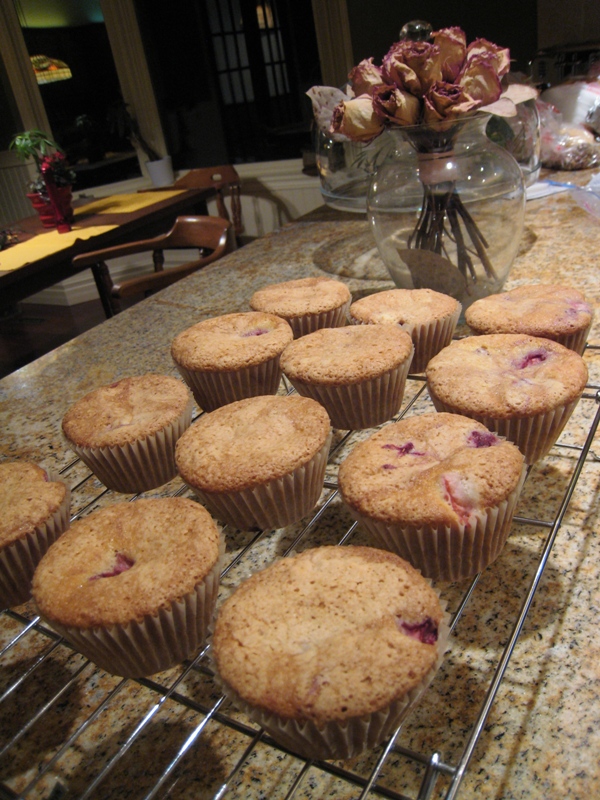 One of these things is not like the other: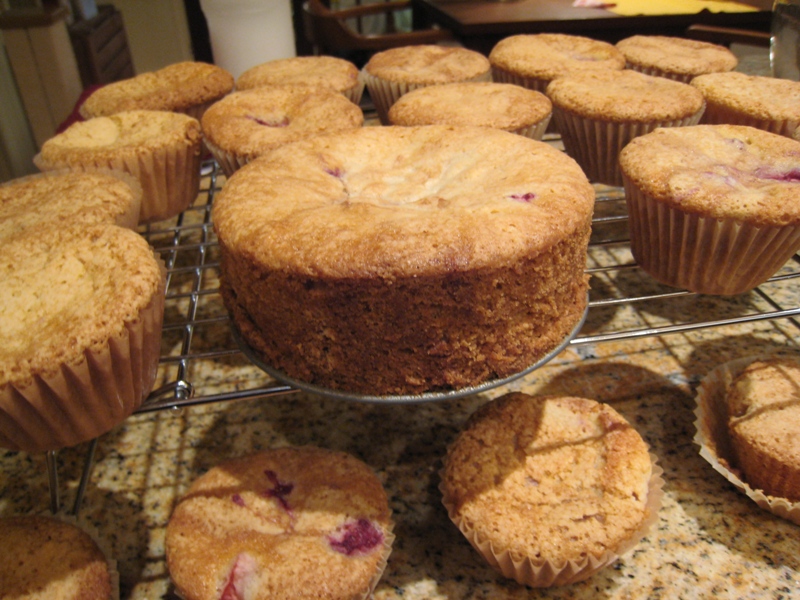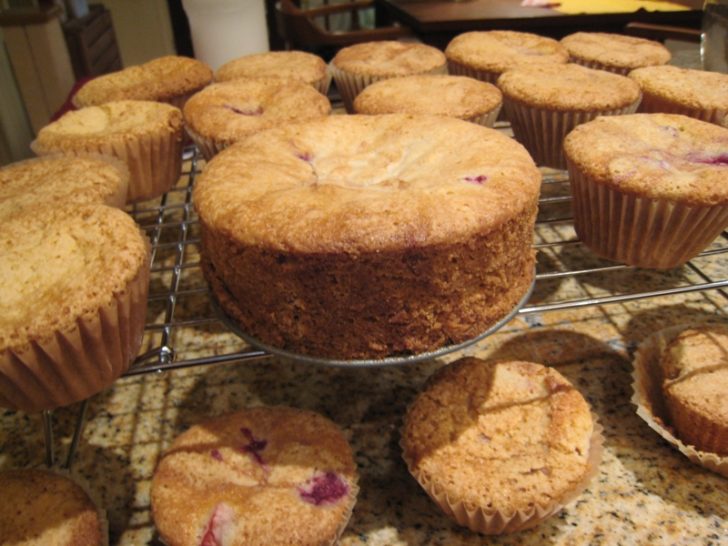 I made 18 cupcakes and then a mini cake :)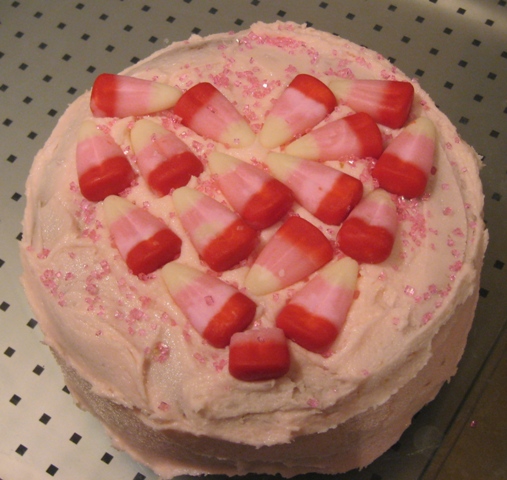 This was the boys tasting plate: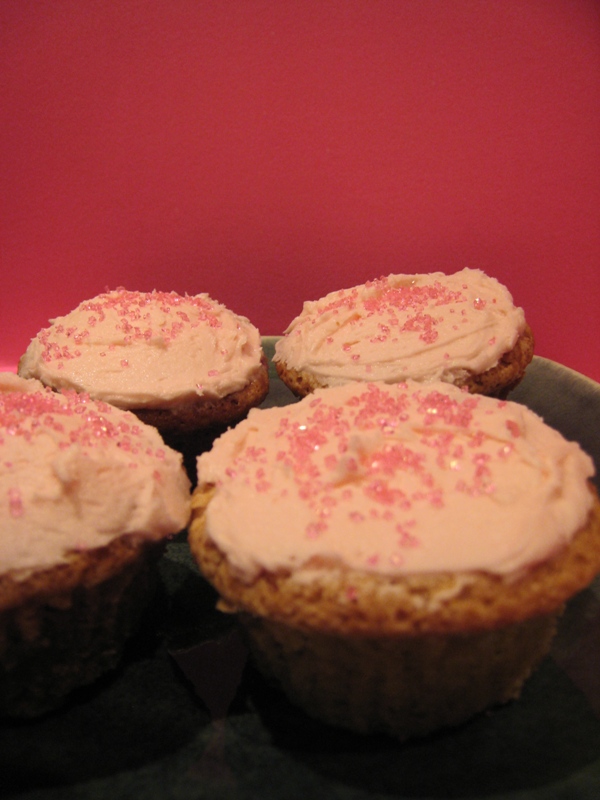 Lucky devils!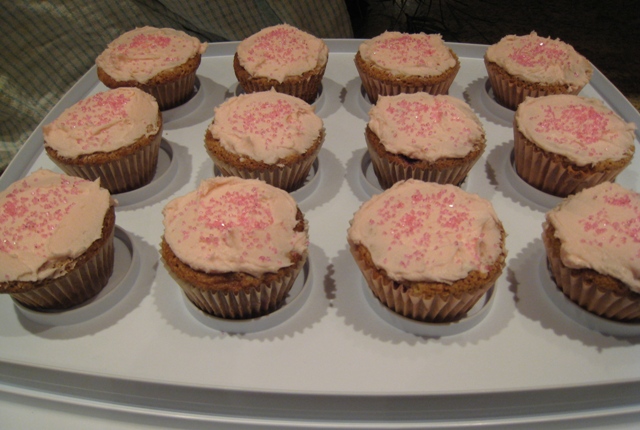 These were so darn good! A perfect V-Day treat. :)
~~~~~~~~~~~~~~~~~~~~~~~~~~~~~~~~~~~~~~~~~~~~~~~~~~~~~~~~~~~~~~~~~~~~~~~~~~~~~~~~~~~~~~~~~~
My nighttime snacks included:
An orange: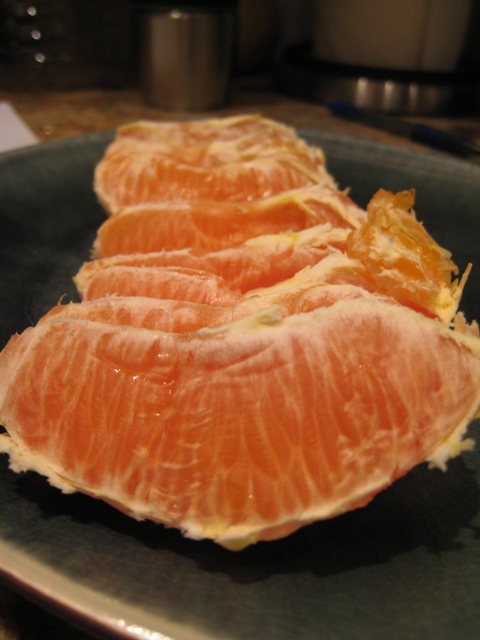 And one cupcake (sans icing)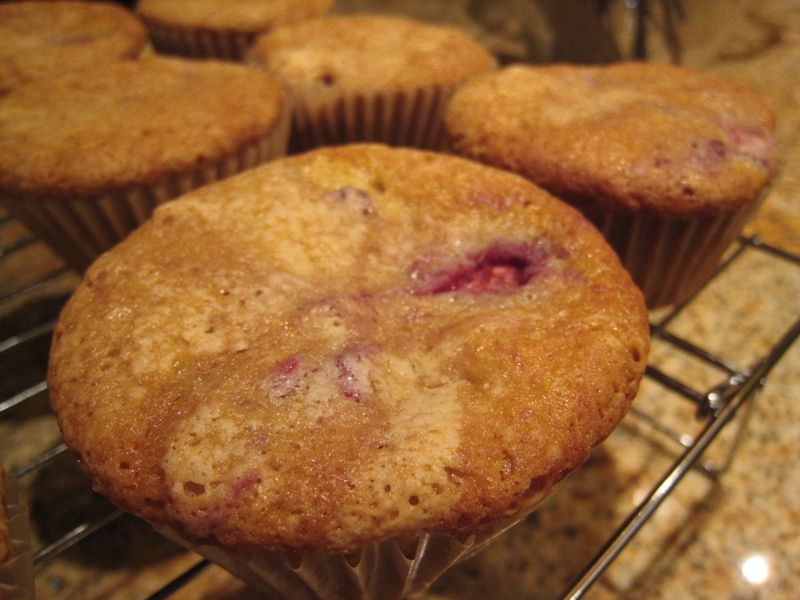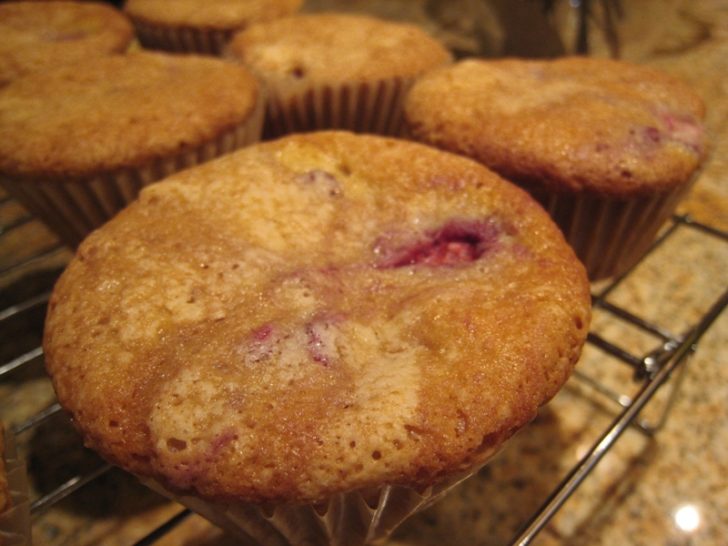 It's all about moderation, right?
~~~~~~~~~~~~~~~~~~~~~~~~~~~~~~~~~~~~~~~~~~~~~~~~~~~~~~~~~~~~~~~~~~~~~~~~~~~~~~~~~~~~~~~~~~
Well, I have lots to prepare for V-Day so I better get cracking! Eric and I might go on a very light hike at a nearby conservation. We are so lucky because we have about 5 conservation parks within 1-5 km from our house! The sun continues to shine so we better enjoy it. :)
I would like to take this moment to show my appreciation for my wonderful readers!!! It is really hard to believe that Oh She Glows was started only a short 3 1/2 months ago. The support and encouragement that you have given me has been nothing short of amazing.
So, THANK YOU so very much for taking the time out of your day to see what I am up to! :D I hope you will continue to visit Oh She Glows and find that it is a place where you can re energize, relax, and leave feeling a bit better about yourself than when you came.
One of my goals on this website is to show others that it is possible to overcome struggles with body image and self esteem and to achieve a balance and satisfaction with oneself.
Enjoy your day- I hope it is with loved one(s)!
See you later for more V-Day fun and some 'AFTER' family room pictures after painting the primer coats! You won't believe the difference. :)
~~~~~~~~~~~~~~~~~~~~~~~~~~~~~~~~~~~~~~~~~~~~~~~~~~~~~~~~~~~~~~~~~~~~~~~~~~~~~~~~~~~~~~~~~~
"Love is a temporary madness. It erupts like an earthquake and then subsides. And when it subsides you have to make a decision. You have to work out whether your roots have become so entwined together that it is inconceivable that you should ever part. Because this is what love is. Love is not breathlessness, it is not excitement, it is not the promulgation of promises of eternal passion. That is just being "in love" which any of us can convince ourselves we are.
Love itself is what is left over when being in love has burned away, and this is both an art and a fortunate accident. Your mother and I had it, we had roots that grew towards each other underground, and when all the pretty blossom had fallen from our branches we found that we were one tree and not two.
– Captain Corelli's Mandolin. "Love is the beauty of the soul." –St. Augustine
GAHhhhhhhhhh….so romantic isn't it? Gosh I am a sap for this stuff…;)