Good morning!
Sorry about my lack of post last night. We were doing renos until about 1am! We got so much done in the family room, I can't wait to post pictures. We are going to be ready to paint the primer coat this weekend I think. We just have to decide what colour paint we want to do the family room. We are going to try and pull a neutral colour from the bricks in the fireplace probably.
Last night I was reading my Nutrition and Wellness Textbook and I read something that I knew I had to share with you all:
"The first and most important step for making lifestyle changes is training the mind. Changing your mind involves changing your self-awareness, attitude, self-esteem, focus, and capacity to set goals. Beginning an exercise program or a healthy eating plan with a fit mind ensures success."

"The term mental fitness means a fit, healthy and balanced mind. A mind that is open to learning new ideas and positive change. A 'fit' mind does what is best for the body. It involves a healthy level of confidence and self-esteem. A person with a fit mind focuses on the task at hand and sets goals for success."

"What can we do on a personal level to create change?

Identify and change habitualy negative thoughts about your body. On average, people have 50,000 thoughts per day and approximately 80% of those are negative and 70-80% are the same thoughts we had yesterday (!!!!!). Think of how many thoughts that amounts to in a lifetime."

"Body Affirmations: Happy Thoughts

I am unique and precious human being, always doing the best I can and always growing in wisdom and love.
I make my own decisions and assume responsibility for any mistakes. However, I refuse to feel shame and guilt about them. I do the best I can. That is 100% good enough.
I take great pride in what I do, what I value, and the way I live because I truly believe in myself. My mistakes and setbacks do not make me a failure. They only prove that I am human. It is wonderful to be human."
That last affirmation really struck me hard last night!! It was just what I touched on in my confession post. The text encourages one to repeat these affirmations each day as many times as needed. In the book, there is a whole page of affirmations. I may share mor as I see fit. :)
My question to you this morning is: Do you think you have a fit mind? Were you surprised by the high estimation of negative thoughts that we have each day? Do you think that is true for yourself? Are you working to change your thoughts?
I will admit that I have always struggled with negative thoughts, even to this day. I have gotten much better at dismissing my negative thoughts than I used to be, but I still know that I have a long way to go.
What I find works for me is to challenge negative thoughts.
For example, if I have a negative thought like, "I will never be able to run and train for a marathon again"
I try to counter that by saying 'Listen Debbie Downer, you don't know that. You are doing all the right steps by resting your injury and feeding your body healthy food so that it can repair itself. Once you are healed you will ease back into it and hopefully be able to train again. But if you can't, you will be fine. There are tons of other fun ways to exercise and set goals!"
~~~~~~~~~~~~~~~~~~~~~~~~~~~~~~~~~~~~~~~~~~~~~~~~~~~~~~~~~~~~~~~~~~~~~~~~~~~~~~~~~~~~~~
Night time snacking
First off, thank you to everyone for taking the time to comment after my Confession post last night. Your support and positivity is so amazing. I said in a reply in the comments section
"I never said the road to health wouldn't have potholes!!"
I really like this analogy. :) I really think it is true. There will be bumps along the road- weight gain, injuries, decreased motivation, etc. That is life! What matters is what we do with these challenges- Don't give up!!!!
I have also decided that for the time being I am going to log my night time snacks as a way to stay accountable in my efforts to reduce mindless eating.
I will start with last night:
After dinner I had a small piece of my banana bread with vegan margarine spread for dessert
Around 8:30-9pm I had 2 kiwis
I also had a tiny tiny bite of a cookie I made for the boys. I was really proud of myself for not having a cookie because they were delicious looking (pics to come!). I also didn't eat any cookie dough which I usually do. :D
All in all last night was a big success! I am feeling better already. I figure a few more days of being mindful of snacking and I will be back to my old self. Sometimes a bit of weight gain serves as a needed kick in the butt to jump start our health goals and reaffirm that this is indeed a life long journey and not a quick fix.
~~~~~~~~~~~~~~~~~~~~~~~~~~~~~~~~~~~~~~~~~~~~~~~~~~~~~~~~~~~~~~~~~~~~~~~~~~~~~~~~~~~~~~~
Wanna know a secret?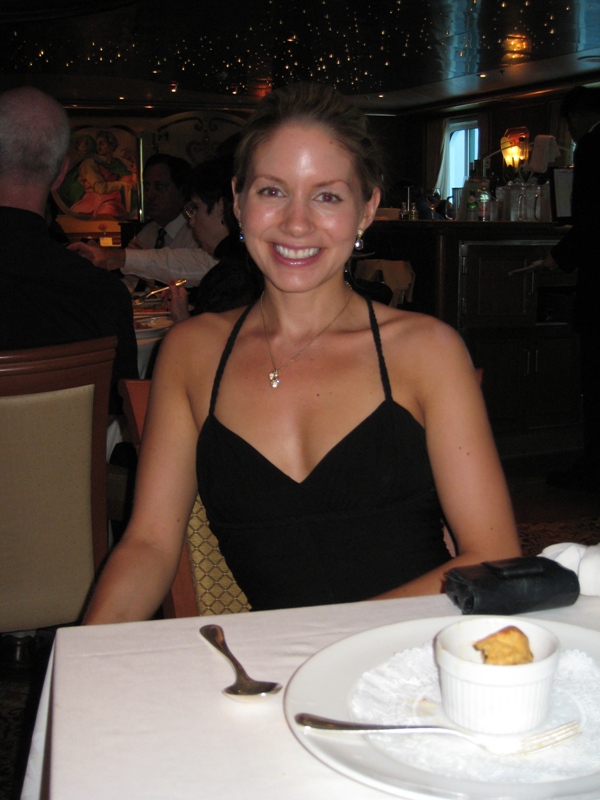 While on my honeymoon cruise, I had a decadent dessert every single night (sometimes we shared a few!) and I didn't gain a pound while on the 2 week vacation. How is this possible? Exercise. On the 'at sea' days I made a point to hit the gym or do a spin class. The rest of the excursion days we often walked for up to 6 hours a day. That is the beauty of exercise. And one of the reasons why I can't wait to be doing it as a regular part of my day. I truly think that exercise is why I have maintained my weight loss for all this time.
Oh and I am wearing one of my favourite pieces of clothing here: A BCBG dress bought from the BCBG discount store specifically for my honeymoon! It was regular $300+ and I got it for under around $80.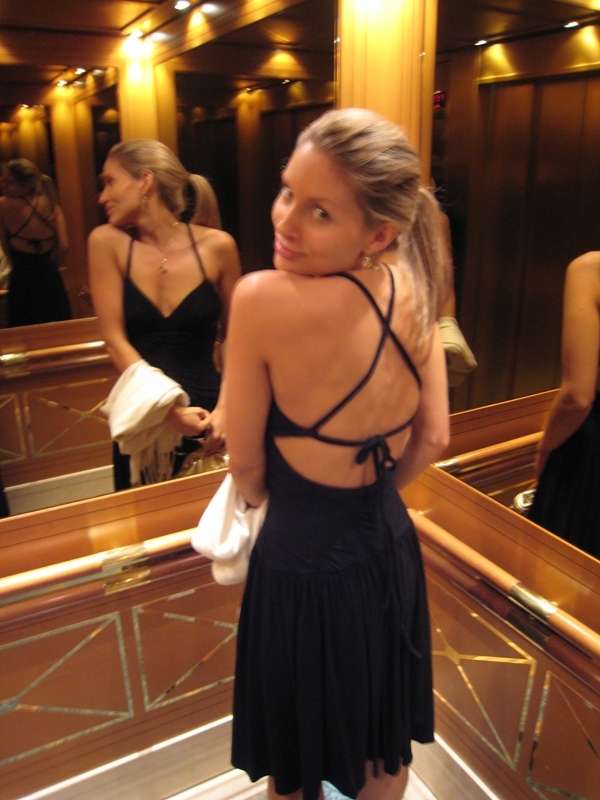 Love the back! I feel like a million bucks in it.
I loved reading all of your fav. articles of clothing too!
Another one of mine is my wedding dress and my black stilettos frm Aldo.
By the way, don't forget to enter Fit Gear Contest #2!
Ok, I beter get cracking. Time for an energizing green monster with Strawberries and Kiwi!
~~~~~~~~~~~~~~~~~~~~~~~~~~~~~~~~~~~~~~~~~~~~~~~~~~~~~~~~~~~~~~~~~~~~~~~~~~~~~~~~~~~~~~~~~~
"A waist is a terrible thing to mind."