Hello everyone!
We had a lovely Birthday Dinner Party last night! Thankfully my Mother In Law put everything in the oven for me and got everything ready since I was the last one home from work. I walked in, and the house smelled amazing! :) I could get used to this, hehe. The dinner was a big hit!
However, after dinner I was so excited to finish my slideshow I couldn't even think about posting my dinner party!
Although, little did I know I would have the most trouble with You Tube trying to get this thing posted!
After I finished the slideshow I spent a while trying to pick a song that fit.
Finally, I found one and then tried to upload the video. But little did I know that You Tube doesn't support downloaded music on their videos anymore!!! I tried about 3 different songs and You Tube muted all of them. And let's be honest- what is a slideshow of wonderful powersnacks without a fun song!?
So I got up early this morning around 7am, and decided that I would add the song via microphone.
And I thought forsure it was going to upload.
But is anything ever truly easy with technology??? NO!!!!
You Tube muted my uploaded microphone version too!!!!!! argh! :(
Edit: Now the song is working in the video, even though it said it was disabled and muted! I'm so confused. lol.
So without further ado, I present to you the slideshow of all of the wonderful, amazing, and delicious Power Snack entries for Contest #3!
Stayed tuned this weekend for the winner(s) of the Power Snack Contest #3!!! I think a couple runner up prizes are called for….
If you recall this is the wonderful loot bag being given away: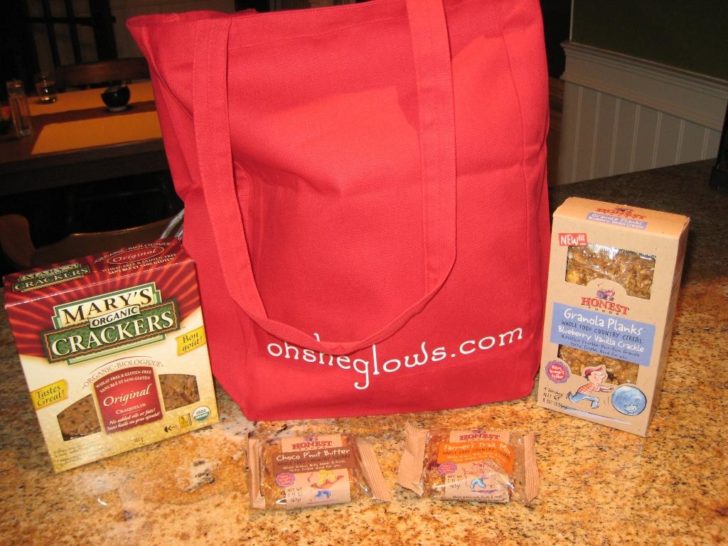 Contents of the prize:
1 Box of Mary's Organic Crackers in Original
1 Honest Foods Farmer's Trail Mix Country Square
1 Honest Foods Choco P'Nut Butter Country Square
1 Honest Foods Maple Almond Crunch Granola Plank
1 Honest Foods Blueberry Vanilla Crackle Granola Plank
1 Oh She Glows 'I Glow' reusable cherry red Tote bag
Thank you to everyone who participated! You guys are amazing! :D
Coming up on Oh She Glows:
The Winners of the Powersnack contest!!
My favourite power snack!
The next contest revealed!
The recipes to all these wonderful powersnacks
See you this afternoon- I'm hungry- time for a Green Monster!