Sorry for leaving the big cliffhanger like that in my earlier post! The truth is, I was running late and had to rush off to pick up Eric from the train station. I knew my big announcement would take time, and I didn't want to be rushed.
Let's get to the smaller stuff first:
1) Sports Medicine appointment
So I saw the doc and she opened up my xray files. It turns out I was looking at the wrong one! Apparently, I needed the software installed on my PC to be able to see the actual X-ray. So that pelvic xray I posted, actually wasn't mine- or even a pelvic xray!! LOL. I almost burst out laughing in her office, but of course I wasn't about to explain that I posted the picture on my website! Imagine how much she would have laughed!? Oh boy. Anyways, I saw my actual Xray, and yes it looked like a pelvic xray. :D She said it looked fine, nothing out of the ordinary so that was good news. However, the xray clinic forgot to take a side xray, which is sucky because she wanted to see the side xray. Oh well, what can ya do. My bone scan appointment is now booked finally- for Feb 25th. A whole month away, but at least it is booked!
My doc still doesn't think I have a fracture, but she says that it could be a issue with the tendon where it goes into the bone and it is aggravated. She suggested that I go see a physiotherapist a couple times before I see her after my bonescan. She said it will help with the healing. So I booked an appointment for Monday.
So that is where I am with that! She said I could do non impact exercise or even try running to see if it hurts, but I know that I'm not ready for that yet. If I was sore from being on my feet all day Saturday I am certainly not fine enough to exercise. I am actually really proud of how I have been handling this because it has been quite hard on me. But I need to put my health first. If I have to miss a month of exercise so be it. Soon enough it will be a distant memory, right? There is no sense in hurting myself and being off exercise for 6 months!
Thanks for everyone's expertise advice in last night's post! You must have thought I was a lunatic when I said I was posting an xray….hahahaha…I thought it looked a bit funny! ;)
~~~~~~~~~~~~~~~~~~~~~~~~~~~~~~~~~~~~~~~~~~~~~~~~~~~~~~~~~~~~~~~~~~~~~~~~~~~~~~~~~~~~~~~~~~
2) Thanks to everyone for your submissions for contest #3!!!
I am amazed at all of your afternoon powersnacks! They all have put a huge smile on my face. You are all so inspiring and creative. If you are reading this and haven't submitted an entry please do so!!!! I know that I have been hesitant in the past to do contests like this because I used to think that my food wasn't creative enough, but trust me everyone has something worthwhile to submit! :)
Most of all, even if you don't think it is overly creative, we will all benefit by finding new ways to approach afternoon powersnacks! I have still only received about 9 entries so your odds of winning are HUGE! You have until Thursday to send them in….get cracking! :D
I am going to present ALL of the entries on a you tube slideshow so everyone can see (much like Kath did with her oatmeal slideshow- how cute was that!?). It is going to be fun! The more we have the better it will be. I already can't wait to try out a bunch of the powersnacks. Come on guys lets make this contest awesome!
~~~~~~~~~~~~~~~~~~~~~~~~~~~~~~~~~~~~~~~~~~~~~~~~~~~~~~~~~~~~~~~~~~~~~~~~~~~~~~~~~~~~~~~~~~
And now for the BIG announcement….
3) Work.
Any guesses yet? Hmmm?
I did it guys. It took every ounce of courage inside me and every ounce of strength and nerve, but I did it.
I gave my two weeks notice today.
I know, I still can't believe it. I was in shock before, during, and after. I think my body knew something big was happening because I haven't slept in the past few days and this morning I felt so sick to my stomach before leaving for work. I knew what I needed to do. I was at my breaking point and I knew that I finally, finally needed to put my happiness first after a long and hard year.
I feel relieved, I really do. I want to be doing something that I feel fulfilled in. I think we all want that. I have heard so many of your stories over the past few months and you all gave me hope. Why do I, or anyone else, deserve to be miserable in a job? We don't, and the fact is, we can take steps to get there one way or another. I now have hope that I will find something that is my true calling. My passions have been awakened with this website and it has really made me realize that I come alive when I am helping others with respect to well-being, health, nutrition, fitness, and self-esteem. It makes me get up in the morning so to speak. And I need to find that in a job as well.
It was scary as hell today and I'm still not quite sure how I mustered up the courage. Sometimes we surprise ourselves and sometimes our own bodies tell us when enough is enough. We all know when we have personally hit out 'limit'. I truly do feel like a million pounds have been lifted off my shoulder though.
My last day is Feb 6th- only 9 working days away! Here is to a less stressful and happier time ahead!!!! :)
We only get one crack at this life- why waste it being unhappy???
I know that I am going to look back on this time in my life and see it as a big turning point.
My question to you: What did you do today to make yourself happy?
~~~~~~~~~~~~~~~~~~~~~~~~~~~~~~~~~~~~~~~~~~~~~~~~~~~~~~~~~~~~~~~~~~~~~~~~~~~~~~~~~~~~~~~~~~
I just realized how painfully long and picture-less this post has been- yikes!!! So not like me. ;) Let's see if I can spice it up a little…
Want to see something H-I-L-A-R-I-O-U-S?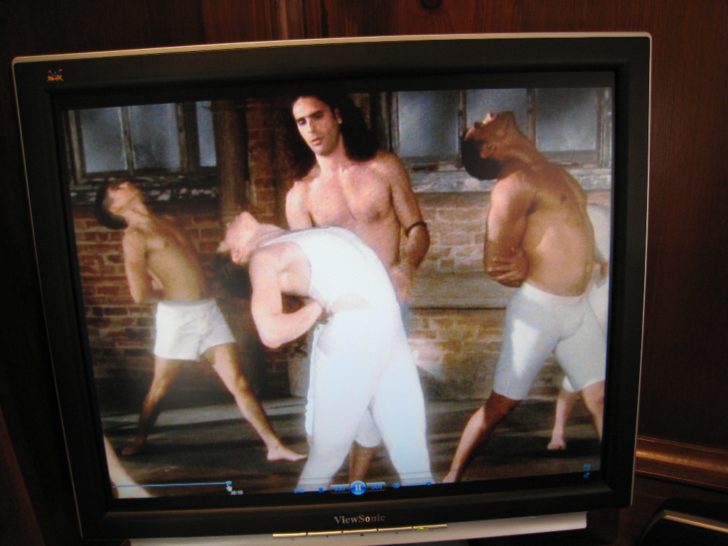 Yup that is Bryan Kest from my Power Yoga DVD and his Tighty Whitey Groupies!!!! LOL. This DVD provides the LAUGHS!!!!!!!
Eric was like, "Why are yoga people always in their UNDERWARE and half naked???? It's like some weird sex group or something."
hahahaa :D
~~~~~~~~~~~~~~~~~~~~~~~~~~~~~~~~~~~~~~~~~~~~~~~~~~~~~~~~~~~~~~~~~~~~~~~~~~~~~~~~~~~~~~~~~~
Stay tuned tomorrow for a fun recap of exciting things on Oh She Glows….as well as some FAQ's!!!
"Today is not yesterday: we ourselves change; how can our works and thoughts, if they are always to be the fittest, continue always the same? Change, indeed is painful; yet ever needful; and if memory have its force and worth, so also has hope."
~Thomas Carlyle