Good evening!!
I am sorry for the late post tonight…it is Panic Time. I have my big presentation tomorrow in front of a bunch of important people, so I am naturally quite terrified. I just went over the presentation and I realized to my horror that I didn't know a couple things that I should know. so I was frantically trying to figure it out tonight because I know I will be asked these questions!
I have a food product review for you all….
I suspect this has been one of the highly anticipated ones!
I present to you the Honest Foods Choco P'nut Butter Country Square!!!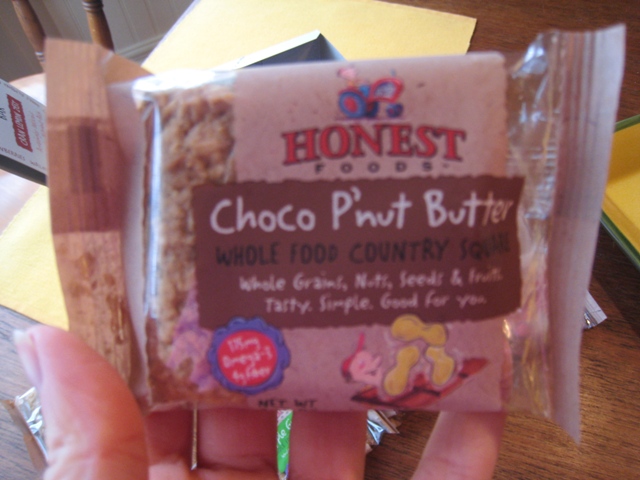 I was soooo excited to try this flavour.
And it certainly did not disappoint! It was AWESOME! The peanut butter taste was so strong, not like in some bars where there is just a 'hint' of PB. This bar screamed peanut butter, no, in fact, it oozes peanut butter from its' pours! It has big chocolate chunks in it too. And not just a couple- tons- everywhere! Oh wow.
This bar ties for first place with the Trail Mix bar!! I just can't decide. :D
~~~~~~~~~~~~~~~~~~~~~~~~~~~~~~~~~~~~~~~~~~~~~~~~~~~~~~~~~~~~~~~~~~~~~~~~~~~~~~~~~~~~~~~~~~~~~~~~~~
My books have arrived! My textbook and study guide for the Nutrition and Wellness Specialist program came in the mail on Monday. I started reading it in bed last night, and it was really interesting!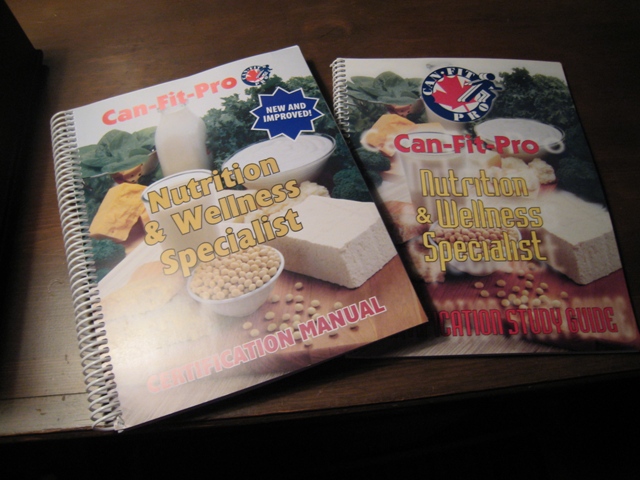 This is so up my alley.
For those of you who don't know, this certification course is provided by Can Fit Pro (Canadian).
After completion of the written exam and 1 hour practical exam (a 1 hour counselling session) this is a snippet of what I will be qualified to do:
·         Evaluate client needs in nutrition, physical activity, and wellness based on the counselling foundations in the NWS program
·         Provide general nutritional recommendations to clients based on Canada's Food Guide
·         Promote the benefits of regular physical activity, a balanced lifestyle combined with healthy diet
The Table of Contents breaks down as follows:
·         "Introduction"
·         "Wellness The Big Picture" [wellness defined, wellness for a lifetime]
·         "Change Management" [Making successful change, the mental work, counselling, consulting and coaching]
·         "Nutrition"[What is nutrition? Macronutrients, micronutrients, metabolism and digestion, Canada's food guide, supplement savy]
o       Body basics, successful weight management, eating disorders
o       "Nutrition for Fitness and Sport" [Fuel for fitness and Sport]
o       "Vegetarian Nutrition" [Types of vegetarians and vegetarian issues, Vegetarian meal planning, health news]
·         "Physical Activity" [Leading a physically active life, impacts on health, counselling for physical activity, etc]
·         "Holistic Health" [mind and body, energy concepts, communication, goals and outcomes, spiritual health, counselling for holistic balance, etc]
·         "Continuing education and resources"
I will certainly be reading more tonight in bed (if I have time that is)!
Which reminds me, I will likely not be able to post tomorrow morning because I have to leave super early to make it to my presentation tomorrow morning.  I will get a post up in the afternoon sometime- sorry about this everyone! It is a crazy work week, so my posts have suffered a bit, but hopefully not too much. :)
I promise to get to the beating the freshman 15 tomorrow- when life returns to normal (if there is such a thing!)
Ok, I must go practice, as I have not yet done this yet! Eek.
A girl at work tonight said, "Break a leg tomorrow!" Then she went, "NO DONT BREAK A LEG!" hahahaa
Everyone teases me at the office because I am so accident prone…
Nighty night everyone!!!
~~~~~~~~~~~~~~~~~~~~~~~~~~~~~~~~~~~~~~~~~~~~~~~~~~~~~~~~~~~~~~~~~~~~~~~~~~~~~~~~~~~~~~~~~~~~~~~~~~
My great concern is not whether you have failed, but whether you are content with your failure.
Abraham Lincoln