Whew….Monday is almost over! It's downhill from here, right? :D
I had possibly the most delicious snack when I got home from work tonight: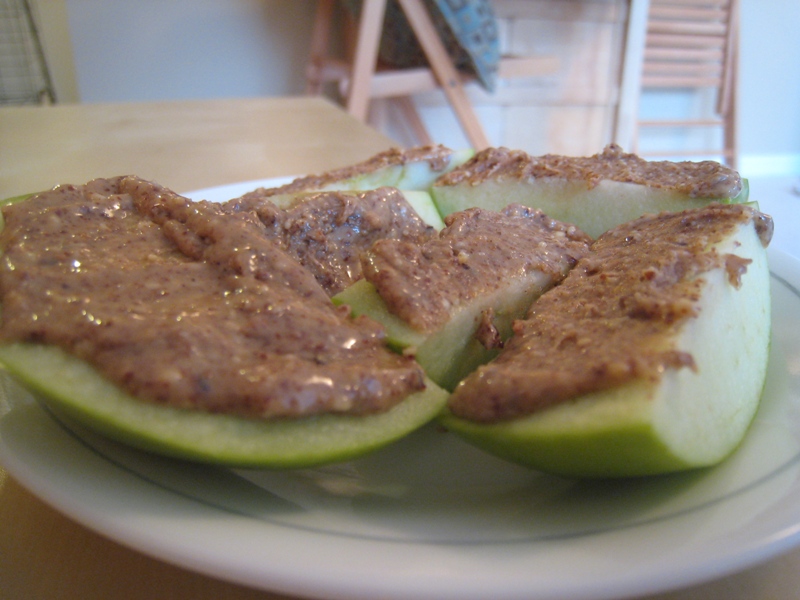 The perfect combination of the tarte crunch of the apple and the savory creaminess of the almond butter!
The results of the Lulu contest 'runner up' vote are in: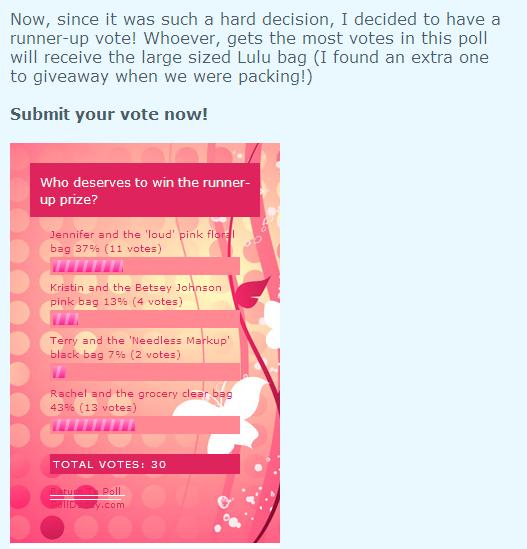 It looks like the Runner-up Lululemon bag will go to Rachel with the clear grocery bag! :D Congrats! Please send me your addy so I can mail this out to you!
~~~~~~~~~~~~~~~~~~~~~~~~~~~~~~~~~~~~~~~~~~~~~~~~~~~~~~~~~~~~~~~~~~~~~~~~~~~~~~~~~~~~~
Now for the FAQ's as promised:
Where did I leave off?
25. Leah asks, "I hate that you speak about soy like that.. i'm trying to turn a blind eye to the "possibility" until further research comes out. We just don't have almond milk here. I wonder if "Rice Dream" would be a better option? I don't want to go back to drinking milk and I cannot miss out on my cereals! haha.
Rice milk could be a good alternative to Soy Milk. You could try changing it up every couple days- maybe have Soy milk one day and Rice milk the next. Here is some info on how Rice milk is made:
"In a typical recipe, one cup of cooked brown or other short-grain

rice

is combined with four cups of hot water in a blender until a slurry forms. The

rice

milk is then carefully poured into a clean container or strained through a

cheesecloth

to remove any sediments. Flavorings and sweeteners such as sea salt, vanilla, cinnamon or

rice

sugar may be added to the mix to improve the taste. Other recipes may call for a second cooking of the

rice

or the addition of various tree nuts or spices.

Rice

milk flavored with

chocolate

or vanilla can often be found alongside the original formula in stores."
26. Leah asks, "One more Q – even though you don't eat much meat- does this mean Eric doesn't either? What happened to your fabulous roast slow cooker chicken you used to tell me about!!"
Eric doesn't eat too much meat anymore. He still likes meat but he also enjoys the vegetarian meals that I have been making too. I do cook meat about once a week though! The slow cookers can be used for lots of vegetarian meals too! :D
27.  Leah asks, "Do you ever take 'rest days' from the gym?"
I do take rest days from the gym when I feel like my body needs a rest. I don't have a set day that I take off, I just typically feel it out each day to see how I feel. If I really don't want to go to the gym I often don't, but that doesn't happen too often because it is such a habit now!
28. Claudia asks, "Just a quick question concerning your healthy lifestyle: Do you smoke (occasionally)? Or are you a strict non-smoker?"
I don't smoke now (or ever). I tried it once when I was a young teenager, but that was enough for me. My dad smoked when I was young and I hated it so much and vowed that I would never start. My dad also quit smoking years back after many attempts so he is a good role model now and he is much happier smoke free. I can only imagine how hard it is to quit- I admire anyone who is trying to change their life in this regard.
29. sarah asks, "I am interested in hearing more about how exactly you overcame binging. I am struggling with this now. currently I am seeing a dietician and am doing much better than 6 months ago. but how did you finally get over that behavior. I feel like sometimes I dont even know why I binge. thanks for sharing your story."
For something that took me years to figure out, the answer was simple (for me anyways), binges were a result of 1) food deprivation, or 2) Anxiety/stress. Once I stopped focusing on calories, what I couldn't eat, and losing weight, the binges stopped because I knew that I could have anything that I wanted to eat. Once I started listening to my hunger cues, I rarely felt that urge. The second trigger I mentioned was Anxiety– I have delt with anxiety my whole life and I still struggle with the urge to overeat when I am feeling anxious. I try to deal with it by pin-pointing why I am anxious and talking about my feelings with someone instead of burying them in food. I think it is a life long learning process though and can be very hard to overcome the habit. Good for you for seeing a dietitian about it, I hope he/she will help you out. It can be a hard thing to talk about, but you are taking the right steps!
30. Sally asks, "First off I want to thank you for your dedication to helping people achieve a healthy lifestyle in a happy, balanced, sane way. You are an inspiration and your posts are fun to read and very personable. I came across your blog from SELF magazine's eatlikeme.
I am a Midshipman at the US Naval Academy in Maryland and I'll be going on to train as a Naval Flight Officer next year. This year, I have made a really strong effort to take control of my weight and start making healthy choices (starting by NOT eating in the mess hall, ever!). I have lost about 15 pounds and want to lose ten more. I feel a lot better, but I am still fighting those old, bad habits! I have put two pounds back on recently, much to my dismay. I try not to beat myself up for it, but it is tough! Do you have any good advice? I can't cook for myself because I have to live in the barracks, but I do have a mini-fridge and access to a microwave."
Thank you so much for your comment! And no, don't worry- you don't have to email me those comments! You can post it here or email me, either or! :D That is fantastic that you are in the US Naval Academy! How much longer do you have training? I can relate to your question about what types of foods you can prepare with just a mini fridge and microwave! I had the same dilemma in residence at university. Things that you could keep in the fridge: yogurt, health bars, portable fruit and veggies (apples, bananas, baby carrots, etc), string cheese, milk (with healthy cereals), lean sliced meat for sandwiches. I would suggest buying nuts like almonds in bulk and making your own trail mix with raisins and seeds. This is a very nutritious and energy dense snack when you need a pick me up. You could also stock up on some high fibre crackers and have that with cheese. Oats are cheap too, and you could use the microwave to make oatmeal. Amy's has lots of good soups that you could heat in the microwave for a dinner with a sandwich and a piece of fruit. I know it is challenging, but I hope this helps you somewhat! Does the mess hall have salads? I would stock up on those and keep the dressing on the side.
31. Kaneil asks, "Question for everyone – do any of you run outdoors in the cold weather? I really want to, but am still adjusting to the altitude and am a bit concerned. Any cold-weather running tips would be greatly appreciated!"
Seeing as our Canadian winters are down right freezing (Average January temp is -6C/21F) with windchills much colder (we are on Lake Ontario), I don't run outside too often! Not to mention the snow and ice puts a damper on things! I will be running indoors, sadly, until probably April! For those outdoor runners, please give us your tips and maybe you will inspire me to bundle up! :D
32. Liz asks, "Where can I find REN products in Canada?"
Sephora in Canada does not carry REN products for some reason, so I had to buy them online. You can find them on my 'Shop' Page.
33. Kristin asks, "When you do resistance training do you focus on just one part of the body per session and rotate? Do you mix it up each session?"
Lately I have been rotating body parts in each session! I find I get less bored this way by mixing it up. For example, last night I did some planks, squats, and pushups! A bit of each body group. :D
Ok…I think I am all caught up now??? Let me know if I missed any or if you have any new questions I really enjoy reading every one of your comments and questions!
. . . . . . . . . . . . . . . . . . . . . . . . . . . . . . . . . . . . . . . . . . . . . . . . . . . . . . . . . . . . . . . . . . . . . . . . . . . . . . . . . . . . .
Enjoy Nature's Path Products as much as I do? Then you will love this Nature's Path giveaway featured on Grounded Fitness blog! Contest closes Thursday- hurry before it is too late!! I know I would personally love to win these goodies! YUM!
What are your favourite healthy foods?
~~~~~~~~~~~~~~~~~~~~~~~~~~~~~~~~~~~~~~~~~~~~~~~~~~~~~~~~~~~~~~~~~~~~~~~~~~~
I went into a McDonald's yesterday and said, 'I'd like some fries.' The girl at the counter said, "Would you like some fries with that?"
~Jay Leno :D