I had a fabulous workout today! I tried my first 'tempo-run' which I finally figured out is a warm-up at a fairly easy and maintainable pace, followed by faster running (not crazy fast but fast enough that you would like to go slower), followed by the cool down (at warm up pace).
I am sore today!! I did lots of resistance exercises last night! My abs and chest kill. It's a good pain though!
Here is what I did:
2 min. walking warm-up (4.0 mph, incline 5)
1 mile at 'warm-up' pace (5.5 mph, incline 5)
2 miles at fast pace (6.0 mph, incline 5)
1 mile 'cool down' pace (5.5 mph, incline 5)
2 min. walking cooldown (3.5 mph, incline 5)
Total duration: 45 minutes
Total distance: ~4 miles
Then I did 25 crunches on the stability ball
stretching the legs (I need to do this more!)
24 flights of stairs :D
I was covered in sweat and appreciated a shower when I returned! I was absolutely starving after my shower, so as i prepared lunch I snacked on baby carrots and my FAVOURITE hummus: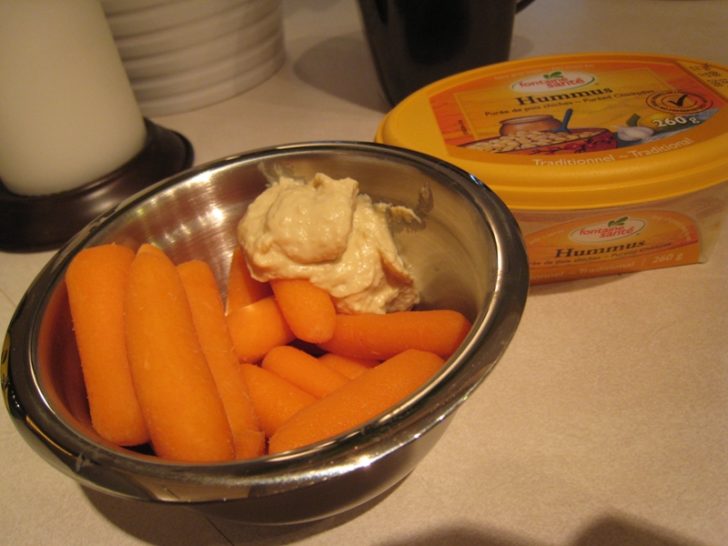 This is honestly the best hummus I have ever tasted. It is called, "Fontaine Sante Traditional Hummus" I believe you can get it at Costco in bulk packages!
I had a Mexican themed lunch today- very spicy and crunchy! And satisfying on this cold, rainy, dreary day!
I call it 'Red and Green Spicy Stir-fry"
Directions:
Saute chopped red pepper and sweet onion in a frying pan with light italian salad dressing and a splash of water so it doesn't dry out. Cook 10 mins or so on low-med heat.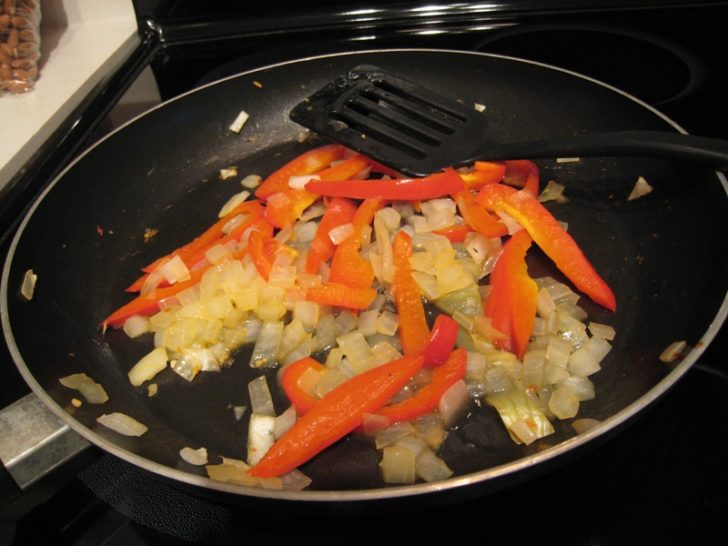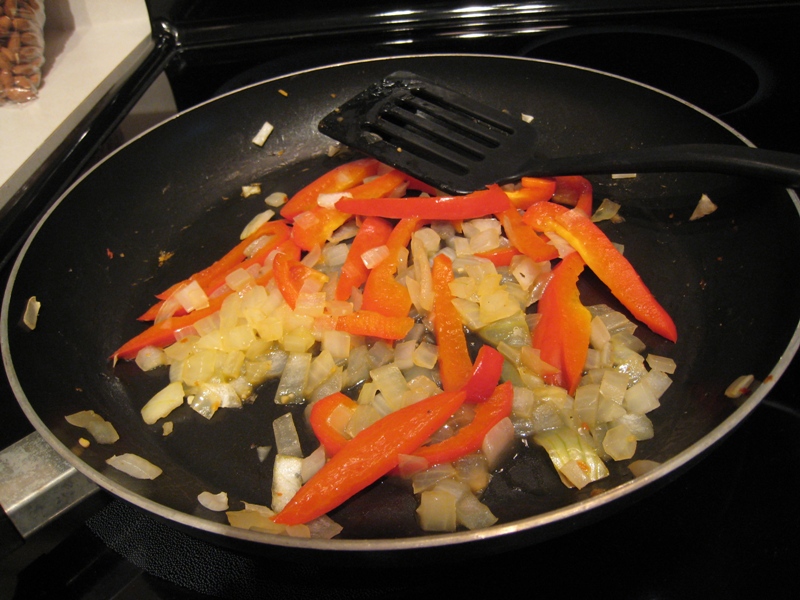 2. Throw some fresh greens (I used organic romaine) into a bowl. Roll two pieces of sliced sandwich meat (I used veggie meat 'Tofurkey') and place on side of bowl: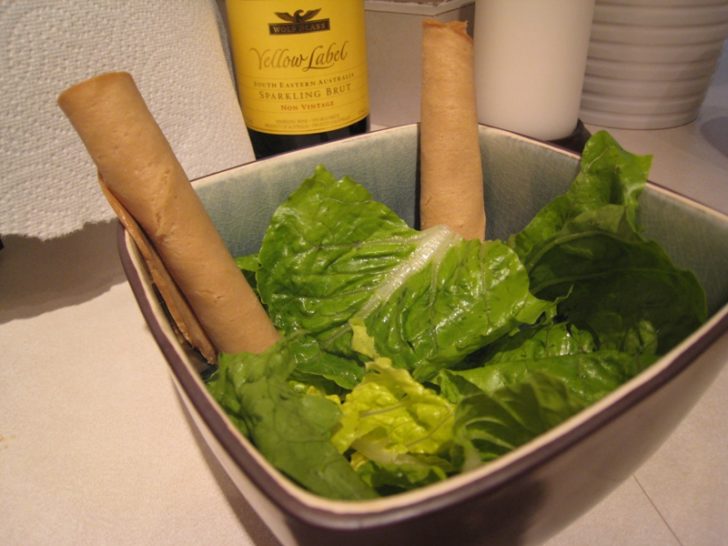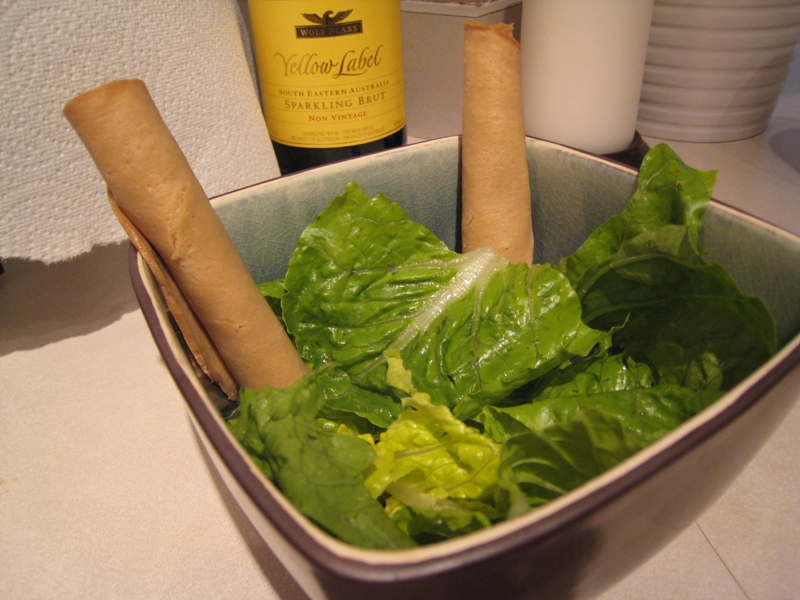 3. Toast 2 slices of Eziekel Sprouted grain bread and cut into 'fingers'. Dallop some Guacomole on them. :D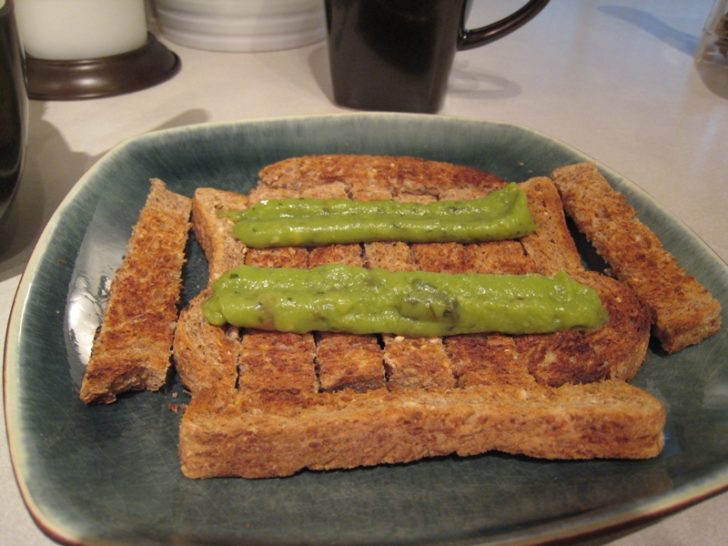 4. Serve stir-fry over greens. Add coupious amounts of pepper. :D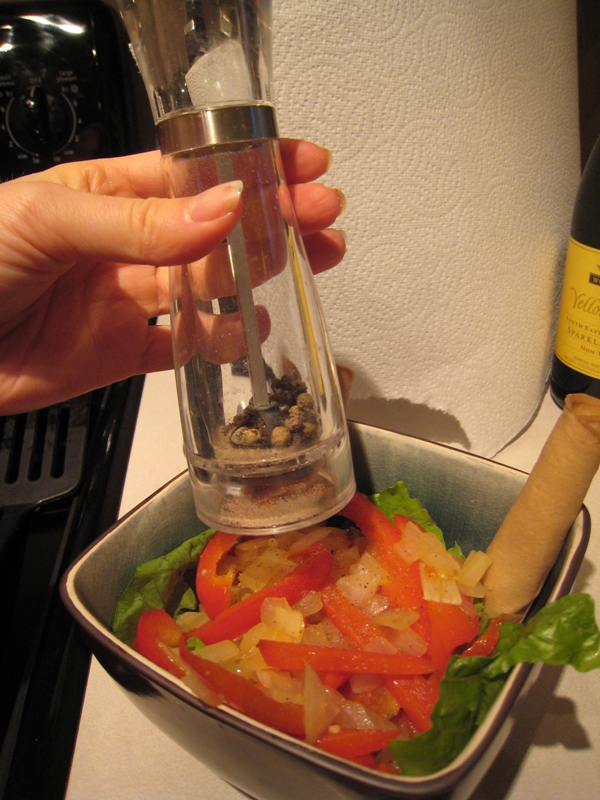 5. Now eat! Mexican music optional.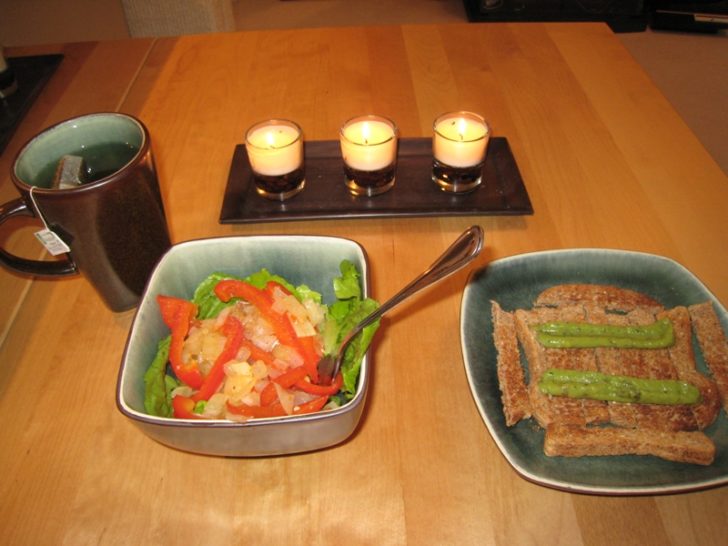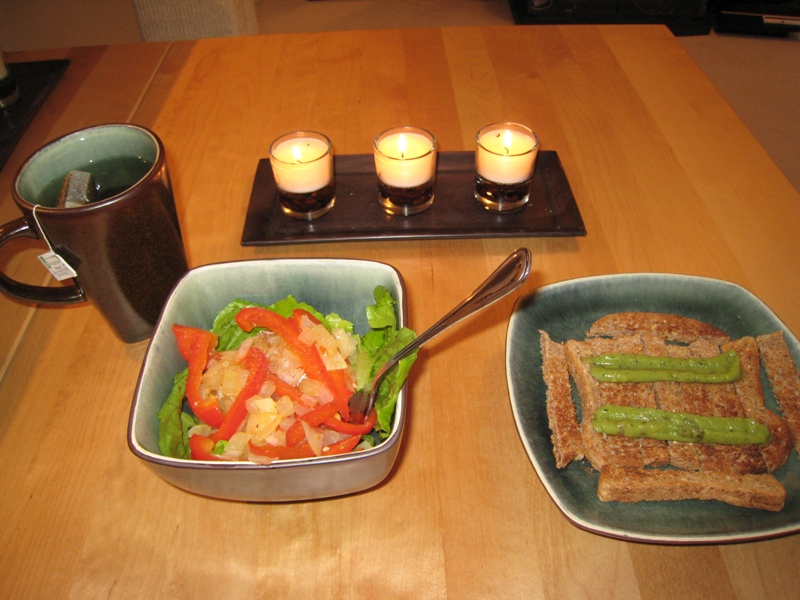 The sweet onions and pepper were a great compliment to the guacomole and really brought out the spicy flavour! My Peppermint tea at the end of the meal was a great palate cleanser and refreshed my hot mouth! I will be making this great concoction again!
Here are a few pictures from our Mexico trip last December 2007. Eric proposed to me on the first night there :D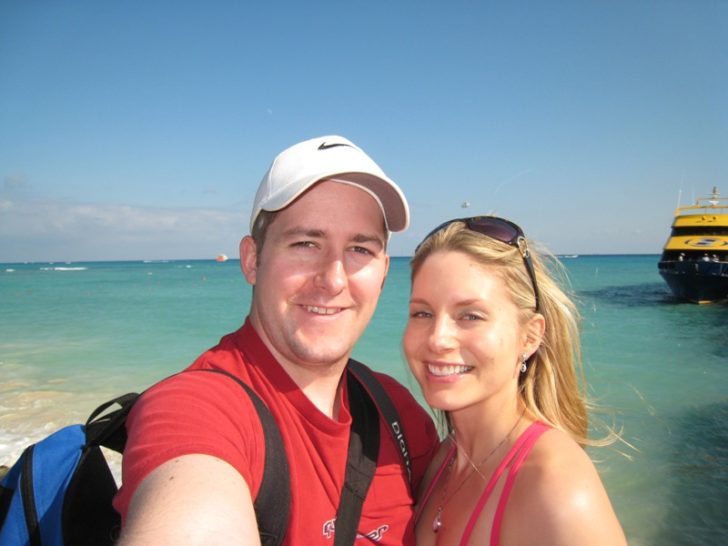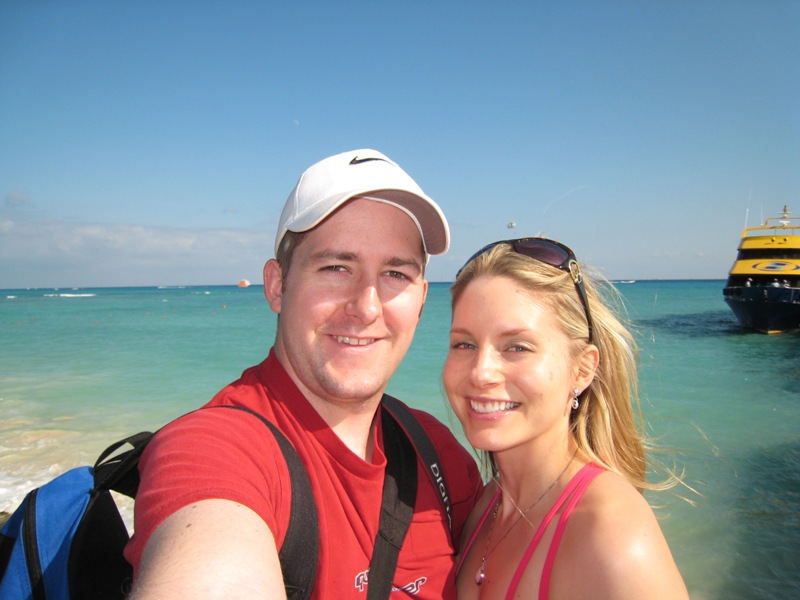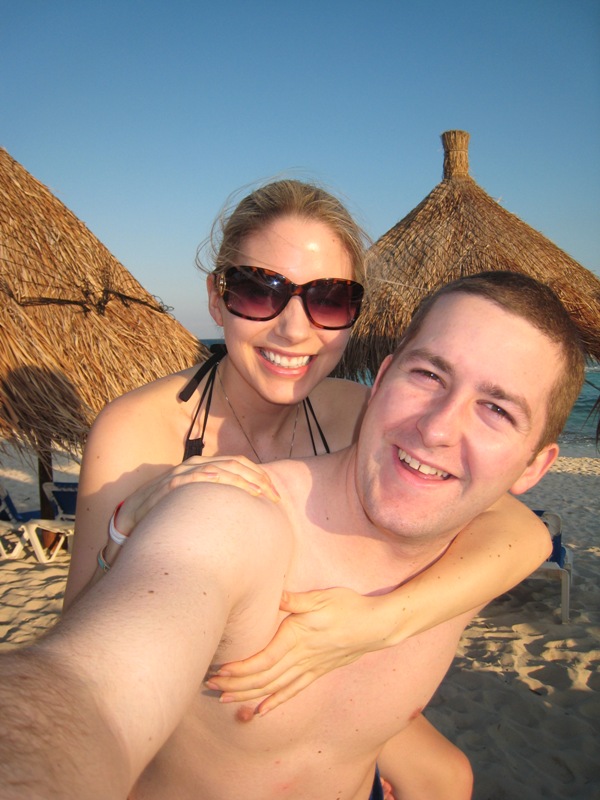 He proposed to me at night while we were star-gazing on the beach! It was the most romantic night ever. :D When we finally got back to our room I couldn't sleep because I was so excited!
Standing in the stop where he proposed the next day: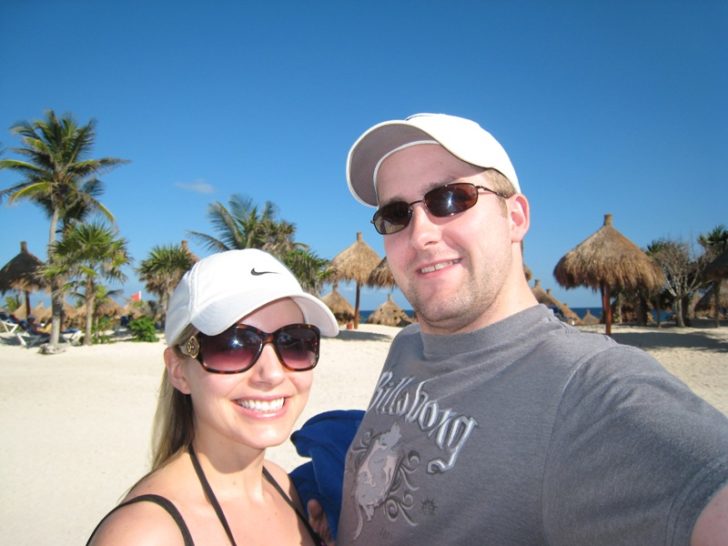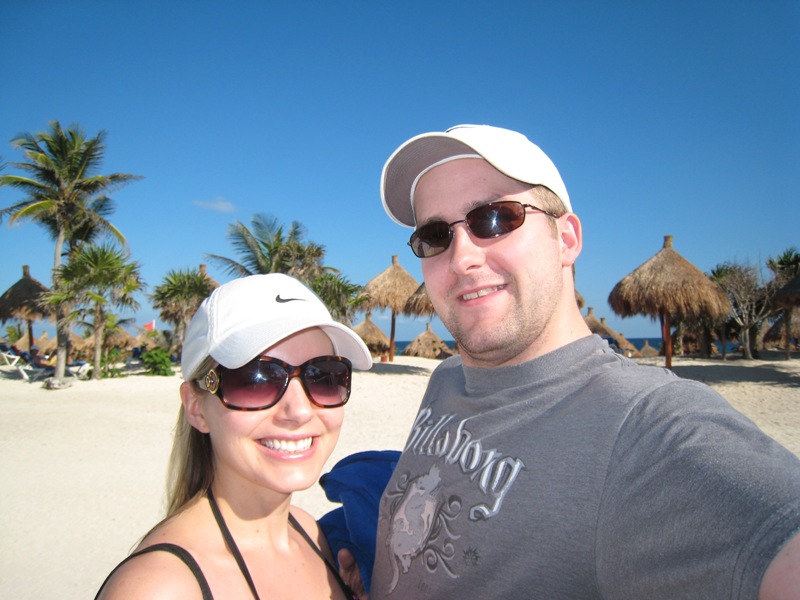 We have been together for about 8 years now and married for 3 months. Time sure flys!
~~~~~~~~~~~~~~~~~~~~~~~~~~~~~~~~~~~~~~~~~~~~~~~~~~~~~~~~~~~~~~~~~~~~~~~~~~~~~~~~~~~~~
Time to get ready to go out– I am going to try to purchase a HRM and sneakers! We also need to pack this afternoon and get groceries.
I am really excited for the Leafs hockey game tonight!
Stay tuned for tonight's guest dinner post as well on more on My Road To Health!
Vision is not enough, it must be combined with venture. It is not enough to stare up the steps, we must step up the stairs. 

Vaclav Havel