Presenting our beautiful reader, Kaneil's Journey To Health!
Her story:
Angela – thanks so much for this post.  You are a real inspiration for me! I feel like I am finally at my turning point and it helps a ton to have your blog to read every day.  My story is a lot like yours – met my boyfriend in high school, started dating 2nd year of college, went to grad school for two years and now I'm out in the real world.  Like I said before, I've struggled with my weight ever since high school.  I wasn't very athletic, but always wanted to be.  I challenged myself to become a runner and even ran a half marathon with my boyfriend in April.  You are so right when you said that exercise can only do so much….I GAINED weight while training for the marathon.  I know that I can do anything physically, but it's time for me to get my eating habits under control.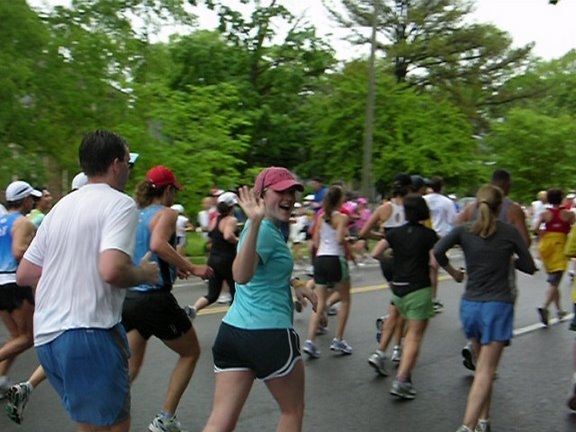 Her struggle: I have pretty much gotten the hang of eating healthy while working 9 hours of the day – but I always ruin it when I get home in the afternoons.  How do you typically handle after-work snacks and dinner?  I have already adopted a few of your tricks – I bought 3 cucumbers and have one for an afternoon snack! 
Answer: I must admit- late night eating is my hardest challenge to overcome as well. I am fine all day at work because I pack a big healthy lunch but night time is hard, especially in the winter. I have to be honest- I most certainly have bad nights…where I will eat too much of my baking goodies (I am constantly baking for others), but I try my best not to by filling up on healthy foods (salads, cukes, cereal) at night time. I also find sugary foods are a slippery slope- as soon as I taste something sugary, it is a vicious cycle and I often crave more and more of it all night long. I do my best when I dont have the first bite to begin with. I also try not to eat 2-3 hours before bed because I wake up feeling my best when I do this.
Her gut feeling: I feel like I was meant to stumble upon your blog last week.  I've never commented or emailed anyone from a blog, but I feel a strong connection to ohsheglows.  Cheesy, I know!
Answer: That is SO sweet and makes my day! =)

 

At her sister's engagement party in September 2008!

My take: It honestly makes me the happiest person in the world to know that my blog can help someone who is looking to make positive changes in their life! I must give you a HUGE congrats on running a half marathon- that is HUGE!!! You are an inspiration to ME (and I am sure many other readers on this blog)! It is my goal to run a half next Spring probably in May.

For those of you who don't know how long a half marathon is, it is 13.1 miles/21.1 km! Way to go!!!

~~~~~~~~~~~~~~~~~~~~~~~~~~~~~~~~~~~~~~~~~~~~~~~~~~~~~~~~~~~~~~~~~~~~~~

If you'd like to submit your personal Journey to Health story, please email me at: [email protected]!

~~~~~~~~~~~~~~~~~~~~~~~~~~~~~~~~~~~~~~~~~~~~~~~~~~~~~~~~~~~~~~~~~~~~~~~

Tonight was pretty productive!

I got my hair cut, my pants hemmed, new dishware on sale, and I baked Eric's coworker Oatmeal Raisin Toffee Cookies. They turned out Delicious, however they kind of fell apart on me! I'm not sure what happened. I think I made them too big and didn't cook them long enough. I cooled them on the pan for a while and they should be ok. Regardless, they will be still taste yummy for Jason! I ate too many of these cookies- oops!

I also did a slew of push-ups….possible foreshadowing for my an upcoming OSG's fitness video???? ;)

Here is the dishware I bought. Eric and I have been meaning to get a new set of dishes for years now. We still have been using the old set our parents gave us for university! I thought it was time to get some grown up dishware. I found this awesome set by Debbie Travis on sale for $25 off! Yessss.

I am obsessed with square plates right now.

Biggest. tea. mug. ever.

Is this a great oatmeal bowl or what?!

~~~~~~~~~~~~~~~~~~~~~~~~~~~~~~~~~~~~~~~~~~~~~~~~~~~~~~~~~~~~~~~~~~~~~~~~~~~~~~~~~

Ok, I think we are off to see a movie tonight! Not sure what yet though….will report with a review tomorrow! I will continue my Road to Health this weekend….I think my fingers need a break from this keyboard! :D

Happiness is nothing more than good health and a bad memory.

~Albert Schweitzer