Today is National Love Your Body Day and I thought it would be a great time to stop and reflect on just how awesome we are!
Here is my list:
1a. My smile and sense of humour because I am dorky, goofy, playful, and I love to joke around…
1b. Laughing til I cry because there are few moments in life when I am truly in the moment like that.
2. My body has no 'imperfections', just things that add character and make me unique. Freckles, marks, scars, stretch marks, cellulite, spots, wrinkles, etc. give us character and expression. I think one of the most beautiful things a person can have is laugh lines around their eyes!
3. My body never takes a day off, even when I do!
4. I have 206 beautiful bones and one heck of a sexy skeleton (trust me I've seen the X-rays. Meow.)
5. My small intestine is over 20 feet long and it still fits inside my body. Creepy, yet awesome.
6. I have a birth mark on the side of my stomach that is Eric's favourite spot.
7. A number on the scale does not tell me how awesome my body is! The two aren't even related.
8. I went from running for just a minute at a time and believing that I just wasn't a 'runner' to running 13.1 miles at a time.
9. If I am injured or sick, my body works fast and furiously to heal itself and doesn't stop until it is ok. When I am asleep it works the hardest!
10. I have super duper taste buds that give me a passion for food, eating, baking, cooking, etc.
11. My beautiful brain. The source of my passions, my emotions, my laughter, my pain, my creativity, my memories.
12. My body has a wicked 'gut instinct' and always whispers to me when it feels something isn't right.
13. It helped me swim for 750 metres in the open water in just 12:54 minutes. It even kept going when my brain wanted to bail.
14. My body learned to trust me again, after over 10 years of disordered eating. My body allows me to eat normal amounts of food and maintain a healthy weight despite not counting calories, obsessing, or working out too much. It also forgives me when I have a bad day and fall back into old habits.
15. My eyes because they allow me to see beauty in everyday things and capture it with photography.
16. There is a ninja hiding inside of me and I believe I could kick some major butt if required. I also believe I may have had a black belt in a former life.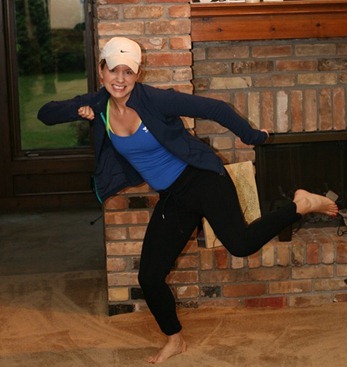 Ok…maybe a yellow belt… ;)
I posed the question on Twitter today asking you all to give me 1 reason why you LOVE your body! :)
Here are some of the replies:
@katiehamilton, 'Because it's just like my dads….my hero.'
@ohhealthyday, 'I love my body because no matter how badly I've treated it in the past, it has never let me down.'
@imadedinner, 'I have a smile that makes my students feel at ease.'
@blackcatkitchen, 'I love my body because it adapts to whatever I throw at it, whether it's 10k training or a weekend food fest with family!'
@smittenkitten, 'I love my body because I had a perfect pregnancy and gave birth to my beautiful, healthy daughter.'
@marsGiovani, 'only got one body, and it functions well (healthy)'
@dianabydesign, 'People pay tons of money to get natural curves like mine.'
@Kimberly_FeLix, 'I love that my body has stood the test of my brutality.. & given me the baby I was told I wouldn't be able to have.'
@Bethegoose, 'I LOVE my body because it allows me to make everyday an adventure.'
@Clarqui, 'because I can run and jump, spin and move, skip and dance!'
@Glorious_Greens, 'I love my body, because after all the crap I put it through it is still strong & beautiful. It helped me complete 4 1/2 marathons.'
@KatieHeddleston, 'I love my body because it continually surprises me with new capabilities!!'
@ThehealthyE, 'I love my body, because it helped me run a marathon last year!'
@sweeton, 'I love my body because it takes me all over the world to see and do amazing things!'
@demagenkigirl, 'Strong swimmers shoulders! That's why! Keep me going in the pool.'
@dancersteph25, 'It's strong and has gotten me through 3 half marathons in 2010 :)'
@alysamarsiella, 'It does things I never in a million years dreamed it could do. And I LOVE my legs and arms. They're pretty fantastic!'
@ItAllChanges, 'I love my body because it is mine. I'm unique. '
@lifewithkick, 'my body carried me through 32 hours on my feet at fsu's dance marathon!'
@runsonsugar, 'I love my body because it's strong and forgiving of me while I learn to run.'
@jessicavogel, 'I love my body because it's strong, beautiful, and perfectly imperfect! '
@aprilisfabulous, 'I love my body because it has birthed and nursed two little girls!'
@Ryeswmmr, 'I love my body because it is strong and it gets me where I need to go.'
@chasingthenow, 'I love my body because it makes it possible for me to live a full, healthy life!'
@Dana18_Brown, 'I love body because I am in control of it. I choose what going into it and how I take care of it.'
@missfitbliss, 'I love it because it's one of the most loyal things I have in life. Takes a lickin' and keeps on tickin'
@mariesha416, 'I love my body because it's MINE and no one else's. There is not another body in this entire world like mine! :)'
@TaraRunning, 'I love that my runner's legs can make me run til' the cows come home on any given day!'
@Michellesfood, 'I love my fair skin! I never want to tan! Plus, I like my muscular legs. Hubs calls them shapely.'
@klvanhorn, 'my strong muscular legs can run a sub-20 minute 5K and 2 marathon finishes.'
@Nikirunsinpink, 'I love my body b/c it gave me my greatest gift: my now 2-month-old baby boy!!'
@TastyTherese, 'I love my body b/c after 27 years of neglect, it continuously surprises me when I push it!'
I love the wide variety of replies that I received. :)
Tell me, why is your body awesome?