Happy Thanksgiving to my wonderful American readers!!!!
Little known fact: Approximately 70% of my readers are from the US! So thank you to each and everyone of you. :D
There once was a time when I too celebrated US Thanksgiving. I used to live in Florida, Georgia, and North Carolina when I was young! :) I was a 'Southern Gal' with a HUGE southern accent! I traded that for a Canadian accent. ;)
10 Ways To Beat Holiday Stress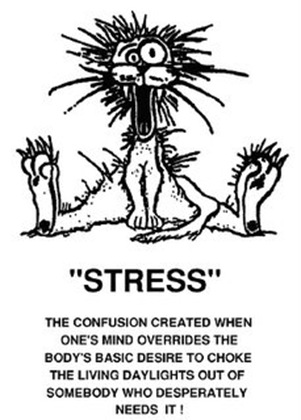 [Source]
Stress Busting Tip #1: Roll With The Punches
Of course, for many, holidays can bring a lot of stress, but my advice is to try to roll with the punches. Don't aim for perfection from yourself or others- especially around the holidays- and you will be a much happier individual.
Stress Busting Tip #2: Visualize: 'Water off a duck's back'
Many of you have asked me what to do about negative comments that you receive around the dinner table. This can be especially hard for vegetarians or vegans. I have been asked just about everything under the moon. Try this visualization technique- picture water rolling off a duck's back whenever you encounter a stressful comment from a family member. Don't let that comment 'penetrate' your skin- just let it roll right off and carry on with your day! Go find your funny relative and get him/her to tell you a joke or funny story.
Stress Busting Tip #3: Be True To You
My advice is to always be honest and true to yourself, even during stressful moments. Don't let anyone make you feel like you have to change who you are to accommodate someone else's expectations. Life goes on! Anyone who has a problem with how you live your life, probably has deeper issues going on.
Stress Busting Tip #4: Answer questions about your diet honestly, but wait until after dinner
If someone asks why you are vegetarian/vegan or not eating 'such and such', tell them why but wait until after dinner. I always say something like, 'I'd love to talk with you about it later on this evening.' And then change the topic by asking a family member about their new house/pet/job, etc.
Stress Busting Tip #5: You are a grown adult, repeat, you are a grown adult
Is someone pushing dessert/leftovers on you that you don't want?
Remember, no one can force you to eat something you don't want to. Politely decline and leave it at that. They will get over it…I promise!
When I am full, I always say that I am too full to eat anything else, but I may have some later on. Case closed. Everyone else will be passed out by then and won't even notice if you actually did try Aunt Betty's pie or not.
Stress Busting Tip #6: Make a list and put it in your pocket
Most of all, try to focus on the positives of the holiday. Remind yourself what you are grateful for during those times of high stress.
Before your holiday event, write a short list of 5 things you are happy about in your life. Keep the list in your pocket and read it over whenever you are feeling stressed. Excuse yourself, go to the washroom, lock the door and zone out for a few minutes reading your list and thinking about why you are lucky to be you. Deep breaths. Repeat a mantra like: Ocean, ocean, ocean…
Stress Busting Tip #7: Sweat out the stress!
No matter where you are you can always fit in a bit of exercise. Bring your sneakers with you when traveling and get out for a walk with the family. When I travel I like to wake up early before the family is up and get my workout over with. I did this on my recent trip out west and it worked awesome. You can also do many resistance exercises without any equipment- pushups, planks/core work, lunges, and squats are all quick exercises you can squeeze in. Sometimes just 5 minutes of resistance exercises can get you out of a temporary funk.
Stress Busting Tip #8: Maintain your routine as much as possible!
I love my routine and when I am following it, I feel my best. This is why whenever I am away from home I always pack many of my items that are part of my routine:
Amazing Grass wheatgrass powder (on the go 'swamp water' and amazing meal- perfect for travel!!)
All my vitamins
Workout clothes and sneakers
Green tea
Glo bars + fruit like apples
My laptop + camera equipment + battery chargers
Confident clothes (i.e., clothes I feel awesome in!)
When I pack the things that I use everyday to keep me feeling my best, I always feel better during the holidays. Whatever you need to keep you on track, throw it in your bag. So what if I am known by my husband as a huge over-packer? To me it isn't over packing, it is preparing for any situation! There is no better feeling than being prepared. ;)
Stress Busting Tip #9: Chill with a furry creature
Animals rock. Find one and play with them or cuddle up by the fire. Research shows that pets relieve stress!
Stress Busting Tip #10: Take some you time
Don't forget to take a break from all the madness. Watch your favourite TV show, read a good book, Tweet me on Twitter (or OSGMOM!), or catch up on your fav. blogs.
Most of all please stay safe on the roads and cherish your time with your family. My family lives on opposite sides of the country now and I used to take for granted the holidays that we spent together. I miss them so much!
~~~~
Do you get stressed out around the holidays?
Have any funny holiday stories to share or ways you beat stress?
~~~~
1) Breaking News: Sketchie started a blog!
2) Whittle My Middle Update: We are half way through!!! I am happy to report that I have made some huge progress with my core strength in just 2 weeks. I am totally going to stick with this challenge! Also note: I am now doing side planks with a bent arm- thank you for the tip- they are much easier on my wrists! I actually find they work the oblique's better too! I am still doing the full plank with extended arms though for variety.
3) Don't forget to check out my guest post on Daily Spark! I talk about how I beat my eating disorder and started up Glo Bakery.

It's 10:20pm and I'm off to squeeze in my workout after a very busy day!!!