With an almost bursting bladder and plenty of nervous anticipation, yesterday I headed off to our anatomy scan ultrasound appointment. I always find I get anxious for pregnancy ultrasounds in general, but this one especially. I felt a knot in my stomach all morning long. It's a fairly long ultrasound since they check all of baby's various body parts while I sit there with 3 big glasses of water in my bladder, unable to see the screen, and worrying like I do. Still, there's a light at the end of the tunnel for this appointment. It's often when the sex of the baby can be found out, if the parents want to and if the baby cooperates with the proper position.
I tell you, we sure wanted to find out! Heck yes!!! But much to my dismay, the technician informed me near the end of the scan that they have a new policy in place as of 2 months ago: the tech is no longer allowed to tell the parents the sex of the baby at the appointment—you have to wait to get the official report. I had no idea! Eric had come to the appointment especially for the reveal, just like the first time, and we were so excited for this day to finally arrive. Oddly enough, with our first pregnancy we didn't have much luck finding out the sex either; Adriana was crossing her legs at the time. But since baby #2 was presumably in the perfect position, it was torturing us not being able to find out. The most important thing, though, was that the tech said everything looks good, and our cute little baby has a strong heartbeat and was wiggling all over the place! We are so very thankful for that.
Being the patient one that I am, I called my midwives' office this morning (despite being told it would take 3 days for the report to arrive…hah), and was elated when they already had the report in their hands! I ran into the other room and told Eric the news, not able to contain my emotions in the slightest. I considered surprising him in some Pinterest-y kind of way, but let's be real: there was no way I could not tell him immediately! (Secondly, Pinterest-style execution rarely happens in my world.) We're planning on keeping the news a surprise for friends and family this time (mainly to torture the grandparents!), but time will tell if we can keep a secret that long. The sneaky questions are already coming in fast and furious from friends and family. I don't know if I can hide this for 5 more months, especially in person. My poker face only functions about 1% of the time. It's bad.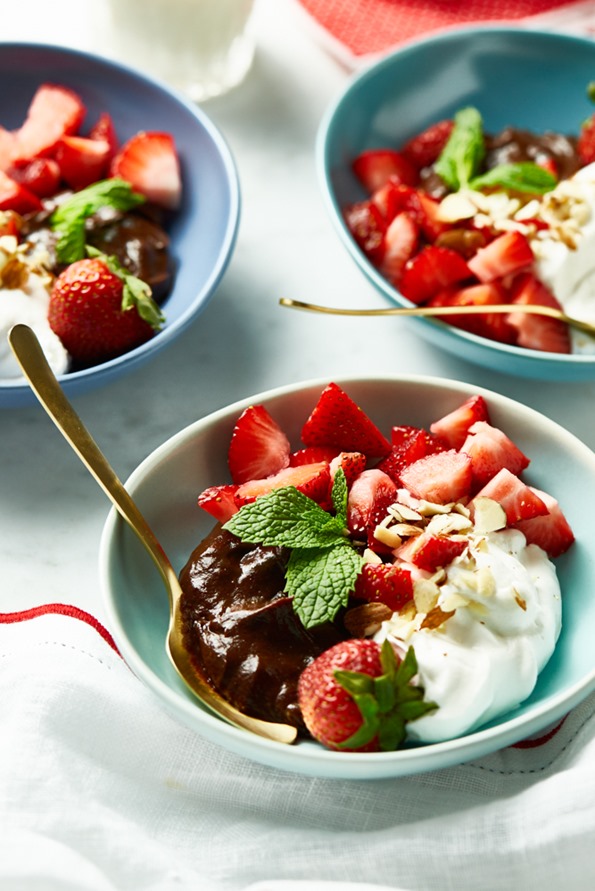 Lucky for you, all of this excitement has made me hungry. For chocolate. Chocolate pudding. I can't get it out of my head lately. If you're looking for a last-minute, seriously easy treat for Mother's Day this Sunday, look no further, my friends. Or maybe you simply need an excuse to whip up a decadent-tasting chocolate pudding. This one is a showstopper, but no one will know it's as easy as throwing things into a food processor! If you want to get wild and crazy, you could even serve this as a part of a Mother's Day brunch (and maybe layer it into cute parfait glasses). Chocolate and brunch…it should be a thing…it really should.
Avocado pudding is nothing new, of course, but until recently I had yet to nail a recipe for it that really knocked my socks off (and Eric's, too). And by knock my socks off, I mean that it has to make my eyes roll back in my head. Previous attempts have left me feeling a bit disappointed, like I was simply eating a healthy pudding that tasted like avocado and cocoa powder. There's nothing wrong with healthy chocolate puddings (in fact, I have a no-added-sugar version on the blog!), but sometimes I want something that tastes like the real deal. This pudding is rich and decadent like a chocolate pudding should be, but still manages to pack in some nutrition from the avocado, almond butter, cocoa powder, and more. I'll take it!
Since it's quite rich, the suggested serving size is pretty light, so I've bulked up the bowls with plenty of fresh chopped berries, toasted nuts, and a generous dollop of coconut whipped cream. It's almost too pretty to eat…almost. By the way, if you have our app, this recipe is already in there! It'll automatically download when you open the app.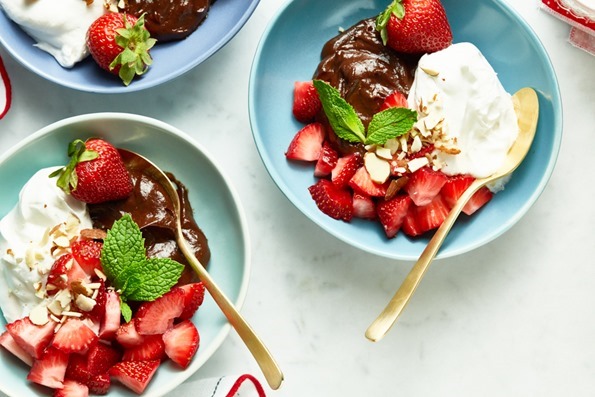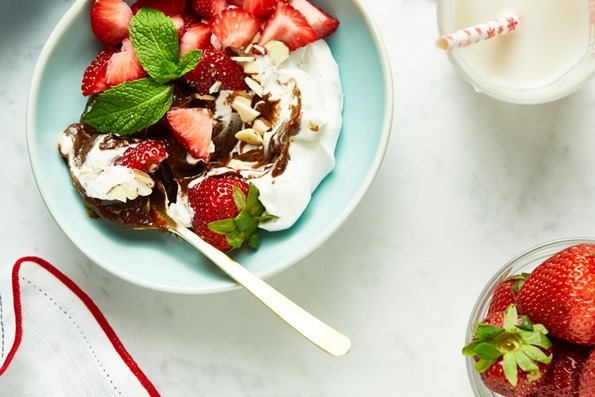 Last but not least, you've probably heard that Cinco de Mayo is tomorrow! If you're looking for some recipes, you might want to check out my Ultimate Green Tacos, Next Level Vegan Enchiladas, DIY Burrito Bowl, and Crowd-Pleasing Tex-Mex Casserole (The Oh She Glows Cookbook, p. 149).
See you on Friday for Friday FAQs!
Let's get social! Follow Angela on Instagram @ohsheglows, Facebook, Twitter, Pinterest, Snapchat, and Google+