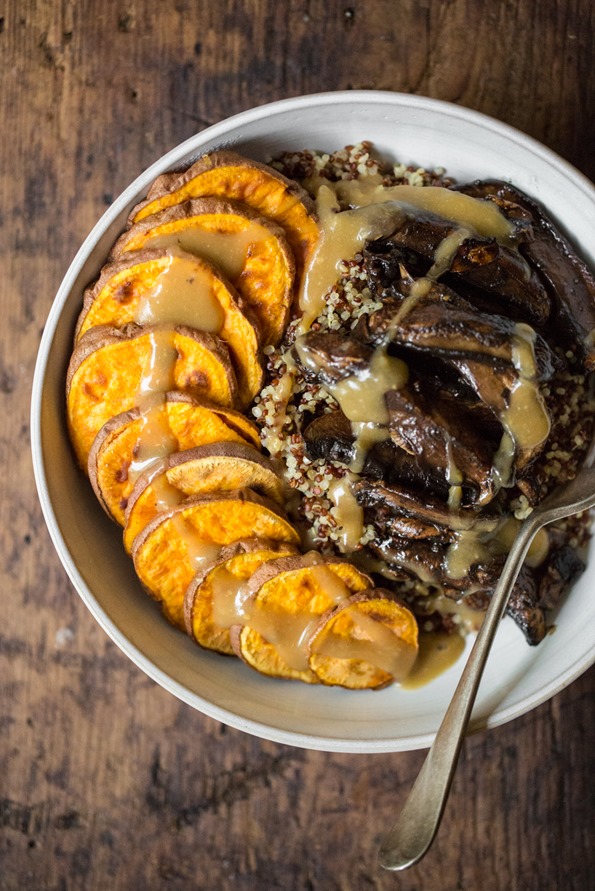 Sometimes I feel like I have a devil on one shoulder and an angel on the other this time of year. The devil tells me to eat ALL the cookies, chocolates, and treats (you know…#allthethings) while the angel reminds me how much better I feel when I'm eating ALL the rainbow. [I told Eric this, and with a twinkle in his eye he said, "So am I the devil on your shoulder?" He was referencing the fact that he's been begging me to bake some treats lately. "YES, yes you are the devil."] In an effort to feel my best throughout this busy holiday season (and keep my energy high!), I've made it my mission to strive for balance over the next four weeks. The devil is currently laughing on my shoulder! Shush! This is a goal I always have throughout the year, but I need more reminders during December when treats and parties are a plenty. I've also struggled with healthy eating since having a baby. Increased hunger (no, hanger) combined with overnight nursing sessions/lack of sleep result in a lot more sugar cravings throughout the day. I've been giving in way too often, but there's always room for improvement? Food tends to either deplete or increase my energy, and it's not hard to figure out which kind does what. 
So I'm trying to make sure I have a few solid meals each day to keep me going. This means when I do have treats I'll be less likely to go cray cray. Breakfast and lunch are no-brainers right now. My 5-Minute Power Oatmeal Bowl is still going strong (so happy to see that you guys are loving it too!) and for lunch I'm still loving an avocado mashed on toast with marinara sauce and Herbamare and an apple and raw almond butter on the side. Dinner tends to be trickier to come up with sometimes so I figured it was a good time to try out some new meals…which brings me to this recipe! I made it over a month ago and intended on sharing right away, but I had #gravyproblems (not sure why I feel the need to hashtag everything today, but let's go with it). There are a few moving parts to this recipe, but the beauty is that most can be made in advance. You can also make one or two of the items (such as the miso gravy or sautéed mushrooms) and mix and match with leftovers you currently have in the fridge. A bowl recipe is never the final word. Feel free to improvise as you see fit and come up with something new!
A note about this chickpea miso gravy – holy hell did I test it a gazillion times. And you'd never know it because the final gravy recipe is quite simple. In an effort to make a gluten-free gravy, I tested different gluten-free flours and I had problems with many. Chickpea flour seemed like an obvious pairing with chickpea miso, however I found that after the gravy leftovers chilled in the fridge it turned very thin and watery. Frustrating for me as a recipe developer, but maybe not a deal breaker if you consume it right away. I also tried some all-purpose gluten-free flour mixes and I always find there is a lot of variance among them. The ones with gums (like guar or xanthan) often produced gummy textures in my gravy attempts and I couldn't settle on one that I loved. Maybe you will have better luck though. Finally, I tried sorghum flour and I really liked the outcome, flavour, and texture. As always, feel free to experiment with what you like. I do think non-GF flours like regular all-purpose flour will work too! Another new discovery for me – I found that using potato starch instead of arrowroot powder for thickening yielded a nicer consistency/texture. I find arrowroot can be a bit slimy at times. I will definitely be using potato starch for future gravy recipes! Cornstarch might be fine too. Anyway, the final gravy recipe that I came up with is light in flavour with a nice consistency – it coats the back of a spoon nicely. A big bonus is that the gravy comes together in about 5 minutes flat. There's no chopping or anything (but if you wanted you could always add minced garlic and onion). It's my quickest gravy to date.
This concludes my gravy testing spree of 2014. Whew. I'd love your feedback on the gravy if you make it!
By the way, I made this recipe using Portobello mushrooms (my preferred version!) and then another using sliced cremini mushrooms. Both work great so feel free to use whichever you prefer! This is also why you see two types of mushrooms in the photos below – two different photoshoots. ;)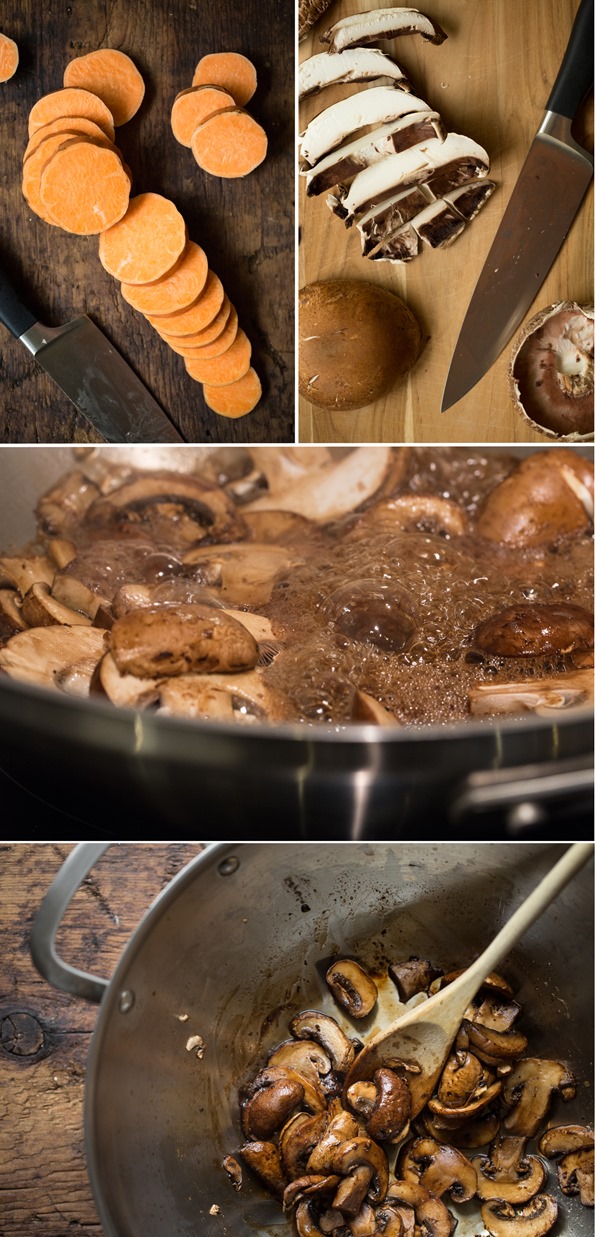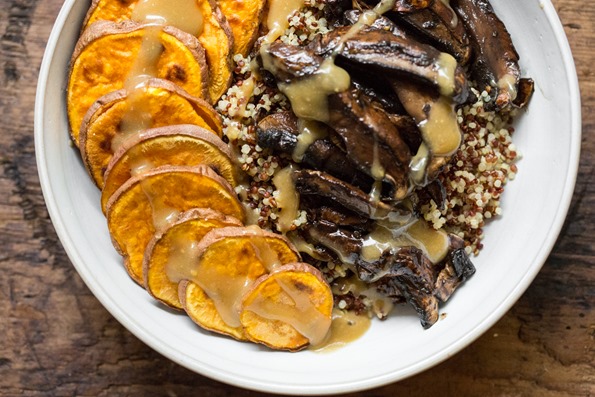 Let's get social! Follow Angela on Instagram @ohsheglows, Facebook, Twitter, Pinterest, Snapchat, and Google+