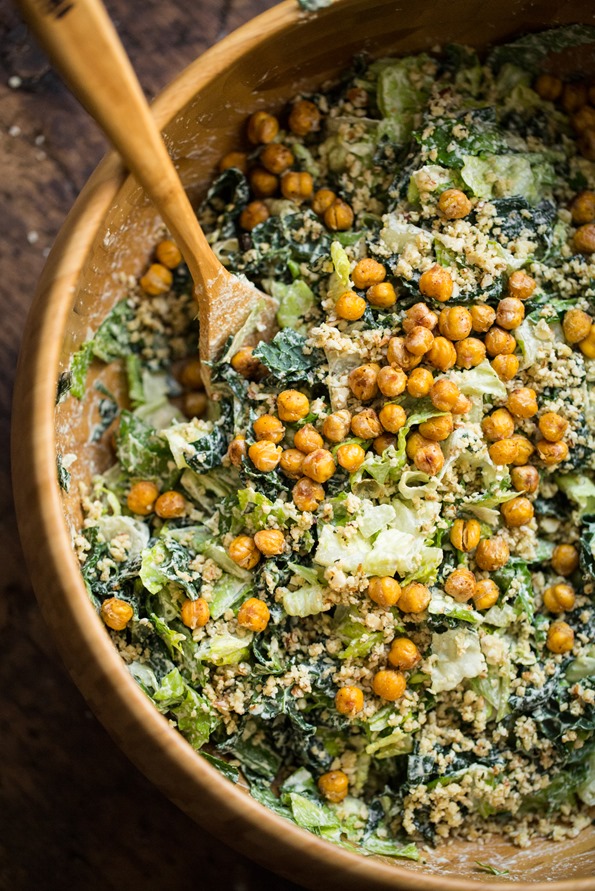 My dad is coming to visit this week. This means two very important things are on my "what to make dad" menu. 1) Chili, always and 2) Caesar salad. Those are essential food groups for the guy. Anything else is icing on the cake. Plus, I always welcome the opportunity to use my huge bamboo salad bowl that we received as a wedding gift from our friends. When this bowl comes out, it's something special!
Even though Caesar salad isn't traditional holiday fare, I totally think you can serve it as part of a holiday menu. I love an unexpected twist on the table personally. Do you have any non-traditional dishes that are go-to's for your family? My mother-in-law used to always serve Caesar salad as part of Thanksgiving and Christmas dinner and I swear it was one of the things that went the fastest, next to her famous croquettes. And my dad, well…let's just say his famous Caesar salad and chili make an appearance at every Christmas Eve and New Year's Eve gathering.
I've made a couple vegan Caesar salad recipes over the years (one of which is in my cookbook), but I think this version is my best rendition yet. Recipes are always works in progress for me and I find each time I make it, I'm always trying new things. In addition to a new dressing, I also added roasted chickpea croutons and a nut and seed based parmesan cheese. I used a blend of traditional romaine lettuce with non-traditional Lacinato kale (destemmed of course). This way you have the classic flavour of romaine with the nutritional boost of the kale, without scaring anyone away (ahem, dad). I love the two tone greens in the bowl too. It's a great make ahead salad because you can prep everything the day before (except for the roasted chickpeas) and then just mix it up the day of your event!
The first time I made this dressing, I actually used double the quantities you'll see in the recipe below. However, I found that it made way too much (I had half leftover after mixing the salad), so I cut the dressing ingredients in half and it still worked out fine in the blender. I'm just mentioning this in case you are wondering about making a larger batch for a crowd – this dressing doubles beautifully!
I had a lot of fun with the photoshoot for this recipe, so I'll let the photos do the rest of the talking.
And in case I'm not back again this week, I'd like to wish my American readers a lovely Thanksgiving! Thank you for coming here each week and eagerly trying out so many of the recipes I share. If you're looking for my favourite Thanksgiving recipes, you can find them here. Also check out my 3 Course Step-by-Step Vegan and Gluten-Free Holiday Menu.


Let's get social! Follow Angela on Instagram @ohsheglows, Facebook, Twitter, Pinterest, Snapchat, and Google+