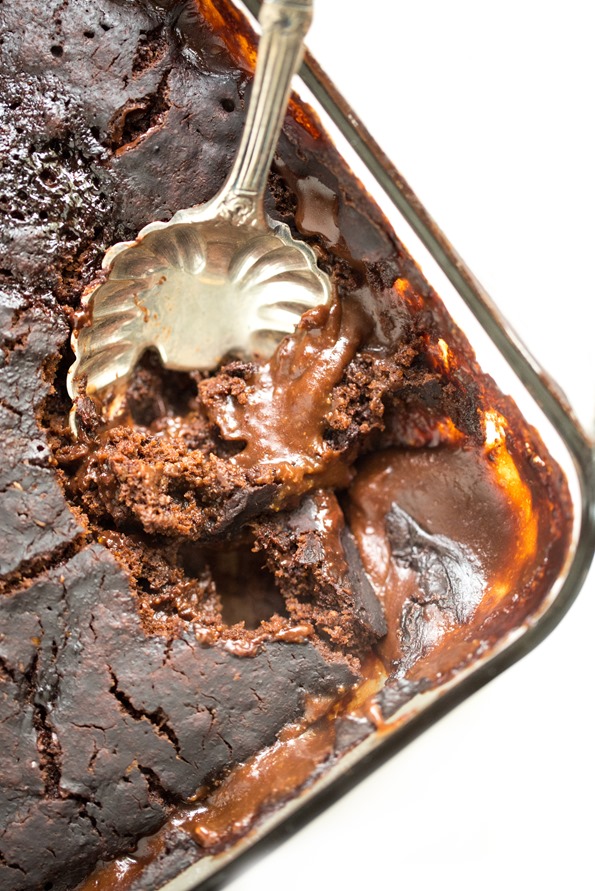 OMG, this pudding cake.
Pumpkin + chocolate + brewed coffee + pumpkin pie spices + almond milk = heaven in a dish!
Heaven in a gluten-free, vegan dish, that is. And it's easily made nut-free just by swapping out the almond milk for coconut milk. Want it soy-free too? Just use soy-free chocolate chips (such as Enjoy Life brand). Oh yea, and because I used moisture-rich pumpkin, this recipe is oil-free but you'd never know it.
If you haven't had the pleasure of enjoying a chocolate pudding cake before, let me tell you what's so magical about it: the chocolate cake creates its own chocolate pudding sauce as it bakes! Oh heck yes. It's like having a sous chef in your very own kitchen. Why make chocolate sauce when the cake can make it for you?
Now that you're drooling uncontrollably, let me show you just how easy it is to make…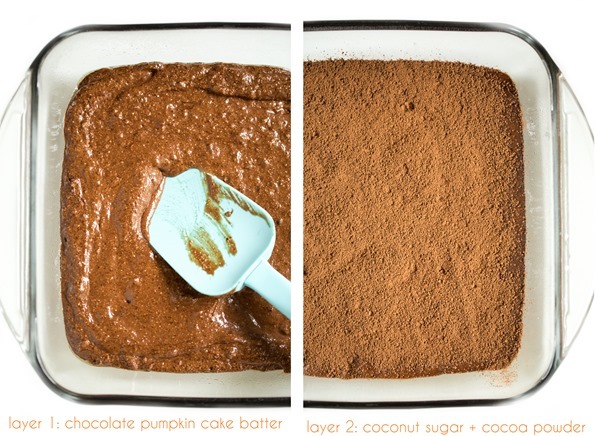 Layer 3 (below) is when you might want to freak out because your cake looks like a hot mess. You will think you did something wrong, but you did everything right, my friends. It's supposed to look like a hot mess. Don't you wish all recipes were that easy? So dump on that hot coffee on top and marvel in the hot mess! I promise it will all work out in the end (see after photo). It's like a magic trick.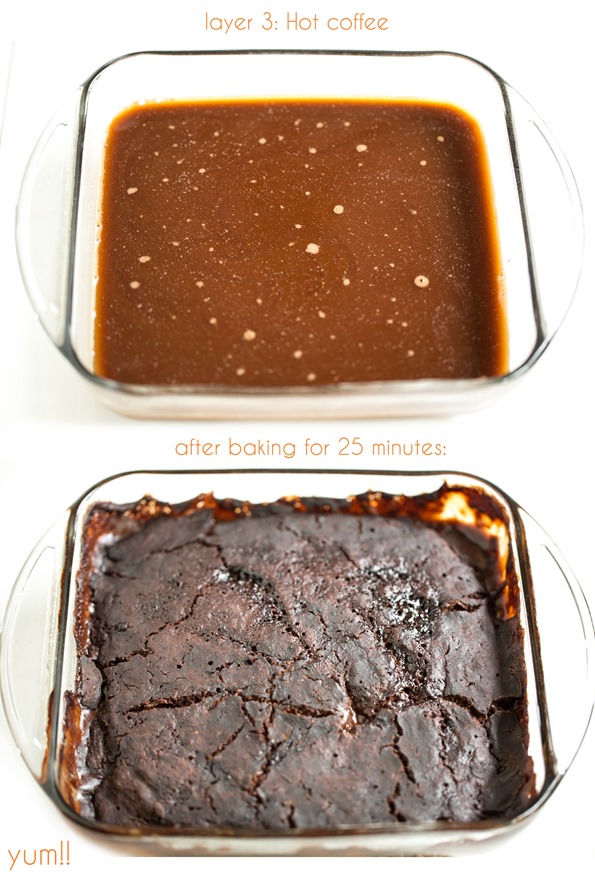 See? Nothing to worry about here.
Don't you just want to dig in with a big spoon?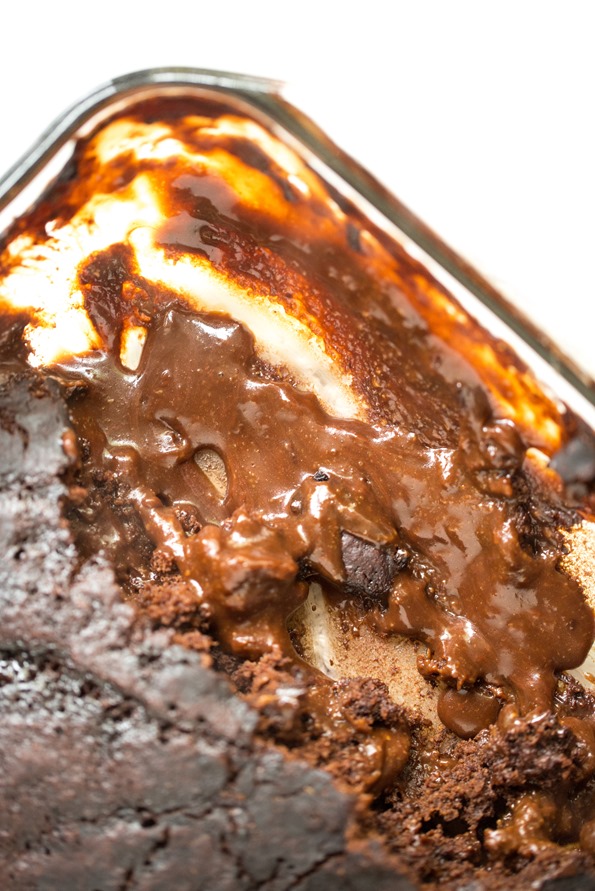 I highly recommend (no, I beg) that you serve it with your favourite vanilla ice cream (I love Coconut Bliss Vanilla Island) and toasted pecans. The hot vs. cold, gooey vs. creamy contrast is to die for. You won't be sorry.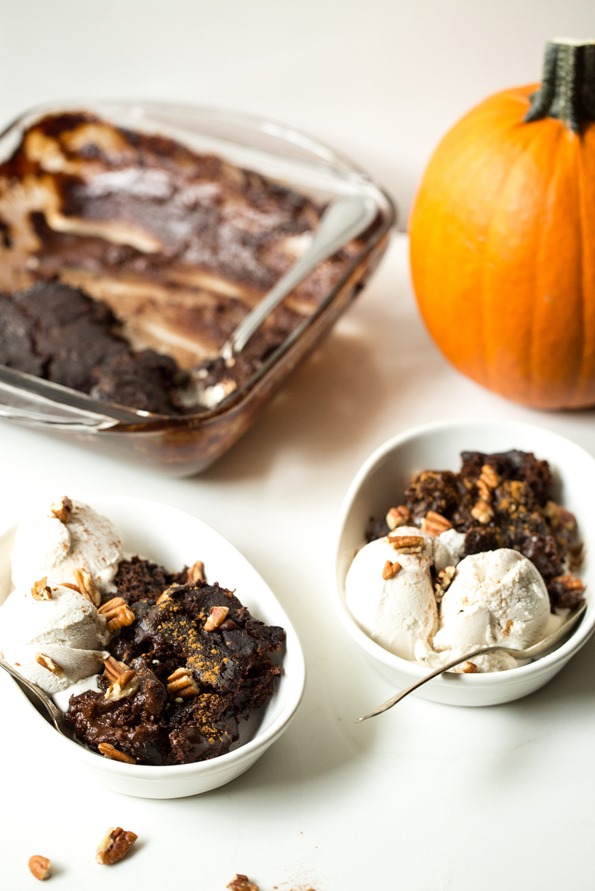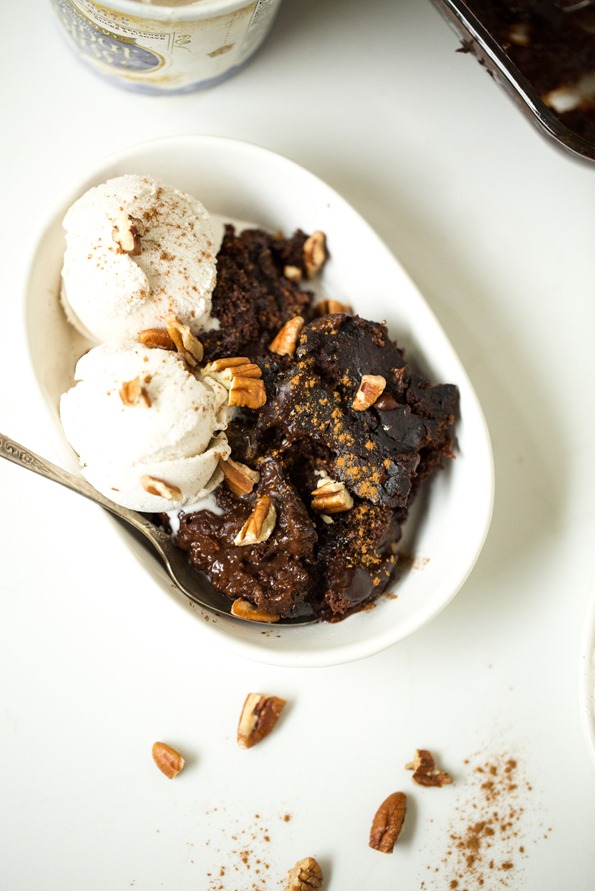 Wishing all my fellow Canadian readers a very happy Thanksgiving weekend! It's hard to believe it's already here.
If you are looking for my vegan Thanksgiving recipes, see this post.
Let's get social! Follow Angela on Instagram @ohsheglows, Facebook, Twitter, Pinterest, Snapchat, and Google+