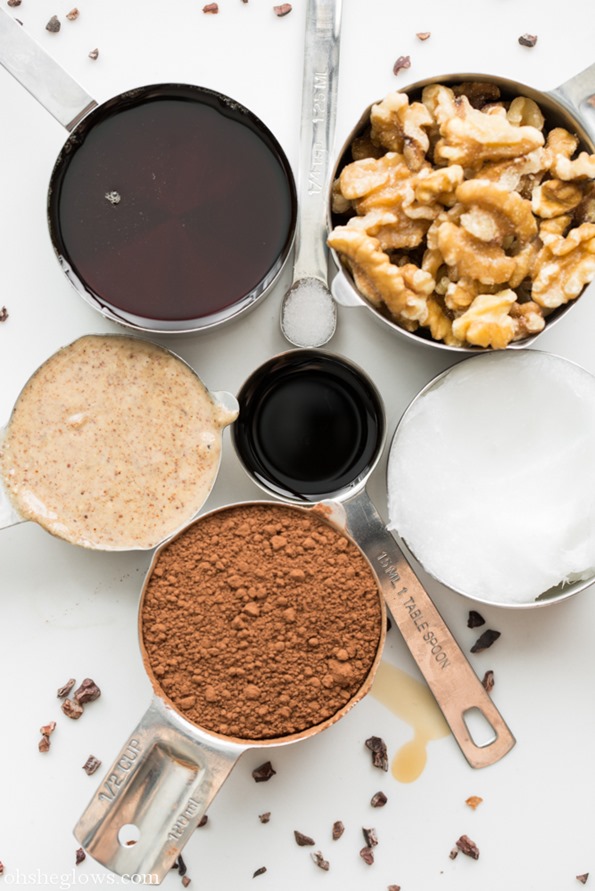 Instead of working behind the camera like I usually am, earlier this week I was in front of my favourite photographer's lens working in a beautiful kitchen with a handful of recipes from my book. We were shooting some kitchen scene and outdoor photos to sprinkle in my cookbook. Our landlord was gracious enough to lend us her beautiful kitchen for the day so I was surrounded by gorgeous white cabinets, stainless steel, and a walk-in pantry. I had to pick my jaw off the floor when I walked in. What a dream!
Our wedding photographer, Dave Biesse, happened to be visiting family in Ontario this month and by a stroke of luck he was available to do the shoot at the last minute. Reuniting with him just shy of 5 years since our wedding and engagement shoot was a real treat. Dave is so warm, creative, and fun to work with. Not to mention, that Australian accent can make anyone feel at ease! Dave and Charlotte now live in Australia year-round so we don't get to catch up nearly enough, but they will always be dear to us.
It's been pretty chaotic around here, but exciting too. We stayed up into the wee hours of the morning for a couple nights preparing recipes, making lists, packing props, and making last minute grocery stores trips. Some recipes had to be made the morning of the shoot, so I was up super early prepping recipes and praying to the culinary gods that the food would stay fresh! Two packed coolers, 4 containers with props/appliances, a handful of freshly ironed clothing, one packed car, and a few butterflies for good measure.
A couple friends suggested that I hire someone to do my hair and make-up so I wouldn't have to worry about it during the shoot. It sounded like a good plan, but after getting a trial done last week I ended up looking like I was going to meet the Queen. hah. I didn't even recognize myself in the mirror. Not ideal. I don't normally do dark eyes or maroon lipstick and I rarely curl my entire head of hair. Eric looked at me with a bit of horror on his face when he saw the finished look. It was priceless. In the end, I opted to do my own usual hair and make-up and I felt much more comfortable. Maybe it wasn't super glam, but I felt like myself (on a good day, I suppose) which is all that matters.
I planned on taking lots of behind the scenes shots to show you, but unfortunately I didn't have many spare moments during the day so I only snapped a couple.
Here is a picture of our landlord's kitchen. Hello, dream boat!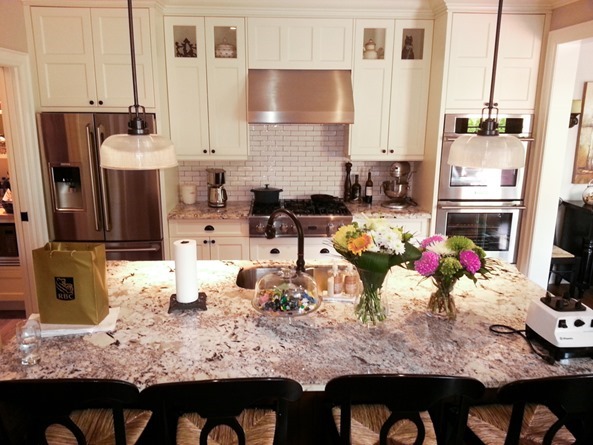 This is a tiny glimpse of the chaos that took over shortly after we arrived in the AM. The entire family room was packed with our stuff. Each time we did a new shot/angle, we had to move everything around the kitchen and then set up the new recipe. The hardest part was not being able to eat all the food though!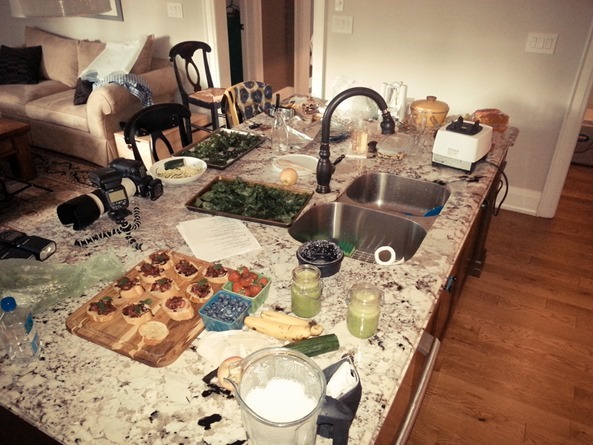 When all was said and done, it felt like the day after a wedding. All this build up and then in the blink of an eye, it was over. Still, it's nice to get back to everyday life where I'm free to get chocolate stains on my clothing and kale in my teeth.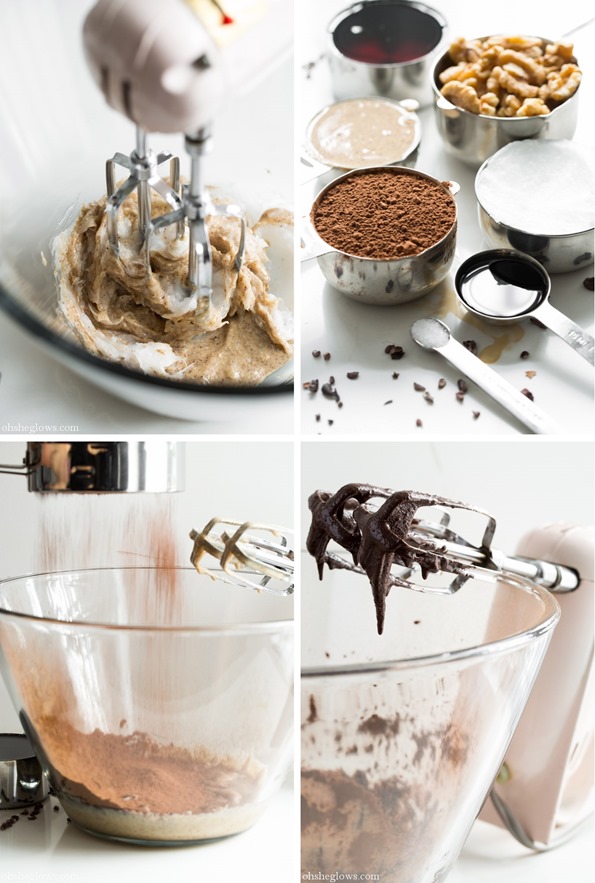 My Aunt Elizabeth made this raw chocolate fudge for our big family get together last week and it was a huge hit. Us ladies were all begging for the recipe which she adapted from the Company's Coming Superfoods cookbook. This version below is an adaptation of both the original and Elizabeth's version, swapping ingredients as I saw fit and cutting down the portion in half since it made so much.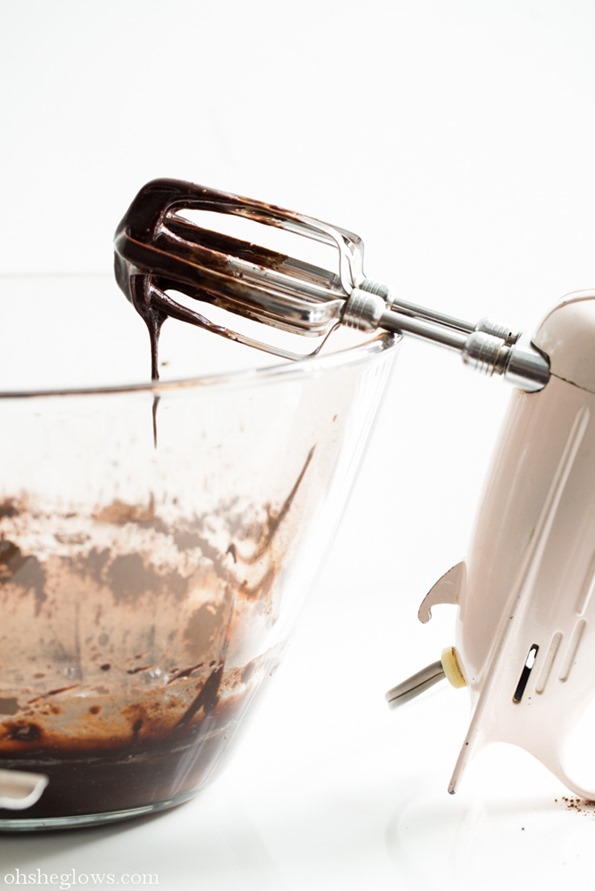 Even though this doesn't have the texture of traditional fudge (it's more like raw chocolate and smooth as silk), no one seemed to complain! It softens at room temperature (and melts in your mouth), so serve it straight from the freezer and chill leftovers as soon as possible. If you are a raw food purist and want a completely raw fudge use raw cacao powder and agave in place of the cocoa powder and maple syrup. Either way, it's downright seductive.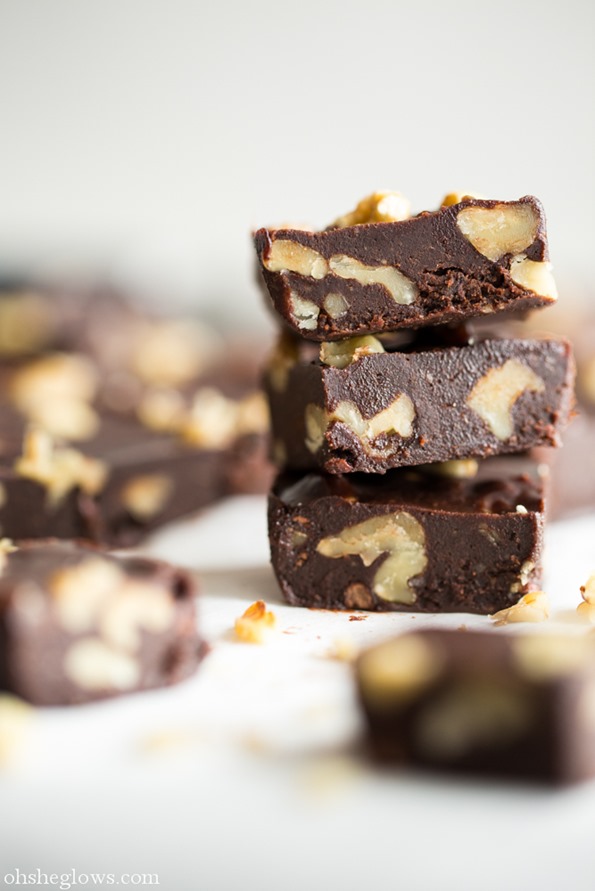 Note: I added a tablespoon of raw cacao nibs into my batch, but next time I will leave them out as I thought they were too crunchy in this fudge.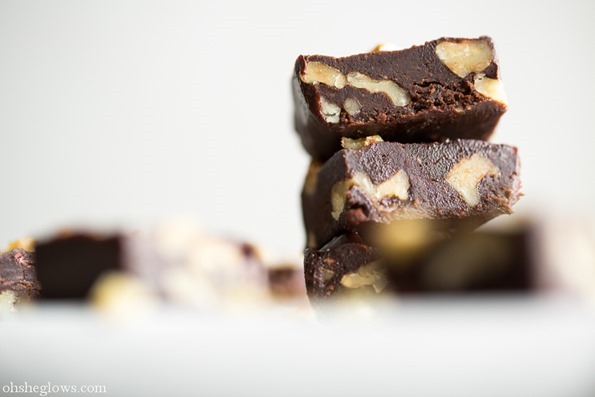 Let's get social! Follow Angela on Instagram @ohsheglows, Facebook, Twitter, Pinterest, Snapchat, and Google+