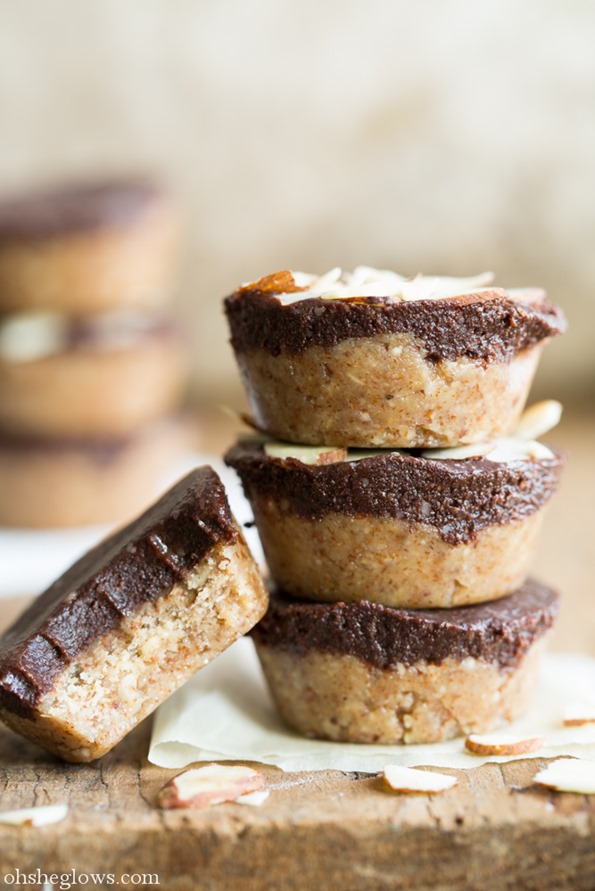 I just realized that I've turned on my oven maybe once in the past week. What a glorious thing.
What could be worthy of turning on the oven during a heat wave, you might ask? Two words: sweet potatoes! Yes, even in the summer, heat wave be damned, I need my sweet potato fix.
This is my favourite way to eat sweet potatoes lately: Dice the sweet potato (leave the skin on), roast until tender, and then toss the cooked potato with coconut oil, sea salt, and a sprinkle of cinnamon. Finally – and here's the best part – a generous spoonful of hemp seeds sprinkled on for good measure. The hemp seeds stick to the coconut oil, coating every delicious bite of sweet potato. I seriously drool when I think about it!
But this post isn't about roasting things like a crazy person when it's 40C with humidity, it's about not roasting things! Aside from my precious sweet potatoes, I've been relying heavily on raw foods to make up much of my diet. Raw Pad Thai, Detox Tabbouleh, hummus and veggie wraps, fruit galore, and a huge smoothie every single morning, just to name a few. Summer rules and winter drools. Period.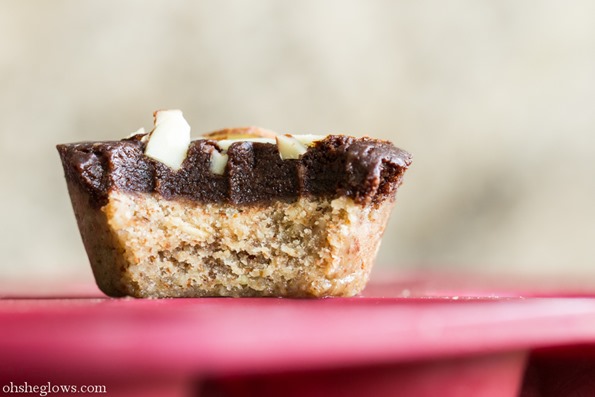 Speaking of drooling. These raw almond butter cups! Oh my goodness. Eric declared them one of his favourite treats and this is coming from a non-almond butter fan. I'm not buying it, Eric. I have a peanut butter cup recipe on the blog already (oh, and peanut butter cups in a jar, let's not forget), but I wanted to make something with the batch of raw almond butter I made recently.
For the almond base, I initially tried a combo of almond butter, coconut oil, and sweetener, which was super tasty, but the cups melted and were pretty greasy. In an effort to make the base more substantial, I reduced the almond butter and added in almond meal and a touch of oat flour. It was the perfect solution. Not only did it hold up better, but it tasted like cookie dough! What's not to love about that? noooooothing.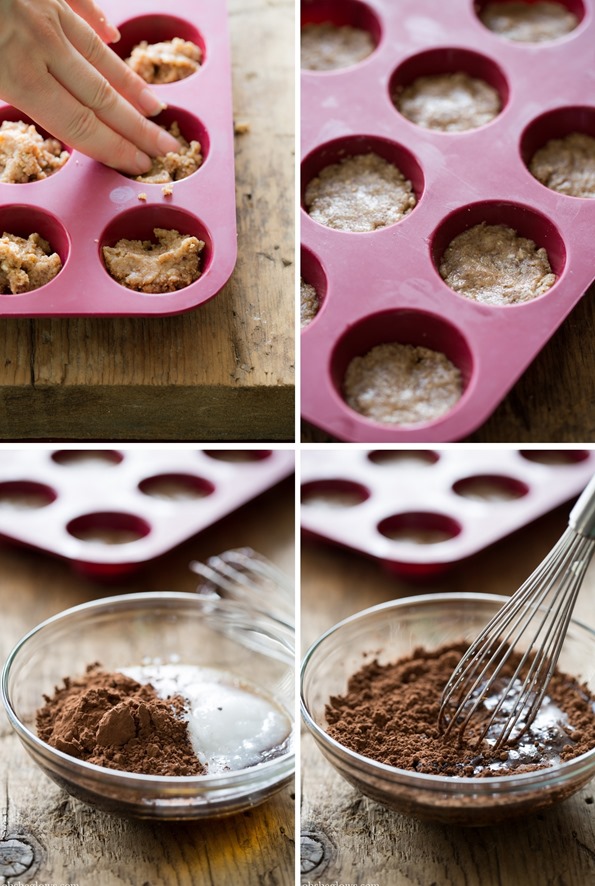 I used a mini silicone muffin holder since they are so flexible and I just popped the cups out after freezing. Easy! You can certainly use a regular muffin tin lined with paper liners though. For the thick chocolate coating, I made my own chocolate using cocoa powder, coconut oil, and sweetener. Feel free to simply use melted dark chocolate if that floats your boat! I added some sliced almonds on top before freezing which added a nice crunch.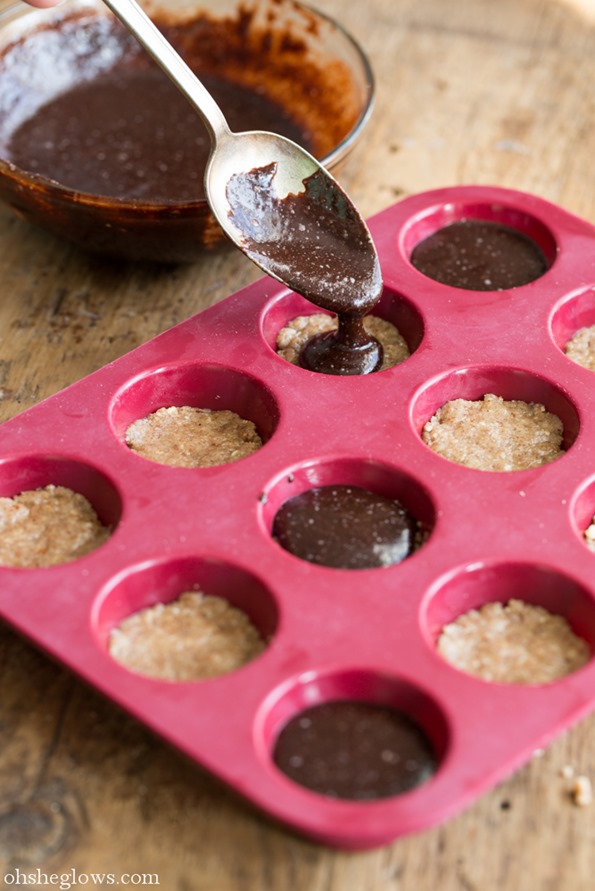 As you can see the chocolate topping started to melt during my photo shoot because it was a gazillion degrees, so I recommend enjoying these straight from the freezer for best results. Either way, I wasn't complaining too much!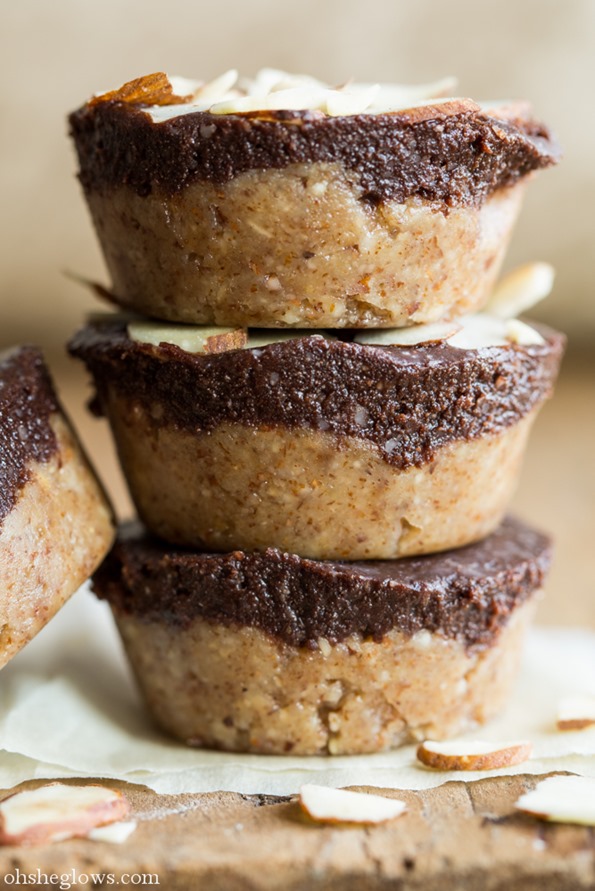 Raw Almond Butter Cups
Note: Use certified gluten-free oats to make this recipe gluten-free. NEW: See below for a nut-free version!
Email, text, or print this email
Yield: 1 dozen mini cups
for the base:
3/4 cup raw almonds, ground into a meal
1/4 cup rolled oats, ground into a flour
2 tablespoons raw almond butter (or nut butter of choice)
1.5 tablespoons coconut oil, warmed if necessary
1.5 tablespoons pure maple syrup (or agave nectar)
1/4 teaspoon cinnamon
1/4 teaspoon pure vanilla extract
pinch of fine grain sea salt, to taste
for the topping:
3 tablespoons coconut oil
3 tablespoons pure maple syrup (or 2 tbsp agave nectar)
2 tablespoons cocoa powder
pinch of fine grain sea salt, to taste
1. Add almonds and oats into a high-speed blender and blend on high until a flour forms. Dump into a large bowl and break up any clumps with your fingers.
2. Add the nut butter, coconut oil, maple syrup (or agave), cinnamon, vanilla, and salt into the bowl. Stir until thoroughly combined. The dough should be fairly sticky like cookie dough.
3. Line a mini (or regular) muffin tin with paper liners or use a silicone muffin holder. Portion the dough into each muffin cup and press down until even and smooth.
4. To make the chocolate sauce: Whisk together the coconut oil, sweetener, cocoa powder, and salt until no clumps remain. Spoon the sauce over top each of the cups, distributing evenly. Garnish cups with sliced almonds if desired.
5. Place in the freezer in a flat area for 30-45 minutes, until firm. Pop out the cups & enjoy immediately! These are best consumed straight from the freezer.
Notes: If looking for an oat-free option, you might be able to substitute the 1/4 cup of oats for more almond meal. My guess is that you'd need to add another 1/3-1/2 cup almonds to avoid the dough becoming too sticky. Please report back!
For a nut-free version, sub the almond meal for an equal amount of rolled oats (so use 1 cup total rolled oats). Sub the almond butter for sunflower seed butter. Works great!
Let's get social! Follow Angela on Instagram (@ohsheglows + @theglowspot), Facebook, Twitter, Pinterest, and Google+