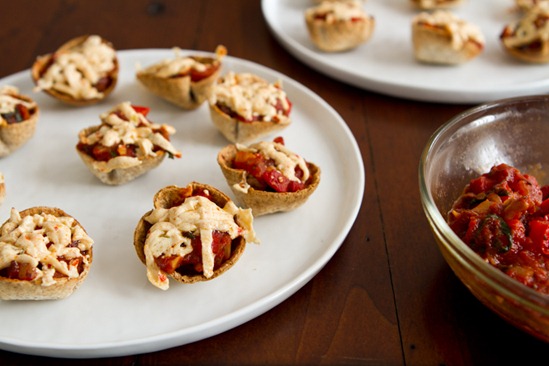 I'm the type of person who racks my brain forever before I can think of anything decent to make my family and friends when we're having a party or get together. Or better yet, I put off meal planning as long as possible until I find myself at the grocery store rushing around in a flurry, desperately throwing things into my cart. You'd think meal planning would come easy to me given how many hundreds of recipes I have made over the past few years, but unfortunately that's rarely the case.
Plus, don't people have expectations when you have a recipe blog? Bloggers, do you agree? Or maybe they don't care and I stress about these made up things in my mind, which I like to do. It's also possible that I'm just burnt out on the creative front by the time Friday evening rolls around and the thought of throwing a bag of chips on the table sounds very appealing.
Either way, I spent a long time thinking about what to make for my party this past weekend.
And you know what's funny? These pizza bites weren't on the menu. Nope. This was the product of my hungover creativity on Sunday morning. Go figure.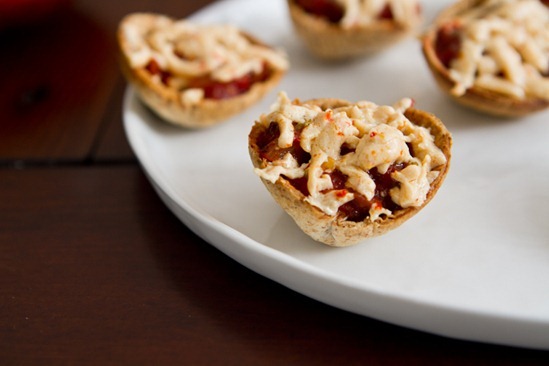 Have you ever made your own tortilla bowls? It's such a fun technique that looks impressive but is really easy to do. I saw this idea on Pinterest last year and filed it away for the perfecttime (note: a day late, but who's counting). Basically, you can make all sizes of crispy tortilla bowls, depending on the mold used. For this one-bite pizza, I used a mini cupcake tin, but feel free to use regular-sized tins if need be. It might turn into a 3-bite pizza though! You can also make big bowls and homemade taco shells, both of which I plan on trying out soon. My mind is just spinning with ideas and thankfully no longer spinning from the tequila shots on Saturday night.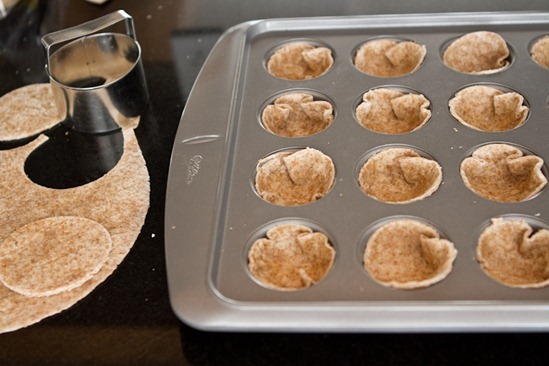 I used a cookie cutter to make circles (I got 8 circles per tortilla) and then I pushed one circle into each cupcake mold. No need to grease the tin- they pop right out after toasting. I toasted them for 12 minutes at 375F and they were perfectly crisp and golden! If you want to use a regular-sized cupcake tin, just cut the tortillas into quarters.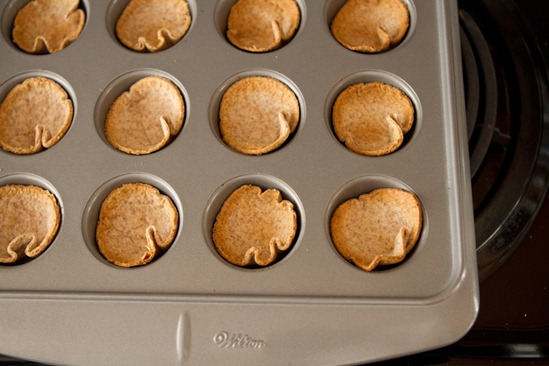 While those were baking, I got to work on my pizza sauce. Initially, I was going to use store-bought pizza sauce, but then I decided to make a "loaded" pizza sauce which was much more fun than anything I could've found at the grocery store.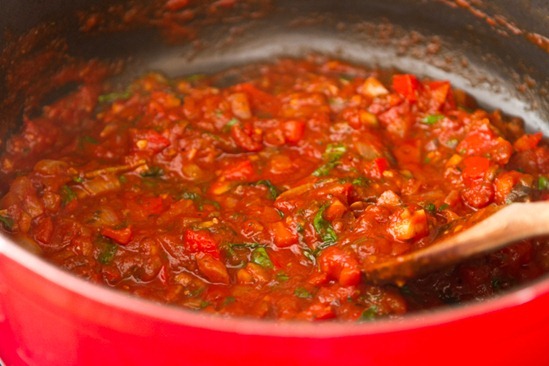 I loaded this pizza sauce with vegetables like red pepper, sweet onion, garlic, cremini mushrooms, and herbs like fresh basil, oregano, and thyme. It's so good straight from the bowl!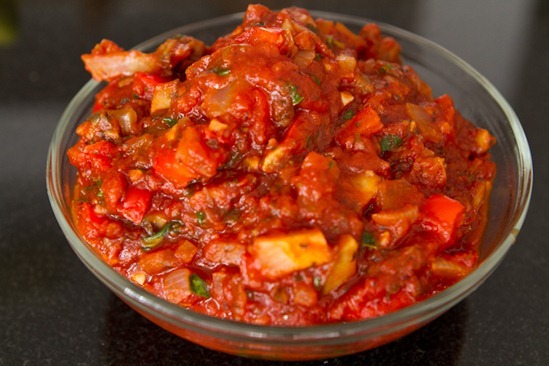 For the base, I used a 14-oz/398 ml can of Eden Organic Crushed Tomatoes and a few tablespoons of tomato paste.
Once the sauce was made, I scooped a bit into each toasted cup. Followed by a sprinkle of Daiya cheese. One of my homemade cheeze sauces would also be nice!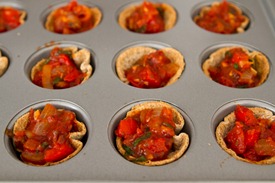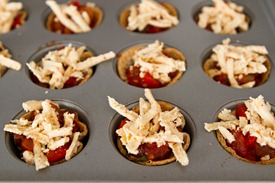 Then, I broiled it on high for a couple minutes until it bubbled.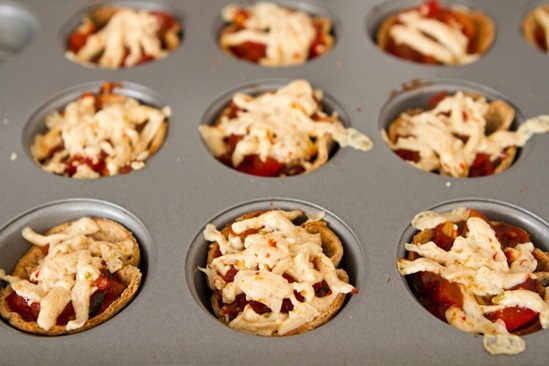 You know, it's a good thing I didn't make these for my party because it would've been really hard to share. In no time at all, we devoured almost the entire batch, save for a few that I left in the fridge for cold "leftover pizza". Yes, it's as good as it sounds.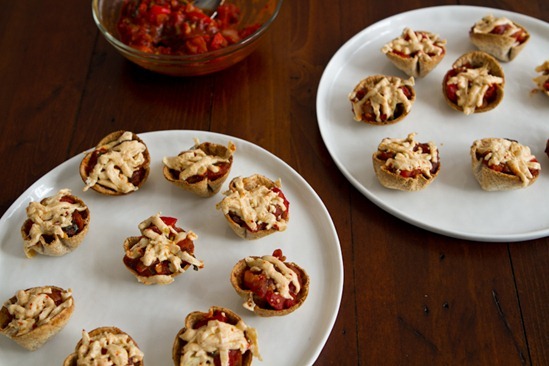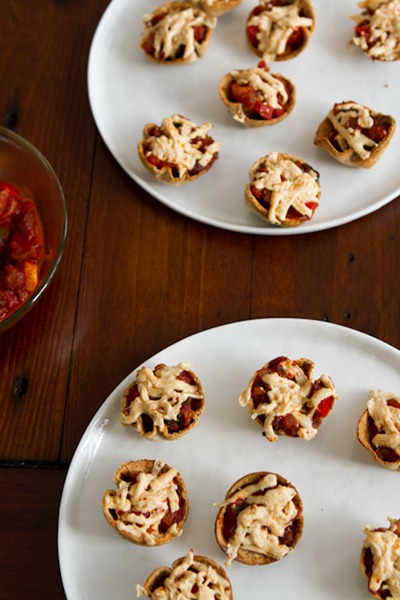 If you make the mini bites you will have leftover scraps of tortilla. I have a fun way that you can use them up: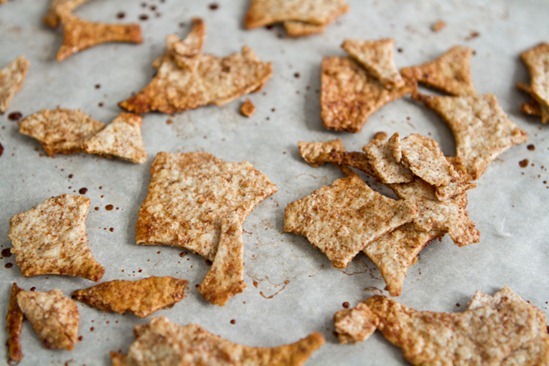 Rip the scraps up into small pieces and place into a bowl. Stir in 2 tbsp of maple syrup, 1/4 tsp cinnamon, and a pinch of nutmeg. Bake on a lined sheet at 350F for 8-10 minutes, stirring once halfway through.
You'll be left with sweet chips that taste just like Cinnamon Toast Crunch cereal. Oh yeah!
Let's get social! Follow Angela on Instagram @ohsheglows, Facebook, Twitter, Pinterest, Snapchat, and Google+