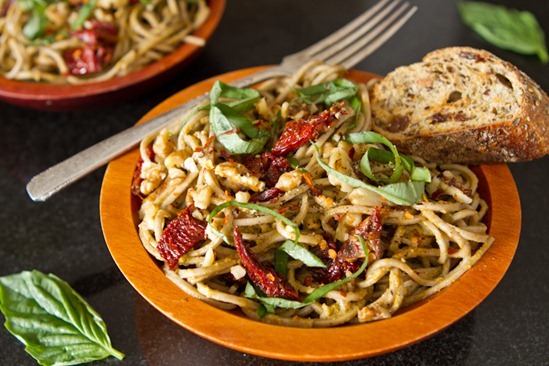 Don't you love when you discover a new food that blows your mind, despite the fact that others have been raving about it for ages?
Some of mine:
Avocado (I "hated" avocado until I ate my face off w/ guacamole in Mexico, 2007)
Mushrooms (anyplace, anytime)
Beets (raw, cooked, juiced, I like them all)
Tofu
raw cacao powder (a recent baking discovery…I'm obsessed!)
Dark chocolate (it took me a while to appreciate the intensity, but now I love it)
My latest cooking discovery: Sundried Tomatoes!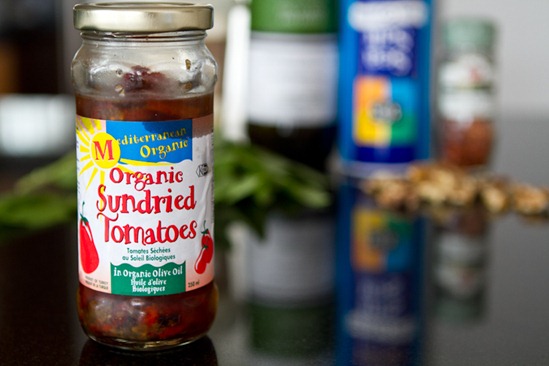 Where have you been all my life?
I can't seem to stop putting them in my food. My first recipe was Sundried Tomato Cheezy Kale Chips. Sundried tomatoes are just so flavourful and fun to add into so many dishes.
For some reason, I could not get the thought of sundried tomato basil pesto out of my mind.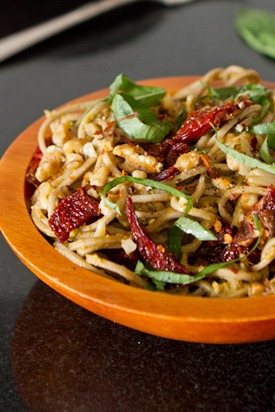 I made two trials of this pesto using both oil-packed (shown today) and non-oil packed sundried tomatoes. Both worked wonderfully, however the recipe changes slightly which I will note below. If you are using non-oil packed tomatoes, be sure to soak them in water for at least 1-2 hours before making this pesto. Finally, look for organic, sulfite-free sundried tomatoes if you are concerned about consuming sulfites.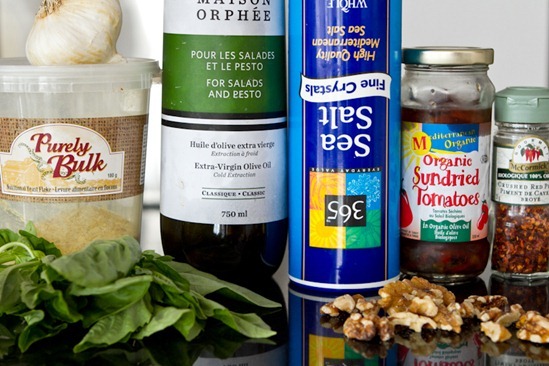 Don't mind the upside down sea salt. It's a long story that resulted in an exploded bottom with salt spilled over every nook and cranny of the kitchen. I won't mention any names (cough, husband, cough). It now rests upside down with tin foil covering the jagged plastic bottom.
You will need about 20 grams of fresh basil which is equal to a 1/2 packed cup. Really pack it in so it's overflowing!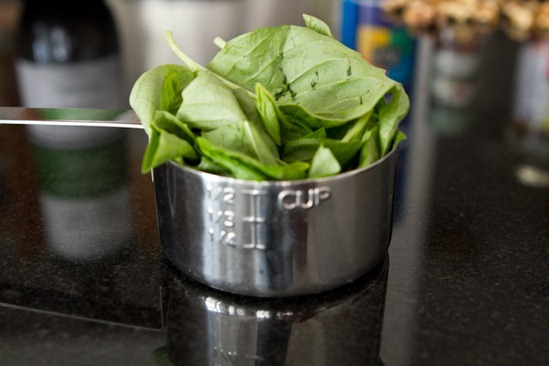 Much like my Roasted Tomato Basil Pesto, this pesto isn't the prettiest to look at, but it sure tastes incredible!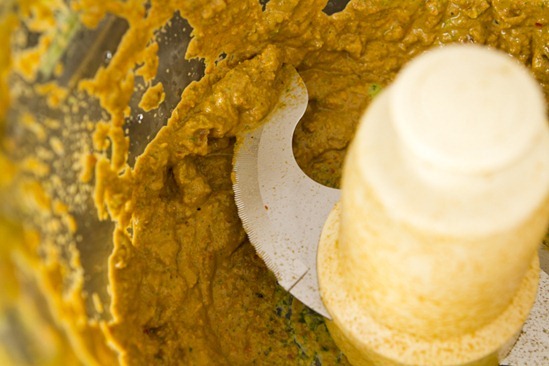 Ok, maybe itis kinda pretty with the right lighting! It's a sunny & orange sundried pesto.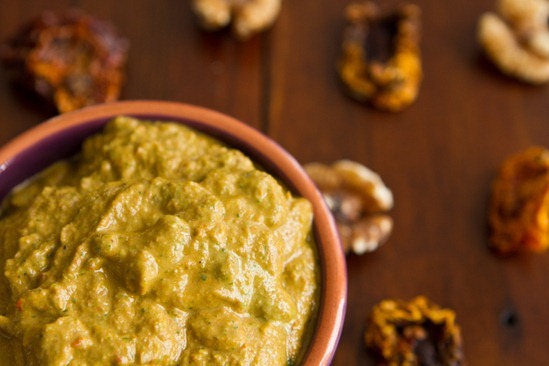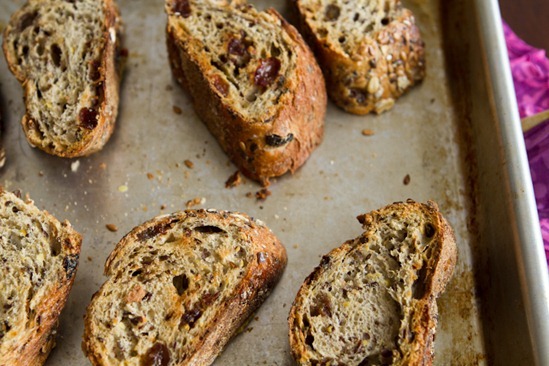 Served with toasted crunchy bread, this meal was one to remember. I didn't think I would ever like a pesto more than my Roasted Tomato Basil Pesto, but this one is now tied for first!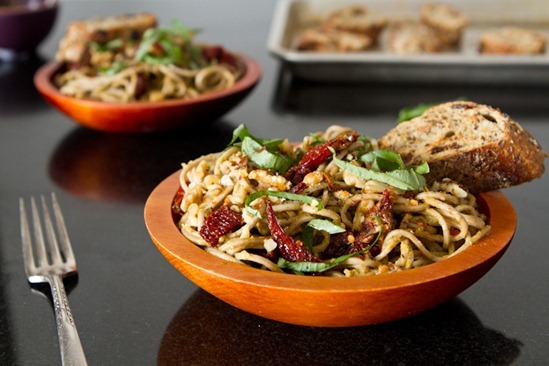 If you find yourself with leftover pesto, I recommend spreading it on a sandwich or wrap, along with roasted veggies, spinach, and avocado. Mmmmm, yes I highly recommend that. Or just mix some pesto into some roasted veggies for a tasty side dish. It should keep for a week in the fridge, but I doubt it will last that long.
Let's get social! Follow Angela on Instagram @ohsheglows, Facebook, Twitter, Pinterest, Snapchat, and Google+