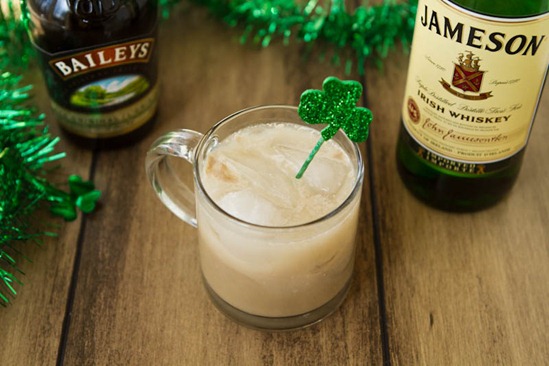 It's a lame Monday morning with 1 hour less sleep than usual and you're probably thinking about this weekend.
So let's talk St. Patrick's Day. :)
It's on Saturday. Fun will be had. Drinks will be consumed and parades will be watched. And we'll probably be missing a lot more than 1 measly hour of sleep. Consider today your sleep deprivation training for the 17th.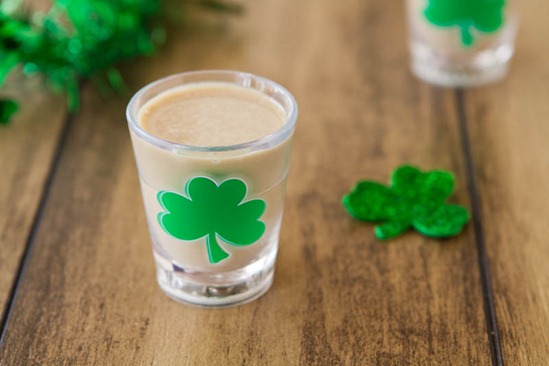 Picture with me if you will, a thick and creamy homemade Baileys Irish Cream, free of any glycerol monostearate, dairy cream, refined sugars, maltodextrin, artificial flavours, modified milk ingredients, and colour.
I have no idea what I just typed.
Using just 5 natural ingredients, this homemade Baileys has a light hint of coconut and espresso. It's vegan, but you'd never know it.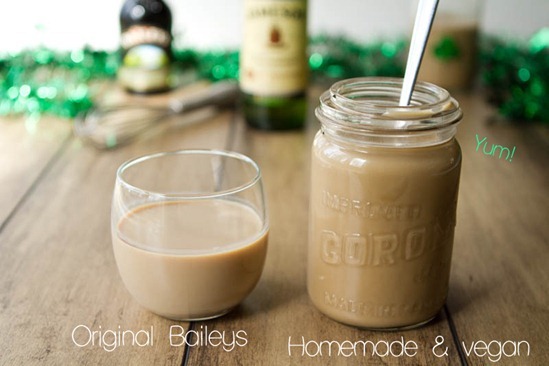 I also never would've guessed that Jameson Irish Whiskey would be vegan either. Who needs Guinness when you have this bad boy?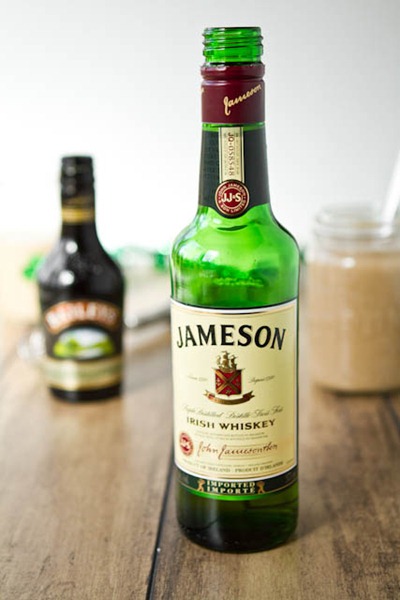 Last year, when I was putting together one of my vegan recipe round-ups, I came across Janessa's submission for her vegan Baileys Irish cream. I suddenly realized that a homemade version didn't look so difficult after all. I filed the idea away for later and finally got around to trying out my own version last week.
Coconut milk provided the ultra creamy texture. I "cooked down" the coconut milk with some Sucanat (or use brown sugar), until it thickened, for about 10 minutes.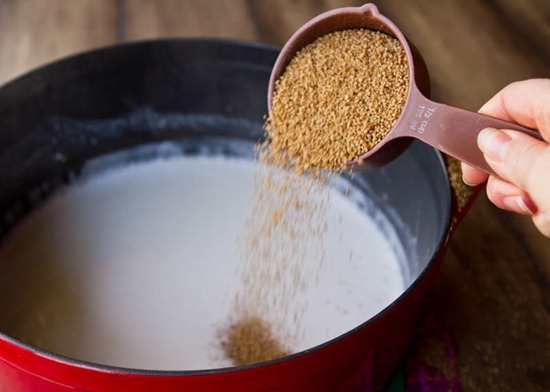 During my first trial, I cooked it down too long and discovered how to make vegan condensed milk!!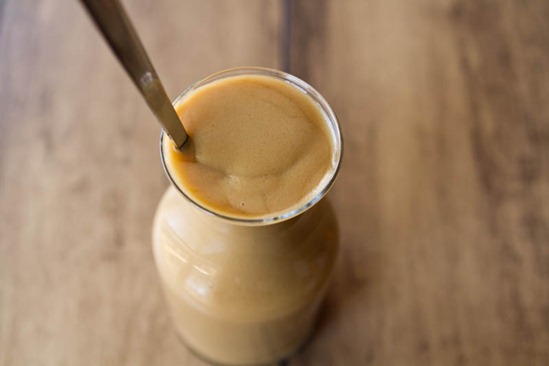 Check out how thick and creamy this is after about 20 minutes, cooking down 2 cans of full fat coconut milk and 1/2 cup of Sucanat. I'll have to use this in a baking recipe…it's crazy delicious.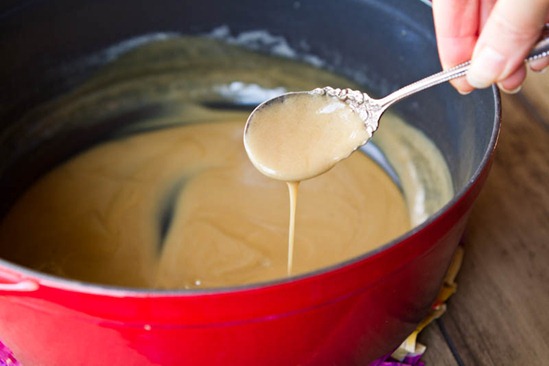 I decided that I didn't want it that concentrated for the Baileys, so I bottled up the first attempt and went back to the drawing board. This time, I only boiled it for about 9-10 minutes, instead of 20. It was perfect..slightly thick, but not overly so. I removed it from the heat and stirred in the rest of the ingredients.
Like this homemade espresso. ZING!!! Can you tell I drank espresso all weekend long? You can use coffee too, but I wanted it bold.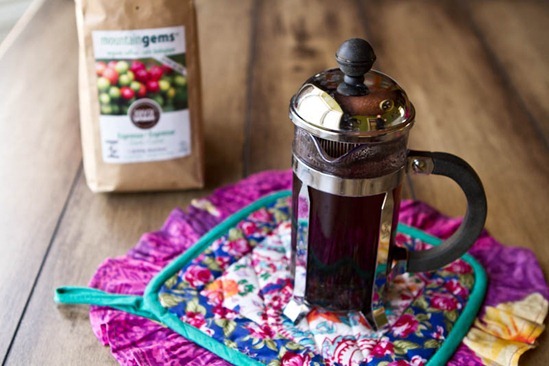 Let's just say that I didn't feel the effects of the time change at all…..wheeeeeee.
However, my hands may be a bit jittery.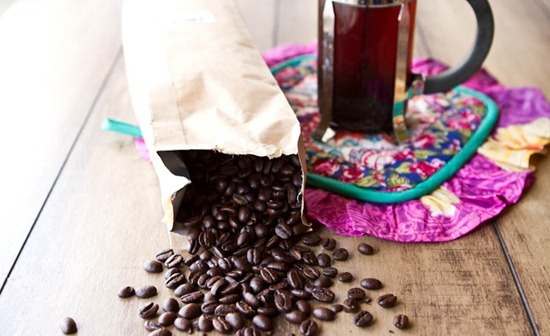 With a pinch of salt and a hefty dose of Jameson, it was complete..and incredibly easy to make! My batch made about 3.5-4 cups, as shown below. The actual yield is unknown because there was a lot of sampling going on!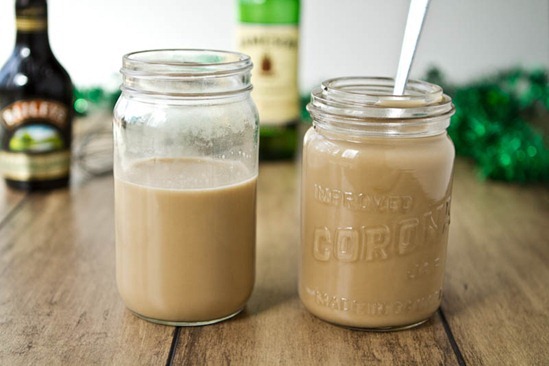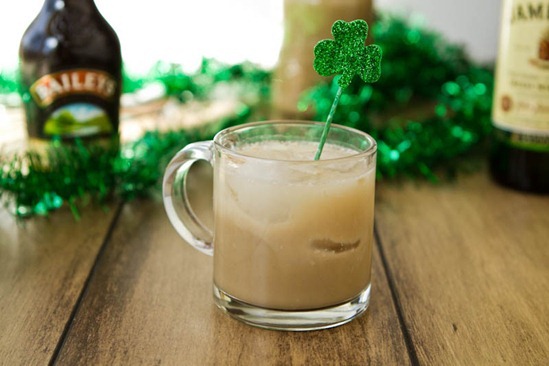 Add a shot to coffee or tea…
or even bake with it…yessss.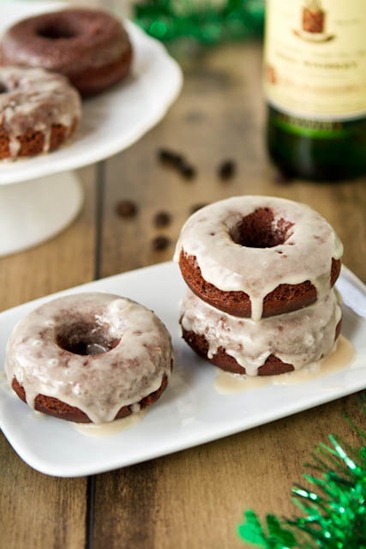 Now I just have to find a way to sneak my Baileys into the pub…
Let's get social! Follow Angela on Instagram @ohsheglows, Facebook, Twitter, Pinterest, Snapchat, and Google+