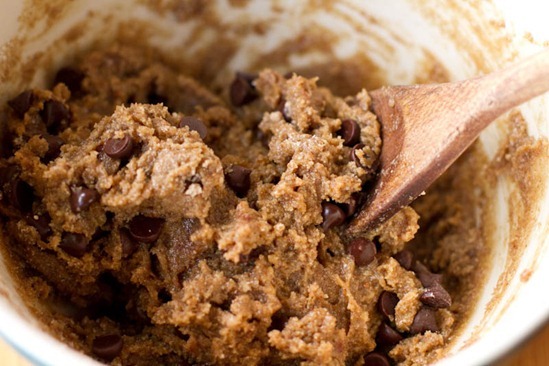 Lucky for you, patience is not my strong suit.
I made this recipe a while ago with grand plans to save it for the cookbook, but I really couldn't keep it to myself any longer. Especially on Valentine's Day. That would just be cruel.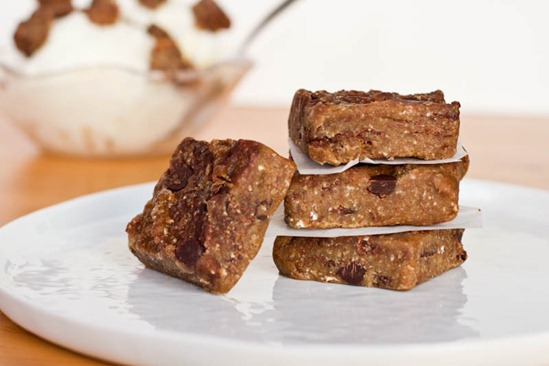 It all began when I saw an incredible looking cookie dough fudge on Pinterest. I immediately knew that I had to try making some, with my own vegan spin on it.
However, I didn't want to use confectioner's sugar, butter, sweetened condensed milk, cream, white flour, corn syrup, or cups of sugar, so I decided to use my gluten-free chocolate chip cookie recipe as the base and tweak it from there. I knew with a bit of work, I could turn it into a more natural "fudge" recipe while maintaining the authentic cookie dough taste. After a quick search for vegan fudge online, I also came across Sarah, Katie, and Kate's vegan fudge recipes and used those for a bit of inspiration, adding coconut oil and a banana to the recipe as well.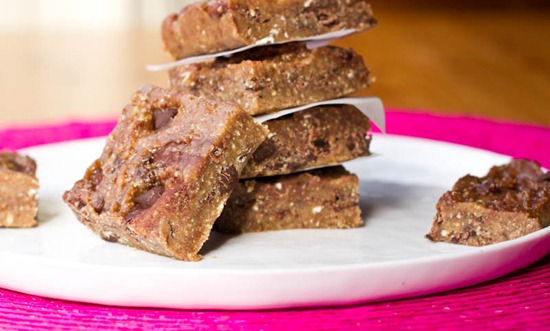 Here's what I changed to my cookie recipe:
I swapped the sugars for unrefined Sucanat sweetener
I swapped soy-free Earth Balance for coconut oil and reduced it from 8 tbsp to just 3 tbsp
I omitted the flax egg (not needed) and the baking soda (ditto)
I increased the oats from 1 cup to 1.5 cups
I added 1/3 cup mashed banana
Added a couple tablespoons of almond milk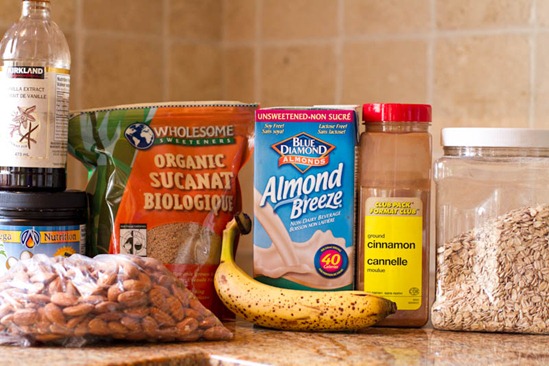 The first thing I did was heat the coconut oil, Sucanat, milk, and mashed banana on the stove top. I did this to melt the Sucanat so the fudge wouldn't be grainy. Most of the cookie dough fudge recipes I came across called for icing sugar, but I figured I could cook down the Sucanat without having to resort to the processed white stuff. It worked beautifully!
A healthier caramel-like syrup was born!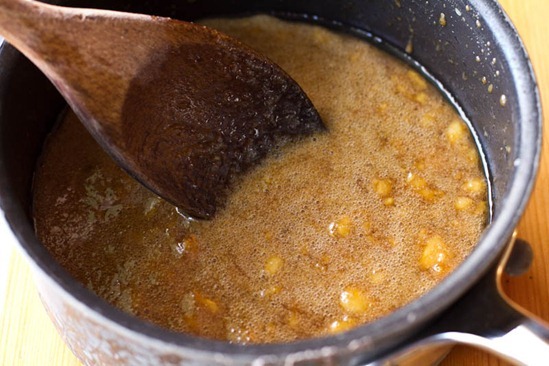 I let this wet mixture stand on the stovetop, to cool slightly, while I prepared the dry ingredients.
For the dry ingredients:
1. Take 1.5 cups of oats and process it in the blender until a fine flour forms. Remove and scoop into a large bowl.
2. Now, add 1 cup of raw whole almonds into the processor and process just until a fine flour forms. It's ok if a few pieces of almond remain. Be careful not to over process the almonds or it will start turning into almond butter and the flour will heat and clump together. If this happens, just use your fingers to push the clumps out. Or you can just use 1.5 cups store-bought almond flour.
Mix in a touch of cinnamon into the flours and now pour in the wet mixture on top and stir well until the clumps of flour aren't visible anymore.
Heaven in a bowl!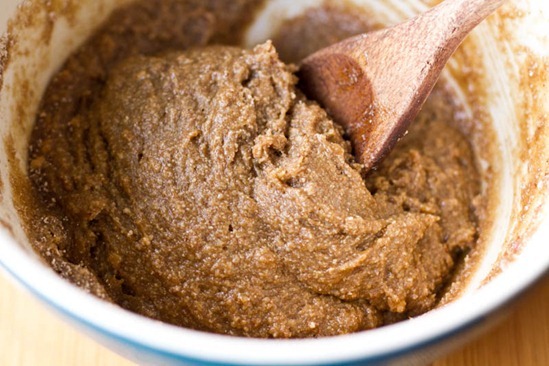 The cookie dough batter will be gooey and warm (since the wet ingredients were heated on the stove top), which presented a bit of a problem for my first trial. When I stirred in the chocolate chips, all of them melted right into the batter. This may or may not be an issue for you, but I wanted the chips solid for texture/appearance purposes. For my second trial, I chilled the batter in the freezer for 30 minutes before stirring in the chocolate chips. Much better. I wanted them solid for a nice texture, however, some of them still did melt a bit. It ended up being mostly chocolate chips with some chocolate swirl…perfect!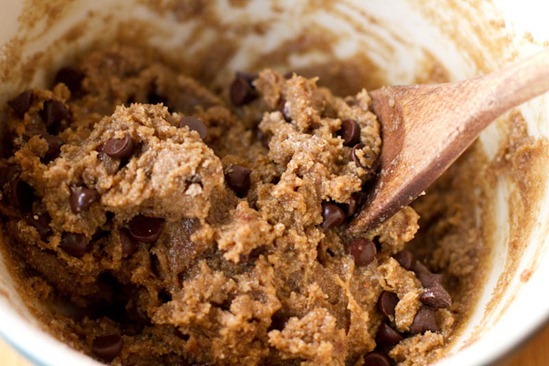 Now all you do is spread this dough into an 8-inch square pan lined with two pieces of parchment paper. The dough will be very stiff and annoying to spread, so dip a spoon into water several times to help spread it out. You'll eventually be able to spread it out smooth. Place it uncovered in the freezer for an hour and then it's ready to rock your taste buds!
Very important tip: It needs to be kept chilled to stay firm, but trust me, neither of us seemed to mind.
Serving it with some vegan ice cream is also highly encouraged!
With any luck, I can save the other versions for the book. :)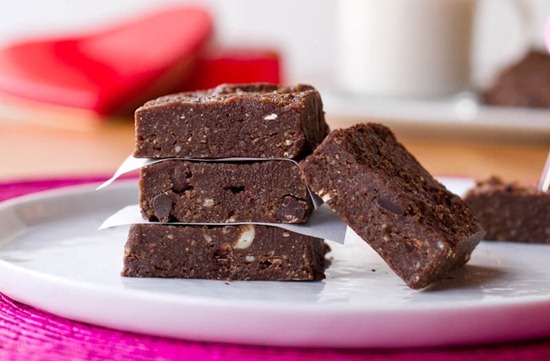 Happy Valentine's Day!
Let's get social! Follow Angela on Instagram @ohsheglows, Facebook, Twitter, Pinterest, Snapchat, and Google+