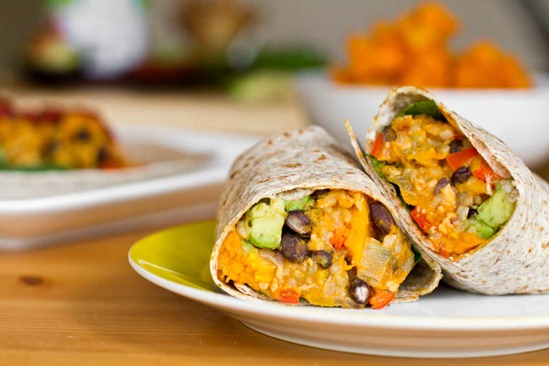 Isn't it cruel that I'm dangling these burrito pictures in front of you several hours before lunch on a Monday morning? If I was a better planner, I would have posted this recipe yesterday. Then you could have made these for dinner and had leftovers for lunch today. Oops?
The truth is, I was just too busy stuffing my face with burritos yesterday!
Burritos are delicious, versatile, portable, filling, and a great source of vegan protein. What's not to love? Plus, what other food are you challenged to stuff a thin, tiny wrap with as much filling as possible while avoiding explosion? The challenge is thrilling.
Why in the world have I not made vegan burritos before?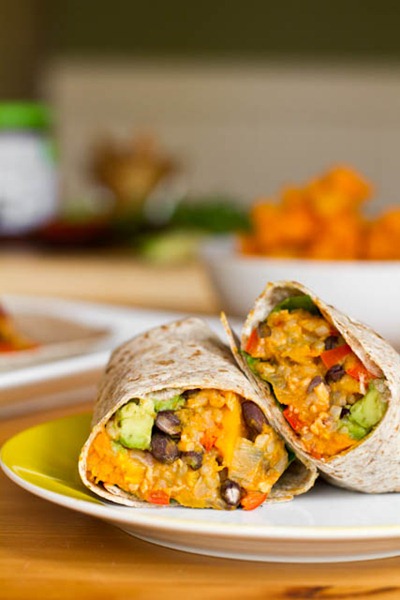 Luckily, you guys keep me in line! A vegan recipe blog without a burrito recipe has not been unnoticed by many of you. I've had several requests for a black bean burrito recipe and I finally got my butt in gear. I just had to wait until inspiration struck.
Inspiration turned out to be a huge craving and a butternut squash that wasn't getting any younger.
Burritos it is.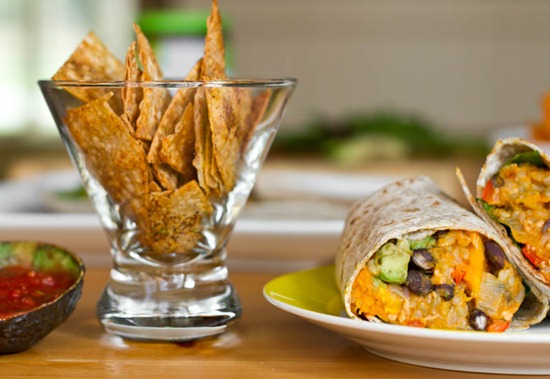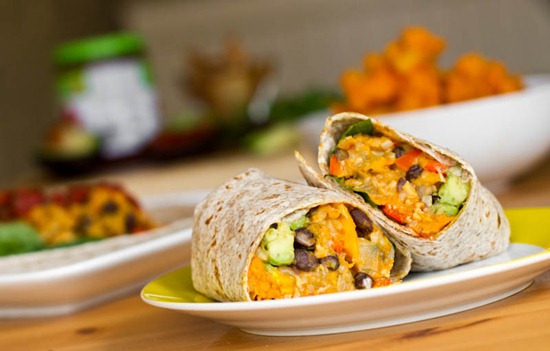 This recipe takes a bit of time due to roasting the squash and cooking the rice. My suggestion is to cook the squash and rice the day before. Then all you have to do is throw some things in a skillet and it will come together in 20-30 mins.
Sautee chopped onion, garlic, and red pepper in a skillet.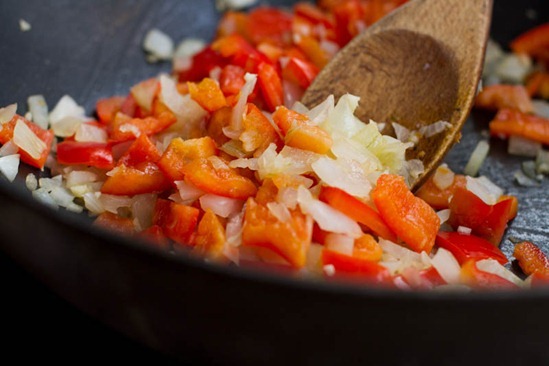 Add your salt, seasonings, cooked beans and cooked rice: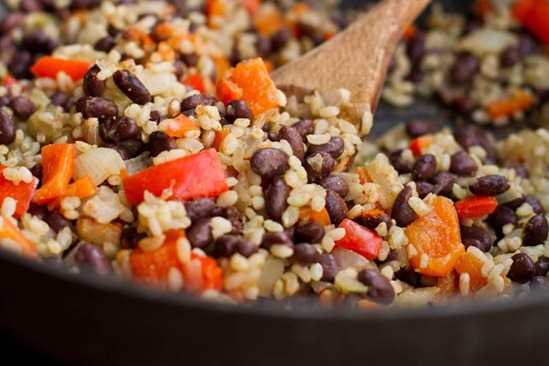 Now stir in 1.5 cups of cooked butternut squash. I mashed mine up a bit with a fork, but left some larger pieces too.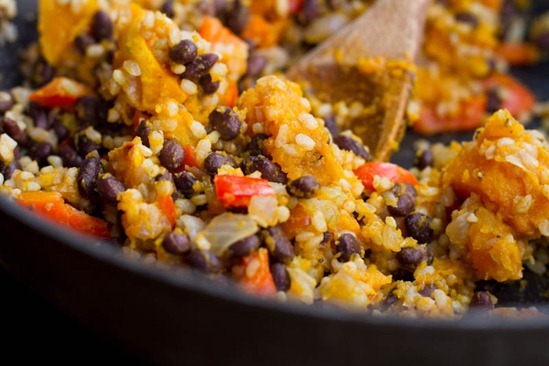 Stir in 3/4 cup Daiya cheese (or your preferred cheese) and heat until melted. I can't even begin to describe how amazing the cheese made this mixture. It went from good to mind blowing! I don't suggest skipping the cheese.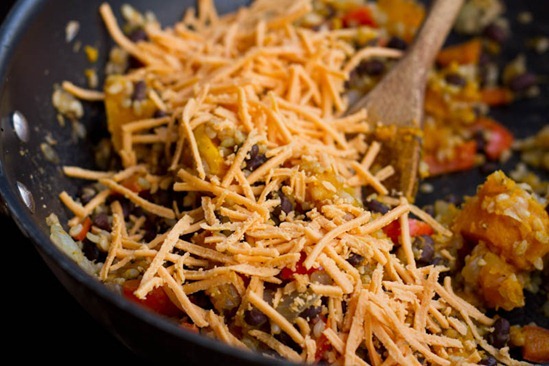 Now wrap it up and add your desired toppings. If you use about 3/4 cup of filling per burrito it should serve 4 comfortably.
I added spinach, avocado, and salsa in addition to the bean/cheese filling. You could also add vegan sour cream, lettuce, tomatoes, chopped Cilantro, sunflower seeds, hot sauce, etc.
Fold in the sides: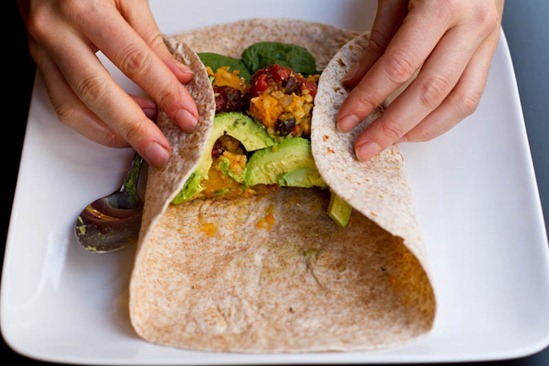 Take the end closest to you and wrap it over and tuck underneath the filling.
Monster hands, optional!
Now finish rolling the wrap until the lose end is on the bottom.
With a knife, slice through the centre.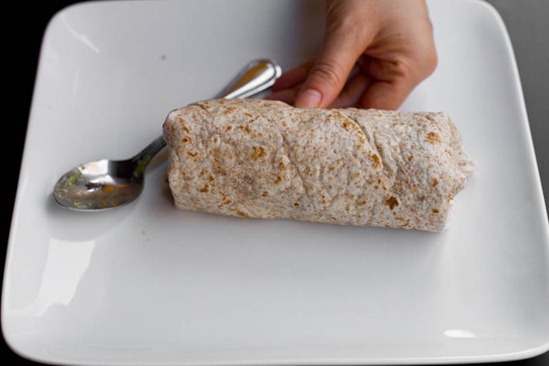 Somehow I managed to avoid explosion!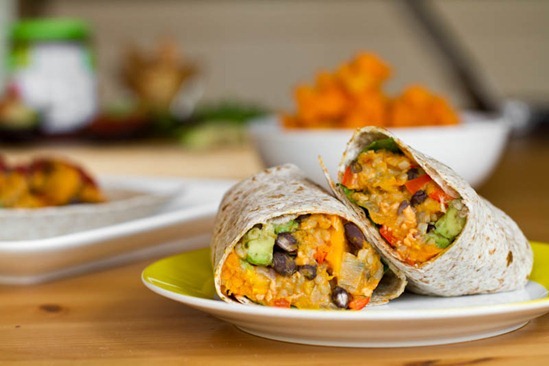 We both agreed that these are the best vegan burritos we've tasted and we've tried a lot. I'll be making these again and again!  The black and orange is also pretty festive for Halloween, don't you think?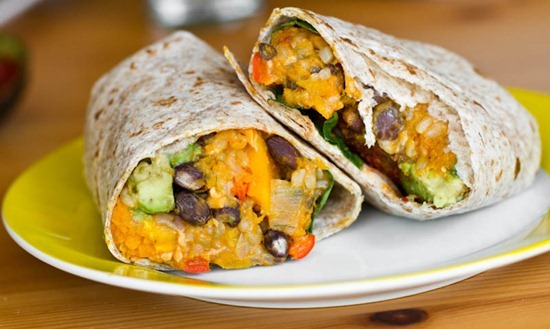 It also makes a great salad topper too.
…and a great post-workout feast which is how we enjoyed the burritos yesterday. The only thing missing was a cold beer!
As for the leftover roasted squash? You can use it to make Butternut Squash Mac 'n Cheeze or maybe Butternut Squash and Black Bean Chili.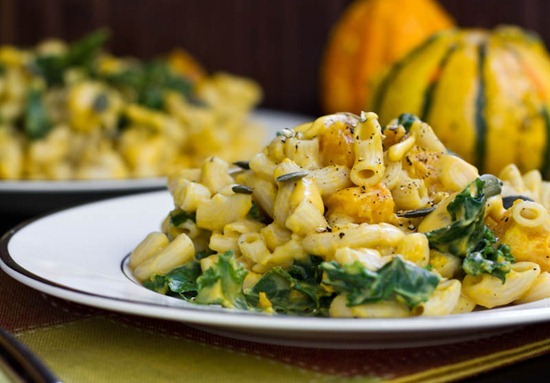 Have a great Monday!
Let's get social! Follow Angela on Instagram @ohsheglows, Facebook, Twitter, Pinterest, Snapchat, and Google+