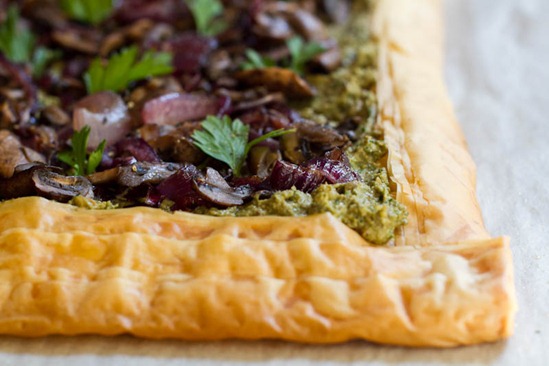 Mushroom Masters: A Tournament of Taste is back for year two!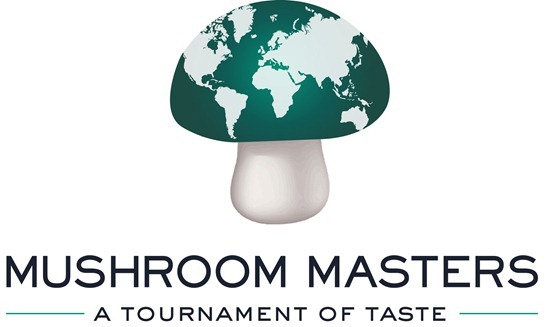 I was delighted to be asked to participate again after having so much fun with my Portabella Pizza recipe last year. Things got wild. Last year's challenge is a big reason why I now love (and crave!) mushrooms as much as I do. I really didn't fall in love with mushrooms until I started experimenting with them in the kitchen.
Sometimes those strange little things just need to grow on you like…fungi…?
Check out these cool mushroom facts:
Mushrooms are the only item in the produce aisle with vitamin D.  Winter's coming, eat up!
Mushrooms are low in calories, fat free, and can be an effective substitute for meats thanks to their hearty and fulfilling nature.  I would concur.
Mushrooms are a source of selenium and ergothionene, antioxidants that play a role in immunity. Don't be a sicky this Winter and eat up.
Mushrooms are a kitchen staple: they can star as the feature ingredient, or pair with any dish. They are like a little black dress, in other words.
Tastespotting is hosting the event once again along with Mushrooms Canada, Australian Mushroom Growers Association, and The Mushroom Council. Twelve of us food bloggers from Canada, US, and Australia were asked to compete in this challenge and were offered a bit of compensation for our time and food costs. We are now in the 4th and final week of the challenge.
I was assigned to the final week's Appetizer challenge! Also participating in this appetizer challenge are  two very talented bloggers- Elana of Elana's Pantry and Ellie of Kitchen Wench.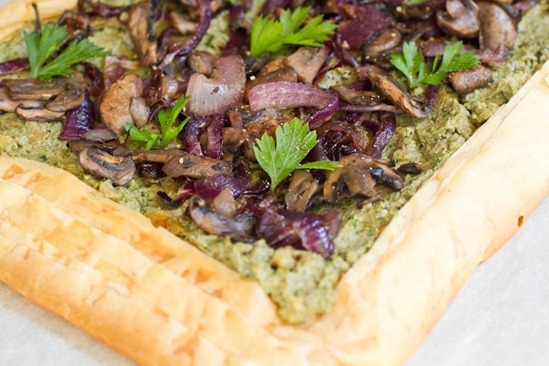 To be honest, I thought my mushroom creativity was maxed out with last year's Portabella Pizza, but this Mushroom Walnut Pesto Tart is hands down the best mushroom recipe I've ever made. I'm so excited to share it with you after sitting on the recipe for a few weeks.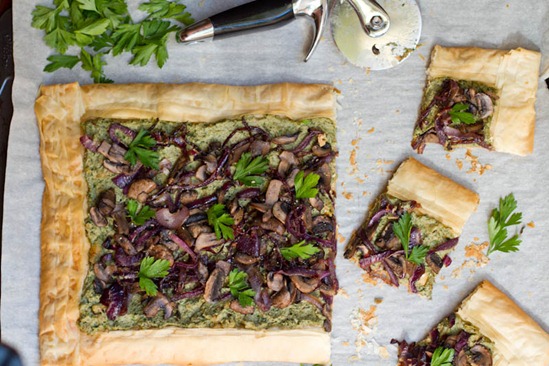 Given my recent infatuation for vegetables in my pesto, I thought it would be fun to make a mushroom walnut parsley pesto as a base for a tart. I really had no idea how it would turn out so I prayed to the culinary gods for a miracle.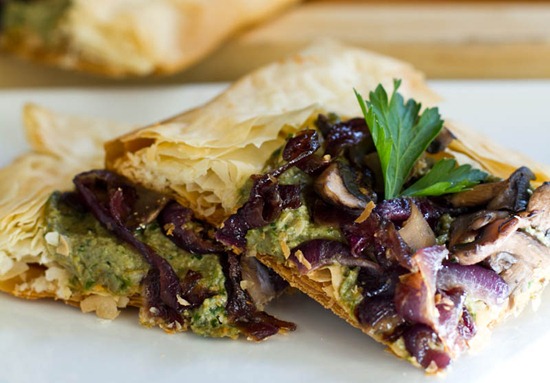 For the pesto, I processed together garlic, toasted walnuts, extra virgin olive oil, fresh parsley, S & P, and the sautéed mushrooms. I was a bit worried that the mushrooms would taste weird in a pesto (shame on me, I know), but the flavours just worked so well. If you don't want to make a tart you can always use this pesto with a pasta dish or spread over some crostini. Or you know, the spoon to face method worked for me quite well.
Step aside roasted tomato basil pesto, there's a new fav pesto in town.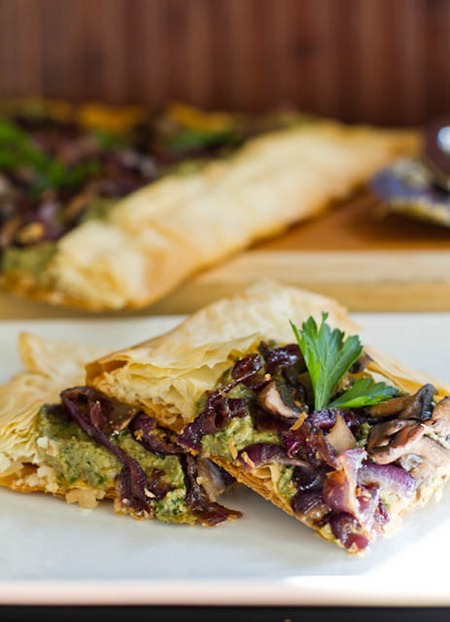 Let's get social! Follow Angela on Instagram @ohsheglows, Facebook, Twitter, Pinterest, Snapchat, and Google+