Lately, I've been doing everything in my power to use up my garden vegetables.
Over the past week I've been enjoying Roasted Tomato Basil Pesto, Long Weekend Grilled Salad, Kale Chips, cucumbers and hummus, Weekend Glow Kale Salad, and Chocolate Chip Cookies. To balance out the vegetables of course.
This end of season bounty reminds me of the organic Plan B CSA that we had last summer. There is so much produce to use up!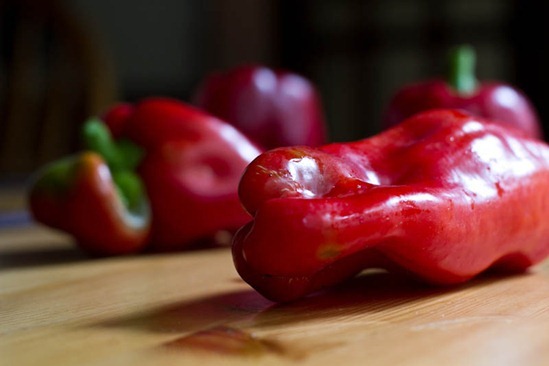 I even started gathering "bouquets" of kale and giving it away to friends and neighbors as I beam with pride, "I brought this for you!"
"Oh, you shouldn't have….really you shouldn't have."
I think I might be starting to lose friends.
We've been getting a lot of wet and humid weather lately and I realized if I leave the peppers on the plant too long the inside starts to grow mold. Never a good thing to discover when you slice one open!
I knew that I had to use up these beautiful peppers…or bust.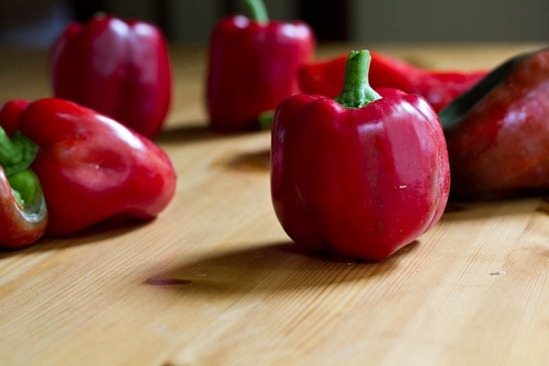 And because I seem to be obsessed with roasting and grilling things lately, I decided to roast my peppers. Roasting is a great way to "condense" a large amount of vegetables. Kale chips, I'm looking at you!
How To Roast Peppers
Ever roasted peppers before? I used to be scared to try because I thought it was really difficult. You want me to PEEL the skin off? How in the world…?
Turns out, it's so easy Sketchie could do it! Although, he does have really long claws…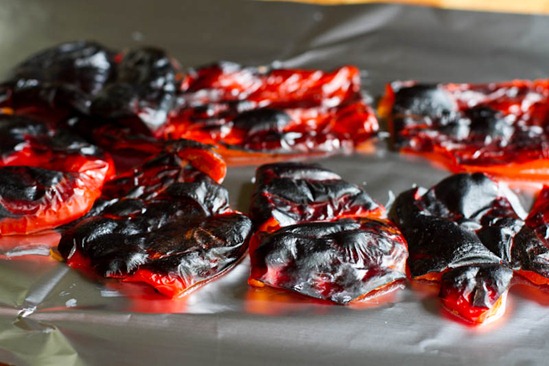 1. Start by preheating the broil setting on your oven (I used heat setting 4 out of a possible range of 5) and move the rack up to the top or second highest spot. Line a large baking sheet with tinfoil.
2. With a paring knife, carefully slice a circle around the top of the pepper. You can use any type of pepper you prefer! I used bell peppers and banana peppers, as that's what I grew in my garden.
Discard the inner flesh and seeds as best as you can.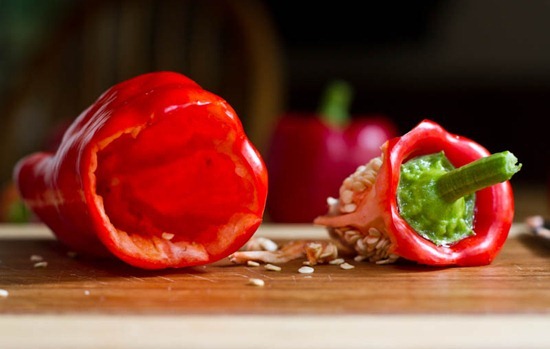 3. With the cut side down, slice down the middle of the pepper, creating two halves.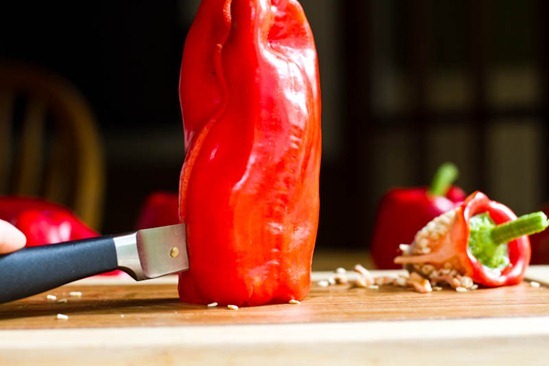 Like so. Remove rest of seeds.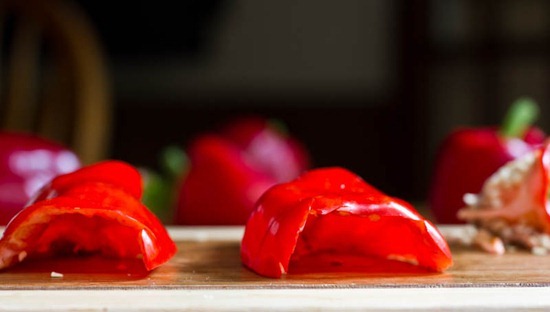 4. With your hand, SQUASH each piece! Whee!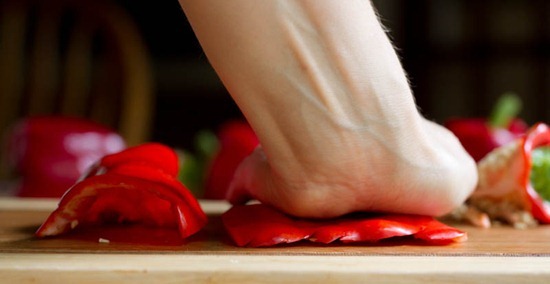 I'm sorry for this picture, I really am. I'm a one woman show, clearly.
Squashed!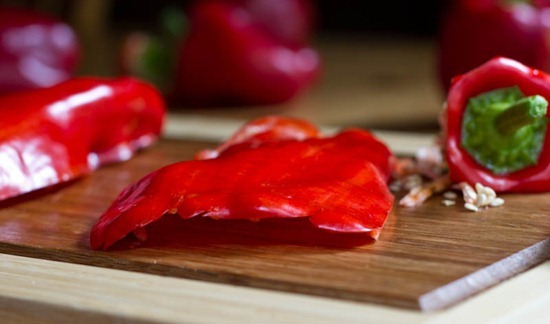 5. Place all the flattened pieces onto your baking sheet. I roasted about 6 small peppers, but if using large ones, you could probably use 3?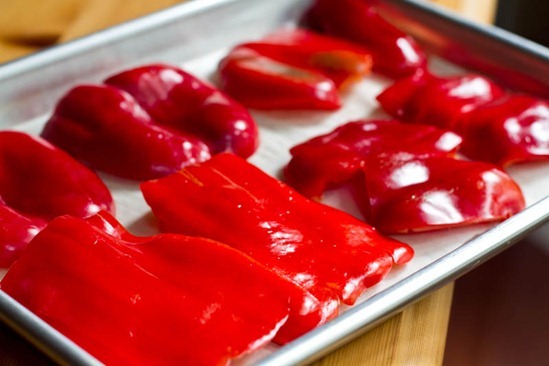 P.S.- This baking sheet should be lined with tin foil not parchment– I changed this after I took the photo.
6. Broil for about 10-13 minutes, until blackened. My peppers were in there about 12-13 minutes at broil setting 4.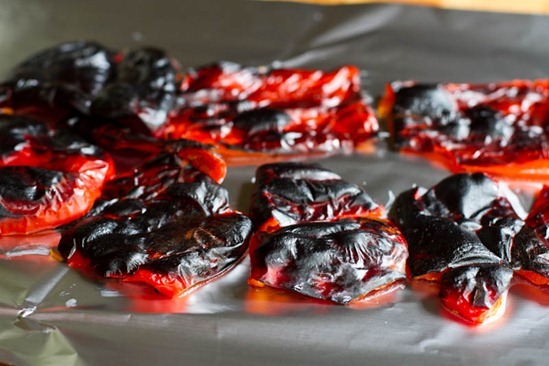 7. This is where your tin foil comes in handy! Carefully wrap up the peppers with the tin foil and let it steam for about 15-20 minutes. Meanwhile, you can prepare your hummus ingredients.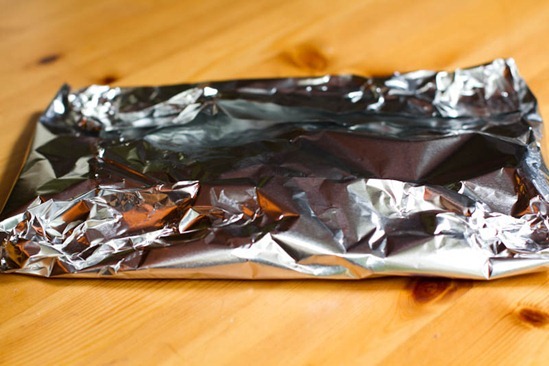 8. After 15-20 mins, gently peel off the blackened skin. This is why it's important to really blacken your peppers; the more black the skin gets the easier it is to peel away. It really does come off easy.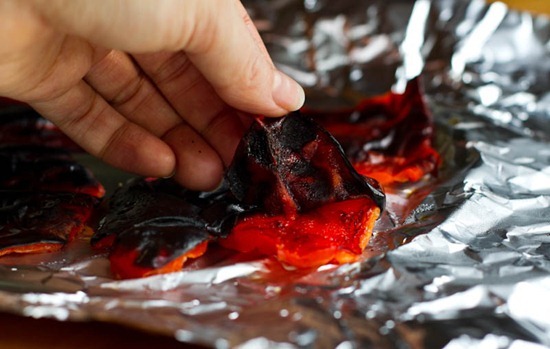 Your discard pile on the left and your delicious roasted peppers on the right: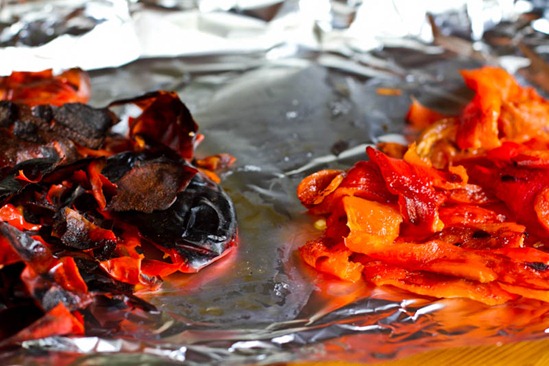 Now it's time to make delicious, creamy roasted red pepper hummus. It's just what you do!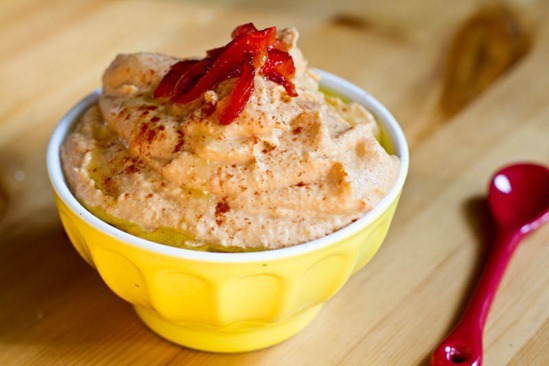 Thanks to the delicious roasted peppers, this is the creamiest and silkiest hummus to come out of my processor!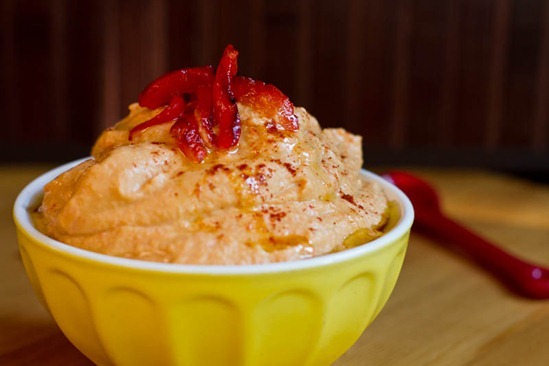 I couldn't get over how smooth it became once I put the roasted peppers in. It was as if I added a half cup of oil, only I didn't. Yeehaw.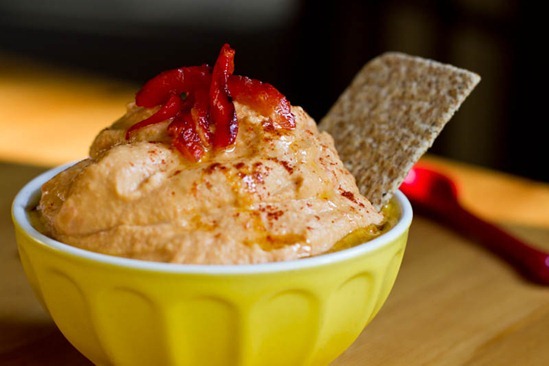 This counts as lunch, right?
Let's get social! Follow Angela on Instagram @ohsheglows, Facebook, Twitter, Pinterest, Snapchat, and Google+