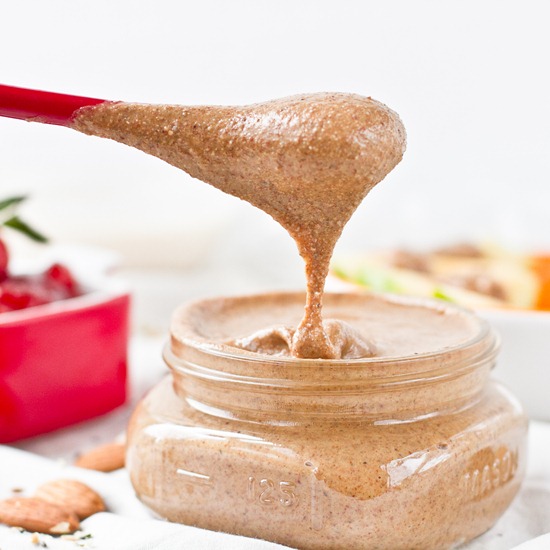 Last June, my blog buddy Ashley came for a visit! It was our first time meeting 'in real life'. I was nervous and basically had hot flashes anticipating her arrival.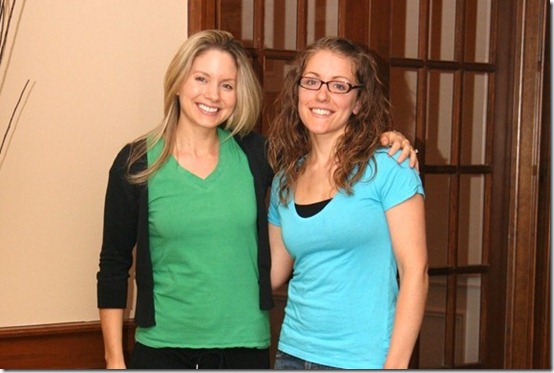 Luckily, we hit it off.  :)
We bonded over foodie gifts..
Oatmeal.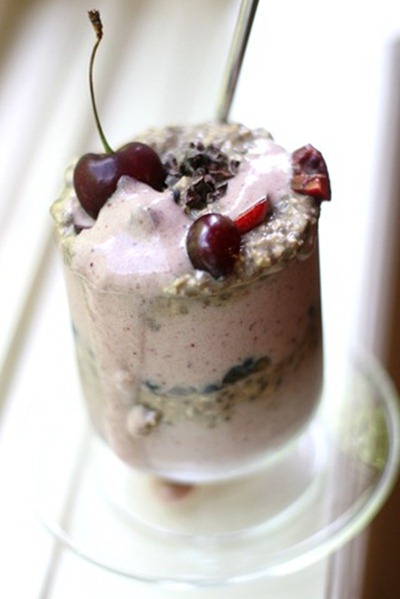 [That would be my favourite VOO –> Cherry Chocolate Bomb Vegan Overnight Oats]
Photography…
And hiking!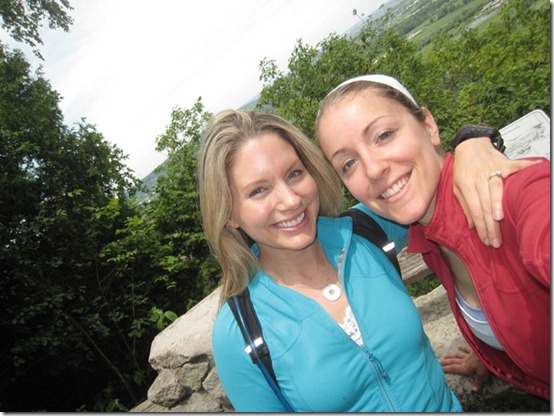 Oh, and nut butter. It was on this visit that Ashley gave me some of her Maple Cinnamon Almond Butter and Salt-Kissed Cashew Butter.  Before then, I was always a Homemade Raw Almond Butter kinda gal, but she inspired me to experiment with other homemade nut butter flavours!
I have since made 4 Ingredient Dark Chocolate Almond Butter…
Dark Chocolate Peanut Butter                                       and Dark Chocolate Pecan Butter
Clearly my nut butters are simply another vessel for chocolate. I blame PMS.
Yesterday, I made a spin-off of Ashley's Vanilla Bean Maple Almond Butter. It was also inspired by Naturally Nutty's Cinnamon Vanilla Almond Butter made with chia, flax, and hemp seed that I spotted on Kath Eats. I thought the idea of adding chia, flax, and hemp seed was a great way to sneak in more nutrients.
And I'm totally down for anything that gives me another reason to eat nut butter!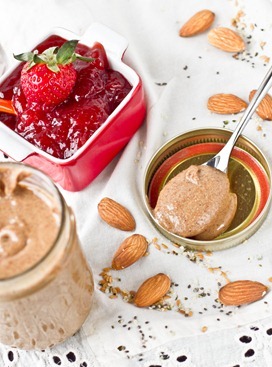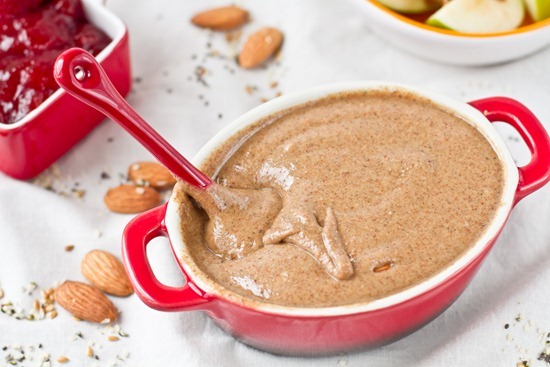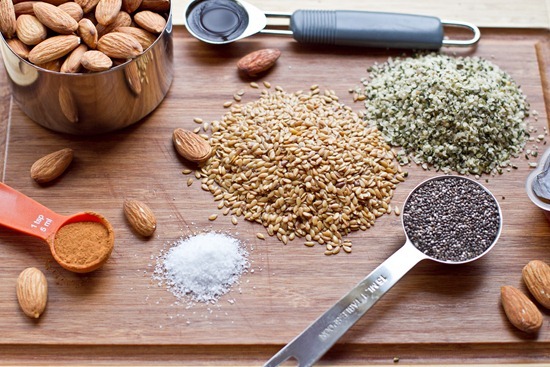 Have you ever made homemade nut butter before?
It is really quite easy if you have a processor or blender that will do the work. This recipe requires more time than any nut butter recipe I have made before (due to the almond roasting), but it was so worth it in the end!
Mix together the almonds, chia, flax, hemp, and maple syrup. Spread out onto a lined baking sheet and bake for 30 minutes, stirring once half way through, at 300F.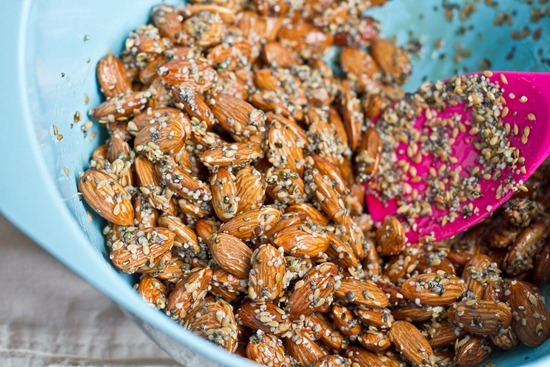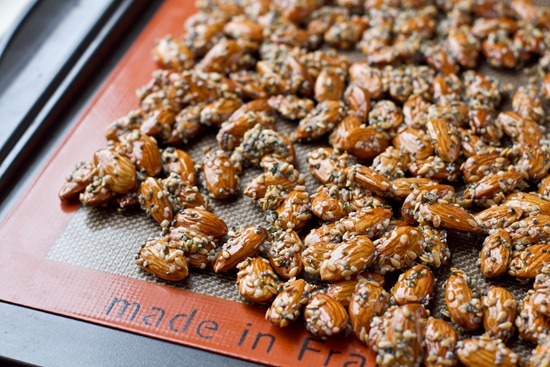 After 30 minutes of roasting: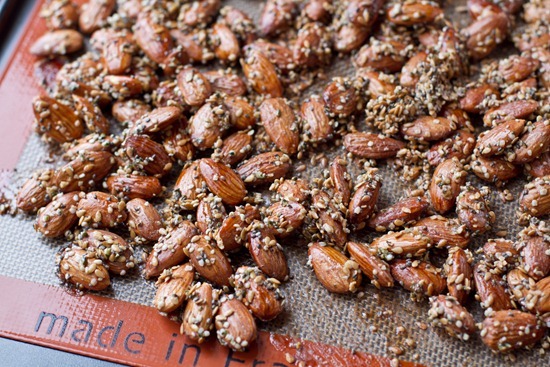 Eric came into the kitchen when I was making this yesterday morning and he said, 'Mmm it smells amazing in here! WOW!
When I told him that I was making nut butter, he was crushed (he hates nut butter).
He thought I was making waffles!
I pity the fool.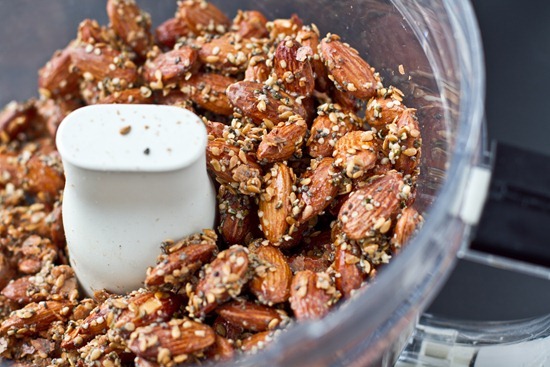 For the first 5 minutes of processing, stop and scrape down the bowl every 30-60 seconds as needed. In the initial stages, I stop every 30 seconds or so.
After 5 minutes (half-way point):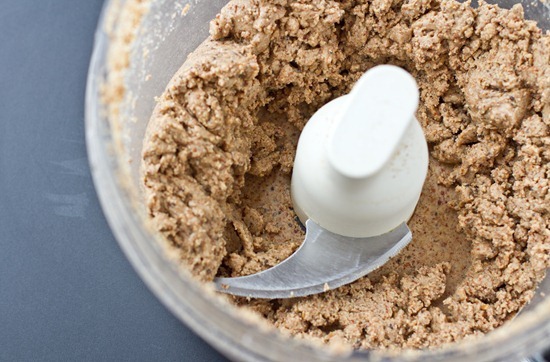 After 5 more minutes of processing, my nut butter was ready! I added in the cinnamon, salt, and vanilla around minute 9.
I won't tell you how much fun licking the bowl is. That would just be mean.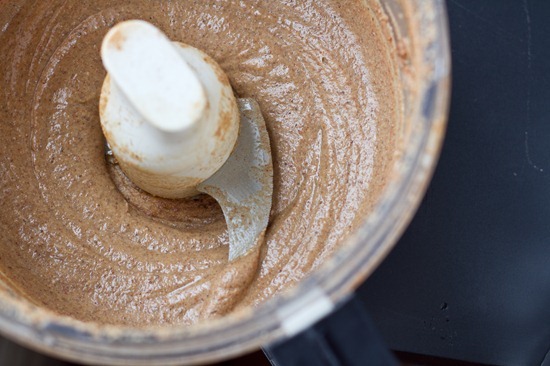 It makes about 1 and 1/4 cup.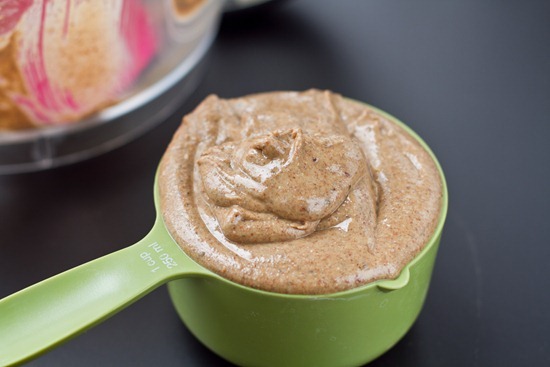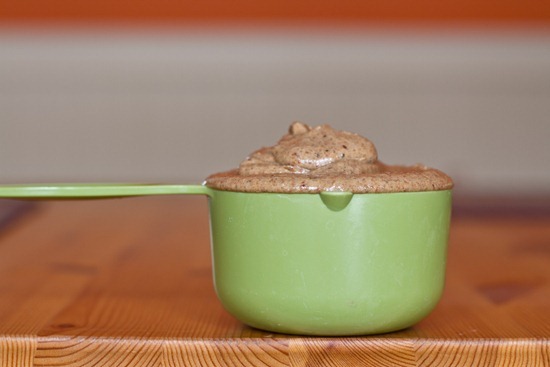 The result is an almond butter with a deep roasted flavour and layers of nuttiness with just a hint of sweetness. I didn't detect the chia, hemp, or flax flavours specifically, but I was happy knowing they were in there!
I enjoyed some apple slices spread with nut butter and strawberry jam.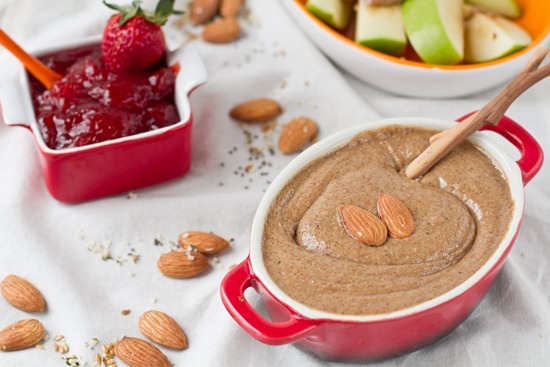 I
Unreal!
The clean up for this photoshoot was also a good time. ;)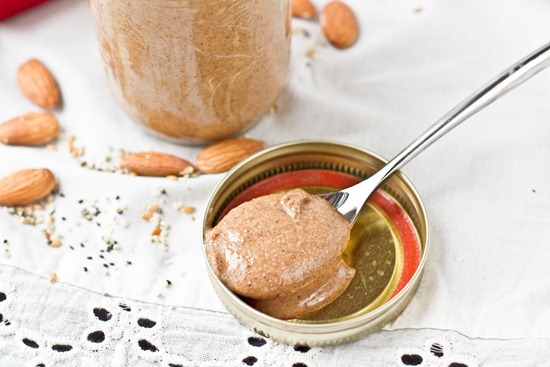 If you'd like to make chunky almond butter, you can process or chop some almonds and then stir it back into the almond butter. I think I will try that next time!
Does anyone know if I can make nut butter in my Vitamix without a DRY container? I'm scared to ruin it!
Have a great Monday!
Let's get social! Follow Angela on Instagram @ohsheglows, Facebook, Twitter, Pinterest, Snapchat, and Google+