Once in a while, I come across a restaurant so vibrant and delicious, I want to stake out real estate next door and move within arm's mouth's reach.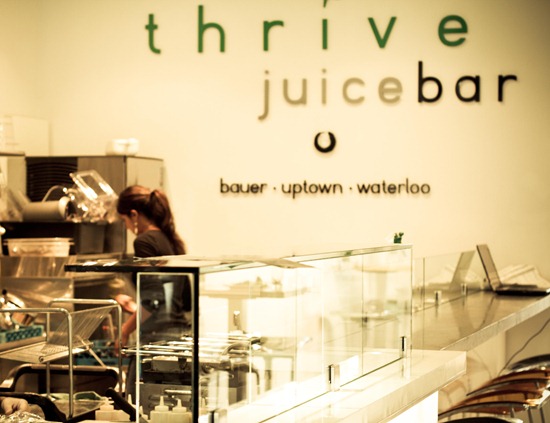 Once in a while, I come across a business owner who has such a passion for what they do, I can't help but feel inspired myself.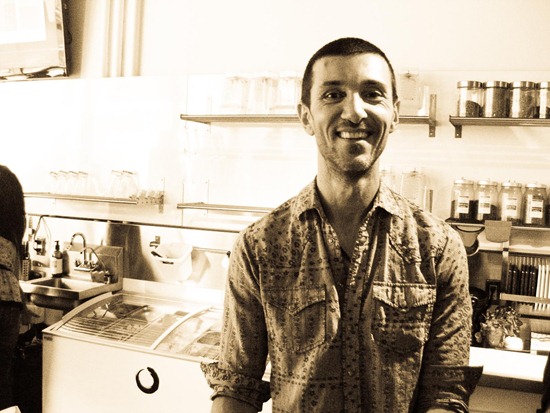 [source]
Once in a while, I find a vegan-friendly restaurant that makes me feel understood, instead of a pain in the ass. ;)
Jonnie Karan is the brains behind Thrive Juice Bar, located in uptown Waterloo, Ontario on King Street South. Within a minute of meeting Jonnie, his passion for creating delicious vegetarian, vegan, and raw food is evident. Approachable plant-based creations tempt and impress carnivores and vegans alike and he understands that vegan food shouldn't be strange or unappealing. It's just whole food highlighting nature's finest cuisine. Exactly what I try to do on this blog each day!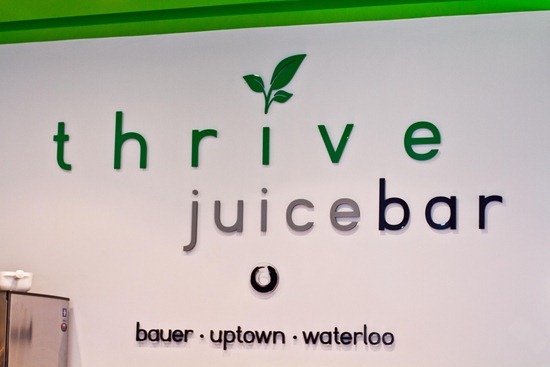 Last night, I had the pleasure of dining at Thrive with Angela, after listening to her rave about this place for months now! From the moment we stepped inside, I knew this place was done right. The decor was like no other vegan-friendly restaurant I've been to. It's modern, with cool metallic beaming throughout, large floor to ceiling windows, and vibrant green accents lending an earthy feel. No detail is over-looked, and to my delight, the same care and attention went into the food.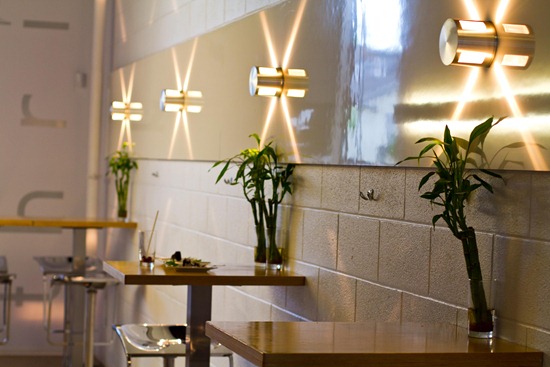 As a child, I grew up drinking virgin Caesars (aka virgin Bloody Mary) and we were never without Mott's Clamato juice in the fridge, complete with all the seasonings. So when I saw that the menu had a veggie juice that reminded me of my favourite pastime, I knew I had to order it.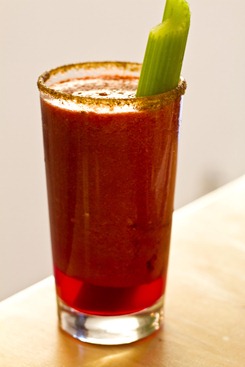 The 'lil Veggie Juice' contained tomato, carrot, celery, cucumber, parsley, sea salt, fresh pepper, and vegan Worcestershire. Delicious! I just love that salted rim too.
Next, Jonnie brought us out the soup of the day- Red Lentil Dahl. Made with a coconut milk base, it was creamy with a kick of spice. The perfect starter for a rainy day.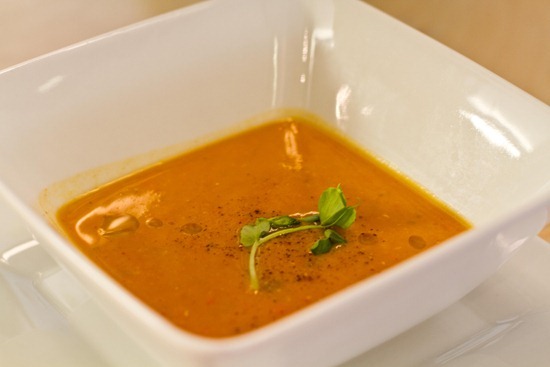 After much debate, I ordered the Big Greens Sandwich. I have this thing for anything green…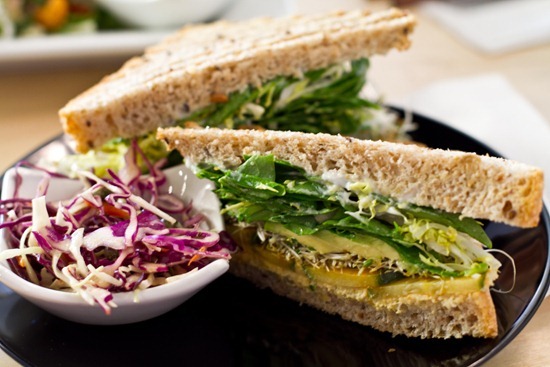 Lightly toasted on organic 7-grain with extra virgin coconut oil, avocado, jalapeno hummus, goats cheese, marinated cucumbers, almond arugula pesto, fresh sprouts, spinach and frisée finished with a splash of lemon vinaigrette.
In other words…perfection! The lemon vinaigrette added a nice pop to the sandwich.
Ange ordered the Vegan Pad Thai made up of Rice noodles, daikon radish, snap peas, bok-choy, Asian cabbage and raw cashew pad Thai sauce, topped with spicy peanuts and cashews, fresh cilantro, Thai basil and mint. Finished with almond chili oil and mint lime vinaigrette. So many great flavours all in one dish!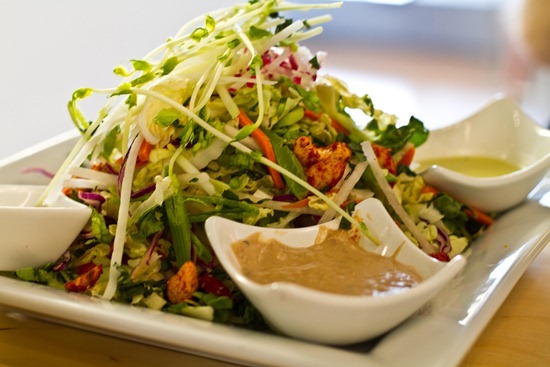 For dessert, Jonnie brought us out another treat…vegan and gluten-free walnut fudge brownies with homemade coconut milk frozen dessert!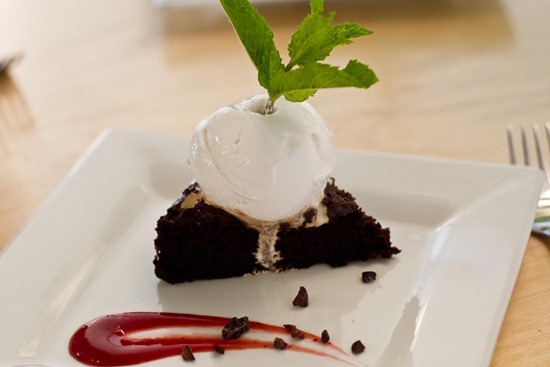 It was ALMOST too cute to eat.
The homemade coconut milk 'ice cream' was the best I've ever tasted. It melted into the brownie, taunting me to take bite after gooey bite.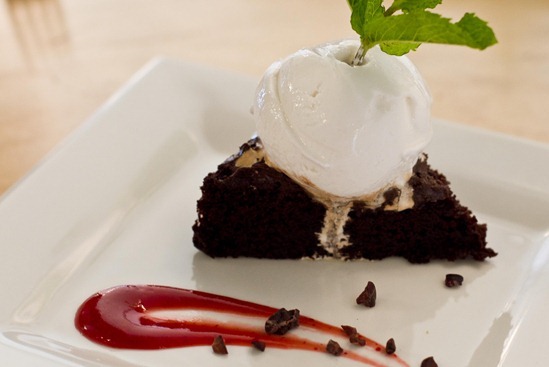 I highly recommend checking out Thrive Juice Bar! Head on over and meet Jonnie and support his fantastic business. It's definitely worth a drive to Acton Waterloo. You can also check out the stunning website and scope out the food and drink menu.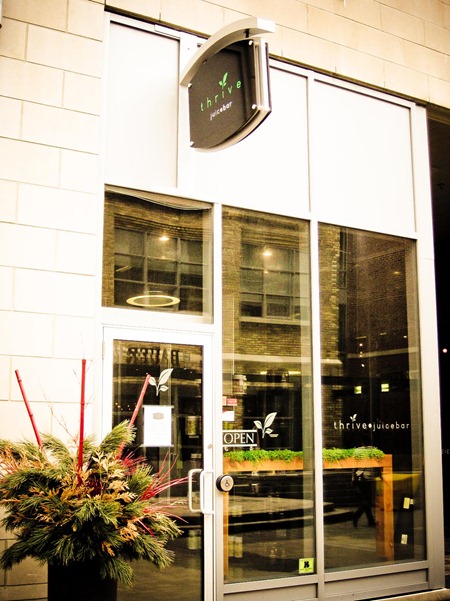 [source]
I will be back soon, very soon. Possibly today. When does it open? I hear their Big Green Smoothie is incredible… ;)