It is feeling a lot like the holidays around here!
Last night, Eric and I put up our tree, outdoor lights, and decorations and we also received our first snowfall overnight. :)
You may have assumed that I had the holiday decor up weeks ago, but the truth is, we didn't have a chance until last night!
I'm glad the decorations are up now though…except for a couple that really creep us out…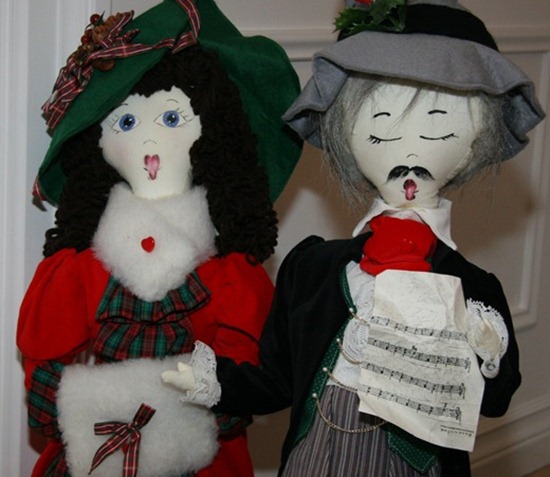 They are a Liddon family heirloom, that is all I'm going to say about that. ;) Sketchie's tail poufs up when he sees them by the staircase. It isn't pretty.
Thank you for your support for my Challenge #9 Project Food Blog post yesterday! It is crazy to think that this challenge has been going on since September and we are down to the final round this coming Sunday!!
I feel like I have aged 30 years and sprouted about 100 new grey hairs. bahaha. Good times, good times. ;)
They are cutting 12 contestants down to just 3 this Friday, so your votes will make all the difference in helping me advance to the final 10th round. All you do is click the heart to vote and if you don't have an account, simply enter your email and username to register. It is quick to sign up! It will also help out if you re-tweet your vote on Twitter and 'like' the post on Facebook.
Click here to be taken to the page and thank you in advance for sticking with my crazy self throughout this contest!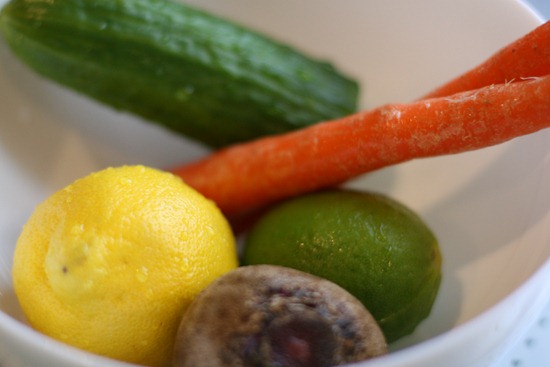 Staying Healthy During the holidays
It is that time of the year when my healthy eating can take a nosedive and I find myself losing motivation as the days get shorter and shorter.
The urge to hibernate is strong my friends.
Sketchie knows what I'm talking about. He has been sleeping beside the heat vent for days on end, only to move when he hears a clinking sound in his food dish.
Luckily, with each new day we can commit to making healthy choices, even if the odds do seem to be stacked against us!
On December 1st, I made a commitment to myself:
Every day for the month of December, my goal is to get a hefty serving of vegetables into my diet in some form. This could be in the form of Green Monsters, salads, soups, or other foods loaded with veggies.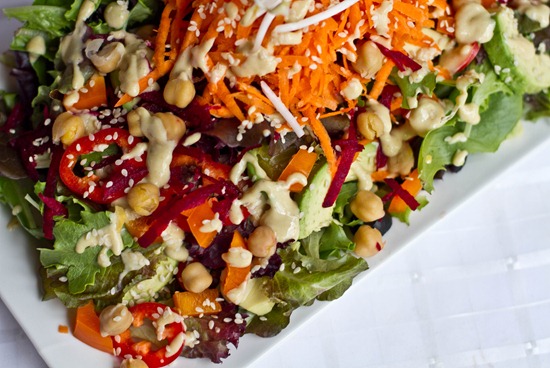 So far, it has been going well and I am feeling more energized than I was in November!
Yesterday, I talked very briefly about the salad and dressing that I adapted from The Coup Cookbook and I wanted to go into more depth about it today because I am head over heels in love with this salad.
It is my new favourite salad and I will be eating it frequently over the holidays to keep me energized and satisfied.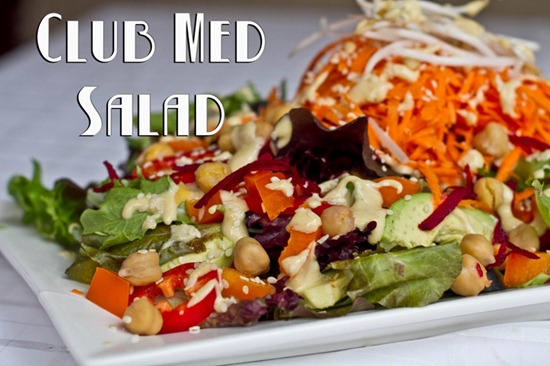 [print_this]
Club Med Salad with Tahini Lemon Garlic dressing
This salad is incredibly delicious, filling, and a great way to pack in a ton of vegetable servings in one meal.
Adapted from The Coup Cookbook.
Makes 1 large salad.
Ingredients:
3-4 cups of Your favourite greens (I used organic mixed greens)
3-4 pickles (I used sweet pickle slices), chopped into small pieces
6 black olives, pitted and chopped, optional
1/2 Red banana pepper cut into rings OR 1/2 regular red pepper, chopped
1/4 orange pepper, chopped
5-8 sundried tomatoes
Handful of sprouts
½ avocado, sliced
1/4-1/2 cup carrots, shredded
1/4 cup beets, shredded
1-2 tbsp sesame seeds
2-3 tbspTahini Lemon Garlic Dressing (follows below)
1/2 cup chickpeas or my Crispy chickpea bites (https://ohsheglows.com/2010/10/28/crispy-chickpea-bites-in-the-oven/)
Directions: Place all ingredients into a bowl except the dressing and sesame seeds. Drizzle on dressing and lightly toss. Sprinkle on sesame seeds and serve. See below for dressing recipe.
[/print_this]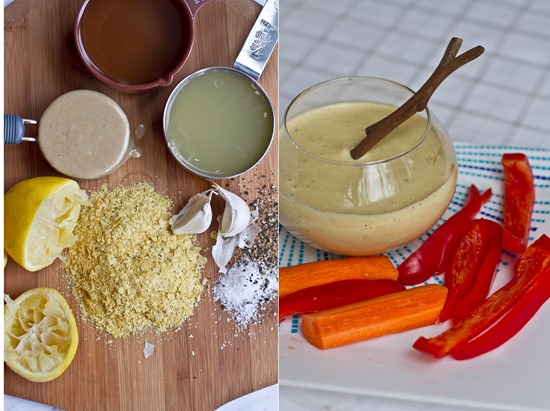 [print_this]
Tahini Lemon Garlic Salad Dressing
This salad dressing is creamy and thick with a sharp, peppery quality. It is my new favourite! Use it on salad or even as a delicious dip for vegetables.
Ingredients:
1/4 cup tahini
1-2 garlic cloves
1/2 cup fresh lemon juice
1/4 cup nutritional yeast
1/2 cup extra virgin olive oil
1 tsp kosher salt
Fresh ground black pepper, to taste
Directions: In a food processor, process all ingredients until smooth. Makes about 1.5 cups.
[/print_this]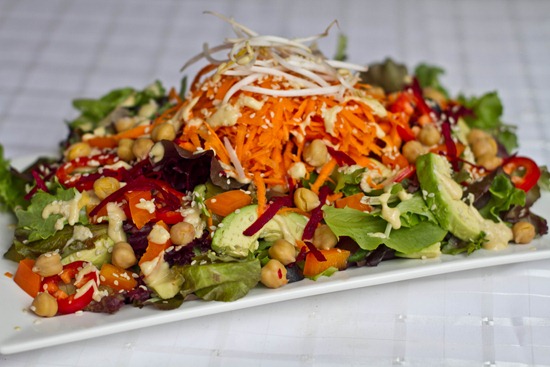 This salad really knocks my socks off and Eric even said it was delicious! This is good news coming from a former vegetable hater. :)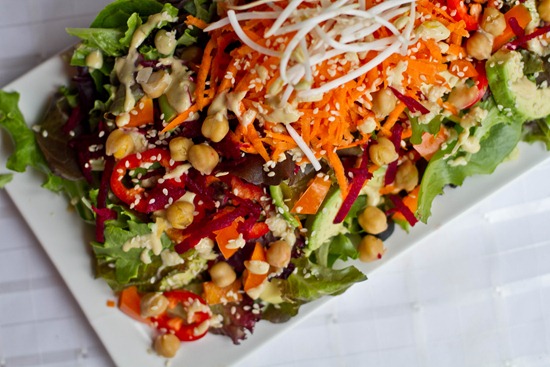 The dressing also just takes 5 minutes to throw together.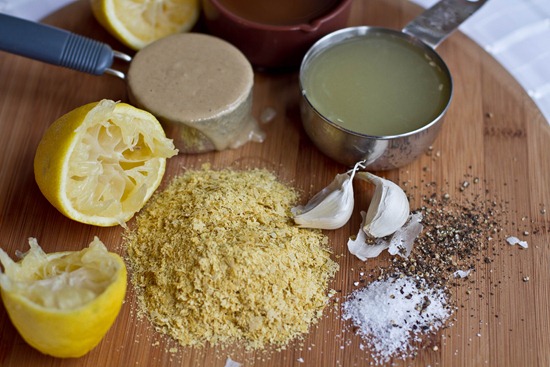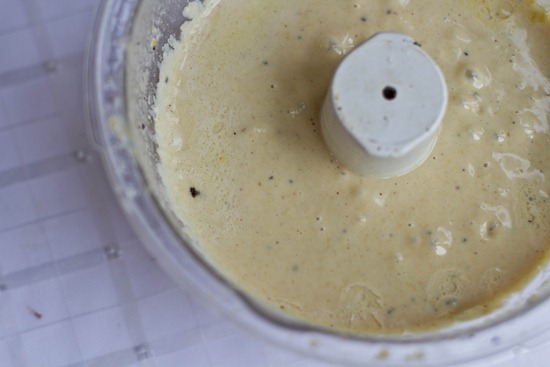 For the past few days I have been having a nightly snack of chopped veggies and dressing. It is a wonderful snack that leaves me feeling satisfied thanks to the healthy fats.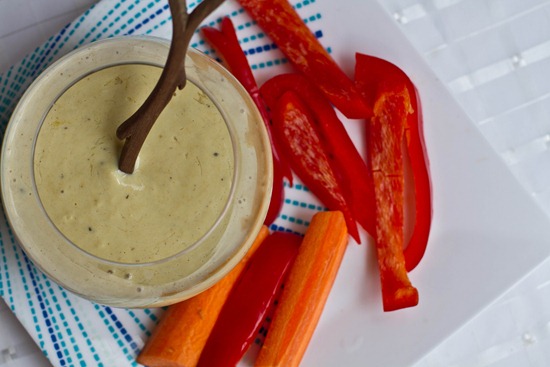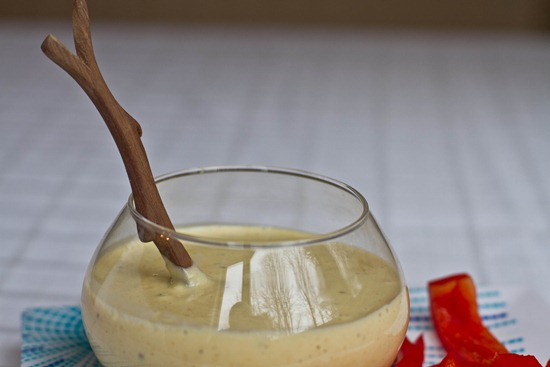 Creamy and thick.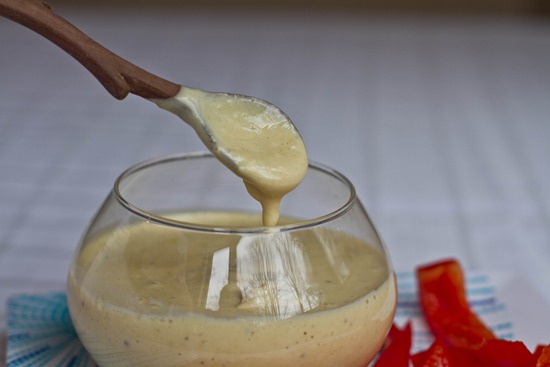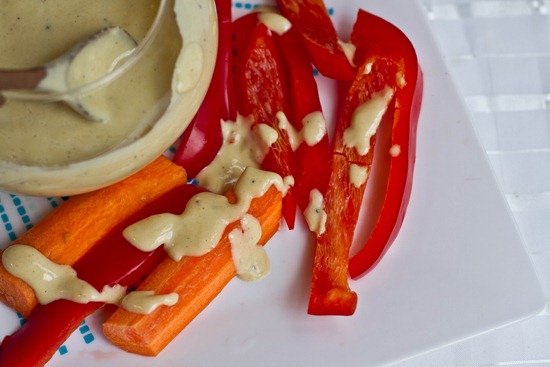 Have you made any goals to stay healthy over the holidays? What are your tips and tricks for staying on track?
As part of my next post I will be showing you the workout music that has been keeping me motivated during my workouts!