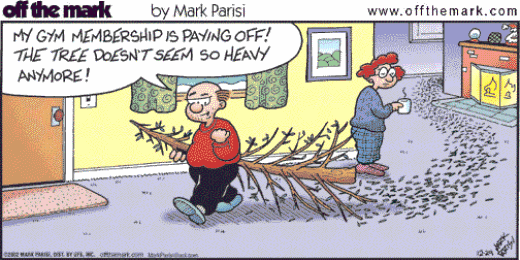 January is always a difficult time of year.
The last hoorah of the holiday is now over and that can be hard to accept.
We have to pack up our Christmas decorations and try to fit them into the impossibly small boxes that they came in. Glitter is everywhere, Fluffy just chewed through expensive LED lights, someone threw a fruitcake through the car window, and we are cold.
Bone chilling cold. So cold in fact, we become accustomed to ice cube toes, randomly cold butt cheeks (not that I'm speaking from experience!), and our partner yelps in pain when our icy limbs should venture onto their side of the bed.
This is January for many of us.
For those of you in Florida, I'll expect a drink come March. ;)
Despite the baggage that Mother Nature unloads on us this month, I am here to offer some relief. A cheery and sunny spot to brighten up those impossibly cold and dreary days. Healthy recipes and heart-pumping workouts to warm your soul and speed through the long winter season.
Speedy Sweet Potato Falafel Balls
After baking all day in the kitchen, I need dinner recipes that can be prepared in lightening speed. Last night I was craving falafel. Not just any falafel though, healthy falafel balls. Unlike its' traditional counterpart, these falafel balls are not deep fried, which is always something to smile about. The base is also made from sweet potatoes instead of chickpeas. If you are looking for traditional falafel balls, you won't find it here.
Ingredients:
2 medium sweet potatoes
1 1/2 t ground cumin
2 small cloves of garlic, chopped
1 1/2 t ground coriander
1 heaping cup spinach, chopped
1.5 T lemon juice or Juice or half a lemon's juice
Just less than 1 cup of chickpea flour
Oil for pan
Chia seeds and chia flour for garnish
Salt and pepper, to taste
Directions: Preheat oven to 400F. Pre grease a baking sheet with oil or spray. EASY method: Cut a few slits into the sweet potatoes and then microwave on high for 9-11 minutes until tender. [LONG method: Bake sweet potatoes in the oven for 45-60 minutes at 350F]. Let cool for several minutes and carefully peel away the skin. Alternatively, you might be able to peel the potato prior to microwaving to save time. While the potatoes are microwaving, in a medium sized bowl mix together the cumin, chopped garlic, coriander, and chickpea flour. Stir well. Add chopped spinach and lemon juice and mix well with a fork. Chop up sweet potatoes into small chunks and hen mash with a fork. Add potatoes to the other ingredients. Mix well until all ingredients are incorporated. Season with salt and pepper to taste. Place mixture in the freezer for a few minutes to cool. Wet hands and form falafel balls and then roll the balls in chia flour, ground almonds, or spelt flour (optional). You can also sprinkle the balls with chia seeds or sesame seeds. Bake in the oven for 15-20 minutes until slightly golden.
Yields: Approx 17 balls
Recipe adapted from Leon: Ingredients and Recipes as seen on 101 Cookbooks.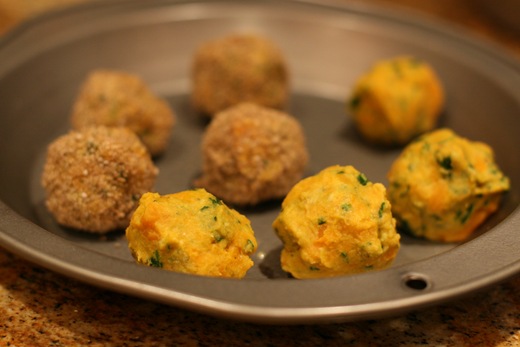 I made some with a coating and some without.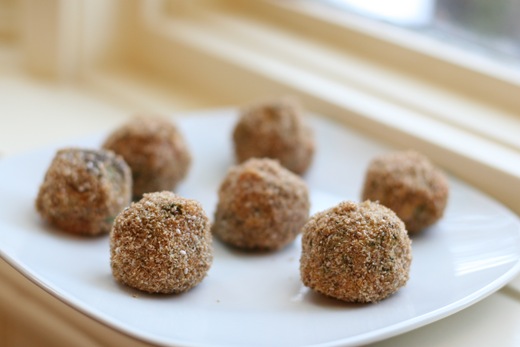 I am on the fence with these falafel balls. When I tried them right out of the oven I loved them in a major way, but when I tried them the next morning I wasn't a fan. Maybe it was because they weren't heated up though. At any rate, I think these are best served straight out of the oven. I paired mine with some homemade ketchup (tomato paste, agave nectar, and sea salt).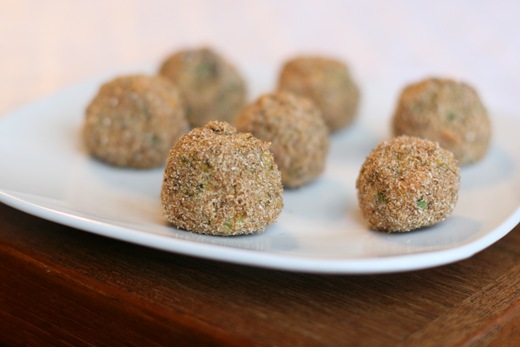 Have you ever had falafel balls?
~~~~
I got some fun Christmas gifts yesterday at our family get together!
A bird feeder, serving bowls from Costco, and some Clinique makeup:
A Costco hairdryer (works like a DREAM so far!!!) and a Kitchen Aid timer from my dear friend Laura.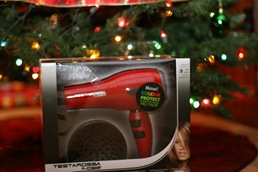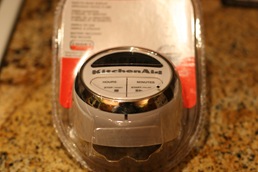 All very useful gifts and things that I have been needing for a long time. Love that!
In Other News:
Check out the new FAQ page over at GMM! The Green Monster Movement is updated! Don't forget to submit your green monster recipe, story, and picture to be placed on the website. Email:

[email protected]

Eliana is raising money for The Cat Network which is a non-profit organization that works tirelessly in spaying and neutering of cats in Miami. OSG readers who make a donation will be entered into a raffle for a $25 gift certificate to Glo Bakery! Every amount helps!
My CTV Interview finally hit the airwaves in case you missed it over the weekend.
~~~
I have a 12 hour baking day ahead of me…I also need to find a way to squeeze in a workout, whittling and get caught up on paperwork and emails. Going to be a busy one.
Have a great start to your week! :)