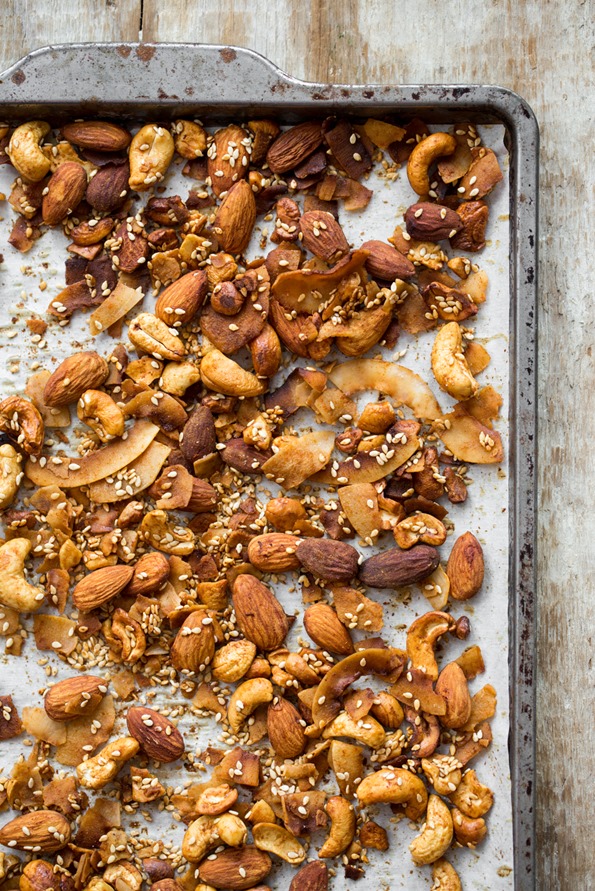 I really can't say that I intended to get this recipe up before Valentine's Day because I didn't think of it until the 15th. Heck, it would've made a great Superbowl appetizer too! Oh well, better late than never. Olympics appetizer, anyone?
You may not know this, but Eric was a squirrel in his former life. Or at least I think there's a good chance. Any time he's hungry for a snack you can be sure his hand will be in the jar of almonds or cashews. After demolishing the stash he says, "You might want to write almonds/cashews on the grocery list…" It's a constant struggle to keep nuts stocked in this house, I tell you. I guess I should be happy that he enjoys a healthy snack even if he does dip into my coveted baking stash.
We usually don't do anything too fancy for the 14th; good food tends to always make an appearance though. There's a recipe for coconut bacon in my bonus recipe bundle and Eric thinks it's just about the best thing going. So this weekend, I decided to make an edible gift inspired by that recipe, sneaking in his favourite nuts. I knew this spicy & smoky mix would make his head spin!
From start to finish this recipe takes less than 30 minutes, but you'd never know from the gourmet end result. The addition of large flake coconut is just divine – the coconut flakes get all crispy in the oven, adding an unexpected element to traditional roasted nuts. I don't think I'll make roasted nuts without flaked coconut from now on! Throw this mix into a cute jar for an easy gift that will be enjoyed by many sneaky hands.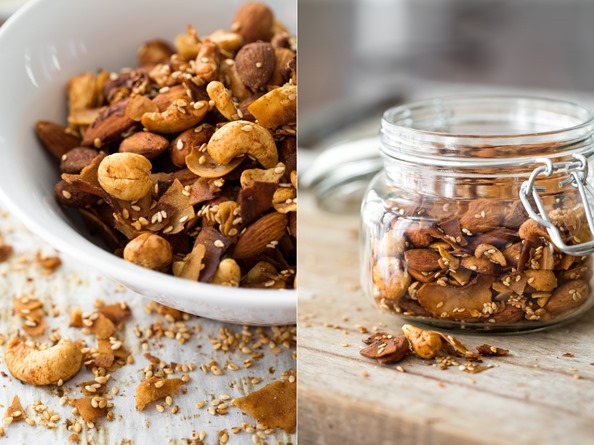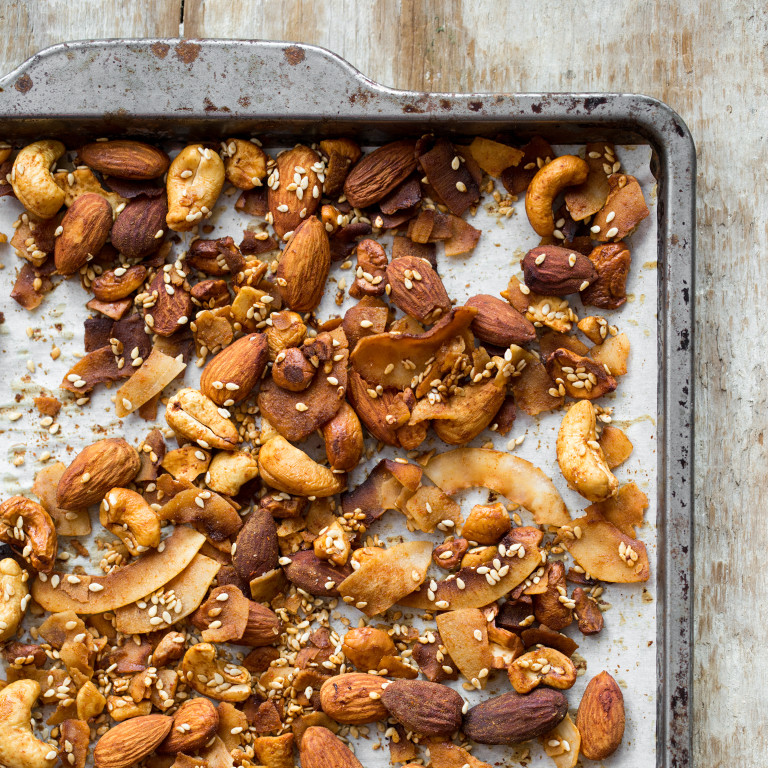 Smoky & Spicy Nut, Sesame, and Coconut 'Bacon' Bar Nuts
Vegan, gluten-free, grain-free, oil-free

Yield

3 cups
Prep time

Cook time

Total time

Intensely smoky, spicy, and toasty - this roasted nut mix is a great party appetizer. Sweet almonds and cashews are a lovely contrast to the smoky, savoury flavour of the liquid smoke, coconut aminos, smoked paprika, sea salt, and cayenne pepper. Just a warning: the smoked flavour is very strong while cooking (and after) - I suggest opening a window before beginning and putting on the range fan, if desired.
Ingredients
1 cup raw cashew halves
1 cup raw whole almonds
3/4 cup large-flake unsweetened coconut (not shredded coconut)
2 tablespoons hulled sesame seeds
2 tablespoons coconut aminos or low-sodium tamari
1/2 tablespoon pure maple syrup
1/2 teaspoon liquid smoke (depending on how smoky you like it)
1/2 teaspoon fine-grain sea salt or pink Himalayan salt
1/2 teaspoon smoked paprika
1/4 teaspoon cayenne pepper
Directions
Line a large baking sheet with parchment paper. Preheat oven to 325F.
In a large bowl, combine the cashews, almonds, coconut, and sesame seeds.
In a small bowl, stir together the coconut aminos (or tamari), maple syrup, liquid smoke, salt, paprika, and cayenne until combined.
Pour wet ingredients on top of the nuts and stir well with a spatula until thoroughly coated.
With the spatula, scoop the mixture onto the prepared sheet. Use the spatula to get all the liquid and seeds off the side of the bowl and spoon it onto the nut mixture.
Spread nuts out into a thin layer.
Bake at 325F for 10 minutes, stir, and bake another 10 minutes, or until the coconut flakes are golden. Turn on the range fan and open a window while it bakes as the smoked aroma is powerful.
Cool for 10 minutes on the pan. Store in a glass jar.
Tip:
Note: To make this recipe soy-free, use coconut aminos.
Nutrition Information
(click to expand)