Somehow I went from eating raw cabbage to baking one of the richest desserts known to man.
That's just how the cookie crumbles sometimes, isn't it?
However, I should get bonus points for making this classic dessert vegan and almost half the sugar and fat, don't you think?
Have you ever tried a sticky toffee pudding? Being the sweet tooth that I am, I always loved sticky toffee pudding. You want me to eat a date and sugar filled cake and them dump more sticky toffee sauce on top? AND serve it with ice cream? *dies* There isn't any pudding actually in this cake, but it's the method that creates a pudding-like texture.
I figured I could make a vegan version lower in fat and sugar, while still enjoying one of my favourite desserts. So, I set out on a mission to create my first vegan sticky pudding. My goal was simple: Make this toffee pudding taste as good as the original, while slashing the sugar and fat. I also added a whole grain flour to give it a bit of a boost. Traditional British versions vary quite a bit (some steep in tea bags or serve with custard, for example), but I just kept mine basic for the first attempt. I also added in toasted pecans, which isn't common, but I loved the nutty crunch it added.
And to my surprise, it actually worked! I really cannot imagine this dish being any sweeter than it was.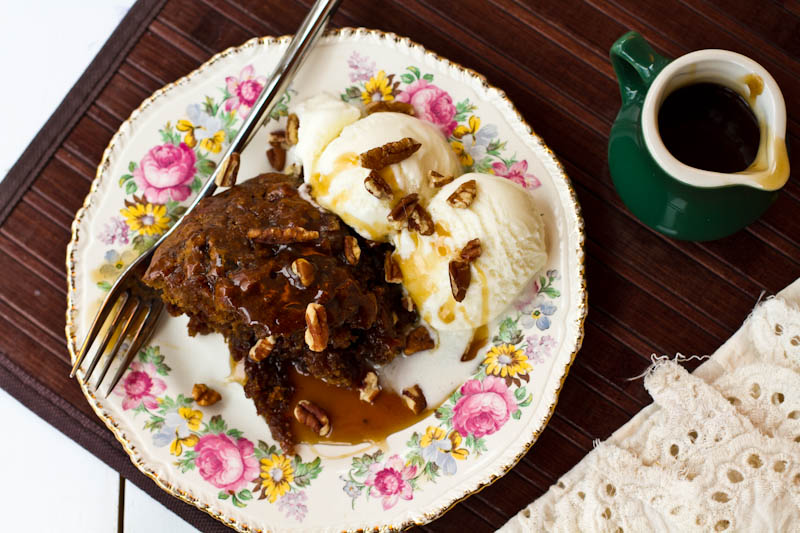 We have a few holiday gatherings coming up this weekend and next and I'm trying to figure out what I'm making for potlucks and what food gifts I'm going to give. I have a huge list of healthy dinners and desserts I want to make before the year is out and all these crazy recipe ideas popping into my head! So…expect to see a mix of holiday desserts and The 12 Days of Healthy Dinner Recipes over the next while. I'm also in the process of meeting with cookbook publishers over the next couple weeks (which I didn't expect to happen so soon!). It's a crazy, but exciting month. I really just want it to slow down so I can do everything I want to do.
Anyways, this was my first time making sticky toffee pudding and I was happy to see how easy it is to make. For such an elegant looking dessert, it's really fool proof. (Don't be put off by my long directions….I just made them very detailed so there would be no second guessing.)
We're having friends over for dinner on Sunday and I will be making this dessert for sure…it's absolutely amazing straight from the oven, served with warm toffee sauce, with a scoop of vegan ice cream and toasted pecans! This is one of those desserts that are great served on a cold night, cozied up with loved ones watching your favourite holiday show on TV.
Or reality TV shows if you are like us. I don't know what's more mind-numbing….watching Kris Humphries or Rudolph the Red Nose Reindeer for the 765 time.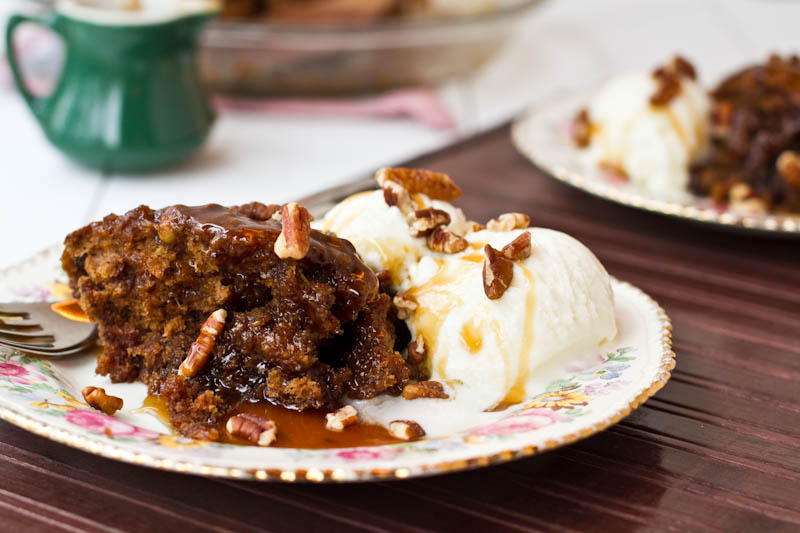 Sinless Sticky Toffee Pecan Pudding

Yield

6-8 servings
Prep time

Cook time

Total time

This sticky pudding cake has the perfect amount of sweetness, remaining true to the original classic dessert, without going overboard. The cake is fantastic; once the sauce is poured on, it turns into a gooey, moist, and dense cake. The toasted pecans add a lovely texture to this dish and I don't recommend skipping them unless necessary. Whatever you do…serve this dish WARM! Inspired by Taste.com.au and Historical Foods.
Ingredients
For the cake
200 grams pitted dates (about 1.5 cups), roughly chopped
1.5 cups almond milk
1/2 tsp baking soda
1/4 cup Earth Balance (or other vegan butter substitute), lightly softened
1/2 cup unpacked brown sugar (75 grams) OR 1/2 cup Sucanat
3/4 cup toasted chopped pecans, divided
1/2 tsp ground cinnamon
1/4  tsp kosher salt
For the toffee sauce
1/4 cup + 2 tbsp brown rice syrup

*

1/4 cup + 2 tbsp unpacked brown sugar (35 grams) OR Sucanat3 tbsp Earth Balance1 tbsp  vanilla extract1 tbsp almond milksalt, to taste
Directions
Preheat oven to 325°F and toast the pecans for about 8-10 mins. Now, preheat oven to 375°F. Grease a 9-inch pie dish or an 8-inch square pan with Earth Balance.
In a medium sized pot, bring 1.5 cups of almond milk to a low boil. Add in the chopped and pitted dates and reduce heat to low. Cook for 1 minute, remove from heat, and stir in baking soda. It will froth up a bit.
In a large bowl, whisk together the softened Earth Balance and brown sugar until no clumps remain. You can also use an electric mixer if desired. Now add in the date & almond milk mixture and stir.
Add the dry ingredients (cinnamon, salt, 1/2 cup of pecans, and whole wheat pastry flour) into the wet and stir until just combined. Spoon the mixture into the prepared dish.
Bake at 375°F for 27-28 minutes, or until the cake gently springs back when you touch it.
Toffee sauce: About 10 mins before the cake is done, make your toffee sauce by whisking together the sauce ingredients in a pot (use the same one). Bring to a low simmer over medium heat, and then reduce heat to low, whisking frequently making sure it doesn't burn. Heat for about 5 minutes while standing over the pot to stir & watch. Remove from heat and set aside.
Remove cake from oven, let it cool for a few minutes, and then prick with a fork or toothpick all over. I made about 100 holes. Pour 2/3 of the toffee sauce over the top of the cake (reserving the other 1/3 of the sauce for later) and smooth out with a spoon.
Scoop out your portions onto plates, drizzle with remaining sauce, and top with toasted pecans. Serve with a side of your favourite vegan ice cream (I love coconut bliss).
Tip:
Other liquid sweeteners may work instead of brown rice syrup (you can use honey if you eat it), however the taste and consistency will change slightly. Maple syrup would also work, although it won't get quite as thick.
Nutrition Information
(click to expand)
After I made this cake, I realized that some recipes actually mix everything straight into the pot on the stove! I think I will certainly try that next time to save cleaning another bowl.
The batter for the sticky toffee cake is quite thick and dense, but far from being dry.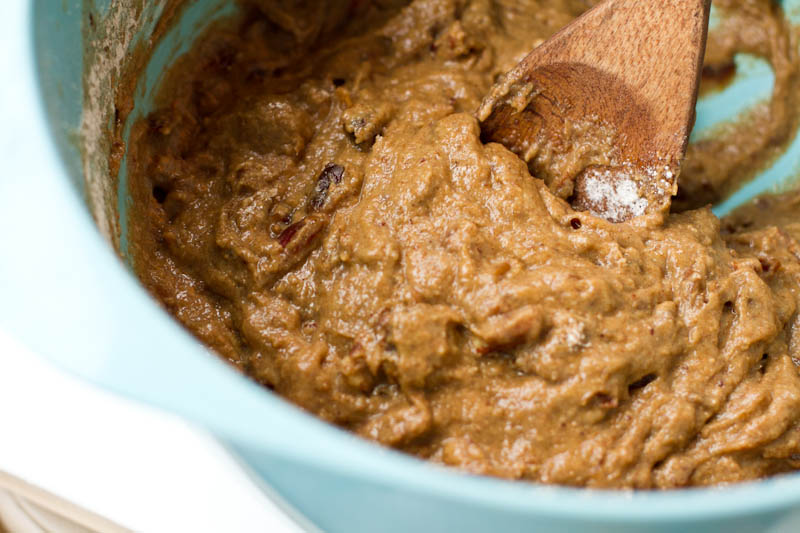 Spoon batter into your prepared dish. I used a pie dish because they photograph better than the 8-inch square pans, but feel free to use whichever you prefer. Single serving ramekins might be fun too! Although, you'd probably have to reduce the cooking time slightly for single servings.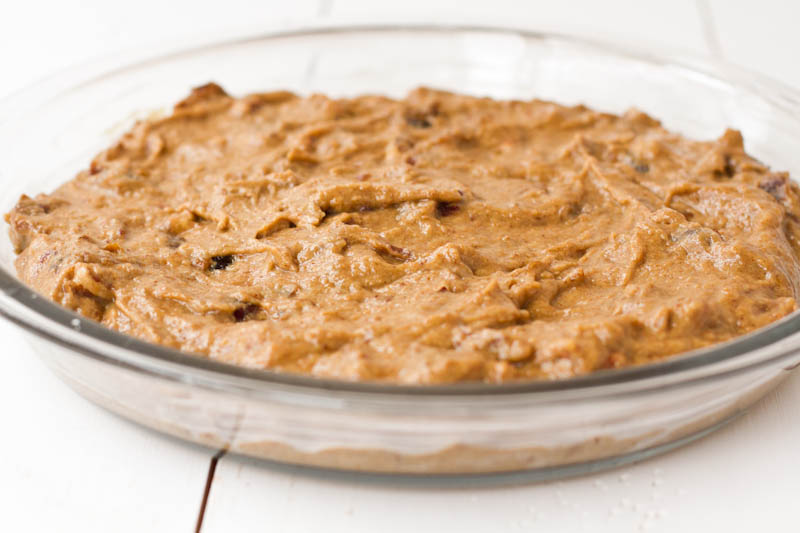 After baking about 28-30 minutes…it's golden and slowly springs back after being touched.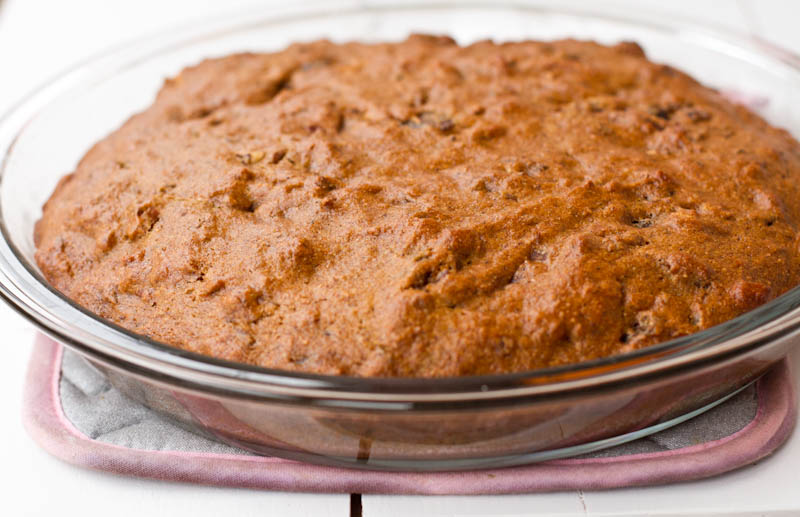 Grab a fork or toothpick and make about 100 holes all over the top of the cake. Get out all your holiday frustrations! This allows the sauce to sink into the cake and make it all gooey and wonderful!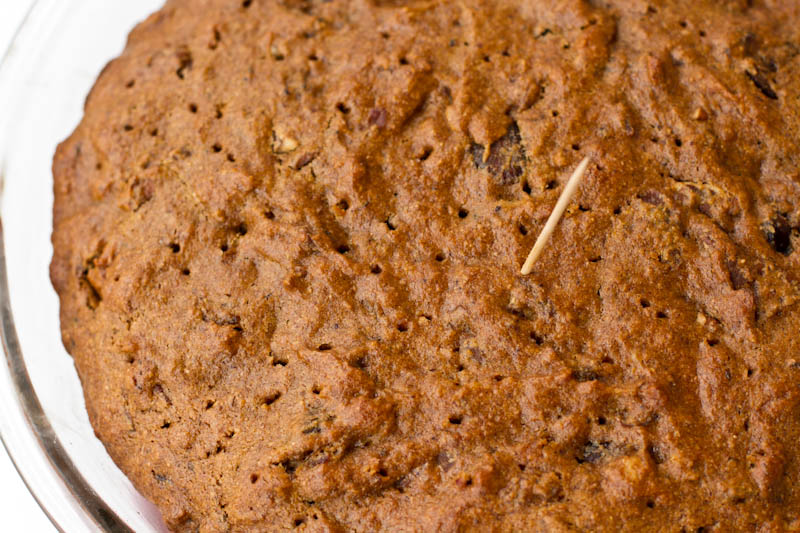 Pour on 2/3 of your toffee sauce, leaving the rest for later.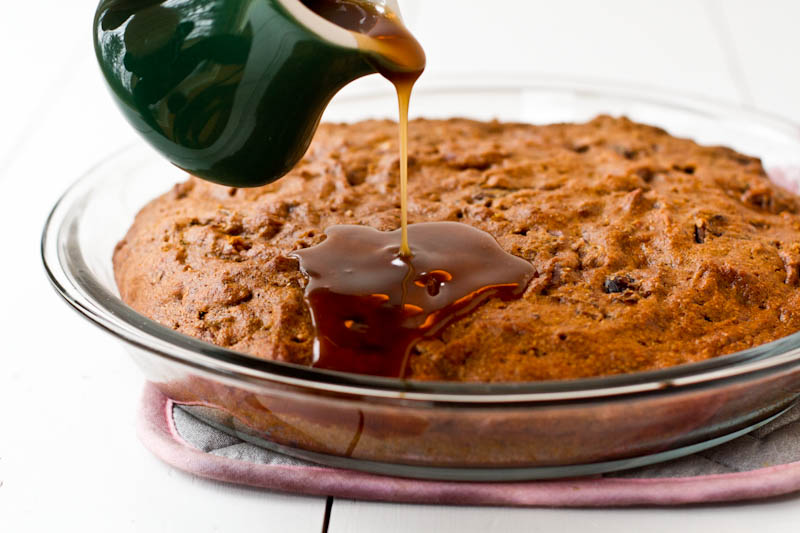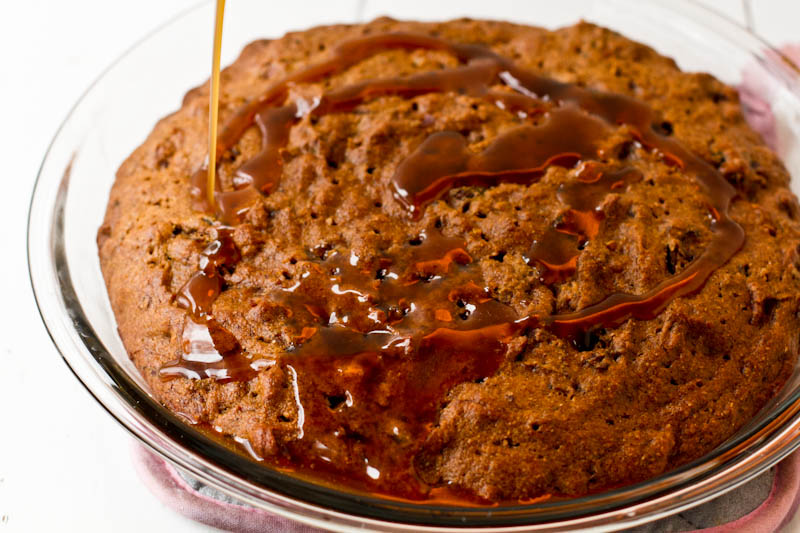 The sauce will soak into all those holes and create a gooey and dense, "pudding-like" cake.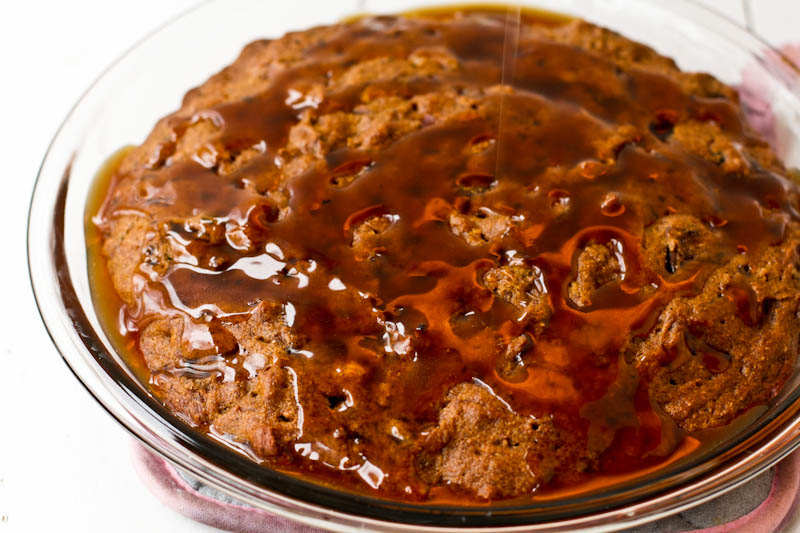 Check that out!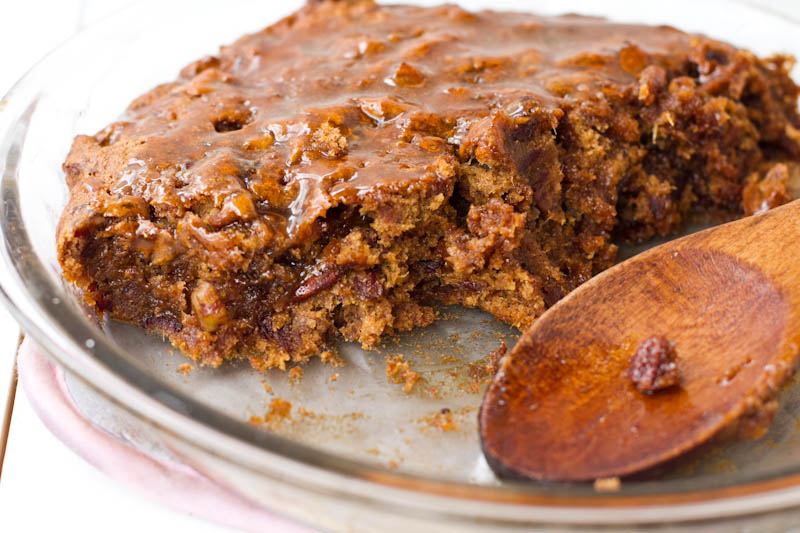 Now portion out your servings onto plates or bowls and drizzle on more toffee sauce. Sprinkle with the remaining toasted pecans and serve with a scoop of vegan ice cream.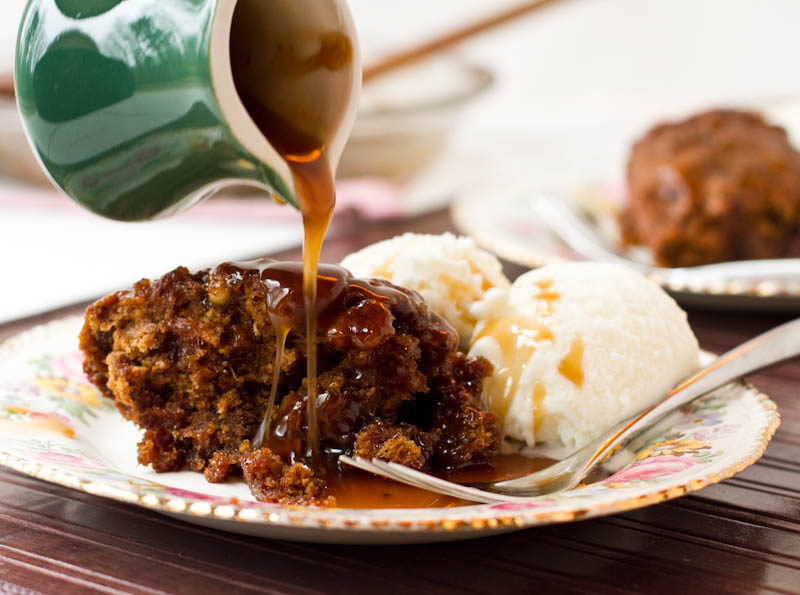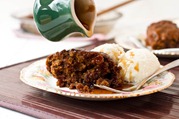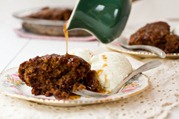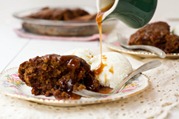 Prepare yourself for a dessert you won't soon forget.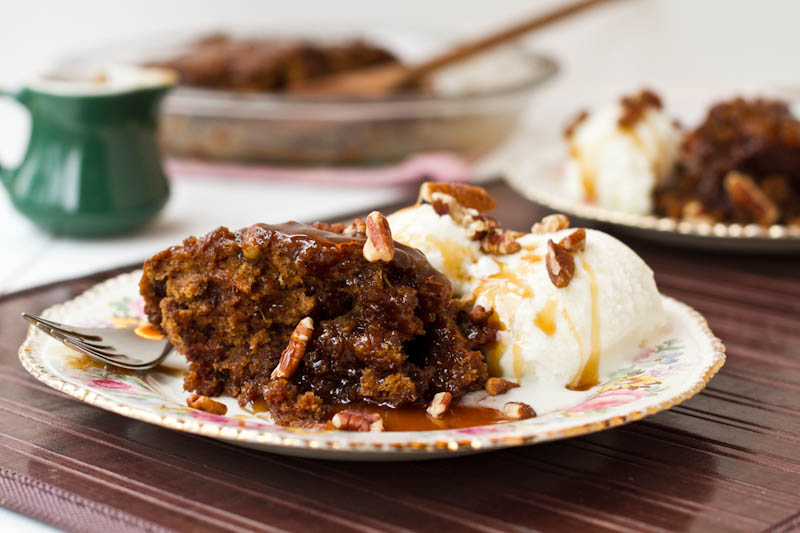 You will, however, forget all about the sugar, cream, and butter that I cut out.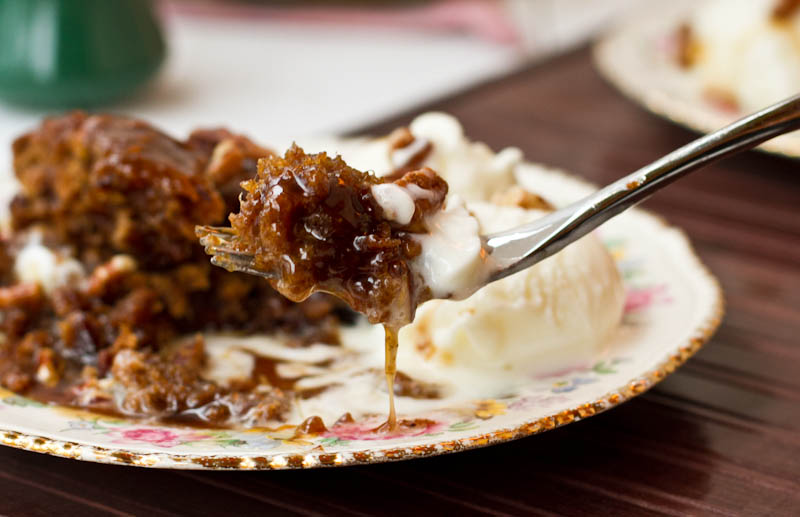 Trust me on this one.