Happy Valentine's Day everyone!
Here you will find many of the fabulous Valentine's Day Recipes that were submitted for the contest last week.
Canadian Entry Winner
Hayley with her "Raspberry Cream Cheese Stuffed French Toast"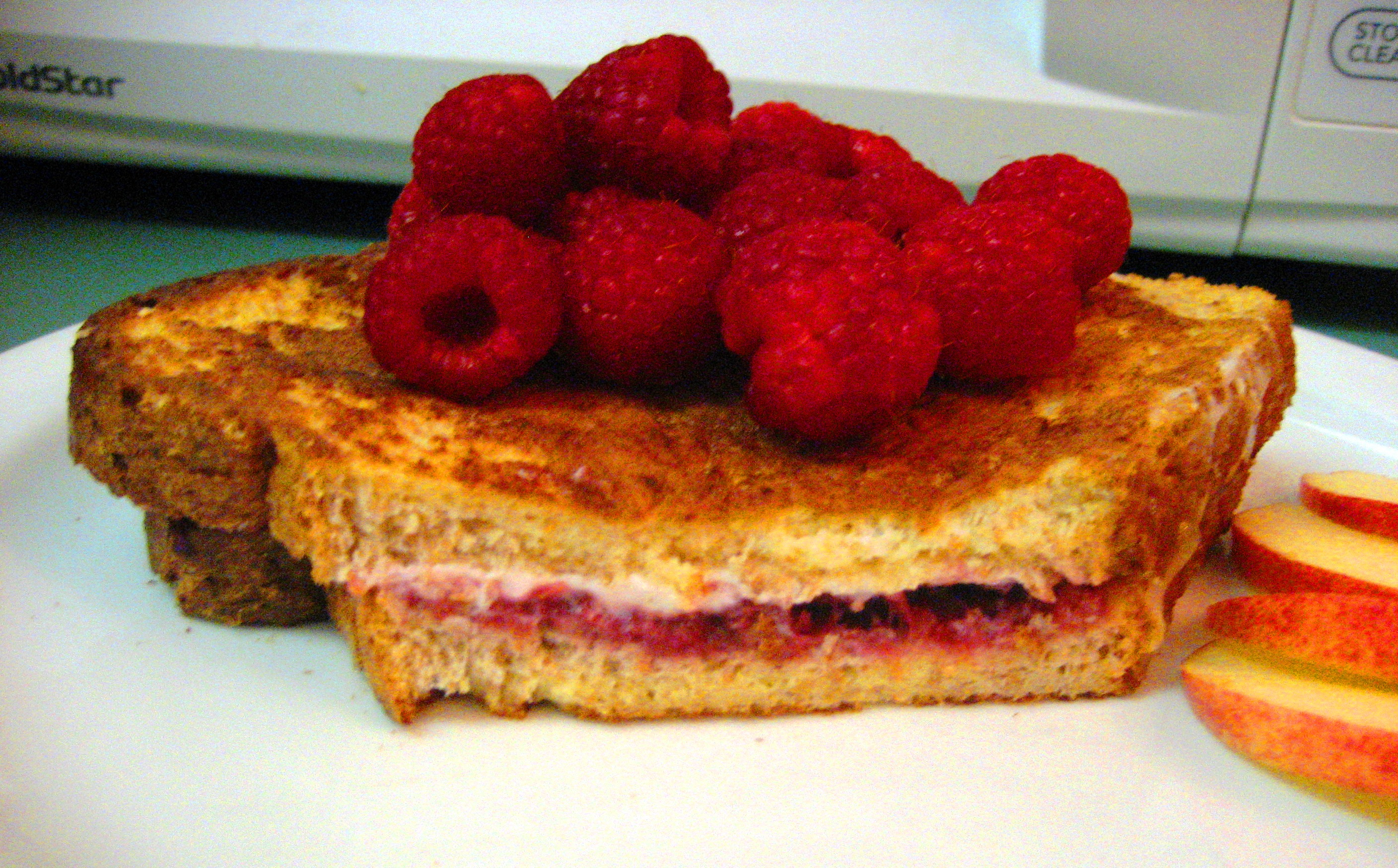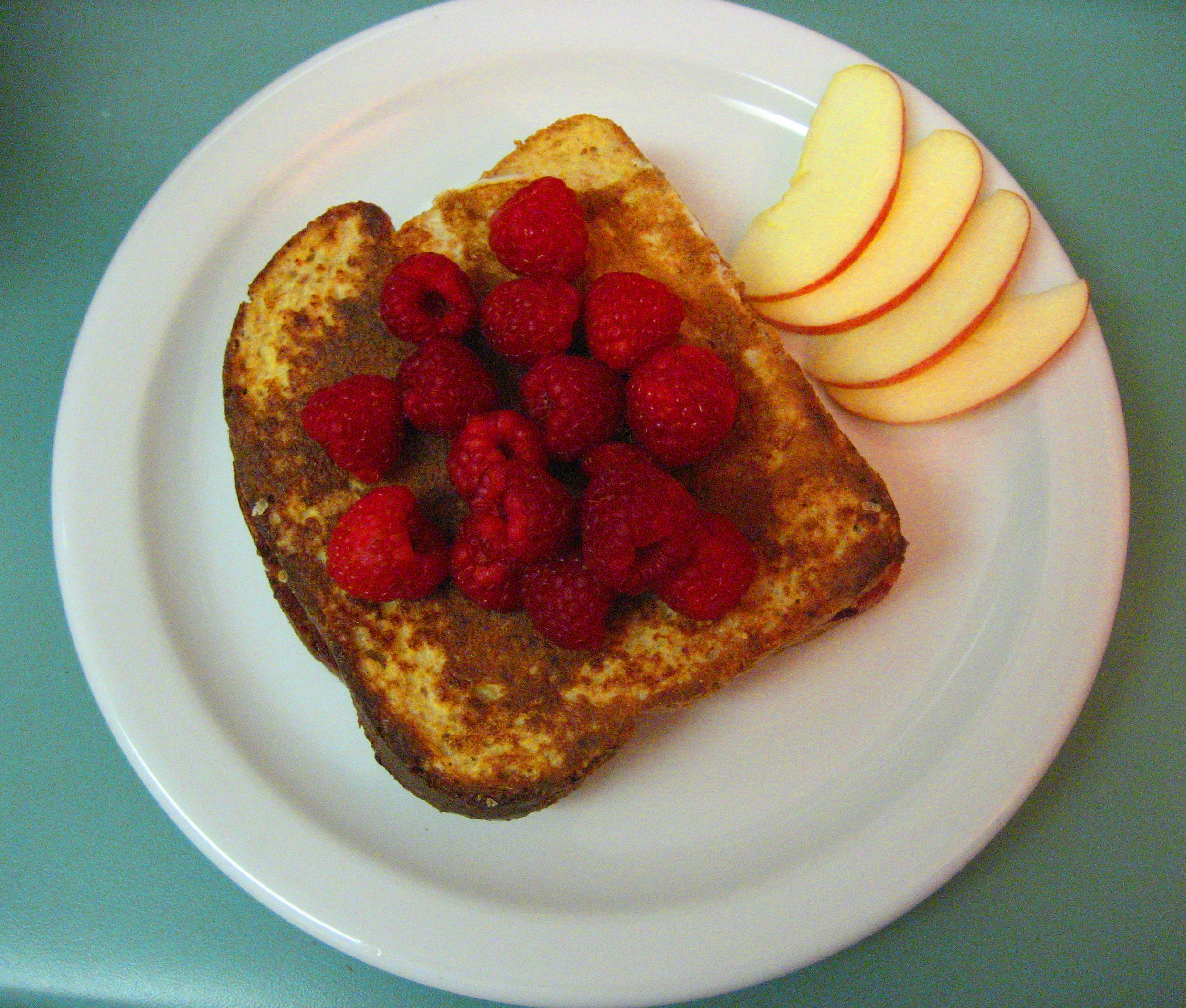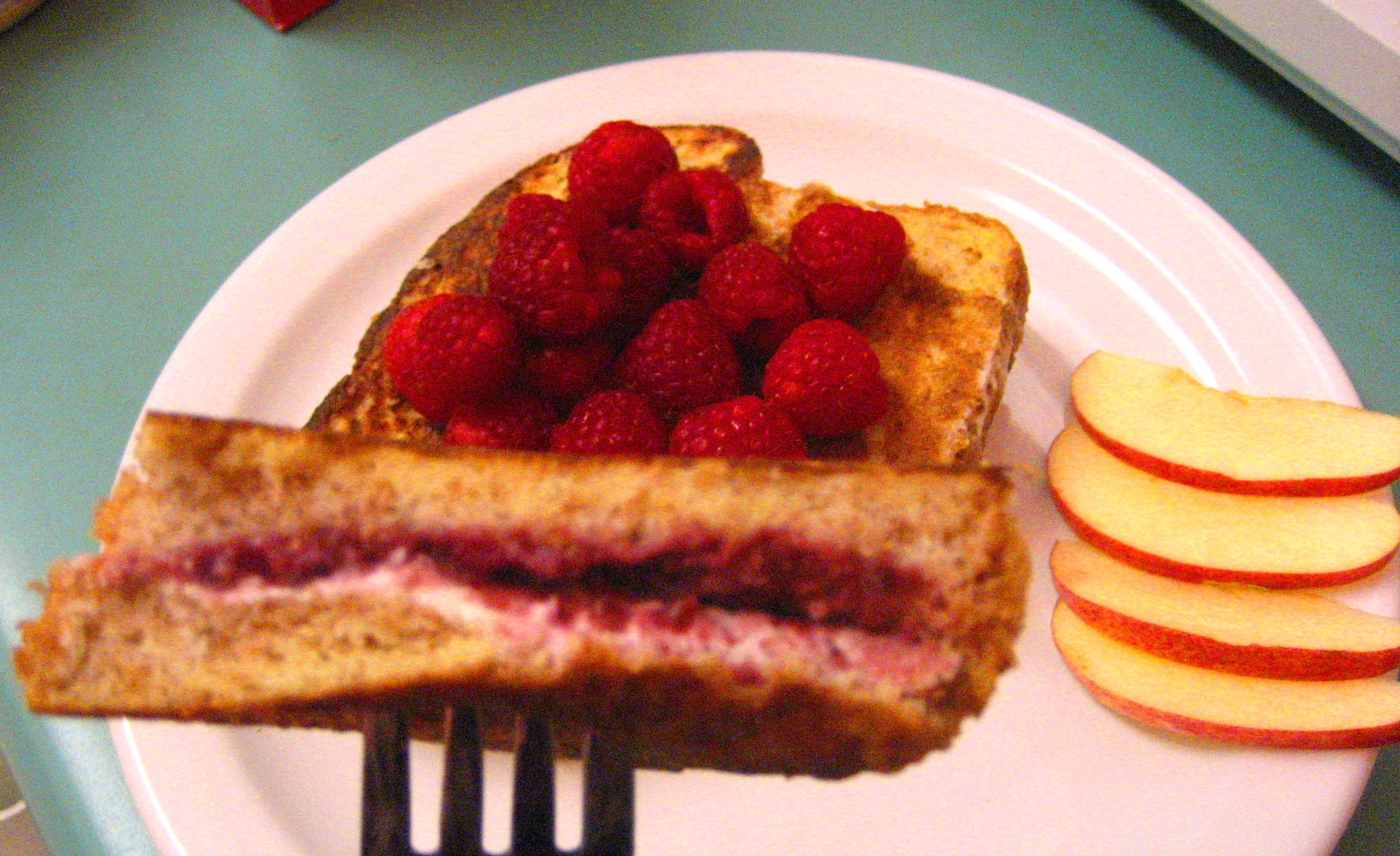 Hayley writes:
"It was a tough decision, but I really wanted to steer clear of traditional Valentine's Day dessert recipes and went with an indulgent breakfast/brunch. This recipe is a perfect way to treat your sweetie to breakfast in bed on Valentine's Day! I found the recipe on allrecipes.com (http://allrecipes.com/Recipe/Stuffed-French-Toast-II/Detail.aspx) and adapted it to make it slightly healthier:
Raspberry and Cream Cheese Stuffed French Toast
4 slices honey oat bread
1/4 (8 ounce) package Light cream cheese, softened
1/4 cup sugar-free raspberry jam
2 eggs, beaten
2 tablespoons 1% milk
3/4 teaspoon vanilla extract
Pat of butter
Directions:

Spread 4 slices bread on one side with cream cheese. Spread remaining 4 slices on one side with raspberry jam. Press cream cheese slices together with jam slices, forming sandwiches.
In a medium, shallow bowl, beat together the eggs, milk and vanilla extract.
Melt butter in a large, heavy skillet over medium high heat. Dip sandwiches in the egg mixture to coat. Place in the skillet, and cook on both sides until golden brown. Garnish with fresh raspberries and drizzle with light syrup.
This was actually my first time making this recipe and while delicious, I'd probably use a thicker, i.e. Texas style, bread next time to make a pocket and stuff the bread so the filling oozes out, I-HOP style. The original recipe yielded over 539 calories per serving, so I'm hoping my changes made a big dent in that scary number! I used Light cream cheese instead of whole fat, sugar-free raspberry jam instead of the sugar-laden variety and added a handful of raspberries to the top due to their powerful antioxidants, cancer fighting agents and for an excellent source of fiber."
US Entry Winner
Lindsey with her "Valentine's Ravioli Dessert"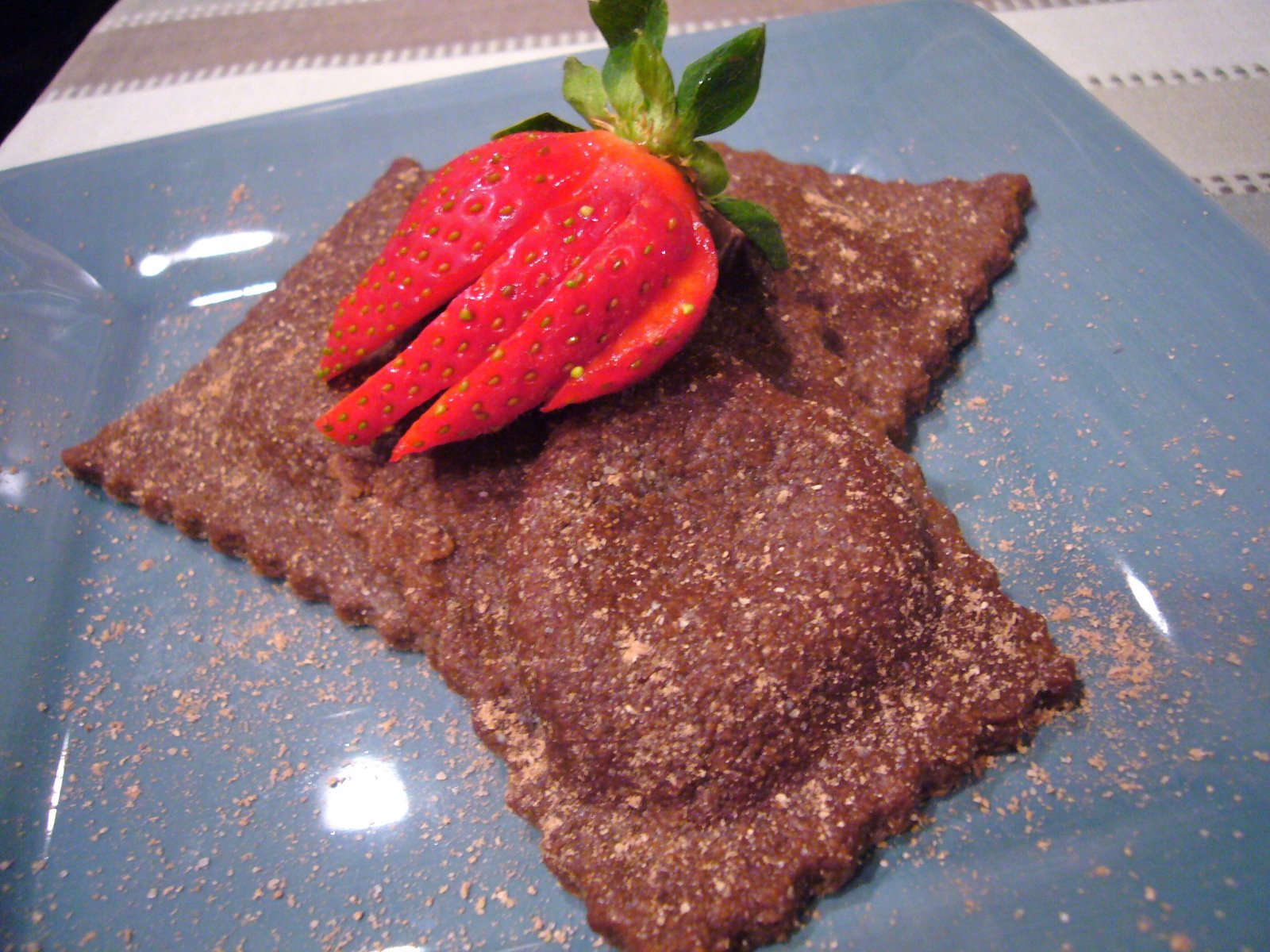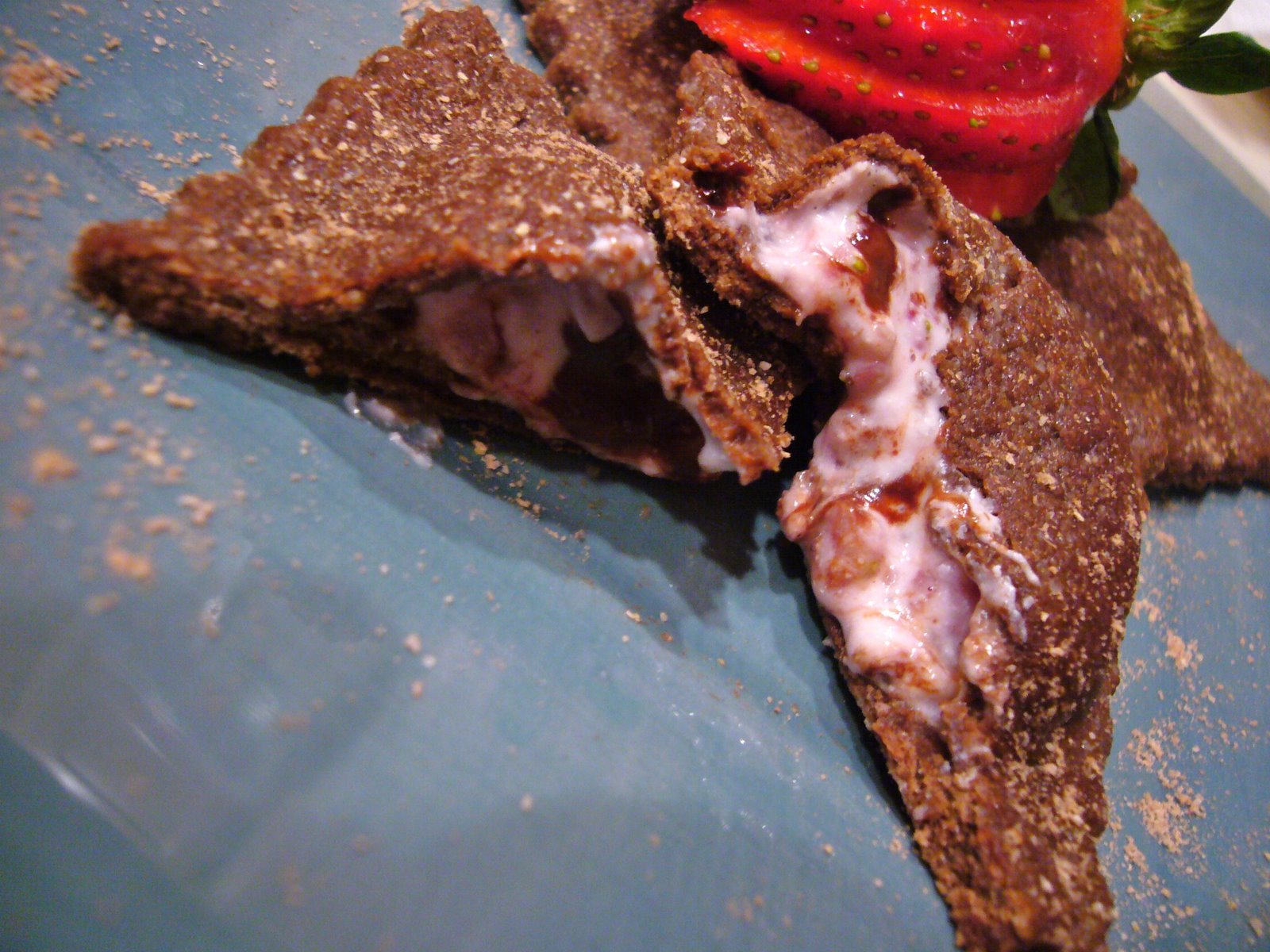 Filling:
¼ c. part skim ricotta cheese
¼ c. neufchatel cheese (1/3 reduced fat cream cheese), at room temperature
1 tsp. light agave syrup
dash cinnamon
4 large strawberries, finely minced
2 Ghiradelli dark chocolate squares, minced
Dough:
½ c. white whole wheat flour
2 TBSP. unsweetened cocoa powder
1 TBSP. sugar
1 egg
Directions:
First combine the ricotta cheese and the neufchatel cheese. Then stir in the strawberries, agave, cinnamon, and tiny dark chocolate pieces. Set aside to let flavors combine.
Sift together the white whole wheat flour, cocoa powder, and sugar. Create a well in the middle and crack the egg into it.
Starting by gently beating the egg, gradually work the flour mixture into the egg. This is a little tricky, because you want to work enough flour into the dough to make a good, pliable texture, but you don't want too much flour where your dough is stiff.
Knead the dough a couple minutes and then let the dough rest for 5 minutes. While the dough is resting, start to get your water boiling.
Roll out the dough (thin, less than ¼ inch thickness). Place a teaspoon-full of the filling on the dough.
Fold the top half of dough over and firmly press the dough around the filling. Using a pastry cutter (or any knife), cut the dough into three squares. Place in boiling water and boil exactly one minute.
Remove from boiling water and place on a paper towel to absorb some excess water.
Plate with a dusting of cocoa and a strawberry, and enjoy!
"To me, nothing captures Valentine's Day (or any romantic occasion) quite like strawberries and dark chocolate. I took a creative spin on your traditional chocolate covered strawberries with this dessert pasta. Quite delicious! And it's so pretty with the pink coloring, and really fairly nutritious too! (Wholesome ingredients really include everything except the tablespoon of sugar I used in the dough…but hey, it's Valentine's Day!). This is a delicious dessert pasta that would make the perfect sweet (and affordable) ending for you and your Valentine!!"
~~~~~~~~~~~~~~~~~~~~~~~~~~~~~~~~~~~~~~~~~~~~~~~~~~~~~~~~~~~~~~~~~~~~~~~~~~~~~~~~~~~~~~~~~~
Berry Berry Hearty Cookies by Kaneil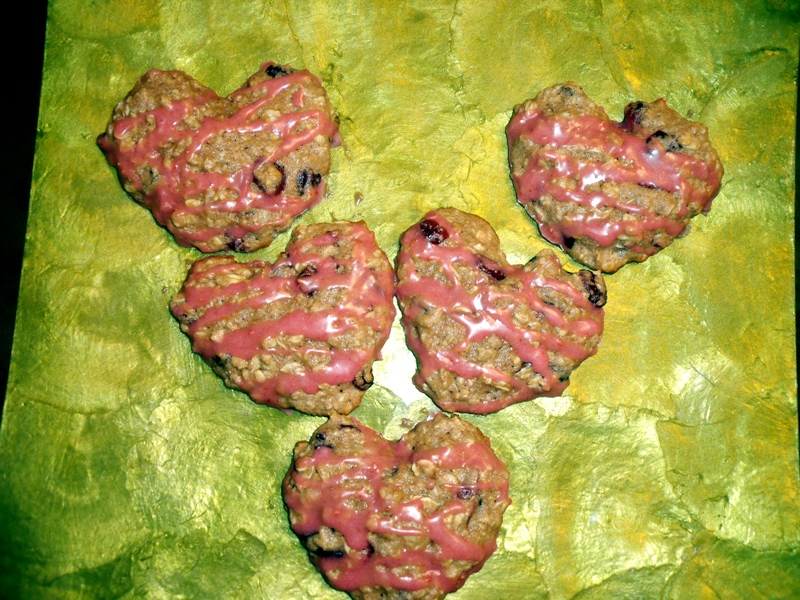 The original recipe came from one of my grad school professors at Vanderbilt. She brought them to our night class one evening to give us a little energy boost and I begged her for the recipe afterwards. When referring to her recipe, I realized that I could eliminate some of the fat and artificial ingredients. For example, I substituted organic cinnamon applesauce, light butter spread, and a tad bit of vegetable oil for 1 STICK of butter. I also decided to use two egg whites and one whole egg, rather than two whole eggs. Her recipe called for pecans and I went with walnuts because they are a SUPERFOOD! :)  Lastly, I used real sugar instead of splenda. The final result was fantastic! I've already wrapped several of these up and given them out as Valentine's Gifts. 
Recipe:
STEP ONE
    Preheat oven to 350 degrees
STEP TWO
    Mix together in a medium bowl:
        1 C. light whole wheat flour (King Arthur brand)
        1 t. baking powder
        1 t. cinnamon
        1/2 t. nutmeg
        1/4 t. salt
        About 1 C dried cranberries (or any combination). Stir these into the flour mix, separating any stuck together, so that all are lightly coated with the flour mix,
    Add and stir into the flour and dried fruit mix
        2 C. regular oats (NOT instant)
        1 C. chopped walnuts
STEP THREE
    In a large bowl in the microwave melt
        1/4 C light butter spread
    Add to melted butter and whisk together
        2 T vegetable oil
        1/2 C organic cinnamon applesauce
        1 C. minus 2 T. Splenda (a full cup is too sweet)
        1 large egg
        1/2 C. milk
        1 t. vanilla
STEP FOUR
    Mix dry ingredients into butter and egg mixture. 
STEP FIVE
    Drop by cookie scoop onto prepared pan (foil sprayed with Pam, Silpat mat, etc.)
    Flatten each ball of cookie dough slightly (they cook in the shape of the dough*)
    Use fingers/fork to mold into desired shape (hearts)
STEP SIX
    Bake about 16 minutes. Cool on rack. 
*Note:  These cookies expand somewhat but do not spread out as you bake them. Recipe makes about 30 cookies. In a plastic zip bag they keep several days; and adding a piece of bread into the bag helps preserve moisture in them.
Berry Berry Drizzle:
Puree 1-2 cups berries (I used strawberries and raspberries)
Mix with powdered sugar until desired consistency is reached
Add a splash of milk if necessary
Use a tablespoon to drizzle across cooled cookies.
ENJOY! :)
I figured out the nutrition info for 1 cookie without the berry drizzle (if 30 are made):
123 calories, 5.3g fat, 18g carbs, 1.7g fiber, 10.5g sugar, 2.4g protein
~~~~~~~~~~~~~~~~~~~~~~~~~~~~~~~~~~~~~~~~~~~~~~~~~~~~~~~~~~~~~~~~~~~~~~~~~~~~~~~~~~~~~~~~~~
Heart Shaped Oatmeal Pancakes by Nadia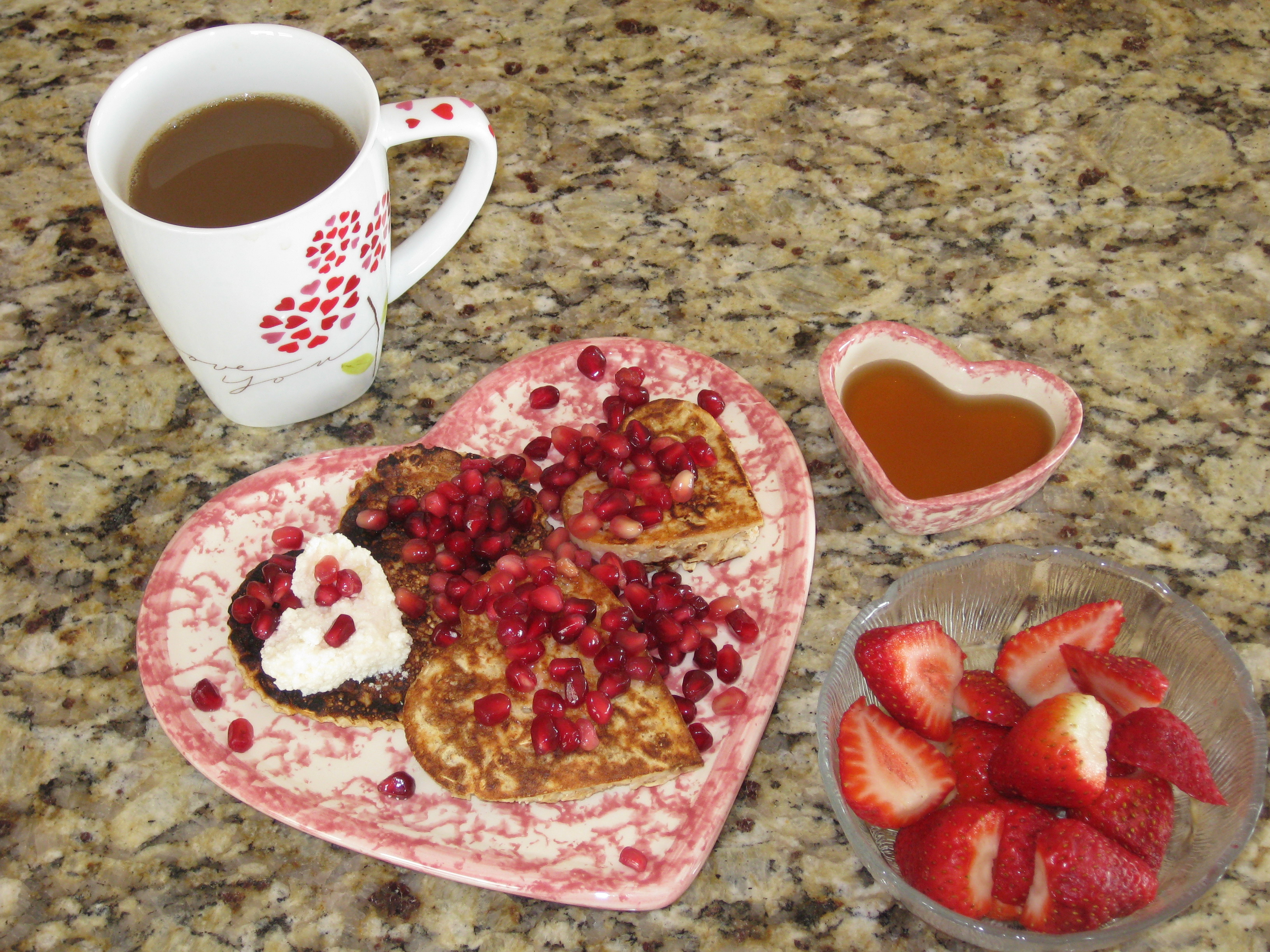 Nadia writes:
"Hi Angela,
Thank you so much for putting on this contest! I'm Canadian, by the way! I've attached a picture of my Valentine's breakfast -oatmeal pancakes, adapted from a Hungry Girl recipe. To keep with the valentine's theme, i used heart shaped cookie cutters to shape the pancakes (I admit I may have gone slightly overboard with the heart shaped dishes). As you can see, the first pancake got a tad dark, but they were delish!
 
Ingredients:
1/3 cup large flake oats
3 tbsp egg whites
1 tbsp skim milk
2 tbsp low fat ricotta cheese
1/4 tsp vanilla extract
1 tbsp whole wheat flour
2 tbsp water
pinch of salt
dash of splenda
 
Combine all ingredients and stir well. Spray skillet with non-stick spray and drop batter into pan (makes ~3 pancakes). Once pancakes start to look solid (a couple minutes), gently flip. Cook for another couple minutes. I served it with ricotta, pomegranate arils, strawberries, and no-sugar-added syrup. Oh, and coffee of course!"
~~~~~~~~~~~~~~~~~~~~~~~~~~~~~~~~~~~~~~~~~~~~~~~~~~~~~~~~~~~~~~~~~~~~~~~~~~~~~~~~~~~~~~~~~~
Berry Love Triangle Oatmeal by Marianne
This recipe serves one, but it is easily doubled, tripled, etc.
Ingredients
1/2 cup oats, milk, water
3/4 cup mixed berries, fresh or frozen (I used frozen raspberries, blueberries, and fresh strawberries)
1/4 tsp coconut extract (you could also use vanilla
2 tsp ground flaxseed
shredded coconut, chocolate chips (I used mini), extra berries for decoration

Directions

1. Combine oats, milk, water, berries, and extract in small saucepan. Cook over medium-high heat until oatmeal reaches desired consistency.2. Stir in flaxseed, then transfer to your bowl.3. Decorate as you see fit!
~~~~~~~~~~~~~~~~~~~~~~~~~~~~~~~~~~~~~~~~~~~~~~~~~~~~~~~~~~~~~~~~~~~~~~~~~~~~~~~~~~~~~~~~~~
Black Forest Pudding by Dagne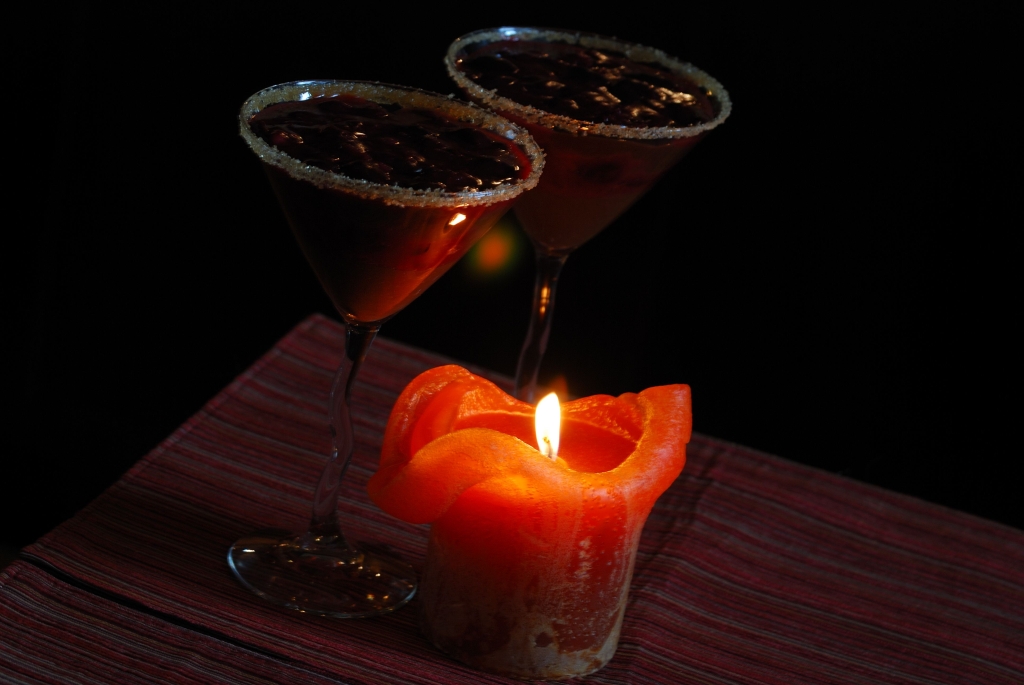 Ingredients:
1 box fat free Jello chocolate pudding mix
2 cups skim milk
1/2 cup water, divided
2 teaspoons cornstarch
2 cups frozen cherries
2 tablespoons (packed) golden brown sugar
1 tablespoon fresh lemon juice
 
Prepare chocolate pudding according to instructions (whisk 2 cups of milk and the pudding mix)
 
For Cherry sauce: Whisk 1/4 cup water and cornstarch in small bowl. Simmer cherries, 1/4 cup water, and brown sugar in a medium sized pot over medium heat; stir until sugar dissolves. Increase heat to medium-high; add cornstarch mixture and stir until mixture boils and thickens, adding water by tablespoonfuls if sauce is very thick, about 1 minute. Remove from heat; stir in lemon juice.
 
Let sauce cool, then add layers of pudding and cherry sauce to a (martini) glass. I coated the rim with brown sugar as well.
~~~~~~~~~~~~~~~~~~~~~~~~~~~~~~~~~~~~~~~~~~~~~~~~~~~~~~~~~~~~~~~~~~~~~~~~~~~~~~~~~~~~~~~~~~
I Love You Brownie by Karen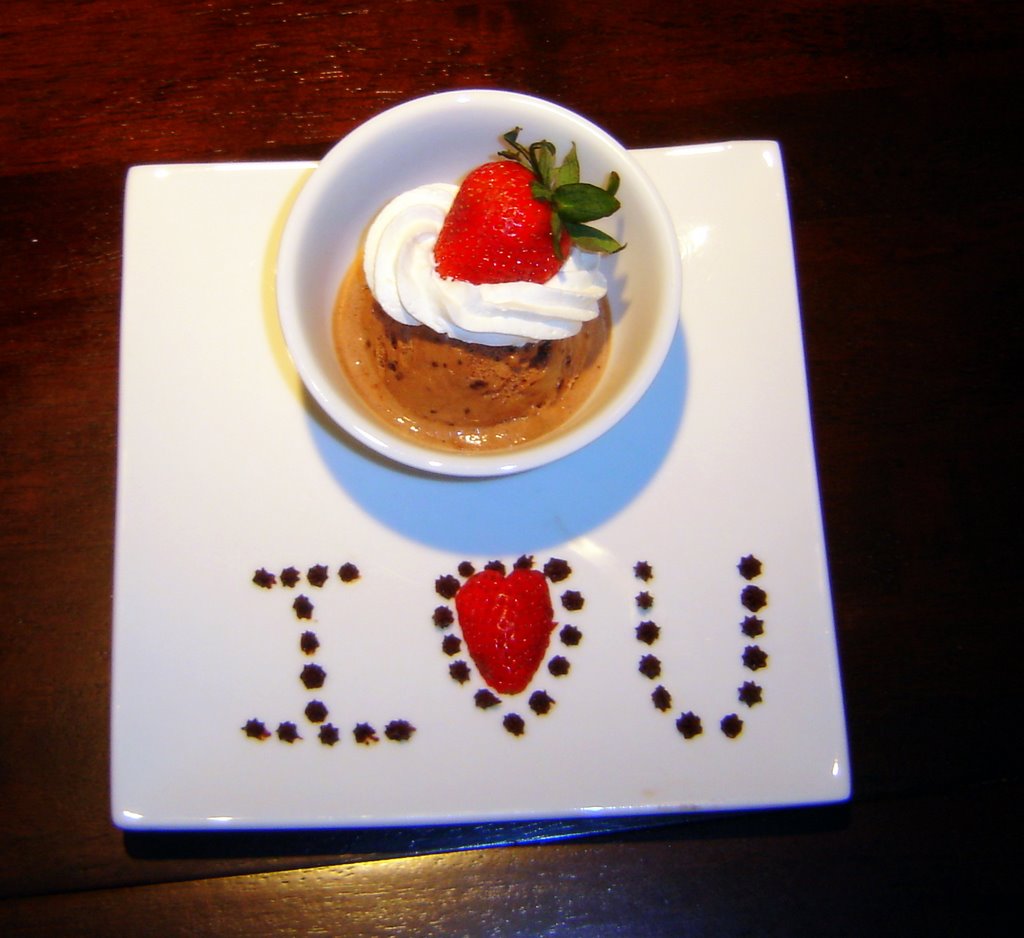 I started by grabbing a cute plate and bowl combo. I then used a
single serving of Breyer's 100 calorie chocolate fudge brownie (1.5
grams of fat and 22 grams of carbs per serving). I scooped it out with
an ice cream scoop and put it in my bowl. I then used a medium sized
star tip on my piping bag to pipe a small dollop of cool whip light
topping (35 calories, 2 grams of fat, and 4 grams of carbs per 3
tablespoons). I topped that all off with a lovely strawberry.
I then grabbed a smaller piping bag and used a teeny tiny star tip to
pipe chocolate ganache (I had some left-over from the boy's birthday
cake) in the shape of a romantic message. :o) Instead of just piping
the heart I sliced a third of a strawberry lengthwise and used a small
knife to cut a heart shape.
Easy peasy! And I think it would look pretty impressive for a
Valentine's Day meal or special "just because" treat!
~~~~~~~~~~~~~~~~~~~~~~~~~~~~~~~~~~~~~~~~~~~~~~~~~~~~~~~~~~~~~~~~~~~~~~~~~~~~~~~~~~~~~~~~~~
Healthy Chocolate Peanut Butter Love Pancakes by Elizabeth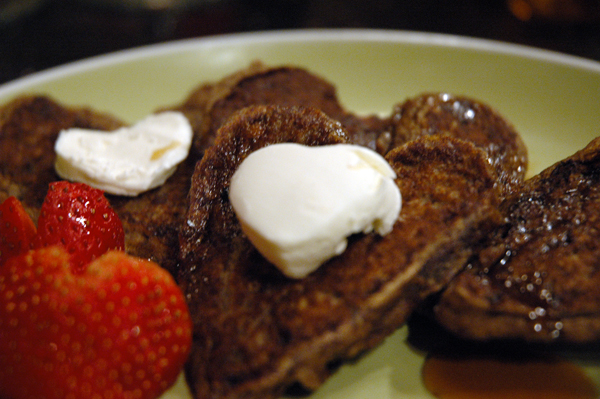 Recipe (Serves 4):
Dry ingredients:
1.5 c Flour (we used .25 c ground flax, .75 c buckwheat flour, .25 c
oats, and .25 c garbanzo bean flour)
1.5 t Baking Powder
1 t salt
Wet ingredients:
1 T sugar (optional)
1.25 c milk (we used .75 c coffee, .75 c chocolate soymilk)
1 egg or egg substitute
3 T butter (we used peanut butter)
Mix the wet ingredients thoroughly. In a separate bowl, mix the dry
ingredients. Add the dry to the wet and stir 20-40 times, just enough
to incorporate (a few lumps are ok).
Heat a large nonstick (or lightly oiled) pan or griddle over medium
heat. Drop batter by tablespoons (for small pancakes) or .25 cup at a
time (for larger pancakes). (We formed hearts by dropping small
amounts of batter from a spoon and shaping the batter blobs quickly
with a silicone spatula). Cook until brown on one side and around
edge; turn and brown the other side. Keep the cooked pancakes warm by
stacking them on a plate and covering with a clean dishtowel.
Serve with berries, syrup, cream cheese, butter, more peanut butter,
jam, whipped cream, chocolate sauce, or whatever makes you happy!
~~~~~~~~~~~~~~~~~~~~~~~~~~~~~~~~~~~~~~~~~~~~~~~~~~~~~~~~~~~~~~~~~~~~~~~~~~~~~~~~~~~~~~~~~~
Berry Crazy About You by Priyanka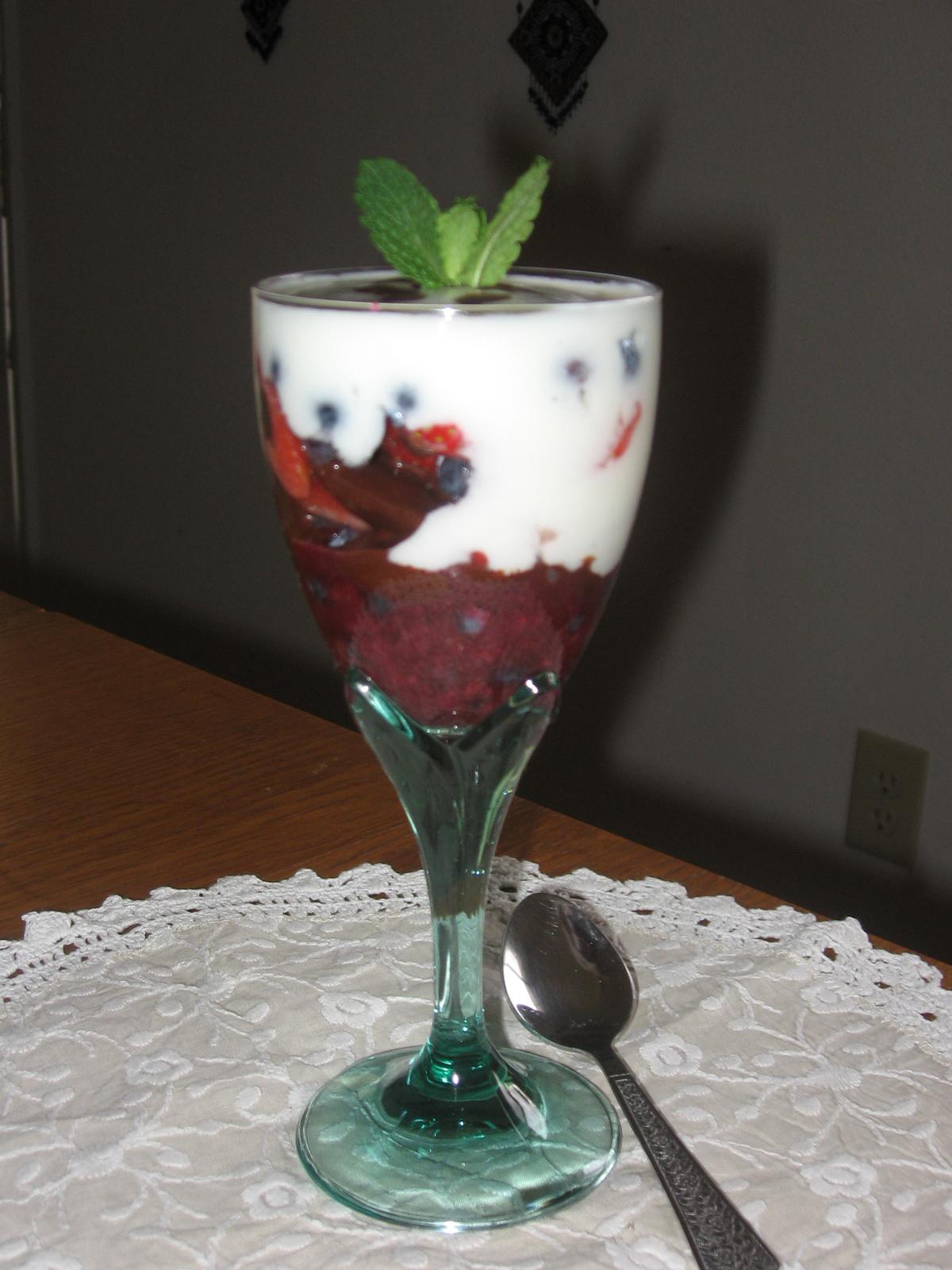 RECIPE
1 cup fresh strawberries
1 cup fresh blueberries
1 cup low fat vanilla yogurt
1 tbsp brown sugar
¼ cup OJ
1 tsp Orange zest
Mint for garnishing
Crushed raisin bran
Cadbury dairy milk melted
Divide the berries into two batches. Make the syrup with ½ cup blueberries and ½ cup strawberries and for the remaining half leave the blueberries whole and hull the strawberries and cut into quarters
Layer 1—- berry syrup (In a sauce pan add the OJ, berries, zest and sugar)
Layer 2—- Crushed raisin bran (forgot to add this)
Layer 3—- fresh berry layer
Layer 4—-Melted chocolate.
Layer 5—- fat vanilla yogurt
Garnish with mint.
This dessert is full of unexpected layers and your valentine never knows what is coming ?! So surprise your valentine with this sweet surprise and tell him that " I am BERRY CRAZY ABOUT YOU!!!"
~~~~~~~~~~~~~~~~~~~~~~~~~~~~~~~~~~~~~~~~~~~~~~~~~~~~~~~~~~~~~~~~~~~~~~~~~~~~~~~~~~~~~~~~~~
Hello Love by Bobbi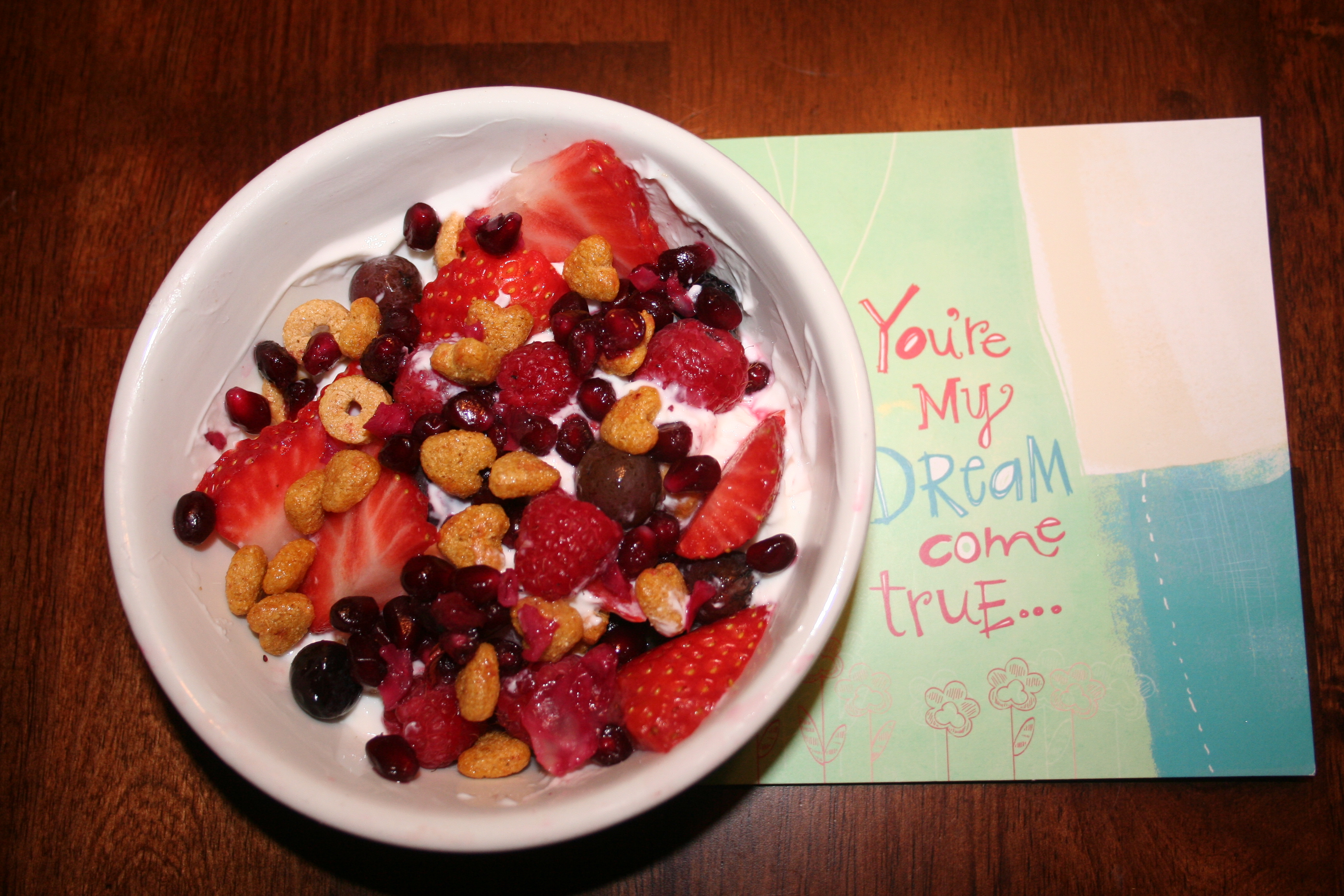 am so glad that you did this contest, I love Valentines Day so much. I know most people are haters of this holiday if they don't have a sweetie, but even when I was single I loved V-Day or as we would call it "national single awareness day". I think that valentines day is more about LOVE, love for friends,family,boys,girls, the whole shubang!
 
I think that this song has to go with my entry because it's all about LOVE and I think that if you eat my yummy snack while you listen to it, it will make you smile and cry all at the same time…making great memories of the snack and of LOVE! http://www.youtube.com/watch?v=9mZxsA4A_2U.
Ingredients:
1/4 c raspberries
1/4 c strawberries
1/4 c pomegranate seeds
1/4 c red grapes
1 serving of Fage
1/2 c of Kashi Heart to Heart Cereal (love the hearts in there)
~~~~~~~~~~~~~~~~~~~~~~~~~~~~~~~~~~~~~~~~~~~~~~~~~~~~~~~~~~~~~~~~~~~~~~~~~~~~~~~~~~~~~~~~~~
Chocolate Mmm-Mmm Cake bu Diana: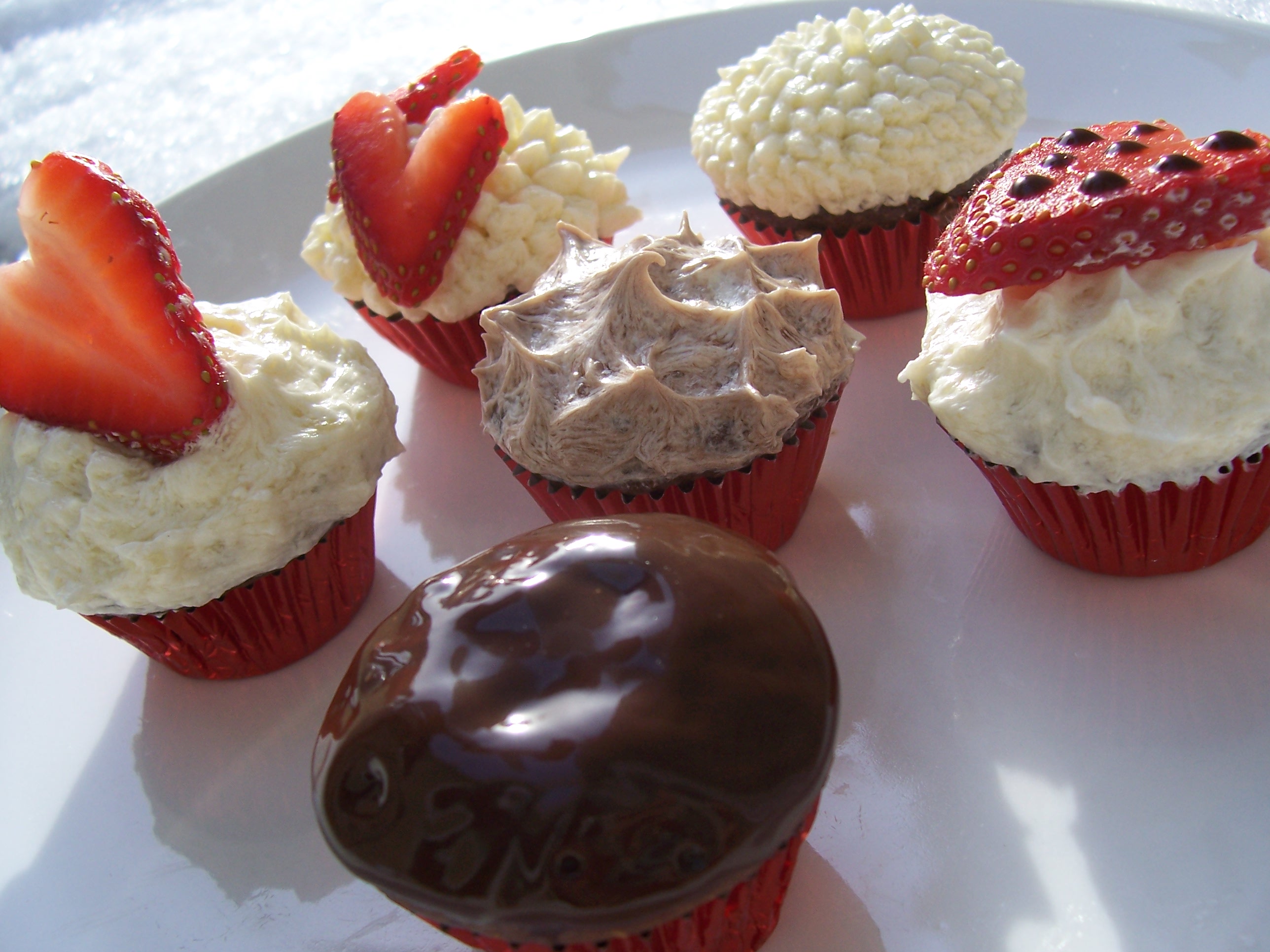 The Original:                                               Healthier Version
2 Cups Flour                                              2 Cups Whole Wheat Flour
1 Cup White Sugar                                     1 Cup White Sugar
4 Tbsp Cocoa                                             4 Tbsp Cocoa
2 Tsp Baking Soda                                     2 Tsp Baking Soda
(Sift Together)                                            (Sift Together)
 
1 Cup Miracle Whip Dressing                      1 Cup FAT FREE Miracle Whip Dressing 
1 Cup Water                                              1 Cup Water
(Mix Well)                                                 (Mix Well)
 
Add Dry to Wet, Mix, Ad 1 Tsp Vanilla
Bake @ 350 for 30 – 40 Minutes in greased and Floured Baking Pan
 
Along with the Substitutes I made in the recipe I also decided to use mini muffin tins instead of a cake pan to encourage portion control and reduce the caloric intake on Valentines Day!
 
White Icing
                                                       
4 Tbsp Flour
1 Cup Milk
Mix well and bring to boil, Stir constantly to avoid lumps, Cool.
 
Beat: 1/2 Cup Shortening
         1/2 Cup Butter
         1 Cup White Sugar
         1 Tsp Vanilla
Add cooled flour mixture, Beat Very Well.
 
The only substitution I made with the icing is that I used 1/2 Cup Margarine instead of Shortening.
 
I topped some of the cupcakes with Strawberries to add a little fruit to the mix!
 
I love this recipe! It's so yummy!
~~~~~~~~~~~~~~~~~~~~~~~~~~~~~~~~~~~~~~~~~~~~~~~~~~~~~~~~~~~~~~~~~~~~~~~~~~~~~~~~~~~~~~~~~~
Green Tea Cheesecake by Michelle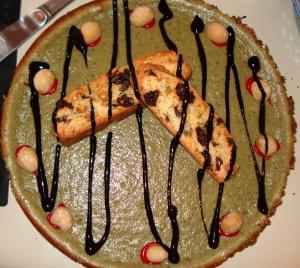 Macadamia Chocolate Graham Cracker Crust
* 1 package/1.5 cups of low-fat chocolate graham crackers crushed
* 10 whole lightly salted macadamia nuts, crushed
* 1/3 cup melted butter
* 1/4 cup granulated sugar
Method: Combine all ingredients in a bowl and press into bottom of a 9 inch spring form round pan. Bake in a 350 degree oven for 9 minutes. Let cool before filling.
Green Tea Cheesecake Filling
* 2 packages of 8oz fat-free cream cheese (16oz total)
* 2 tbs green tea powder/matcha powder (see picture below for example)
* 1 egg + 2 egg whites, beaten
* 2 tsp vanilla
* 3/4 cup granulated white sugar or splenda
Method:
1. Preheat oven to 350 degrees.
2. In a large bowl, beat together the cream cheese and sugar until smooth. Mix in the green tea powder, eggs, and vanilla extract until lightly and creamy; pour into the prepared crust.
3. Bake in preheated oven for 25 minutes, or until the center jiggles evenly when the cake is shaken lightly.
4. Refrigerate at least 4 hours
5. Decorate as your heart desires before serving.
As you can see, I totally made up the design of the cake. I used 2 biscotti's I'd baked beforehand as a centerpiece. On the edges, I dotted red icing and stuck halved macadamia nuts on top. Finally, I drizzled Hershey's dark chocolate syrup over the cake to tie together the cake and incorporate the chocolate crust "idea". :)
~~~~~~~~~~~~~~~~~~~~~~~~~~~~~~~~~~~~~~~~~~~~~~~~~~~~~~~~~~~~~~~~~~~~~~~~~~~~~~~~~~~~~~~~~~
Valentiney Vanilla Bean Brule with a Side of Dark Chocolate Cake by Haya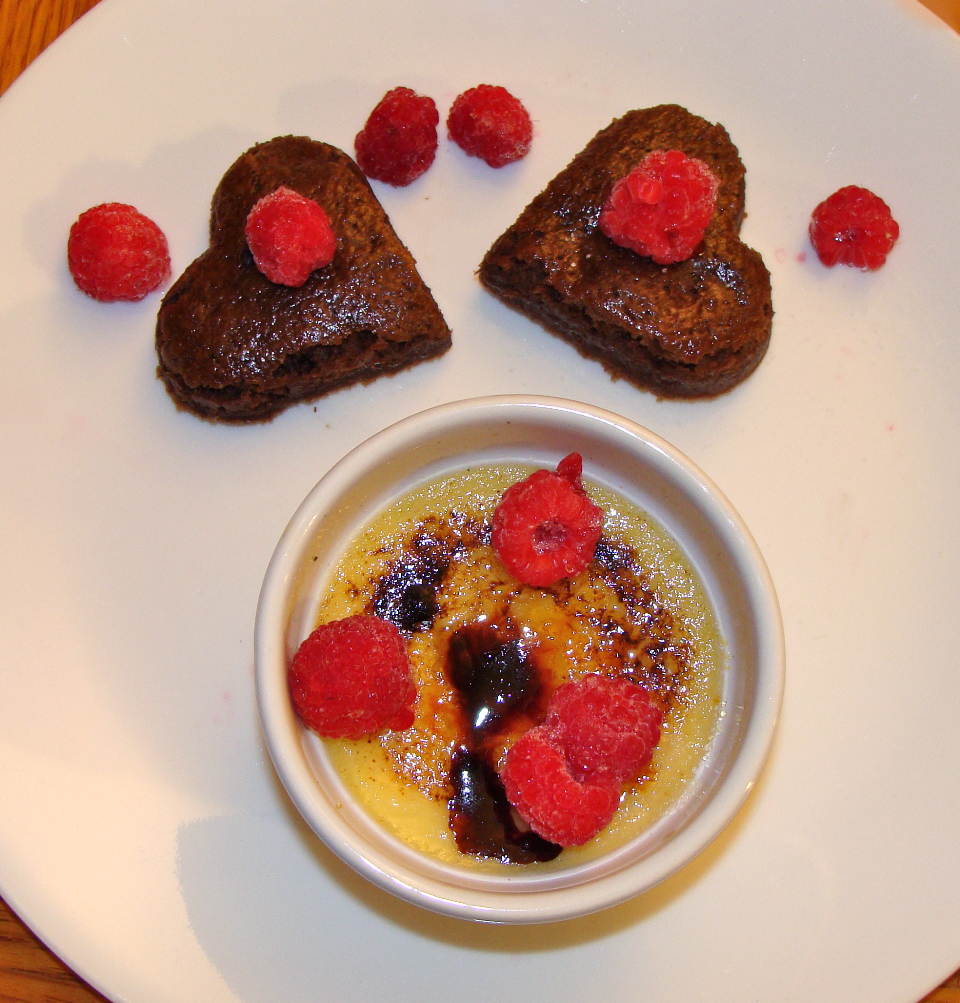 hey angela
i'm attaching my entry to your healthy valentine's day recipe contest.
the chocolate cake hearts are a vegan, almost fat free cake recipe (1.5 c flour, 1 cup sugar, 3 Tbsp cocoa, 1 tsp baking soda, 0.5 tsp salt + 1 tsp vinegar, 1 tsp vanilla and 5 Tbsp veg oil – i used some homemade pear puree (like apple sauce, but pear) instead which made the cake a little more dense and super moist.) the cake is really easy to make. mix up the dry ingredients in a bowl, make 3 wells to put each of the wet ingredients into. pour in a cup of cold water and stir with a wooden spoon until combined. bake at 350 for 25-30 minutes.
those are raspberries that i picked myself this summer from a farm that i biked to, so they fit with my eating as locally as possible challenge (which is pretty tough in canada in the winter!)
the creme brûlée, well. it's not really healthy (though i did use some milk in place of the cream and i cut down on the sugar in the custard) but i wanted to include it in my v day dessert because i'm still in love with my new torch and my boyfriend really enjoys it. the recipe is 300 ml heavy cream, 200 ml 2% milk, heated up and steeped with vanilla bean. 4 egg yolks whisked with 0.25c sugar mixed into cream after 15 minutes of steeping. strain. pour into 6 small ramekins and bake in a water bath for 45 min @ 350. chill for at least 4 hours. sprinkle a couple teaspoons of sugar on top (i tried to make a heart shape but it kind of failed!) and go at it with the torch, or stick under a broiler for a minute or two until you get a nicely browned crust. it is particularly lovely (and very valentiney) if you mix the raspberries into the custard after you break up the crust. the red and off white swirls are beautiful!
i absolutely love valentine's day. it's an excuse for me to be sparkely and red and to bake valentines for all my friends (though i am not sure i'll have the time this year!). i'm planning a tasty, romantic dinner in with the boy (he lives an hour and a half away right now so we only get to spend weekends together) with lots of his favorites and a couple small treats – a dvd of one of his favorite movies that i will watch with him because he has been wanting me to and some organic dark chocolate. last year i had a big exam and a full day of classes on feb 14 and it was generally not a great day at school. i came home kind of grumpy (we lived together at the time) and he totally surprised me with beautiful flowers and chocolates that we shared. i hope i can make next saturday just as memorable for him.
thanks for hosting such a cool contest! it really made me think hard on how to make my dessert a little bit more heart healthy.
i hope you have a great week!
take good care,
haya
~~~~~~~~~~~~~~~~~~~~~~~~~~~~~~~~~~~~~~~~~~~~~~~~~~~~~~~~~~~~~~~~~~~~~~~~~~~~~~~~~~~~~~~~~~
Double Chocolate V-Day Cupcakes by Krista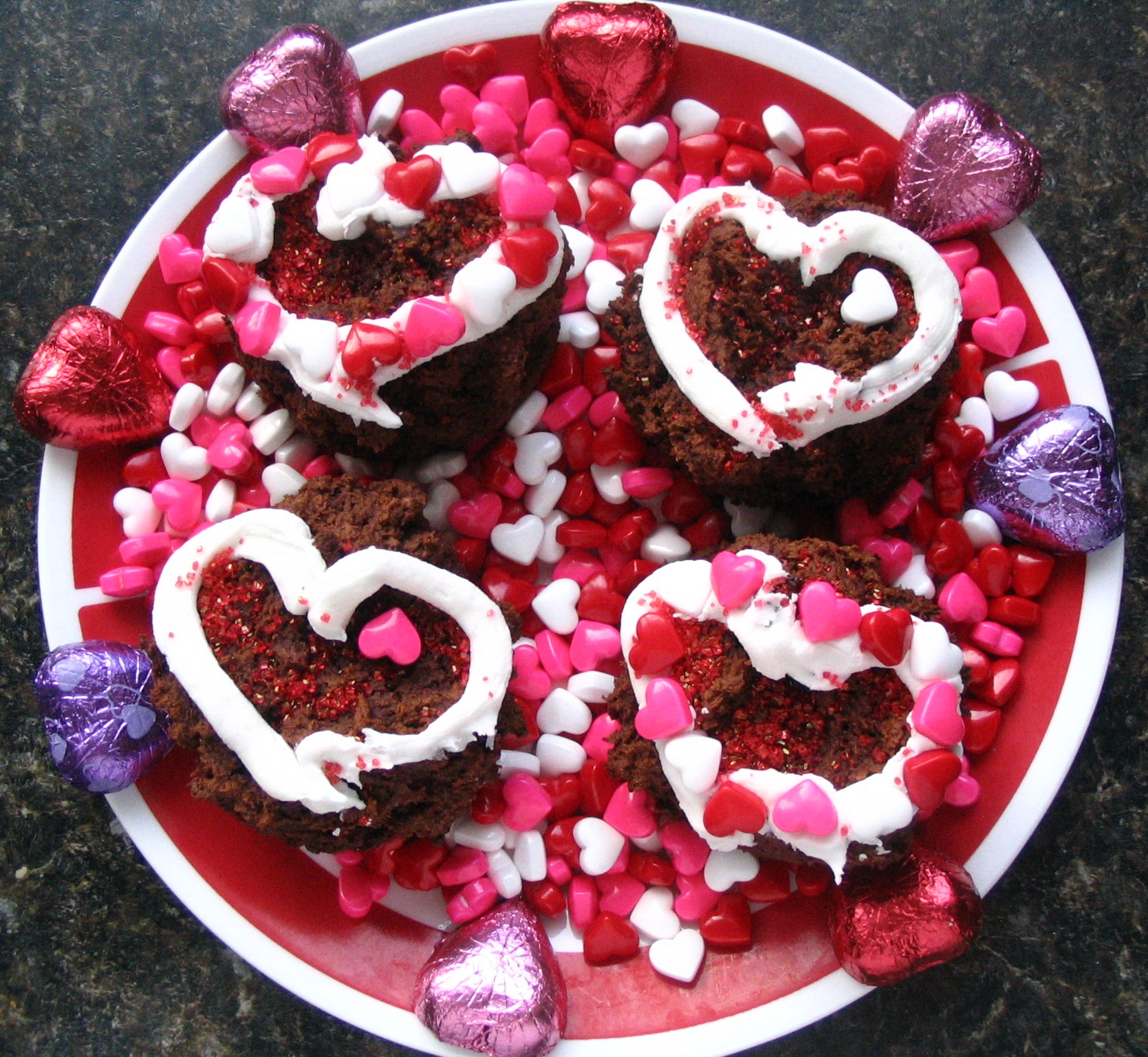 Here are the ingredients that I used;
 A box of 50% less sugar devil's food cake mix, a can of pure pumpkin (those are my 2 healthier ingredients), a tube of icing, red sprinkles and multi coloured candy. One ingredient that is not pictured is dark Belgian chocolate morsels. I simply mixed the cake mix and pumpkin together. I then filled a 12 cup muffin tin with the batter, pressed about 4 chocolate morsels into each and baked for 20 minutes at 400 degrees. Once the cakes were completely cooled, I made icing hearts on them and gave them a good douse of red sprinkles, then I decorated with the heart candies.
~~~~~~~~~~~~~~~~~~~~~~~~~~~~~~~~~~~~~~~~~~~~~~~~~~~~~~~~~~~~~~~~~~~~~~~~~~~~~~~~~~~~~~~~~~
Banalmondberry love, baby by Polly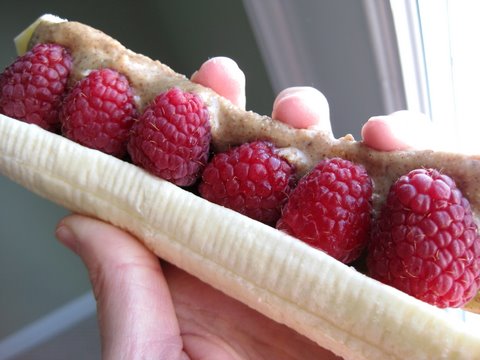 I do like Valentine's Day, cause I love my man! Mostly, because it's his
birthay on the 12th so we just celebrate that, but I do like pink and red
things! This snack is like our family.
I am the banana, cause well I'm a monkey and love them so!! Abbi is our
sweet berry and Dan… he is the sticky almond butter than holds us all
together! :)  It's banalmondberry love, baby!!
~~~~~~~~~~~~~~~~~~~~~~~~~~~~~~~~~~~~~~~~~~~~~~~~~~~~~~~~~~~~~~~~~~~~~~~~~~~~~~~~~~~~~~~~~~~
Olive You Tapenade by Erin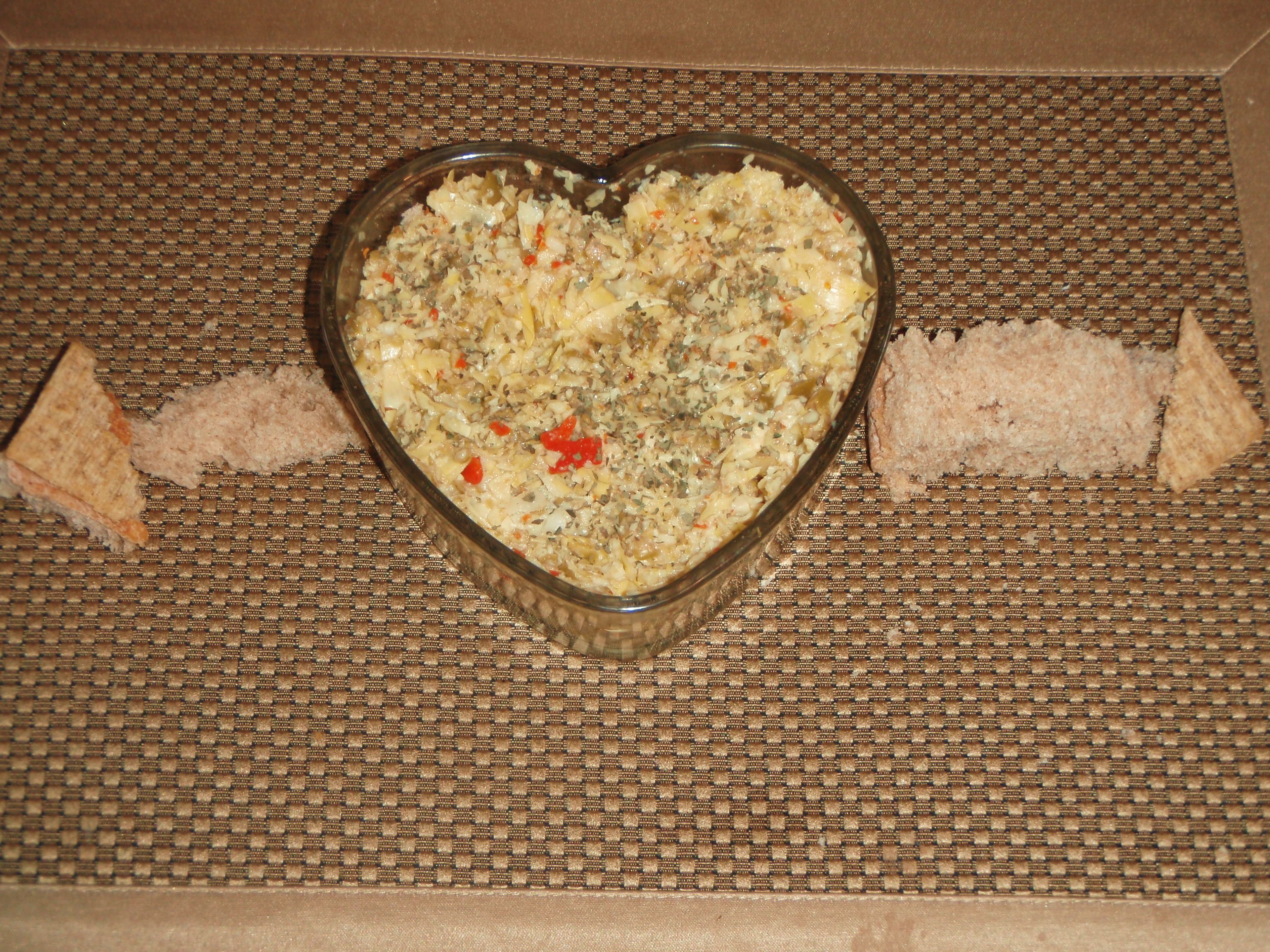 For my healthy Valentines Day recipe I thought I'd send you my recipe for "Olive You! Tapenade". Since I won't be cooking a romantic dinner this year and probably just hanging out with my girlfriends, I thought this would be the perfect healthy (& delicious) treat! I also have put this spread on sandwiches and it's awesome. Here's the recipe (I doubled mine in the picture):
Makes 12 servings
1 small baguette or bread of your choice
1 teaspoon extra-virgin olive oil
4-5 artichoke heart quarters, drained
7 pitted green olives
1 clove garlic
1 tablespoon chopped fresh parsley
1/2 teaspoon fresh lemon juice
Cut artichoke hearts into 1/4 inch dice and set aside. Put olives, garlic, parsley and 1 teaspoon olive oil in food processor; process till combined. Place in bowl and add diced artichoke, mix well. Add lemon juice & pepper to taste. Cover and refrigerate 1 hour before serving. Serve at room temp.
Estimated calories per serving (2): 59 calories
~~~~~~~~~~~~~~~~~~~~~~~~~~~~~~~~~~~~~~~~~~~~~~~~~~~~~~~~~~~~~~~~~~~~~~~~~~~~~~~~~~~~~~~~~~~
Cheesecake and Dried Cherry Muffins by Melissa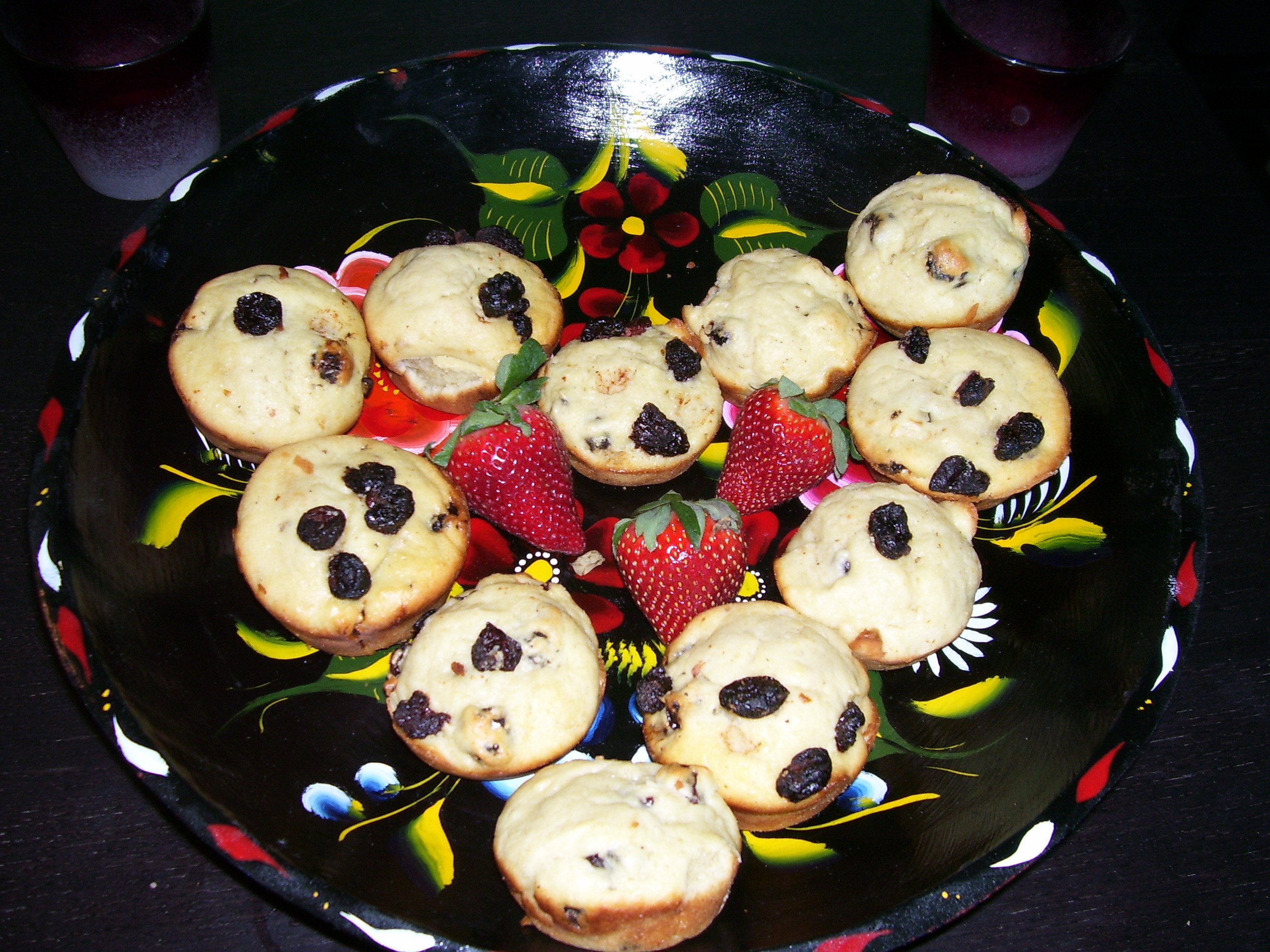 These are a sweet way to start the day, Cheesecake and dried cherry muffins! They honestly taste like cherry cheesecake. 
 
To make the quite unhealthy recipe a bit healthier, I:
 
-used reduced fat cream cheese
-used 2 TBSPs less butter than suggested
-unsweetened dried cheeries (and doubled the amount)
-1/2 applesauce, 1/2 sugar instead of all sugar
-used 1/2 oat flour, 1/2 regular flour
-made 18 rather than 12 for portion control
-skipped the powdered sugar on top, and used fresh strawberries for garnish.
 
They still contained quite a bit of butter (1 stick!), but they tasted totally indulgent even with the changes.
~~~~~~~~~~~~~~~~~~~~~~~~~~~~~~~~~~~~~~~~~~~~~~~~~~~~~~~~~~~~~~~~~~~~~~~~~~~~~~~~~~~~~~~~~~~
Healthy Hearts Hot Momma Snack by Nicole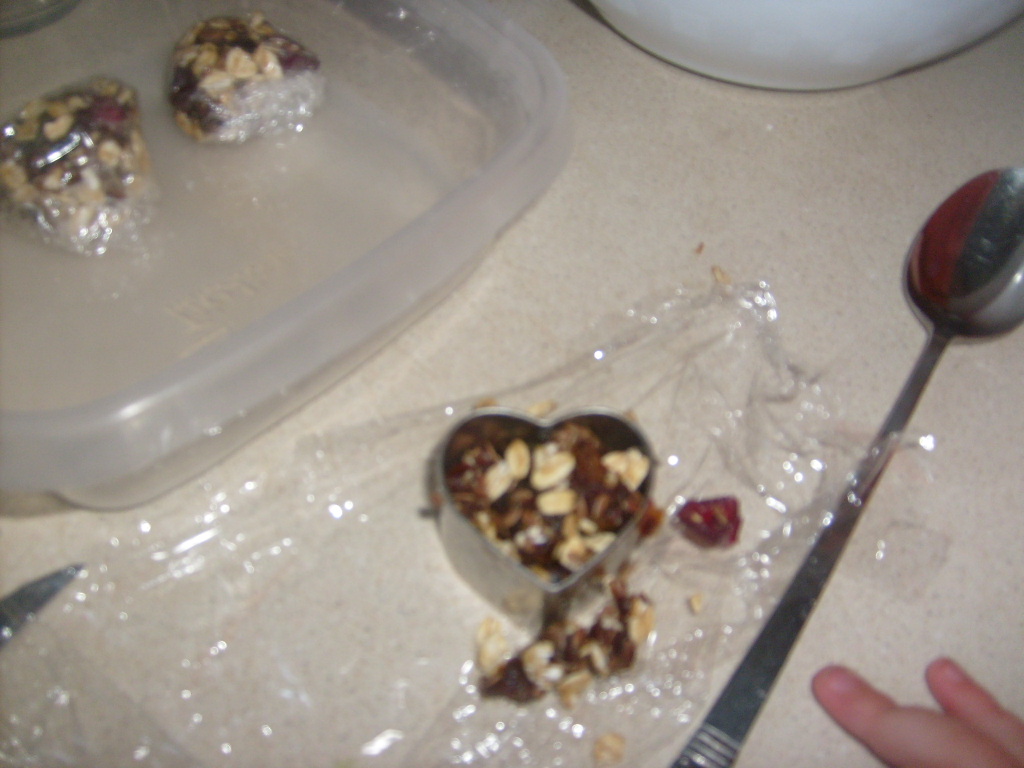 1 handful of the following:
chopped whole dates
organic oats
dried cranberries (RED!)
flaxseeds
Combine in a bowl (add vanilla if desired)
Take a small deep heart cookie cutter and place it on a piece of cling wrap.
(I used a Pampered Chef mini cutter) Firmly pack the cutter with the mixture.
Remove the cutter and wrap.
Viola! A cute heart healthy bite size snack! It's so easy to make as well as
yummy!
I've enclosed some pictures of the girls helping me to make them. Paige is 3
and Stephanie is 2. They love this snack and were happy to make them for
mommy's friends!
~~~~~~~~~~~~~~~~~~~~~~~~~~~~~~~~~~~~~~~~~~~~~~~~~~~~~~~~~~~~~~~~~~~~~~~~~~~~~~~~~~~~~~~~~~
Heart Healthy Oats by Meghan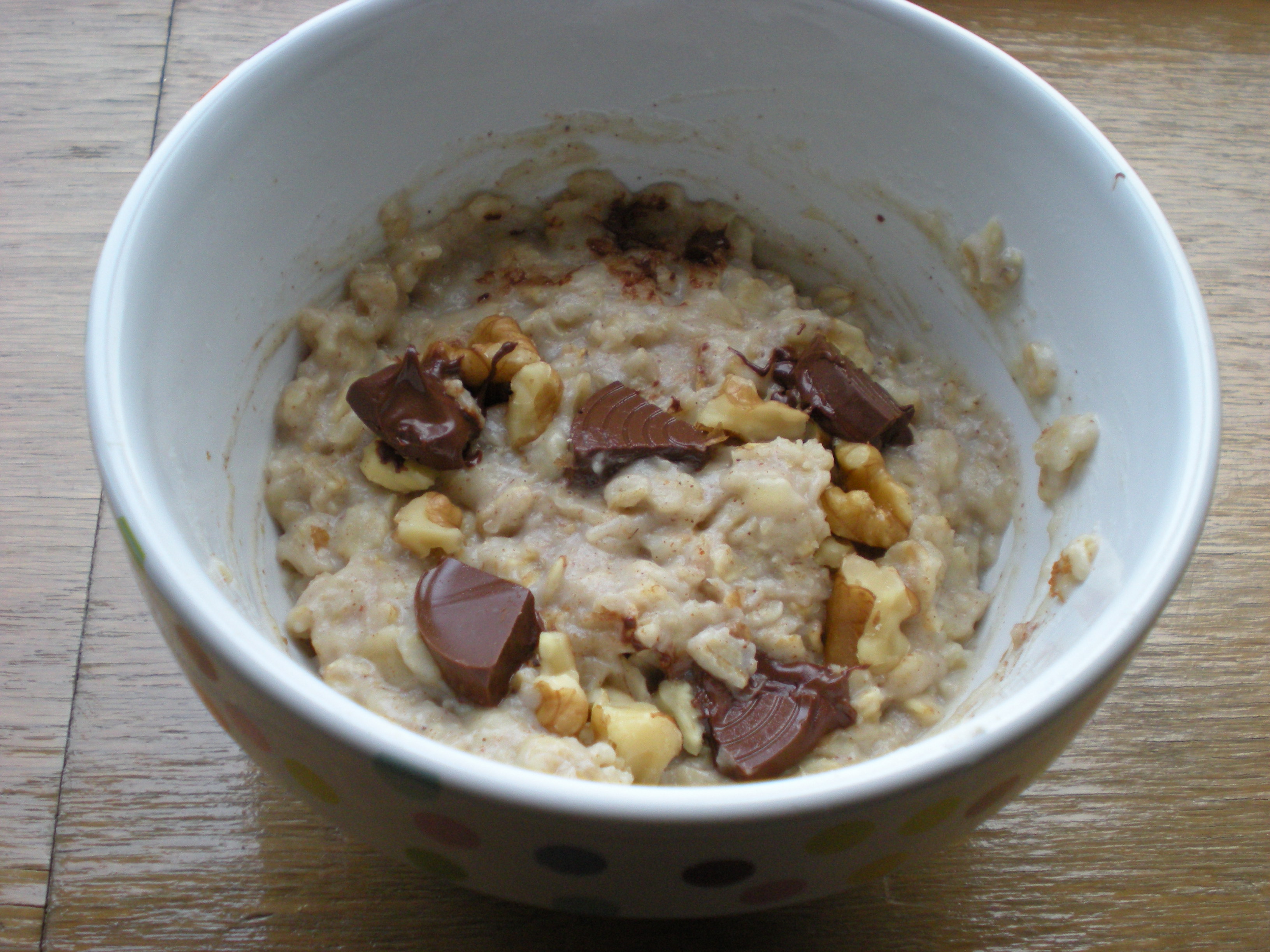 When I think of Valentine's Day, I immediately think of love and happiness. Therefore, I decided to create a recipe that is good for your heart nutritionally and emotionally. This is 1/3 cup of oats made with 1/2 a banana, 1/3 cup soymilk, and 1/3 cup water. I then mixed in cinnamon and 1/2 tablespoon of almond butter. On top, I created a heart with walnuts and dark chocolate (the food of love!). But it's not just dark chocolate…it's an Adora disc! Adora discs are real dark chocolate fortified with 50% of your daily calcium needs, all for 30 calories. They're fabulous! So in short, this oatmeal is full of heart-healthy ingredients and also warms your soul…look at that melty chocolate and even the cute, happy bowl! :) Thanks guys!
~~~~~~~~~~~~~~~~~~~~~~~~~~~~~~~~~~~~~~~~~~~~~~~~~~~~~~~~~~~~~~~~~~~~~~~~~~~~~~~~~~~~~~~~~
Heart-y Beef Stroganoff by Brandi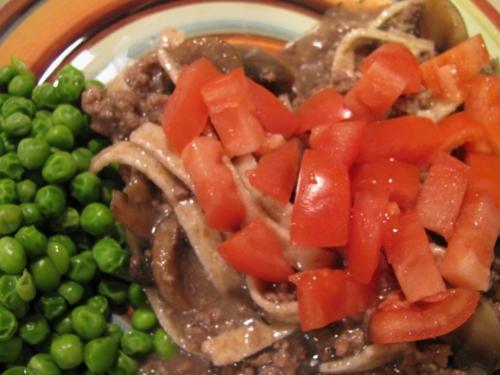 The stroganoff included:
1 tsp. olive oil (rich in monounsaturated fats)
1/2

red

onion, diced (chromium, vitamin C, flavonoids)
1 lb. mushrooms, sliced (selenium, riboflavin, potassium, niacin, phosphorus)
1 lb. Laura's extra lean

ground beef

(protein, vitamin B12, vitamin B6)
beef broth
water + 2 Tbsp cornstarch
1.5 tsp dijon mustard (selenium, magnesium, omega-3 fatty acids, iron, calcium, zinc, etc)
1/4 cup fat free plain yogurt (calcium, vitamin B2, zinc, potassium, protein)
2 cups (cooked) fresh whole wheat pasta
diced

tomato

salt, pepper, thyme
~~~~~~~~~~~~~~~~~~~~~~~~~~~~~~~~~~~~~~~~~~~~~~~~~~~~~~~~~~~~~~~~~~~~~~~~~~~~~~~~~~~~~~~~~~~
Cappuccino With Love by Sarah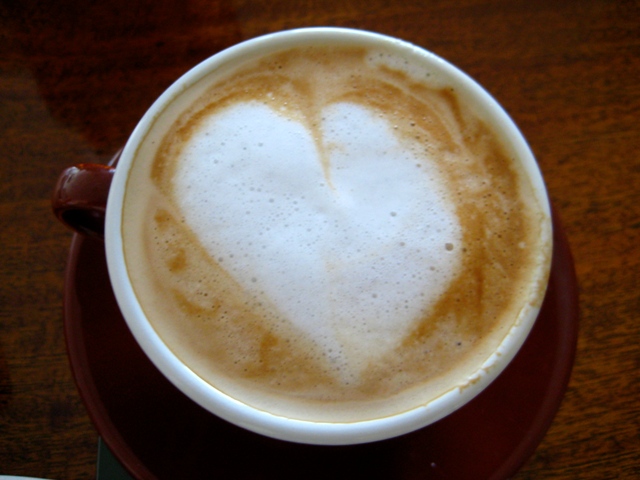 My boyfriend, Graham, has two loves – me and his cappuccino maker! Weekend breakfasts are one of my favourite times together. I make pancakes, french toast, waffles or crepes and he makes the coffee. Here is a photo of heart latte art! A cappuccino made with 1% milk is a a good source of calcium – the perfect start to the morning. This coming Valentine's Day, I can't guarantee that I'll have heart shapes on top of my coffee, but I know we'll be enjoying breakfast together!
Mushroom Spinach Salad + Chocolate Fondue by Katy
This will actually be the first Valentine's Day that my fiance and I will be spending together…even though we have been together for 5 years. The circumstances just never worked out so that we were in the same place on Feb. 14. So I was already planning on making a special dinner for the two of us. One of my favorite things is fondue. My family typically does oil fondue in which we cook different meats from our farm (chicken, beef, and pork) in canola oil (which has multiple health benefits). I'm also planning on making a spinach, mushroom, and onion salad (see recipe below). And finally for dessert we are having chocolate fondue. Normally we eat the chocolate fondue with pound cake, pretzels, bananas, strawberries…we've even tried pickles but I wouldn't recommend it! This year we are just going to stick with fruits-strawberries, apples, bananas, and oranges. This time I am going to be trying my own recipe for the fondue (usually I use the recipe in my Betty Crocker cookbook but it calls for cream). I'm not exactly sure how it will turn out. I'm planning on using dark chocolate (65% cocoa or higher) and probably half and half. I can post what I actually did next Saturday/Sunday. I'm attaching a picture of my fondue pot. It says "Chocolate Fondue is good for you!" And it will be when I use super dark chocolate! I'll let you and everyone else know how the final product comes out next week. Sorry for lack of pictures but I'm not going to make our Valentine's Dinner one week early! I know you understand. 
 
 
Mushroom Spinach Salad (adapted from Taste of Homes) 
Dressing:
.5c canola oil
2TBSP cider vinegar
1 tsp sugar
.5 tsp salt
.25 tsp garlic powder
.25 tsp onion powder
.25 tsp oregano
A couple grinds of fresh pepper
 
Pour dressing over 8 cups of baby spinach, 2 cups fresh, sliced mushrooms, and .5 cup red onion. I like to add fresh orange sections too!
 
Fondue
Canola Oil to fill fondue pot.
Lean Cuts of meat-we're using chicken breasts, pork chops, and some kind of beef. I'll have to see what is in our freezer!
 
Heat oil and cook meat until done.
 
Chocolate Fondue
65% or higher cocoa chocolate
half and half
 
Stir in double broiler over low heat until chocolate is melted. Transfer to fondue pot. Dip with fruit, cake, cookies…the sky is the limit!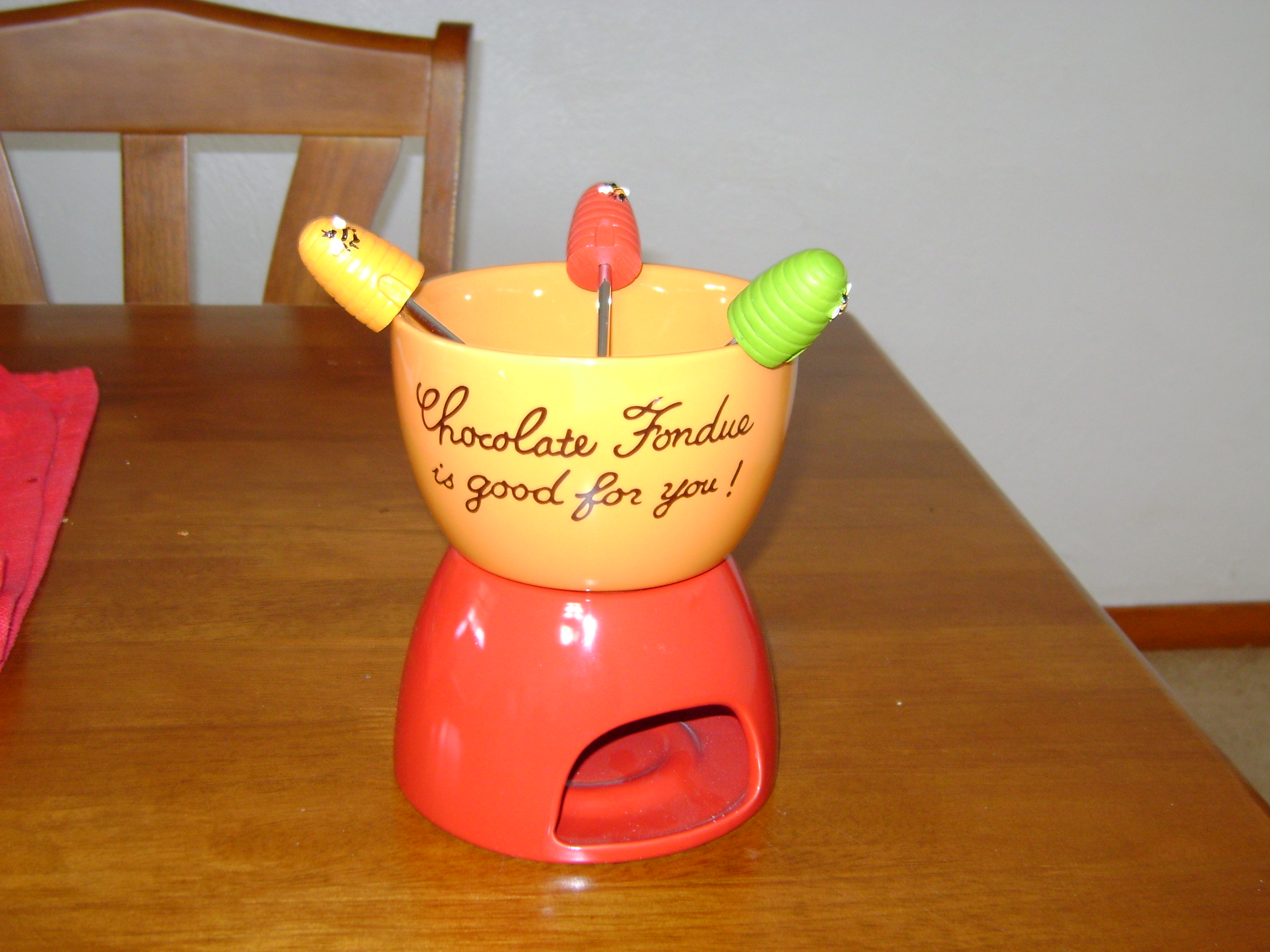 —
Stay tuned for more recipes tonight and tomorrow! I will be adding these around the clock. :D