Hello and thank you for your anniversary wishes today!
Did you know that the month of September is National Mushroom Month? :)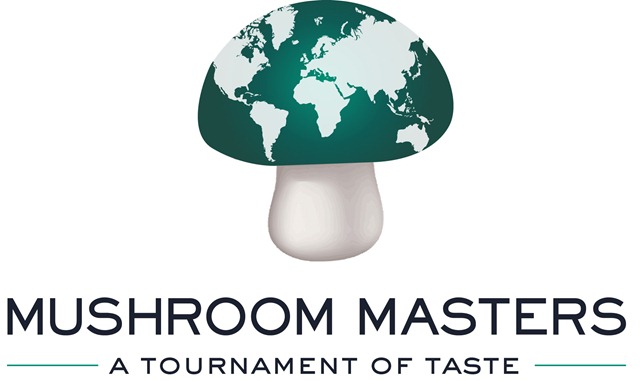 I am very excited to tell you about a recipe challenge I was asked to participate in called 'Mushroom Masters: A Tournament of Taste'.
Tastespotting is hosting the event along with the Australian Mushroom Growers Association, Mushrooms Canada and The Mushroom Council (US). Twelve food bloggers (3 from each: Canada, US, and Australia) were asked to compete in this challenge and we were offered compensation to participate.
I was assigned to this week's Portabella Playoff competition! I am up against two very talented bloggers- Jules of Stone Soup and Sara of Sprouted Kitchen. When I was introduced to their beautiful food blogs, I thought they had made a mistake in selecting me! I knew I had to come up with something great…or bust.
I put my Portabella Thinking Cap on and came up with a mouth-watering Stuffed Portabella Pizza in a Cashew Basil Cheese Sauce. I hope you will enjoy it as much as I do!
Here are a few teaser shots…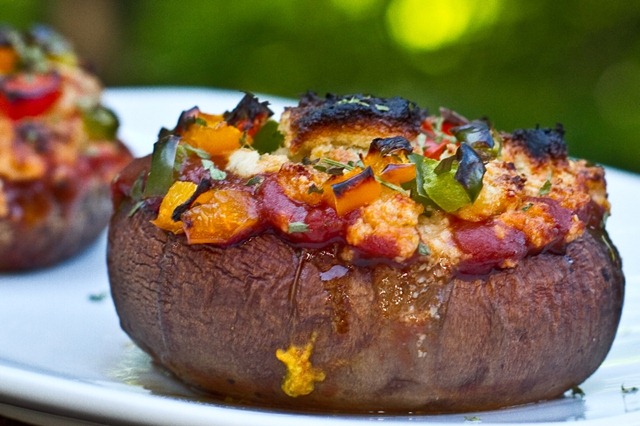 Oh yes.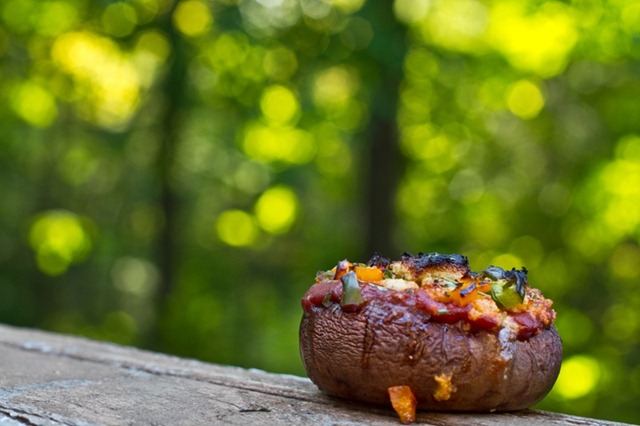 It tastes just like pizza! Eric and I had to fight for the last 'slice'. ;)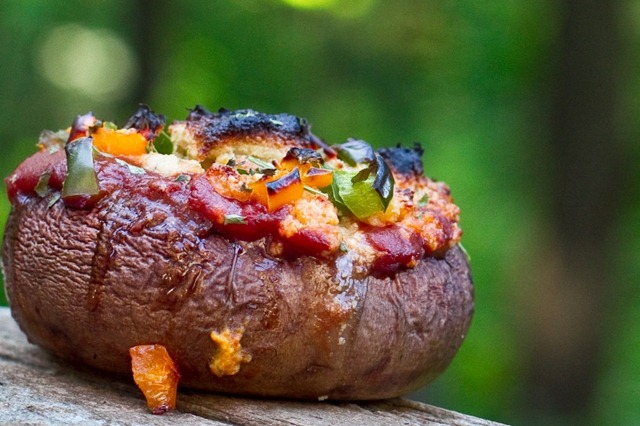 I can't wait to make this recipe again. Did I mention it is vegan and gluten-free too? :)
Easy Stuffed Portabella Pizza in a Cashew Basil Cheese Sauce
These ridiculously cute and mouth-watering Portabella pizzas taste so much like the real thing you won't believe they are vegan, gluten-free, and good for you! Shhh, don't tell my husband.
Prep time: 10 minutes Cook time: 10-12 minutes.
Ingredients:
• 8 Portabella mushrooms
• 2 cups pizza sauce
• Vegan Cashew Basil Cheese Sauce (see recipe below)
• 1/3 cup of each: red, green, orange pepper, diced
• 1/3 cup sweet onion, diced
• 2-3 large basil leaves, finely diced
• 1 tsp red pepper flakes
Directions: Preheat oven by setting the broiler on low. Take a baking sheet and cover with a silicone non-stick baking mat or parchment paper for easy clean up. Make your Vegan Cashew Basil cheese sauce by using the recipe below. Set aside. Remove stems of Portabellas and gently rub Portabellas with a wet cloth to clean. Place Portabellas 'belly' side up on the baking sheet. Spoon about 2 tablespoons of pizza sauce into each Portabella. Now spoon about 2 teaspoons of Vegan Cashew basil Cheese Sauce on top of the pizza sauce (see recipe below). Grab a cutting board and knife and chop the onion and pepper and then sprinkle onto Portabellas. Finally, shake on some red pepper flakes and sprinkle finely diced basil on top. Broil in the oven on the lowest temperature setting on the middle rack for about 10-12 minutes, watching closely as broiler temperatures vary. Serve immediately and enjoy! Serves 3-4.
Vegan Cashew Basil Cheese Sauce
Ingredients:
• 1 cup raw cashews
• 1/3-1/2 tsp Himalayan sea salt, to taste
• 1/2 tsp cold-pressed sunflower oil
• 1 fresh basil leaf
• 1 small clove garlic
• 1.5 tbsp nutritional yeast
• 1 tbsp fresh lemon juice
Directions: Place 1 cup of raw cashews in a bowl of water, cover, and soak overnight in the fridge. When cashews are ready, drain and place all ingredients (cashews, Himalayan sea salt, cold-pressed sunflower oil, basil, garlic, nutritional yeast, and lemon juice) into a food processor and process until smooth, stopping to scrape sides of processor as necessary. Taste and adjust seasonings if necessary. Place any leftover cheese in a container in the fridge and enjoy with chopped vegetables, crackers, bread, and chips!