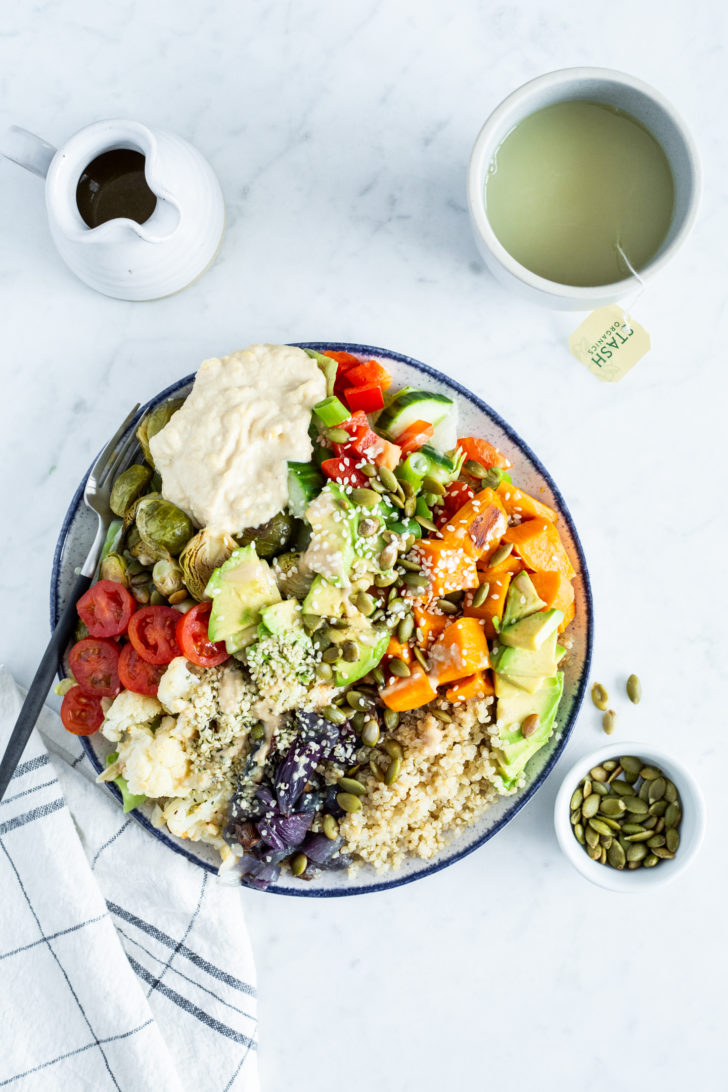 You've probably seen the meal prep trend online where dozens and dozens of meals are prepped in containers for the entire week? Holy moly. I can say that will probably never be me. I once tried an over-ambitious meal prep and not only did I end up with way too much food, but it took up most of my day.
On the flip side, I've realized that my veggie intake falls pretty flat when I don't do any prep at all.
Soooo….there has to be a happy medium!?
This little dilemma is exactly why I came up with a simple plan that totally fits into my life these days. The recipe below (which is totally customizable!) takes less than 30 mins of active prep time, but makes enough food for several portions, increasing the odds that you'll be a veggie powerhouse for the workweek. *arm flex* I love how I can quickly reheat a couple things and build a hearty, nutritious bowl in a matter of minutes!
My meal prep method has been going like this:
Roast two huge sheets of veggies

Cook a grain

Chop a couple fresh veggies (sometimes I skip this if I'm tight on time)

Have toppings on hand, ready-to-roll—things like avocado, nuts/seeds, beans, dressing, etc.
This method has dramatically changed my meals in recent weeks (specifically, lunches) and increased my veggie consumption a ton. All of the ingredients can be changed up so it never has to be repetitive and you can be flexible with using what you have in your fridge/pantry. It helps cut down waste because you can easily use up those "on the verge of dying" veggies in your crisper. Just throw 'em in the oven and roast the heck out of 'em! And if you get tired of bowls, throw the prepped food into delicious wraps or even soups/stews.
If you're feeling extra-ambitious and want to prep even more food, I'd recommend adding one or more of the following tasty items:
I've provided a detailed recipe below because it helps to have something to work from the first time, but like I said, feel free to run with it. If you simply commit to roasting 2 big sheets of veggies, cook a grain, and chop some fresh veggies….you'll be well on your way to making easy throw-together power bowls all week long. My future hangry self has been thanking me a lot.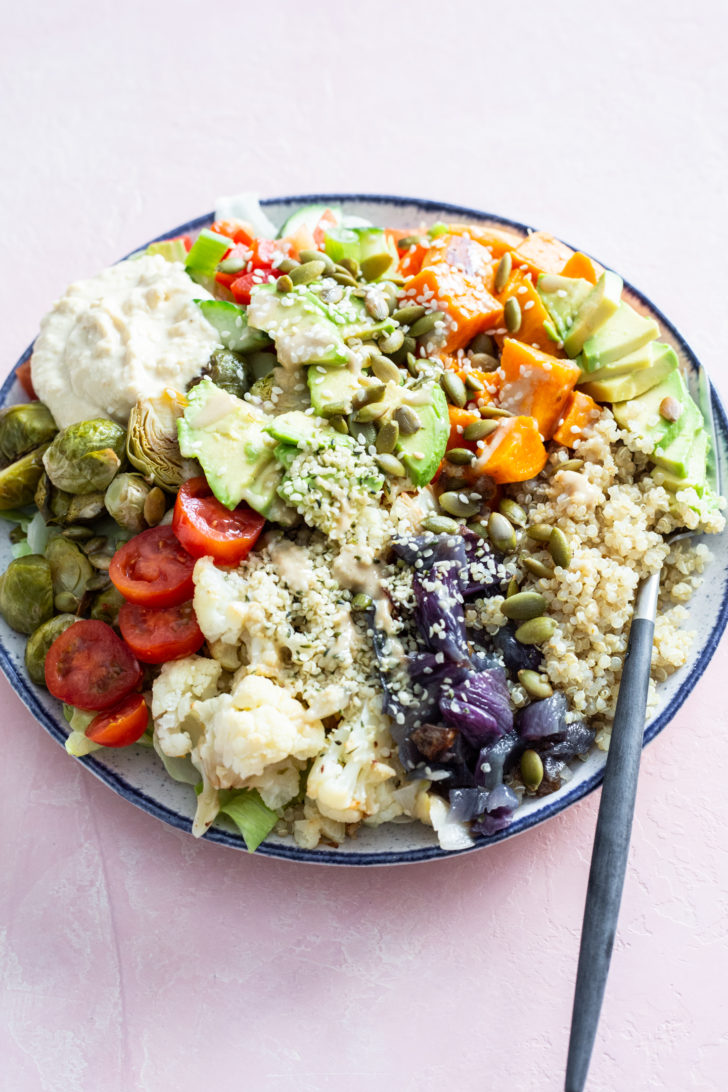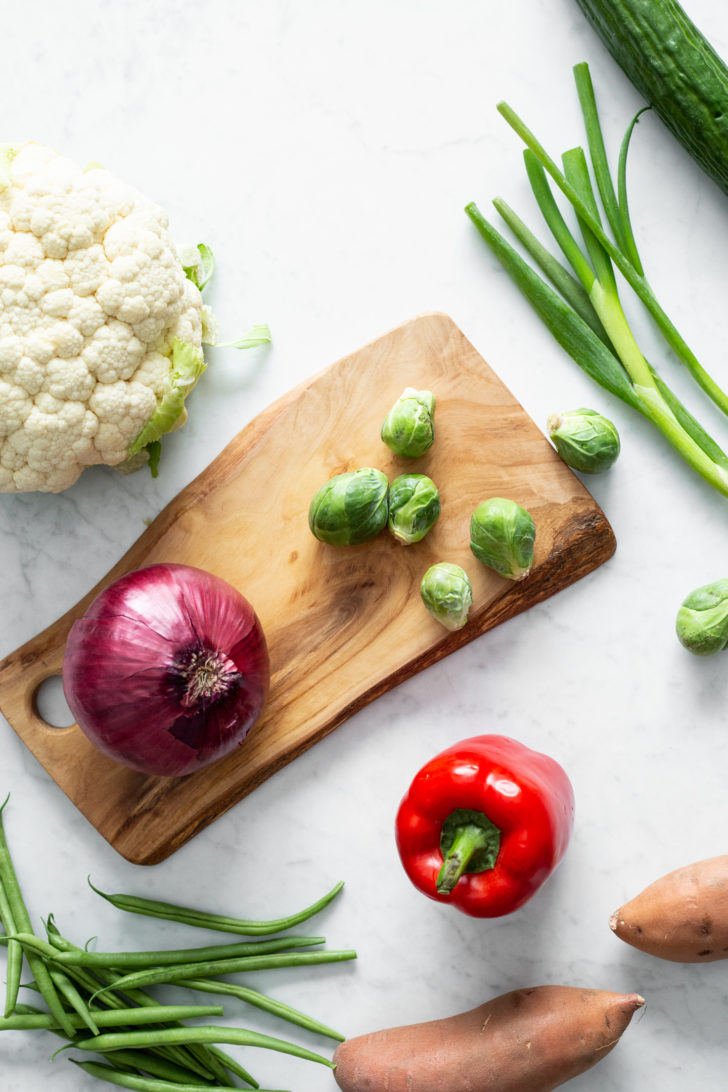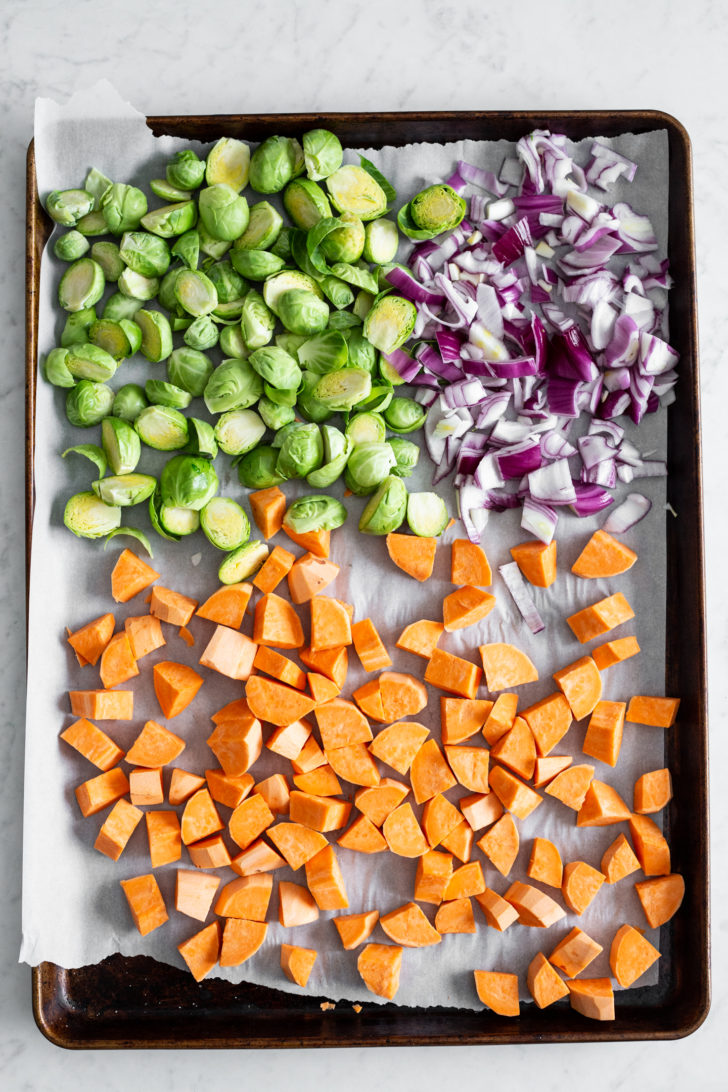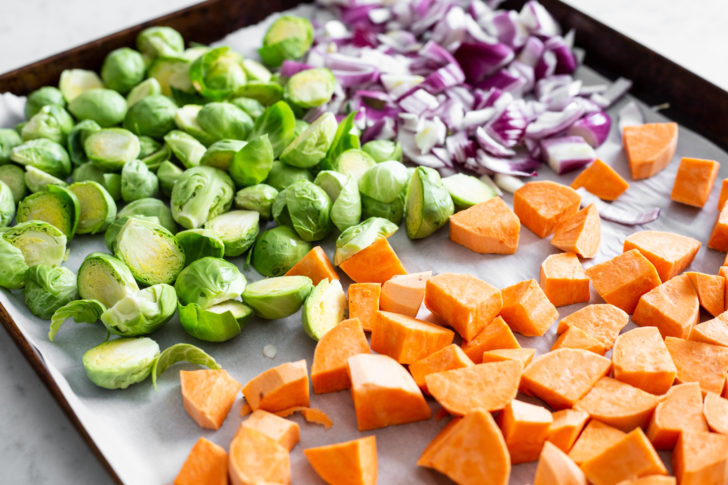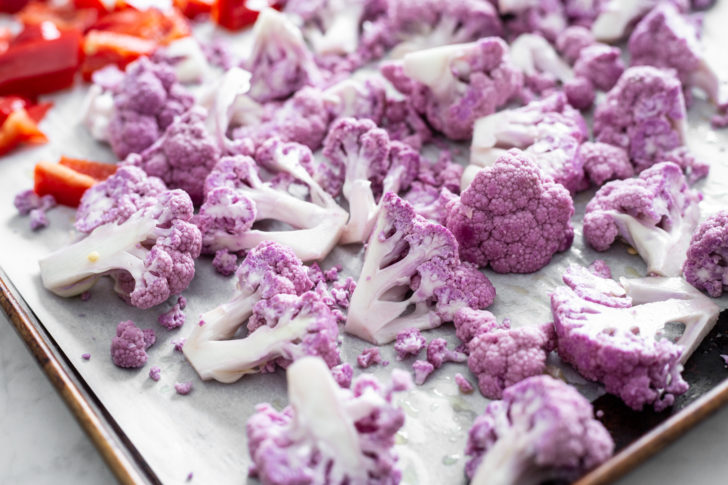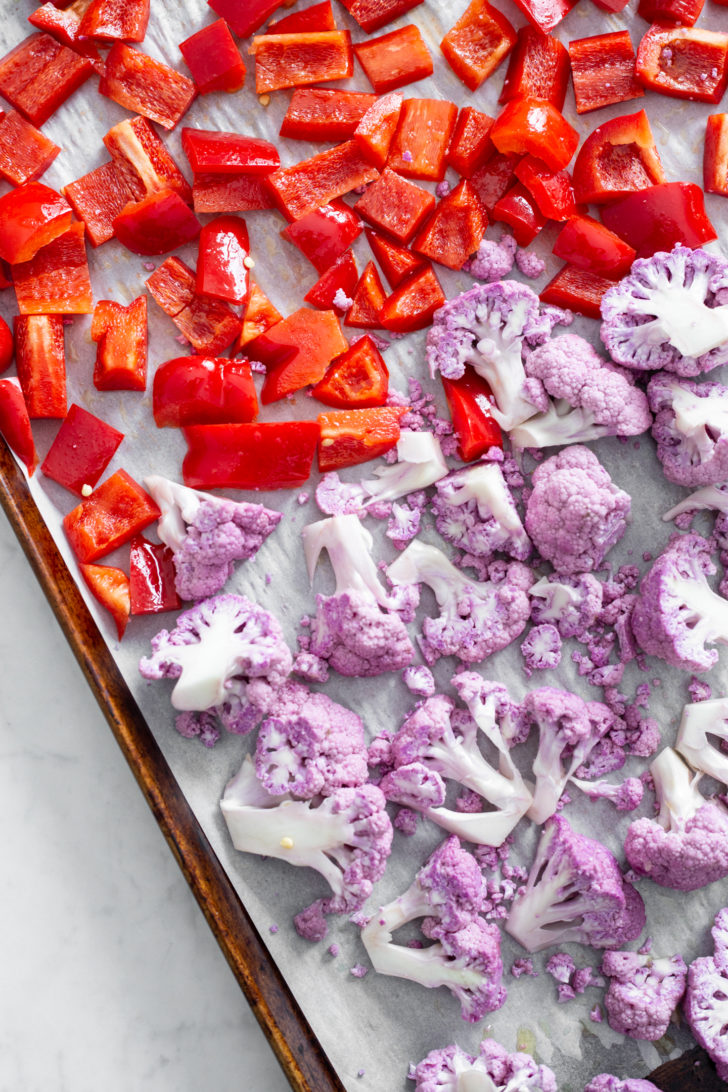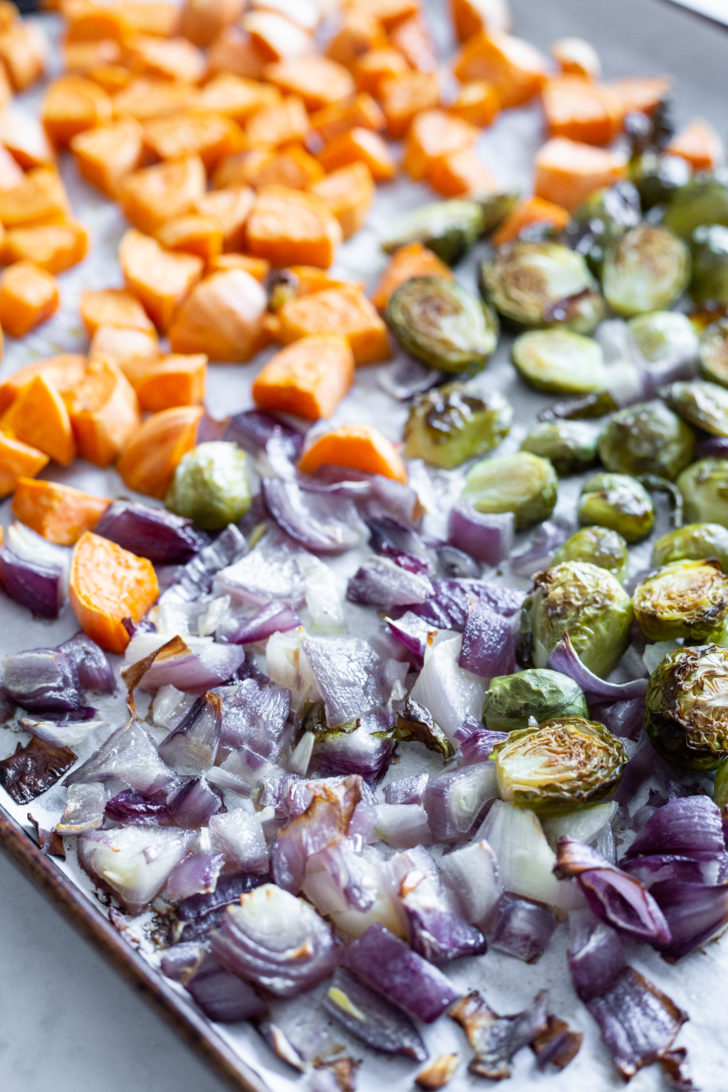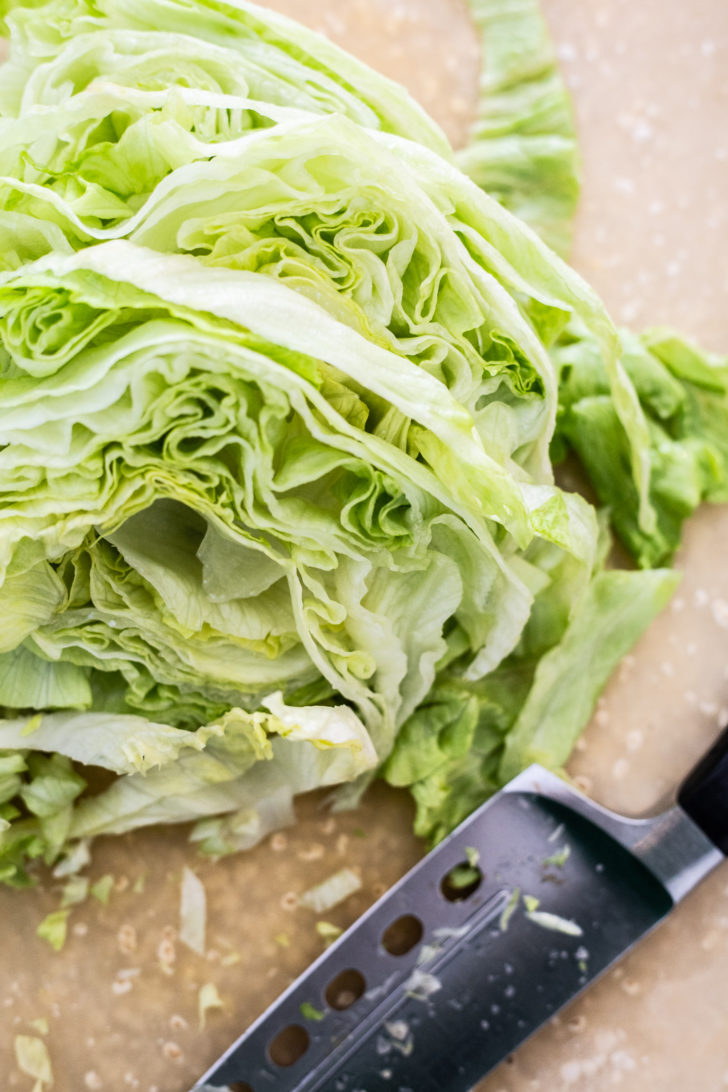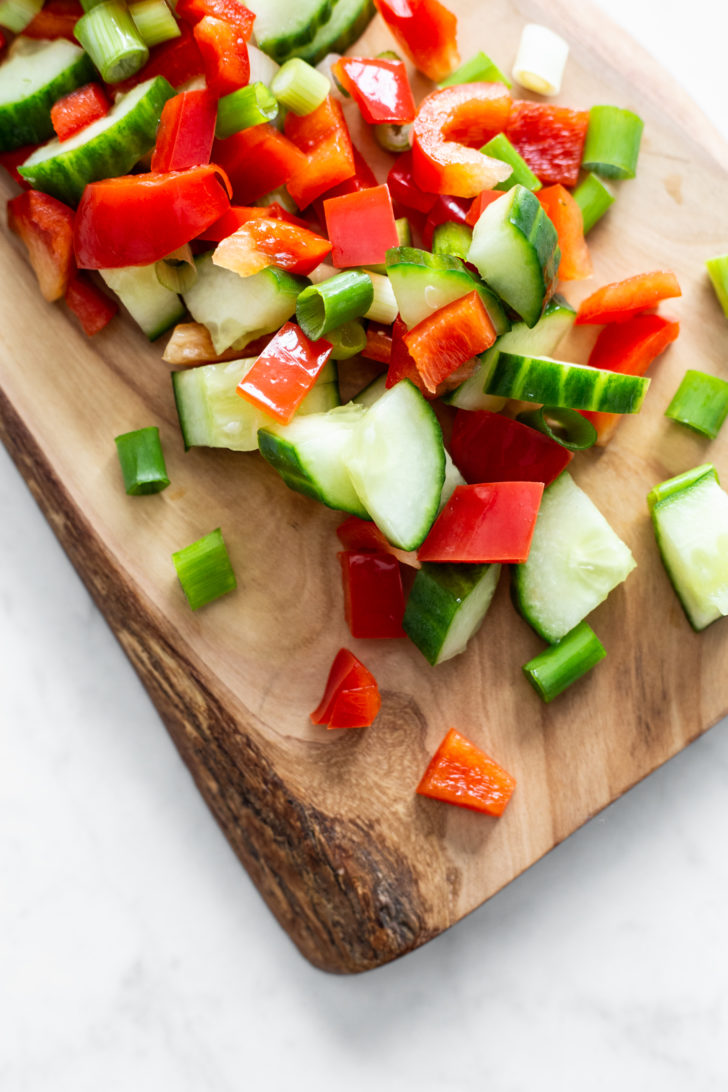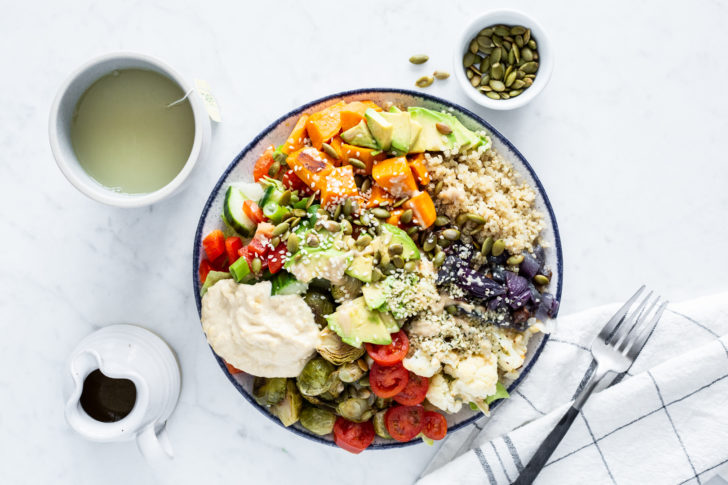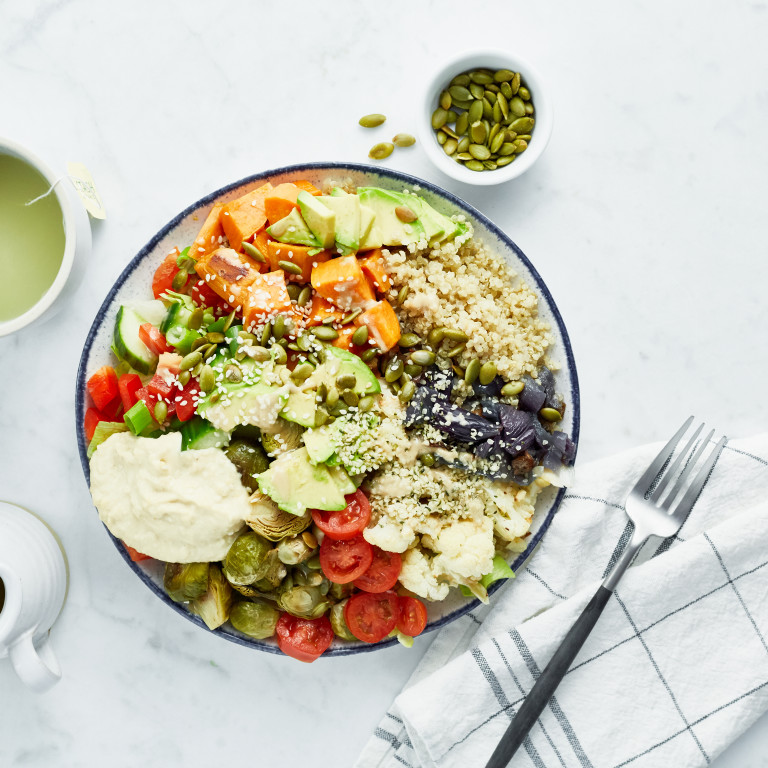 Meal Prep Week-Long Power Bowls
Vegan, gluten-free, nut-free, refined sugar-free, soy-free

Yield

8 servings
Prep time

Cook time

Total time

I love having prepped food in the fridge, but don't love doing hours of meal prep each week. So I came up with this simple method that takes just 25 minutes of active prep time. The healthy food components can be enjoyed for several days in power bowls, wraps, and even stirred into soups! Power bowls are so fun for family meals because you can switch up the veggies and toppings to suit each palate, giving kids control to build their own bowls. This recipe is also a handy make-ahead option if you're having friends over for a meal. Simply chop all the veggies the night before and refrigerate them in containers. Just before your guests arrive, pop the veggies into the oven, cook the quinoa, and prep the toppings. After cooking, you can all have fun assembling your own power bowls and everyone will be super impressed by the stunning rainbow-coloured meal!
Ingredients
For the roasted veggies:
3 small (680 g) sweet potatoes, peeled and chopped (4 cups)
4 cups (500 g) brussels sprouts, trimmed and halved

*

1 medium (800 g) cauliflower, chopped into small florets (4 heaping cups)
1 medium (230 g) red onion, peeled and chopped
2 large (500 g) red bell peppers, seeded and chopped
3 tablespoons (45 mL) extra-virgin olive oil, divided
Salt and pepper, to taste
For the quinoa:
2 cups (400 g) uncooked quinoa

*

*
For the fresh veggies:
1 medium (370 g) English cucumber, chopped
1 medium (135 g) bunch green onions, chopped
2 cups (255 g) grape tomatoes (1 dry pint)
For the power bowl toppings:
Chopped lettuce/greens (Romaine, Iceberg, kale, etc)
Salad dressing

*

*

*

Ripe avocados
Cooked beans or lentils
Nuts and seeds (I use hemp hearts and roasted pepitas)
Hummus or pesto
Directions
Position two oven racks near the middle of the oven. Preheat the oven to 400°F (200°C) and line two extra-large (15- x 21-inches) rimmed baking sheets with parchment paper. It's important to use extra-large baking sheets so there's enough room for all those healthy veggies.

Divide the chopped, "to-be-roasted" veggies onto the baking sheets. Drizzle 1 1/2 tablespoons of oil over top each sheet and toss the veggies until they're fully coated in the oil. Sprinkle generously with salt and pepper.

Roast the veggies for 30 to 40 minutes (I find 35 minutes is perfect in my oven for lightly charred veggies) until fork tender and golden. There's no need to rotate/move the pans or flip the veggies halfway through baking unless you're particular about even cooking.

While the veggies are roasting, add the quinoa to a large pot along with 3 1/2 cups (875 mL) water. Stir. Bring to a simmer over medium-high heat, then immediately reduce the heat to low-medium, cover with a tight-fitting lid, and cook for 12 to 14 minutes, until the water is absorbed and the quinoa is fluffy. Remove the lid and fluff the cooked quinoa with a fork.

While the quinoa cooks, chop the cucumber and green onions. Rinse the tomatoes (I hold off slicing them until just before serving).

Remove the roasted veggies from the oven. Once mostly cool, transfer all of the veggies and quinoa into containers, seal with airtight lids, and place into the fridge for up to 4 days.

To make the power bowls: Add a couple generous handfuls of chopped lettuce/greens to the bottom of a large shallow bowl. Drizzle with a bit of dressing and toss the lettuce/greens until coated. Top with spoonfuls of your prepped food (quinoa, roasted and fresh veggies)

—I always warm up the quinoa and roasted veggies first! Now, add

diced avocado, more salad dressing, cooked beans or lentils, nuts and seeds, and hummus or pesto. Keep the power bowl flavours interesting by c

hanging up the toppings each day!
Tip:
* If your brussels sprouts are quite large, quarter them instead of halving.
** If you don't think you'll eat this much quinoa in 4 to 5 days, feel free to halve this amount (use 1 cup uncooked quinoa + 1.75 cups water).
*** Looking for a delicious homemade dressing? Try my Lemon-Tahini Dressing, Shake-and-Go Balsamic Vinaigrette (Oh She Glows Every Day, p. 273), or Roasted Garlic and Red Wine Vinaigrette. I always keep Maison Orphee Italian on hand when I don't have homemade dressing prepped.
Feel free to roast a head of garlic along with the veggies. The roasted cloves are especially delicious thrown into my Roasted Garlic and Red Wine Vinaigrette found in my Warm + Roasted Winter Salad Bowl recipe.
Make it nut-free: Top your bowl with seeds (such as roasted pepita seeds and hemp hearts) instead of nuts and make sure your dressing is nut-free.
Nutrition Information
(click to expand)