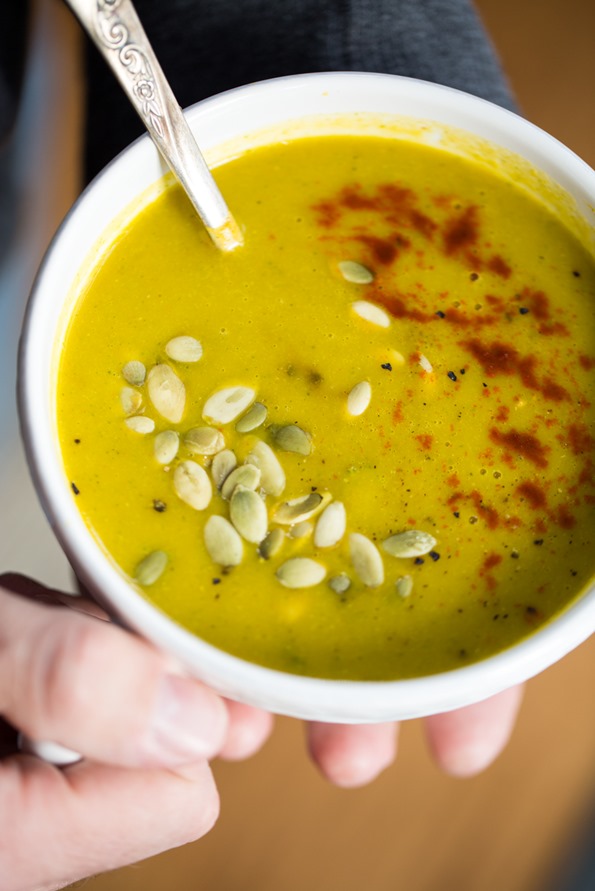 Grocery shopping while hungry – oh boy. It seems to happen all too often, despite my best intentions. Sometimes, simply being in the proximity of tasty looking food makes me hungry. Ok, make that always. Last week, Eric and I were picking up some groceries at Whole Foods around dinnertime. Shopping at Whole Foods before dinnertime is Trouble with a capital T. I'm out of control and totally irrational. The hubby made a beeline for the pizza and I contemplated buying food from the hot and cold bar. That is, until I spotted a row of glorious, vegan, made-from-scratch soups on the very top row of the cooler section. The angels started to sing!!!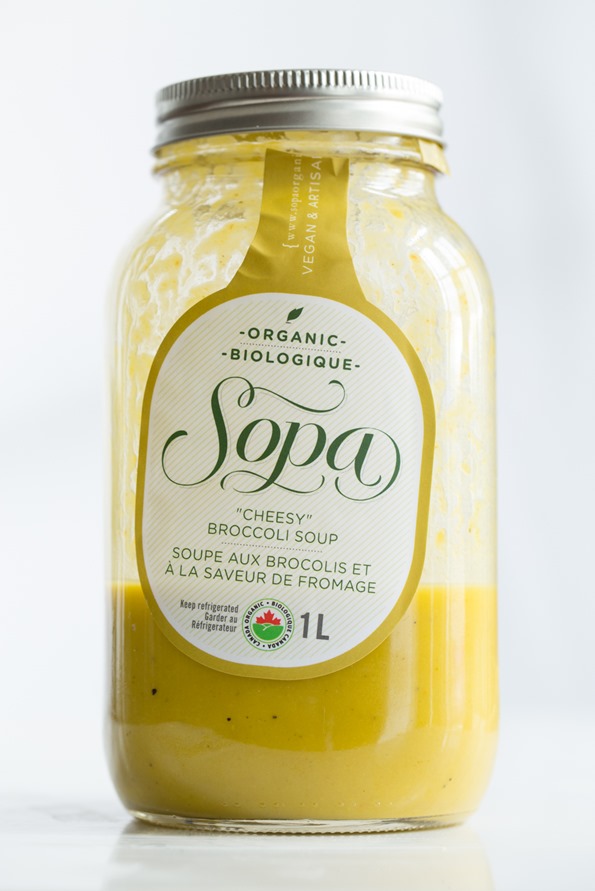 Moral of the story: ALWAYS look on the top or bottom row at Whole Foods! That's where the hidden gems are.
I was suddenly struck by an intense craving for broccoli and "cheese" soup. Funny how that happens! The jar was thrown into my cart so fast my head almost spun.
Needless to say, I polished off the jar by lunch the next day. SO GOOD. My new obsession was either going to make me broke feeding it, or I was going to try and make something similar in my own home. I bet you can take a wild guess what I did.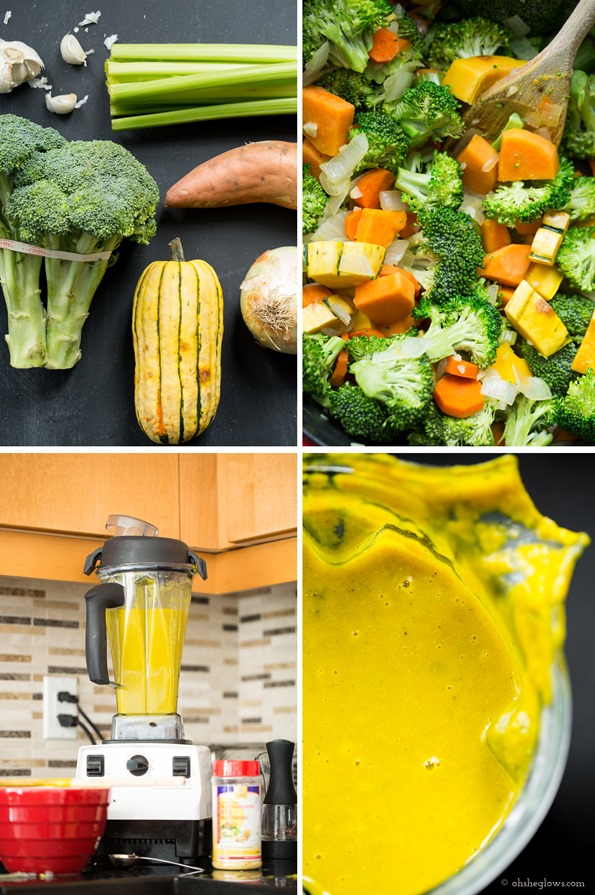 That's right. I got down and dirty in the kitchen. Recreating favourite store-bought foods is a true passion of mine. My version is a bit thicker than the original, but I'm not complaining. The original soup might be a bit stronger on the broccoli too, while mine probably has more squash and sweet potato. Either way, both are crazy good. It made a whopping 10 cups worth, which is so great for leftovers all week long!
Sure, there will be those times when I'm hangry in the grocery store and looking for something quick for dinner, but it's good to know that I can make something similar in my own kitchen should I feel motivated to do so! Ontario friends, if you come across Sopa Organica Soup line (here is a list of locations), I strongly urge you to give this soup a try! I can't wait to sample other kinds…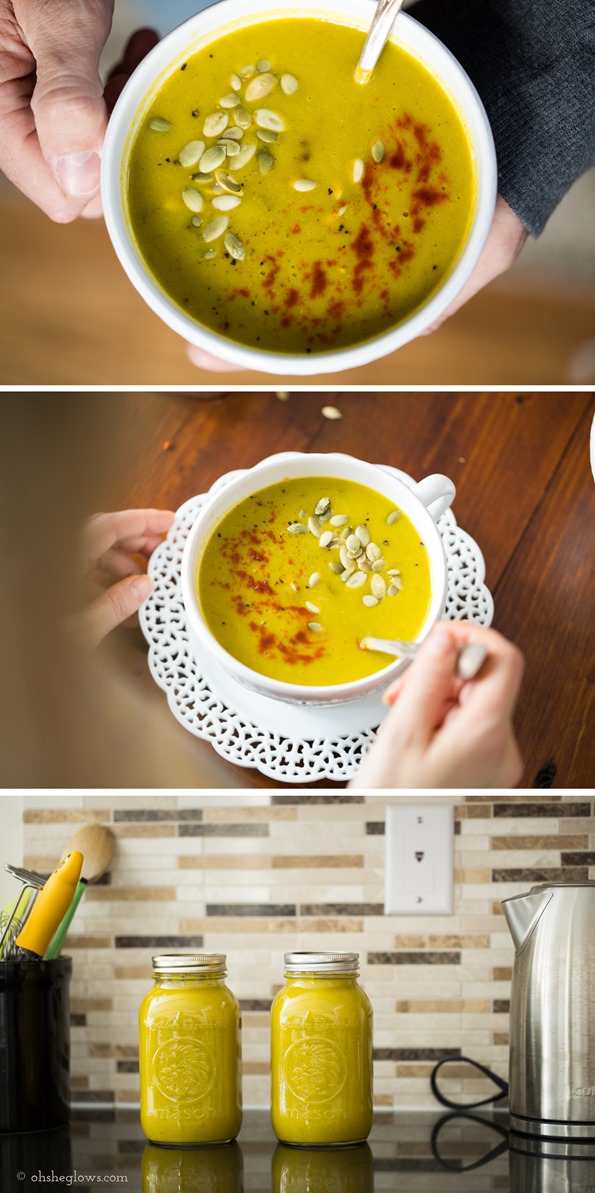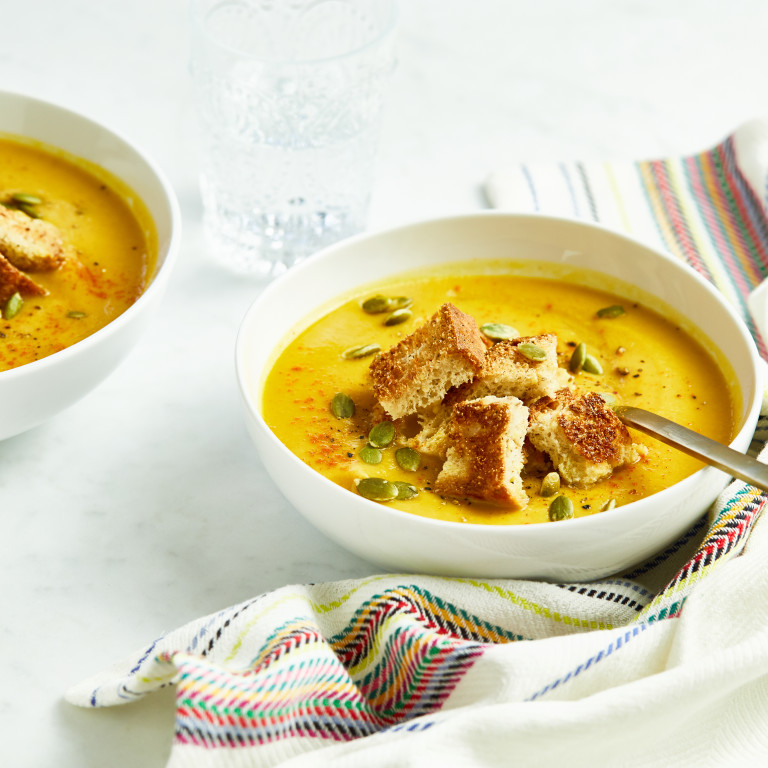 7 Vegetable and "Cheese" Soup
Vegan, gluten-free, grain-free, nut-free, refined sugar-free, soy-free

Yield

10 cups (2.4 L)
Prep time

Cook time

Total time

Silky smooth and bursting with 7 healthy vegetables, this soup will keep you feeling great all fall and winter long! The nutritional yeast gives this soup a "cheese-like" flavour and simple spices allow the flavours of the vegetables to shine. The beauty of making a puréed soup is that you don't have to fuss over chopping the vegetables with great precision since they'll be blended anyways; this results in a faster prep. To give the soup some texture, try topping it with my easy Pan-Fried Garlic Croutons and toasted pepita seeds.
Ingredients
1 1/2 tablespoons extra-virgin olive oil
2 to 3 cups (280 to 420 g) chopped sweet onion (from 1 large onion)
3 large garlic cloves, minced
1 cup (115 g) chopped celery (2-3 stalks)
1 heaping cup (155 g) peeled and chopped carrots (2 small carrots)
6 cups packed (330 g) broccoli florets (1 large bunch broccoli)
2 cups (270 g) peeled and chopped sweet potato (from 1 small sweet potato)
1 1/2 to 2 cups (195 to 260 g) seeded and chopped delicata squash

*

(optional)
5 1/2 cups (1.375 L) low-sodium vegetable broth
3 to 5 tablespoons nutritional yeast, to taste
1/4 teaspoon cayenne pepper (optional)
Salt and pepper, to taste (I used about 1 teaspoon salt)
White wine vinegar or fresh lemon juice, to taste
For Serving:
Directions
Grab a very large pot (about 6 1/2 quarts) with a lid and set aside.

Add the onion and garlic with the oil into the pot and sauté over medium heat for a few minutes. Season with a couple pinches of salt and pepper.

Add the celery, carrots, broccoli, sweet potato, and squash, one by one, as you chop them. Continue to sauté over medium heat, stirring every once and a while so it doesn't stick to the bottom.

Cover the pot with a lid and cook the vegetables for 4 to 5 minutes, reducing heat if necessary.

Remove lid and stir in the broth. Bring the soup to a low boil. Reduce heat to low/medium and cover with lid. Simmer for 10 to 15 minutes, until the squash and potato are fork tender.

Turn off heat and remove lid. Allow the soup to cool slightly for 5 minutes or so. After cooling, carefully scoop the soup into a blender (you'll have to do this in a couple batches most likely) and add in the nutritional yeast and optional cayenne, if using. Carefully blend the mixture with the lid ajar (to allow heat to escape), starting at a low speed and increasing the speed until smooth. Season with salt and pepper, to taste. Alternatively, you can use an immersion blender.

Pour all of the puréed soup back into the original pot. Now, stir in the vinegar or lemon juice, to taste, about 1 teaspoon at a time. I usually add between 1 to 2 teaspoons of white wine vinegar. This helps give the soup flavours some brightness.

Ladle into bowls. Garnish with toasted pepita seeds and croutons.

Transfer leftovers into jars and allow to cool before securing the lid and placing in the fridge. The soup should stay fresh for a week in the fridge. To freeze, add cooled soup into a container or glass jar, leaving 1 inch at the top for expansion. Secure lid and freeze for up to 1 to 2 months.
Tip:
*

The delicata squash in this soup is totally optional. It still turns out lovely without it. Or you can also try swapping the delicata squash for peeled and chopped butternut squash.
Nutrition Information
(click to expand)
By the way, a huge thank you to everyone who made a donation to TEAM MOO in Farm Sanctuary's What Did U Do? campaign! We've raised over $1000 (and a total of $3341 on our team!) and I can't thank you enough for your generosity. This is going to help so many animals get the care they need. The campaign runs until October 2nd so you can donate at any time. To find out more, see yesterday's post.
xo