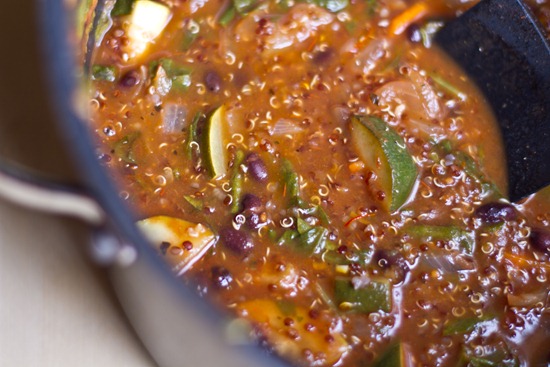 Before we get to this incredible soup, there are a couple things I need to get off my chest.
1) Eric and I have lots of nicknames for each other. Two of our favourites are: 'Pinky' and 'The Brain'.
Remember that show?
Depending on the day, we fight over who is Pinky and who is The Brain.
2) When we are trying to decide what to do at night or on the weekends you can often hear us say to one another,
'Gee Brain, what do you want to do tonight?'

'The same thing we do every night Pinky, try to take over the world! muhuauha'
3) We also have a special voice just for Sketchie. You may have heard it at the very end of the video on Sunday.
Eric said (in Sketchie's squeaky voice), 'Not impressed'.
We are totally normal.
Last night, Eric said I could be 'The Brain' because I whipped up this amazing soup.
I turned Eric, a former non-soup lover, into a soup lover in just over 10 years.
Never say never… ;)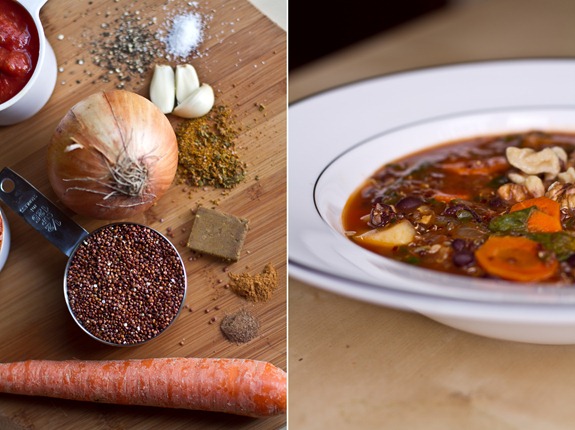 Holiday Soup For The Soul
This is hands down one of my all time favourite soups! Not only does it look festive just in time for the holidays, but it tastes incredible and warms the soul. It packs a wide array of seasonings and spices from cinnamon, nutmeg, and vegetable bouillon, to the saffron and curry. Somehow it just all works together magically!
Inspired by Fat Free Vegan Kitchen.
Ingredients:
1 large carrot, peeled and chopped
1/2 cup red quinoa, uncooked
1 tbsp extra virgin olive oil
1 medium sweet onion, finely chopped
1 medium zucchini, chopped
3 cloves garlic, minced
1 vegetable bouillon cube (

not

low sodium)
6 cups water, boiled
One 15-ounce can diced tomatoes
1.5-2 cups cooked black beans (about one 15oz can)
1 tsp good-quality curry powder
Pinch or two of cinnamon
Pinch of ground nutmeg
2 cups baby spinach leaves, well rinsed and roughly chopped
1/2 tsp kosher salt, to taste
Freshly ground black pepper, to taste
Pinch of saffron threads (optional, but tasted amazing)
Directions: Heat the oil in a large soup pot. Add the chopped sweet onion and sauté over medium-low heat until translucent. Add the chopped carrots, chopped zucchini, and minced garlic, and continue to sauté for about 5-7 minutes.
Place your bouillon cube into a medium sized bowl. Boil 6 cups of water and pour over the bouillon cube. Stir well to dissolve. Add bouillon mixture, tomatoes, red quinoa, black beans, and spices + seasonings. Bring to a boil and then simmer gently for 15 to 20 minutes.
Add the roughly chopped spinach, stir well, and cover. Simmer on low for about 15-35 minutes. The longer you cook it the more the flavours will develop. Taste test and adjust seasonings if necessary. I also have a feeling this soup will be even better the next day! Garnish with nuts of choice if preferred.
Makes about 8-10 cups.
Gather up the troops!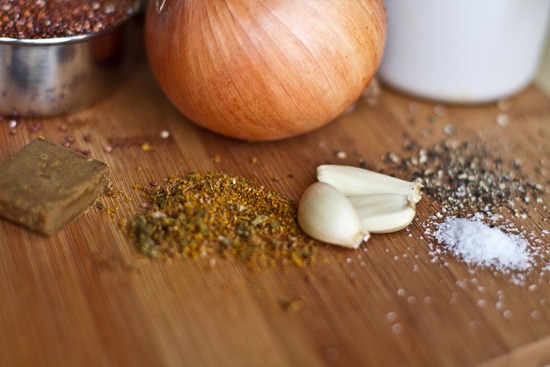 This recipe requires a bit of leg work, but the outcome is so worth it!
It took me about 30-40 minutes to prepare (plus cooking time) and that was including my photography, so perhaps a bit less time for you. ;)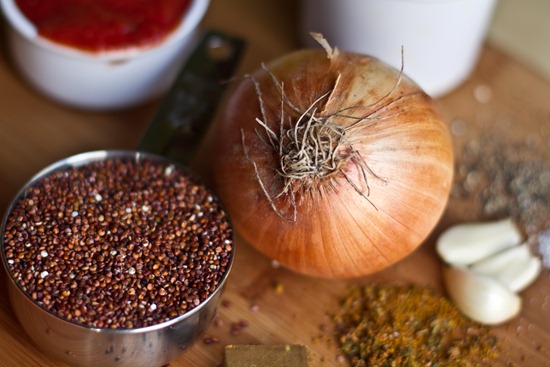 These ingredients will keep any seasonal cold at bay!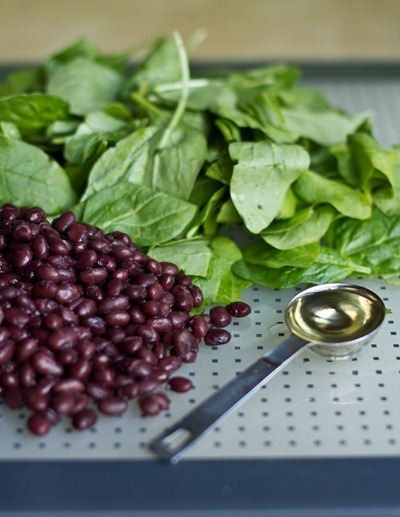 I really enjoyed the zucchini in this soup. You can add in any veggies you want though.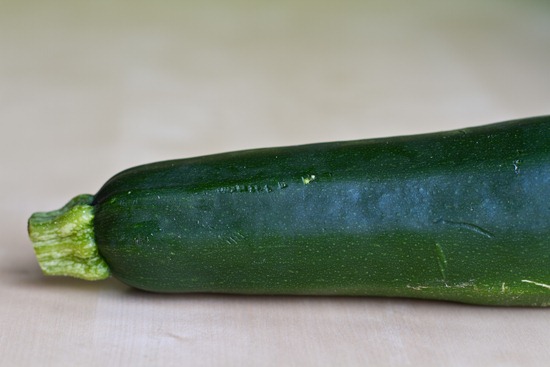 Chop the onions, carrots, and zucchini…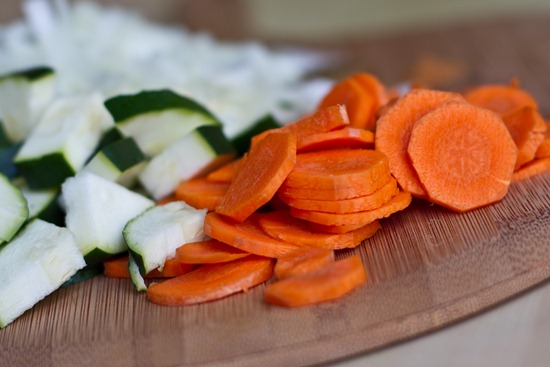 Caramelize the sweet onion in the olive oil.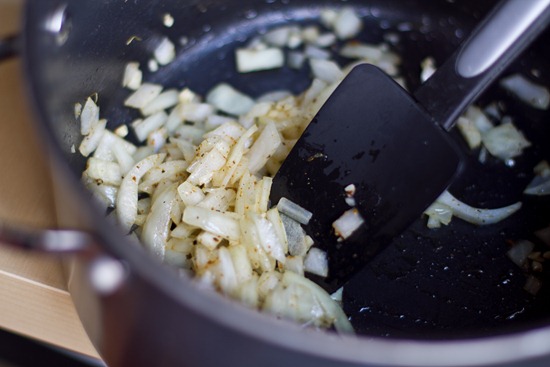 Add veggies.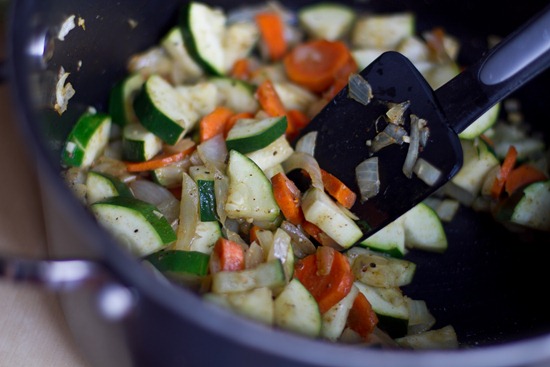 Add everything else…diced tomato, spices, bouillon mixture, quinoa, etc.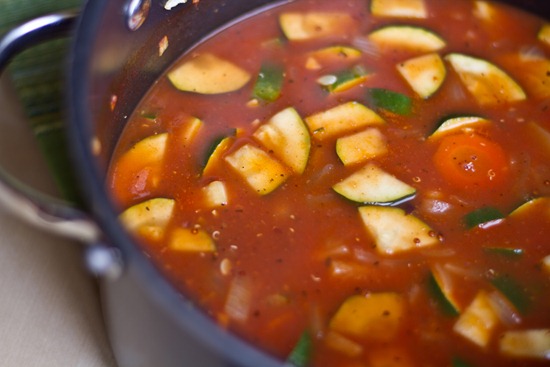 I also decided to add a pinch of saffron threads!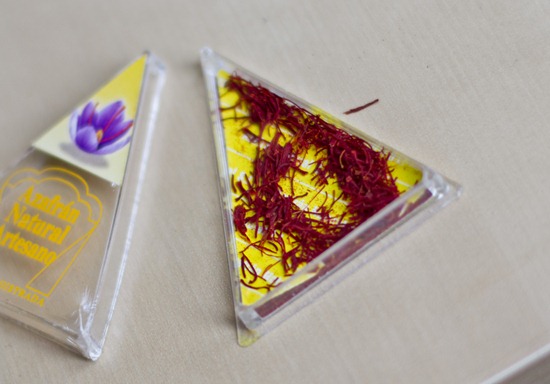 I was so glad I did because the saffron tastes amazing in this soup. It is optional though, so not to worry if you don't have any.
Simmer for about 20-30 minutes or so.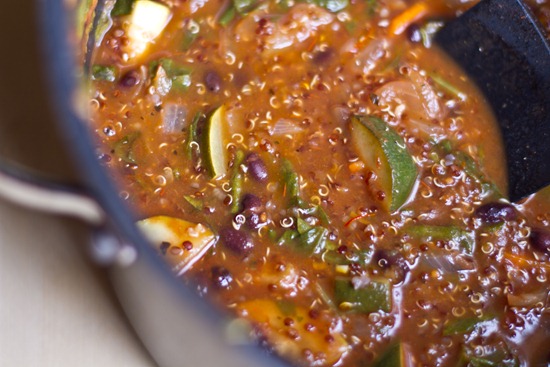 Garnish with toasted nuts if desired.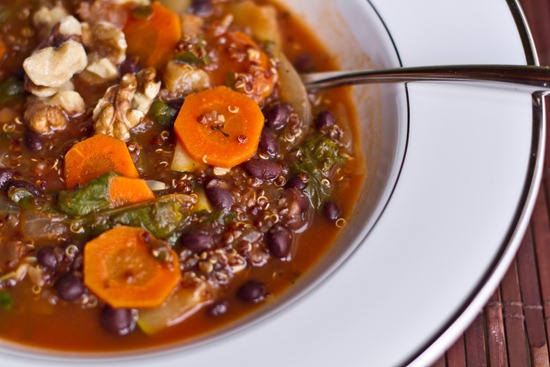 Serve in a huge bowl.
Eric said, 'This is the best soup I have ever tasted!'
This soup is not only festive looking, but it is packed with nutrients, extremely flavourful, and perfect for cold and flu season.
I must go now. A chilly outdoor run followed by hot holiday soup awaits me… :)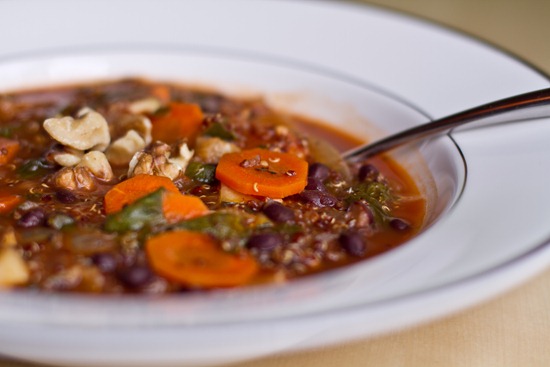 Ok spill the beans. Do you have any nicknames for your significant other or is there a nickname that your friends or family call you?
We also call each other 'Snoops' and 'Babe', among other things. ;) I also used to call Eric 'Snitzlefritz' and he HATED it, so now I only call him that when I want to annoy him. So about 6 times a day.
Please tell me we are not alone. I will sleep better at night.