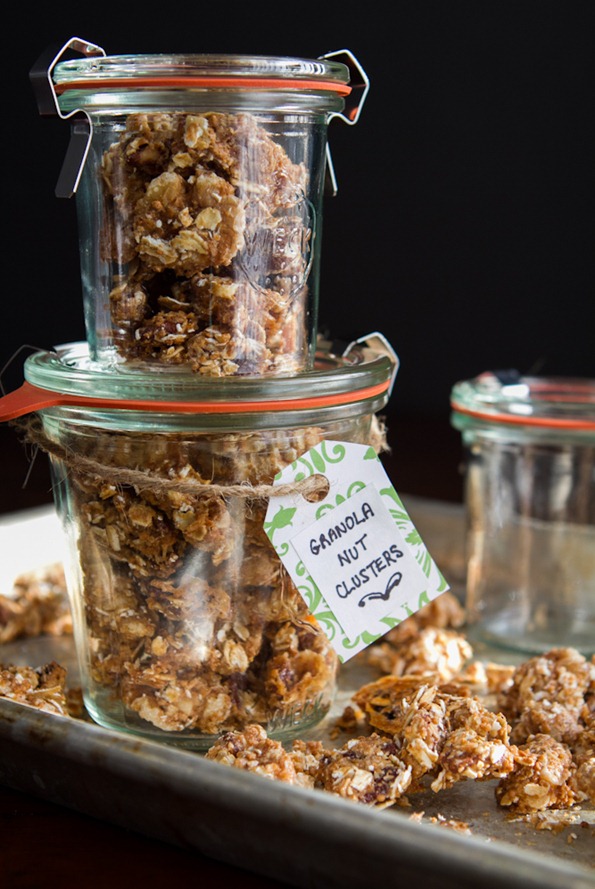 If I haven't already convinced you to make an edible holiday gift this year, maybe this recipe today will seal the deal. It has to be one of the easiest recipes to throw together using less than 10 minutes of precious holiday time. Plus, it's a recipe you can make well in advance without having to worry about it going bad any time soon. Just pop it in a jar and leave it on your shelf, tucked away until that special someone pops over for a visit. I think we've just entered Martha territory here!
So what is this pretty little treat, you ask? It's simply pecans and walnuts that have been coated in granola. They are baked in the oven until crisp and crunchy making a delightful finger food or garnish for a hot bowl of oatmeal. I can't take credit for this genius idea though, it comes from Deb over at Smitten Kitchen. When I saw her recipe a few weeks ago, I knew I had to try making a vegan version or my life as I know it wouldn't be complete. (I'm not dramatic at all despite what my husband says.)
I figured my goal of having a crispy coating of granola would only be possible with a very sticky base – almost like a "glue" for the granola to adhere to. Brown rice syrup worked wonderfully for this task.
Simply pour a few tablespoons of syrup onto the nuts. The key here is to stir the nuts very thoroughly until every nook and cranny is covered with syrup; this ensures the granola has every chance in life to succeed!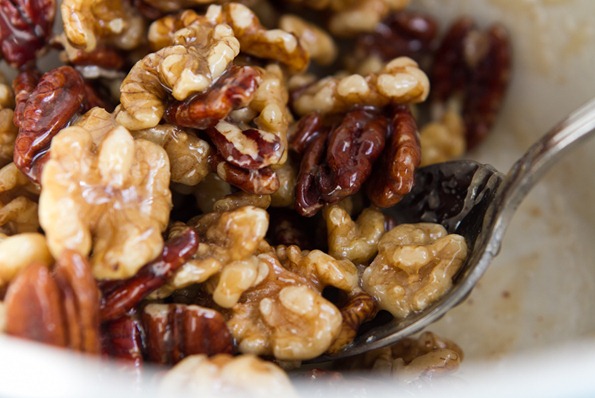 After coating the nuts, stir in the granola mixture until combined. The granola will stick to the nuts, forming a homely-looking coating. Don't worry though, it will caramelize and turn golden in the oven leaving big clumps to break apart with your hands!
Spread the nuts onto a parchment lined baking sheet into a single layer, like so: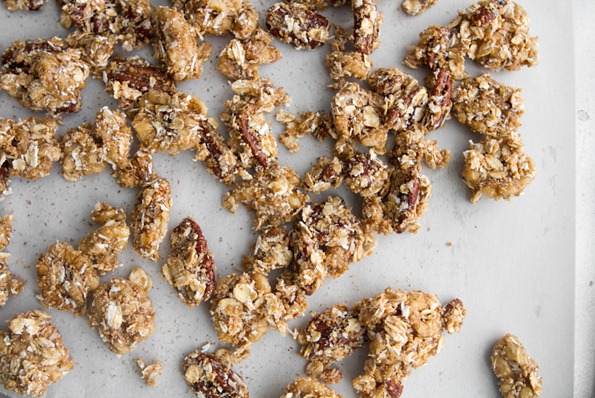 After 20 some odd minutes of baking at 275F, you'll be left with seriously addictive granola-coated nuts, delightfully crispy on the outside and tender in the middle. I don't think I need to tell you that Eric and I polished off my first trial within 24 hours. Consider this your warning (or encouragement).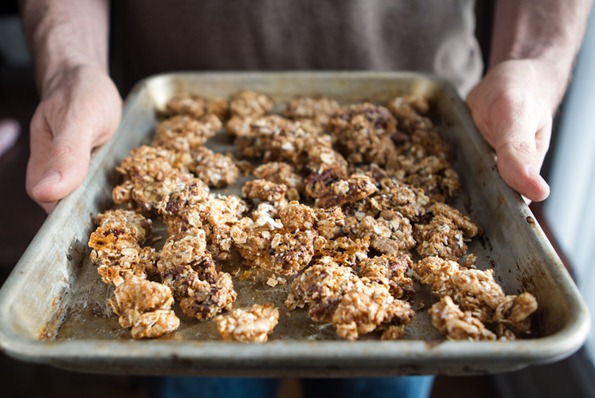 [Shown above: Eric conned into being my hand model while waiting patiently to dig in.]
Granola Nut Clusters
Vegan, gluten-free, oil-free, soy-free

Yield

3.5 cups
Prep time

Cook time

Total time

Ingredients
1 cup raw walnut halves
1/2 cup raw pecan halves
3 tbsp brown rice syrup

*

6 tbsp gluten-free rolled oats
1/4 cup unsweetened shredded coconut
2-3 tbsp Sucanat sugar

*

Heaping 1/4 tsp ground cinnamon
Scant 1/4 tsp fine grain sea salt
freshly grated nutmeg, to garnish
Directions
Preheat oven to 275°F and line a baking sheet with parchment paper.
Place walnuts and pecans into a large mixing bowl. Pour on brown rice syrup and stir very well until combined for about 60 seconds. Your goal is to have every nook and cranny covered in syrup. No pressure!
In a small bowl, whisk together the oats, coconut, sugar, cinnamon, and salt. Pour it onto the nuts and mix very well until combined. Some of the oat mixture won't adhere to the nuts, but that's ok because it adds character.
Spoon the entire mixture onto the baking sheet including any oats that didn't stick. Spread into a single layer so they have room to get toasty. Garnish with fresh nutmeg. Bake for 10 minutes, rotate the pan, and bake for another 10-13 minutes (I baked for 23 mins total) and allow to cool on the pan for at least 10 minutes.
Once cool, break apart clumps and store in glass jars or Tupperware containers. I expect these would stay good for at least a month.
Tip:
Brown rice syrup works amazing in this recipe because it is so crazy sticky. For this reason, it can be difficult to replace it in a recipe that requires its binding properties. I haven't tried anything else, but if you eat honey that might work or even coconut nectar since both are very sticky.
You can substitute Sucanat with brown sugar or with Turbinado sugar. I don't recommend subbing with coconut sugar. I tried this and found that it dried the mixture out due to its powdery nature.
Nutrition Information
(click to expand)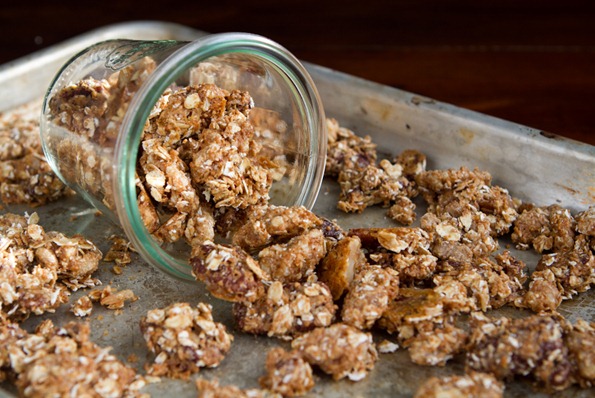 You might be wondering if you can use other types of nuts. I recommend using craggy nuts like pecans and walnuts since smooth nuts (like almonds) don't have the rough texture to "grip" the granola. You can certainly try any nuts you wish though! As always, I would love to hear your feedback in the comments if you try out this recipe or your own modified version.