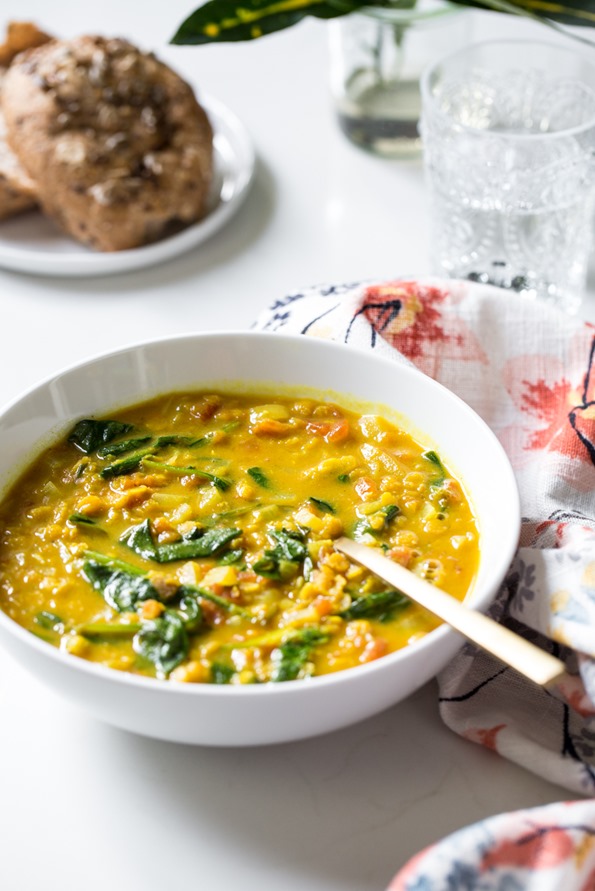 First off, thank you all so much for your excitement and congrats about our news! I really enjoyed reading your comments and stories. I'm also happy to hear my impending loss of sanity should only be temporary. Truthfully, I'm not sure that I ever got it back after our first!
Second of all, I've missed you dearly. I've missed blogging. I've missed posting recipes. I love sharing my favourite recipes and stories with you guys. Nothing makes me happier than creating something I adore and thinking about you trying it in your own kitchens! It feels so good to have more energy these days and also to wrap up some other massive projects.
Today's recipe is most likely the last soup recipe I'll post until next fall (*sad face*), but boy is it a great one to end on. As my dad likes to say, "It's a humdinger!" Do you remember my Spiced Red Lentil, Tomato, and Kale Soup? Well, this soup reminds me a bit of that one, only it's even better! Turmeric, coconut, cumin, cinnamon, and cardamom create an incredibly healing and flavourful broth. I always say the test of a "vault-worthy" soup is whether you want to drink the broth on its own, and this one certainly fits the bill. A generous amount of turmeric makes it feel so healthy and powerful. Knowing that turmeric has so many anti-inflammatory benefits is always an added bonus, too!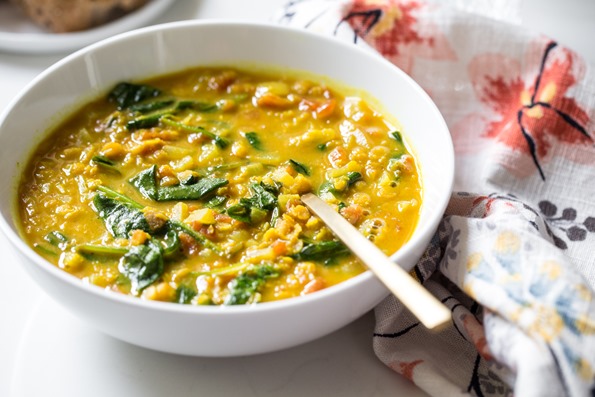 My inspiration comes from a Whole Foods mason jar soup called "Spiced Lentil" that Eric picked up for me on a whim. Well, this soup blew me away. After glancing at the short ingredient list, I knew I could easily recreate it in my own kitchen. Or so I hoped! I scribbled down a recipe attempt and started cooking. The beauty of this soup is that it's a "pantry" soup. I had every single ingredient on hand (and still do, which explains why I've been making it so much). The first batch turned out darn near perfect (actually, we liked my version more), and the second attempt was even better than the first. Poor Eric only got one bowl from the first batch. You gotta be quick around the pregnant lady! I'll fight you.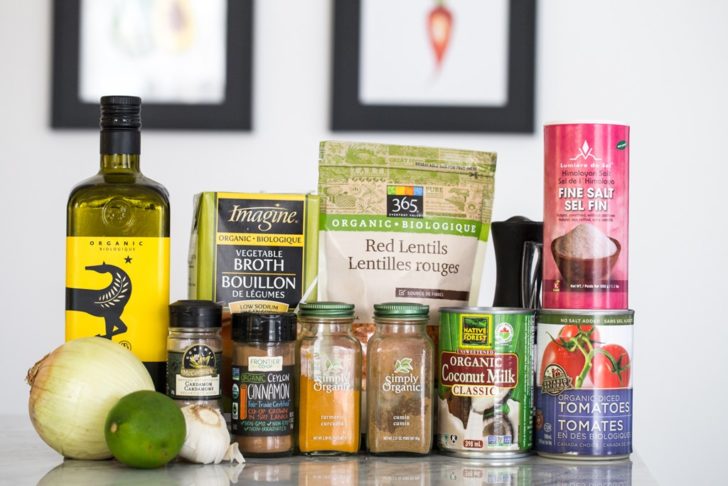 If your weather is still cool, snowy, rainy, and dreary in early spring like it is here in Southern Ontario (we're getting a snowstorm later today…*cries*), I hope you'll enjoy this comforting soup. Even if it's not cold where you are, I'd argue that breaking out into a light sweat while eating this is totally worth it!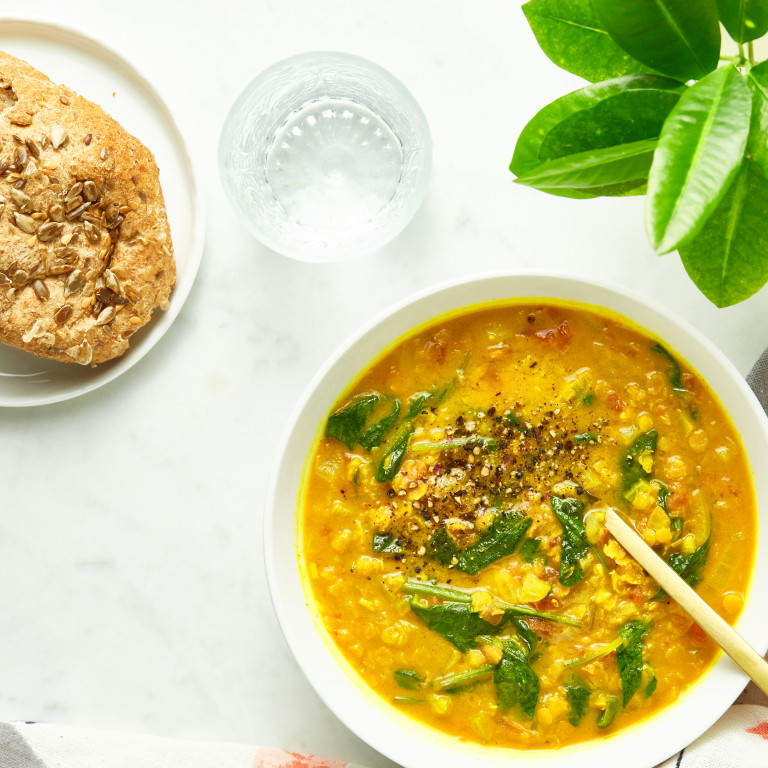 Glowing Spiced Lentil Soup
Vegan, gluten-free, grain-free, nut-free, refined sugar-free, soy-free

Yield

7 cups (1.65 litres)
Prep time

Cook time

Total time

This soup is so quick and easy because there aren't many vegetables to chop (just garlic and onion—that's it!) and it relies mostly on pantry staples. It takes 15 minutes prep time (that includes getting the ingredients out), and then it's hands off while it cooks. Talk about easy! While this soup contains a lot of spices, it's not what I would call "spicy" or "hot". If you do want a kick of heat feel free to add some cayenne pepper or red pepper flakes. Also, feel free to change up the baby spinach for other greens like stemmed kale or chard. This soup is inspired by Whole Foods.
Ingredients
1 1/2 tablespoons (22.5 mL) extra-virgin olive oil
2 cups (280 grams) diced onion (1 medium/large)
2 large garlic cloves, minced
2 teaspoons ground turmeric
1 1/2 teaspoons ground cumin
1/2 teaspoon cinnamon
1/4 teaspoon ground cardamom
1 (14-ounce/398 mL) can diced tomatoes, with juices
1 (14-ounce/398 mL) can full-fat coconut milk

*

3/4 cup (140 grams) uncooked red lentils, rinsed and drained
3 1/2 cups (875 mL) low-sodium vegetable broth
1/2 teaspoon fine sea salt, or to taste
Freshly ground black pepper, to taste
Red pepper flakes or cayenne pepper, to taste (for a kick of heat!)
1 (5-ounce/140-gram) package baby spinach
2 teaspoons (10 mL) fresh lime juice, or more to taste
Directions
In a large pot, add the oil, onion, and garlic. Add a pinch of salt, stir, and sauté over medium heat for 4 to 5 minutes until the onion softens.

Stir in the turmeric, cumin, cinnamon, and cardamom until combined. Continue cooking for about 1 minute, until fragrant.

Add the diced tomatoes (with juices), entire can of coconut milk, red lentils, broth, salt, and plenty of pepper. Add red pepper flakes or cayenne, if desired, to taste. Stir to combine. Increase heat to high and bring to a low boil.

Once it boils, reduce the heat to medium-high, and simmer, uncovered, for about 18 to 22 minutes, until the lentils are fluffy and tender.

Turn off the heat and stir in the spinach until wilted. Add the lime juice to taste. Taste and add more salt and pepper, if desired. Ladle into bowls and serve with toasted bread and lime wedges.
Tip:
*

 I tried a version using light canned coconut milk and one using full-fat canned coconut milk, and I greatly prefer the full-fat coconut milk version (shocker, I know). I recommend following suit, but if all you have on hand is light canned coconut milk that'll work in a pinch—it just won't be as rich and creamy.
Nutrition Information
(click to expand)