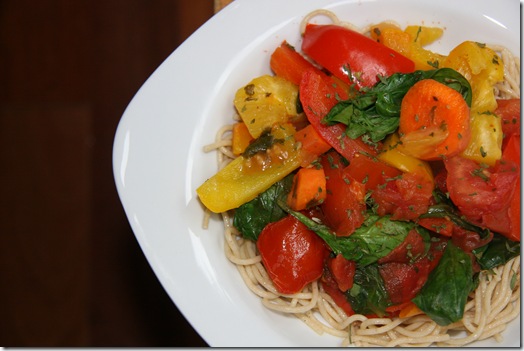 Eric and I have both been feeling like we are coming down with something this week. For whatever reason, we have just been feeling a bit tired and not ourselves. I thought tonight would be the perfect night to make an immunity-boosting stir-fry to prevent any worsening of our condition.
This is also a great recipe for the Back To School season. Being in tight quarters with kids and adults can make the healthiest of people feel under the weather. I know when I am cooking with garlic, ginger, lemon, greens, and brightly coloured vegetables I am often feeling back to my old self in no time.
Get Your Glo Back: Immunity Booster Stir-Fry
Ingredients:
3 tomatoes, chopped
red, orange, yellow pepper, chopped
Spinach
2 carrots, chopped
1/2 T lemon juice
2 T EVOO
1 clove fresh garlic, minced
1/4 t fresh ginger, minced
Splash of Red wine vinegar
Very small pinch of cayenne pepper (only if you like spice!)
Fresh or dried parsley (to taste)
Grain: Noodles, lentils, rice, etc (I used whole wheat pasta)
Directions: Chop up all veggies and throw into large skillet. Add sauce ingredients (lemon, EVOO, garlic, ginger, cayenne, vinegar) and stir well. Cook on low-medium for 15-20 minutes and serve over a bed of grains.
The veggies, before adding sauce ingredients: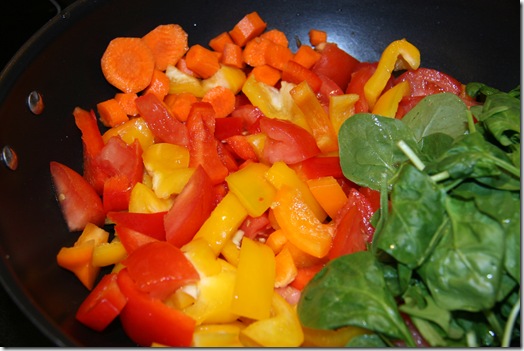 After cooking: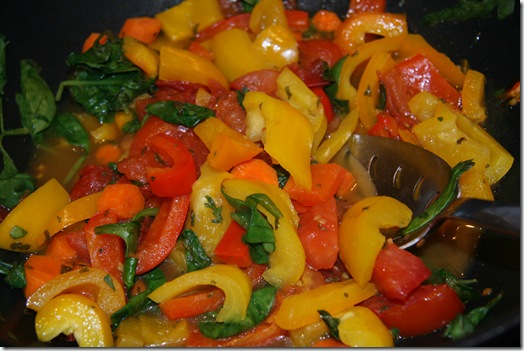 The sauce makers: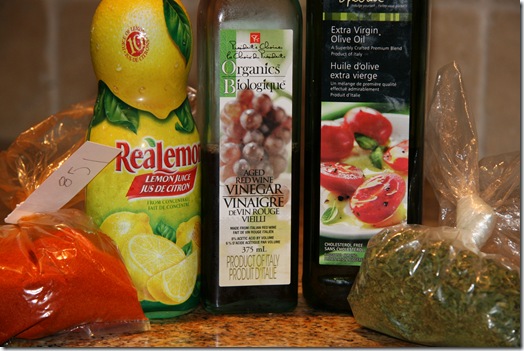 This meal was SO satisfying. Just what the Doctor ordered. I went back for seconds. ;)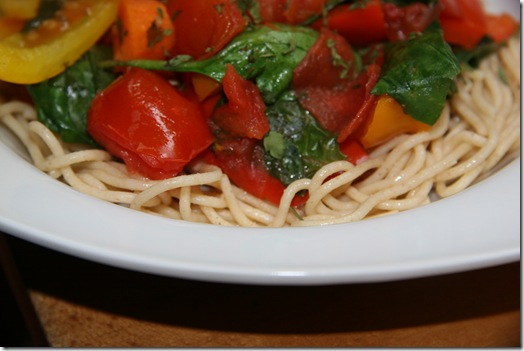 Mmmmm. I'm already thinking of having this for leftovers tomorrow.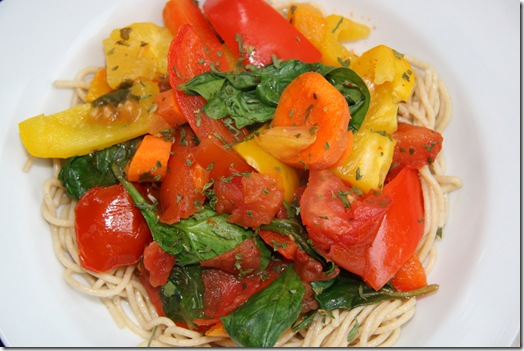 Dessert was a healthy serving of Vitamin C!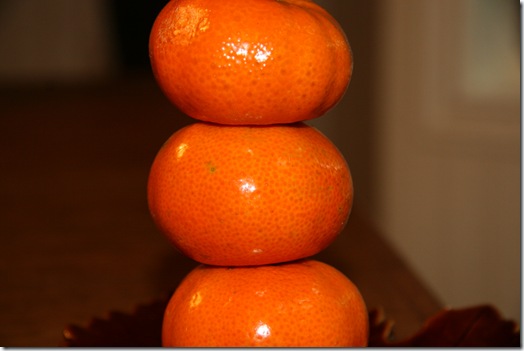 What foods do you like to eat when you feel a cold coming on?

Check out where Eric and I are going this weekend for our anniversary. I've heard rave reviews from many of you. Does anyone have any recommendations on which location to go to?