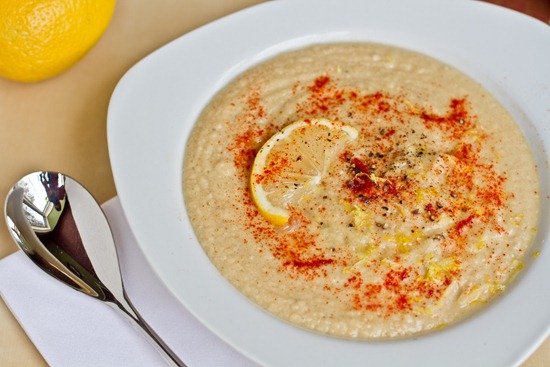 Thanks for your comments on my recap of Oprah's Vegan Challenge. Even though it is a deeply personal subject, I respect that we can share all kinds of viewpoints on the matter. Whether you liked the show or not, the show created a buzz and it has brought attention to an area that I think needs to be explored in more depth. I would love to see a follow up show explaining the vegan lifestyle and showing all of the wonderful recipes that you can make free of any processed fake products. That would be great!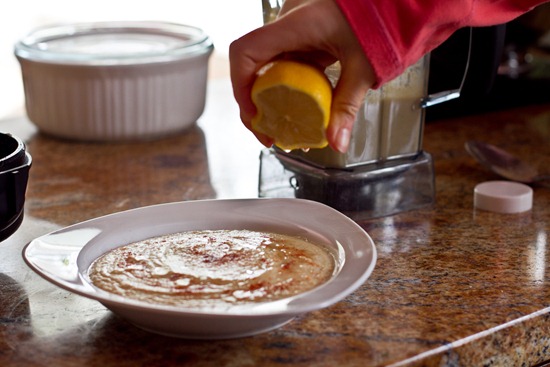 Hummus lovers, this soup is for us.
When I saw this recipe for Garbanzo bean soup over at Kalyn's Kitchen, I knew that I had to make it immediately. After wiping the drool from my face and reading over the ingredients, I concluded that it is basically hummus in soup form and I suspected it would bring my addiction to a whole new level.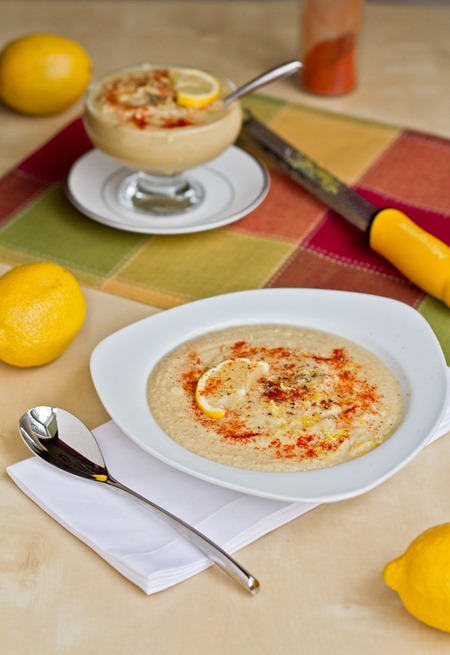 I thought, Yes, this is just what I need to stop spoon feeding myself homemade hummus straight from the food processor.
Then I made this soup and I realized that I was now spoon feeding myself hummus soup straight from the blender…
I guess there is really no hope for me when it comes to hummus in any shape or form.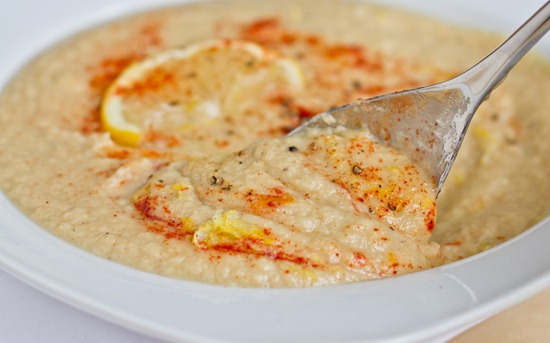 [print_this]
Garbanzo Bean Soup
Creamy, smooth, and comforting hummus in soup form. 'Nough said.
Adapted from Kalyn's Kitchen.
Yield: 3.5 cups (2 good servings)
Ingredients:
1 tbsp extra virgin olive oil
1 medium onion, finely chopped (made 1 cup)
1 tbsp fresh lemon juice, plus reserve the rest for garnish
Two 15 oz cans of chickpeas (about 3-4 cups), drained and rinsed
1 cup vegetable stock (I used full-sodium)
1 cup water
1 tbsp tahini (probably optional)
2 cloves garlic, minced
2 large bay leaves
1 tsp. ground cumin
1/2 tsp. kosher salt, or more to taste
Fresh ground black pepper to taste
Olive oil + paprika + lemon juice + lemon zest, to garnish before serving
Directions:
1. In a large skillet, add in 1 tbsp of extra virgin olive oil. Add in the 1 cup of chopped onion and heat over medium for several minutes, stirring often. After a few minutes, add in the minced garlic and stir. Reduce heat to low if necessary to avoid burning.
2. After about 6-8 minutes of cooking the onion and garlic, add in 1 tsp cumin, 1/2 tsp kosher salt, 2 bay leaves, black pepper, and 1 tbsp fresh lemon juice. Stir well and continue to cook over low-medium heat for another 4-5 minutes.
3. Now add in the 1 cup of vegetable broth (full sodium), 1 cup water, 1 tbsp tahini, and 2 cans of drained and rinsed chickpeas. Stir well and bring to a boil. Once it boils, reduce heat to simmer for another 5-7 minutes or so.
4. After simmering, remove from heat and let stand for a couple minutes to cool down slightly. REMOVE BAY LEAVES. Carefully pour the soup mixture into a blender and blend until smooth. Be careful not to burn yourself if it splatters!
5. Pour into two bowls and garnish with lemon zest, additional lemon juice, olive oil, and paprika. Serve immediately. Makes 3.5 cups.
[/print_this]
The first time I I made this soup, I followed the original directions exactly, but I found the procedure very lengthy and time-consuming. For this second version, my goal was to simplify the recipe as much as possible. I am really happy with how it turned out.
The first thing you do is sauté the onion and garlic for about 7-8 minutes.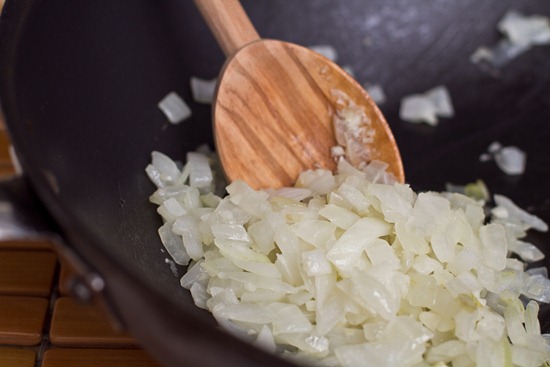 Add in the kosher salt, cumin, bay leaves, and 1 tbsp of lemon juice.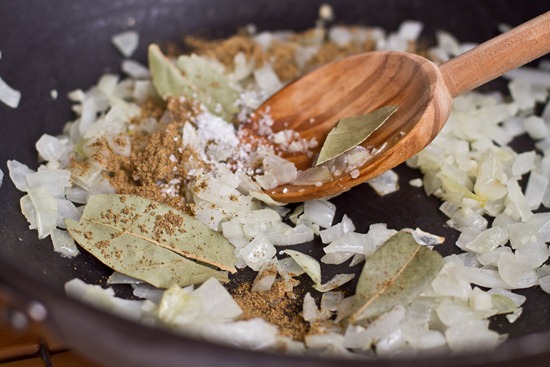 Stir well and continue to cook for a few more minutes.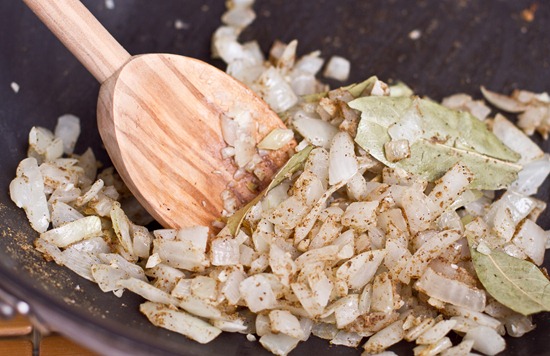 Now add in the 2 cans of drained and rinsed chickpeas, 1 cup veggie broth, 1 cup water, and 1 tbsp of tahini. The tahini is probably optional by the way. I added it in because my favourite hummus has tahini in it.
I'm sure it would still taste good if you don't have any!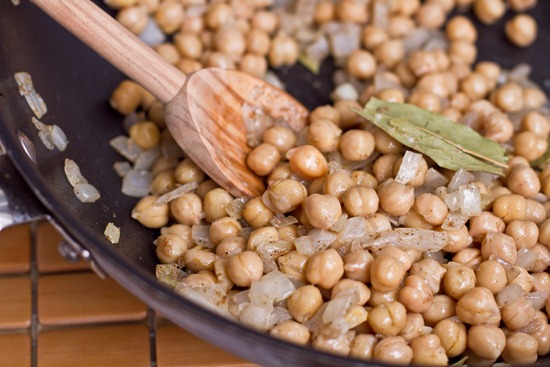 I used full-sodium vegetable broth. If you use reduced-sodium, you will likely have to use more than a 1/2 tsp kosher salt, so always adjust to taste. If it tastes bland, you need more salt and seasonings.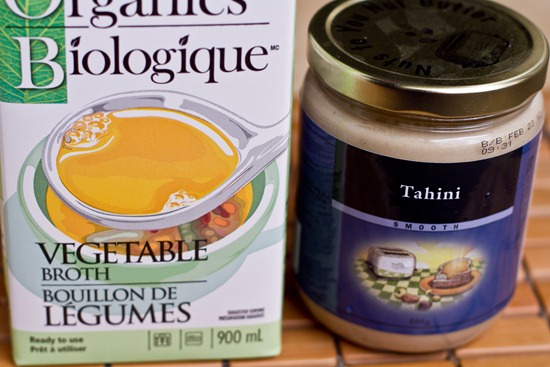 Bring to a boil and then simmer for several minutes.
As I was cooking this, I thought, This soup is nothing special at this stage. It tastes OK and doesn't really have any wow factor.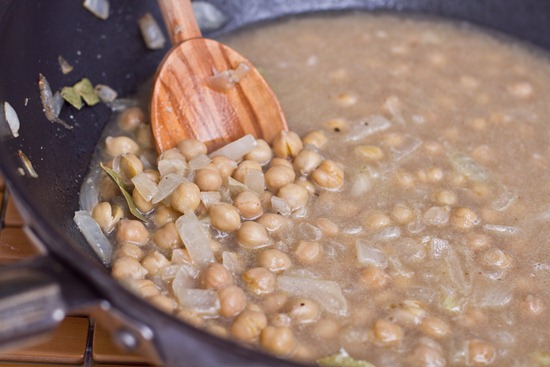 BUT…remove the bay leaves and then,
Pour it into a blender…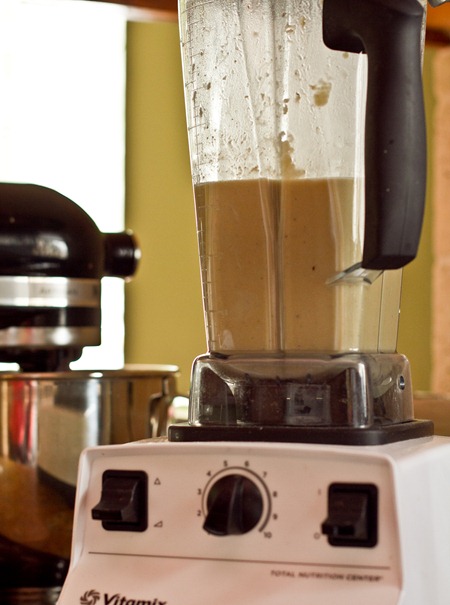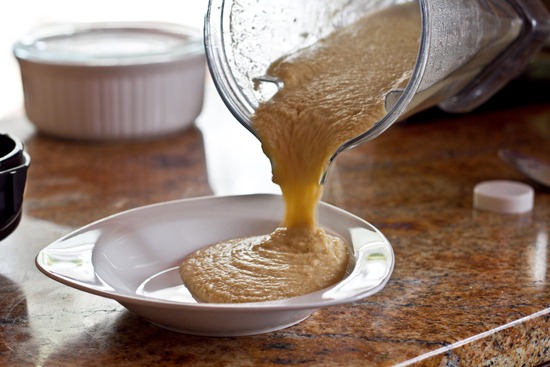 Throw on some fun toppings. Garnish with paprika, lemon juice + zest + wedge, and a drizzle of oil.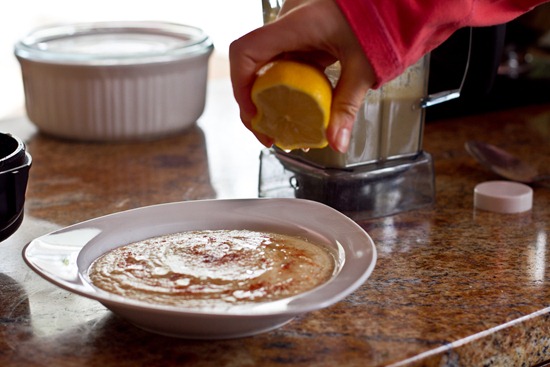 and the soup comes to LIFE!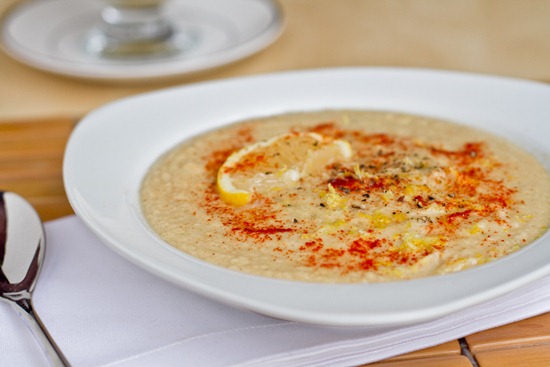 It all made sense to me when I took my first bite.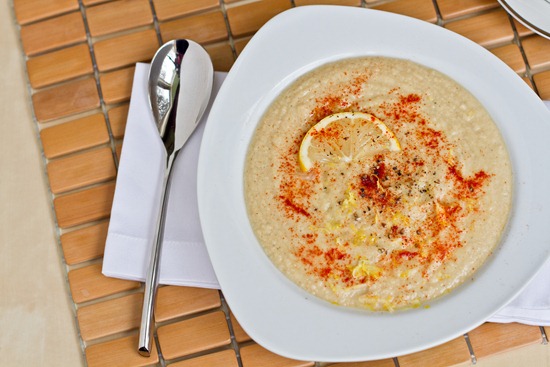 It is creamy, smooth, and if you enjoy hummus you will love this soup. It goes lovely with a big hunk of bread too, but I'm sure that goes without saying!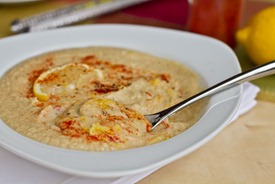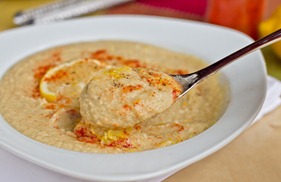 It didn't last a day in this house. I really have a problem.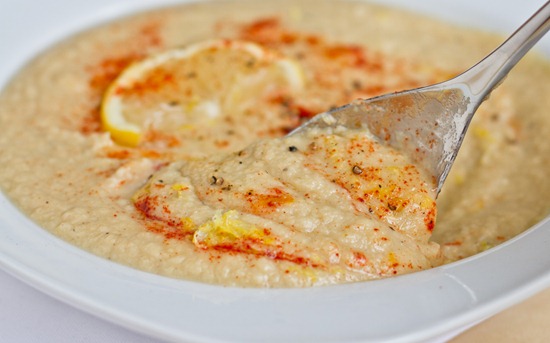 Spoon feeding is highly encouraged. ;)
Oh and by the way, it is amazing warm and poured over a salad. It is almost like a vegan Caesar salad (if it had more garlic!).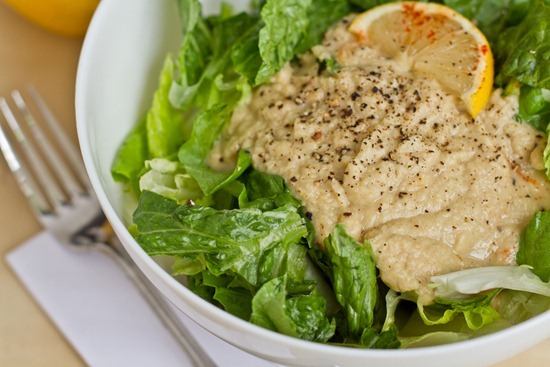 Something tells me I have some shoveling to do…