Good eveeeeening! :)
I thought I would start off tonight's post with my 20th FAQ Installment– twenty baby! Pretty crazy.
FAQ Installment 20
162. Kristen asks, "Hi, I am sorry, but I am new to the blog, so I was wondering if you are all ready married? I have been looking at your beautiful wedding pictures, but then I saw that you are trying to slim down for your dress.  Sorry about being so confused, I am just curious.  Thanks!"
I am sorry for not clarifying this! I totally left my new readers out in the cold on this one. I can only imagine what you were thinking. Lol. No, I didn't leave Eric for a rich sugar daddy! Eric and I were contacted to model in an upcoming wedding photography workshop. In preparation, I am trying to drop a couple pounds so I can zip my dress and feel my best.
163. Sarah asks, "I know you use almond butter instead of peanut butter, but I know that you're trying to also save some money. When I looked at the prices the last time I went to the store, almond butter was nearly twice as much as peanut butter. I know you're making your own now, so it would be cheaper, but I'm wondering why you made the switch to almond butter?"
I chose almond butter over peanut butter because almonds are nutritionally superior to peanuts. Let's take a look at their nutritional profiles below:
This is a chart comparing Barney Butter (made from Almonds) Vs. Peanut Butter: (Click to enlarge)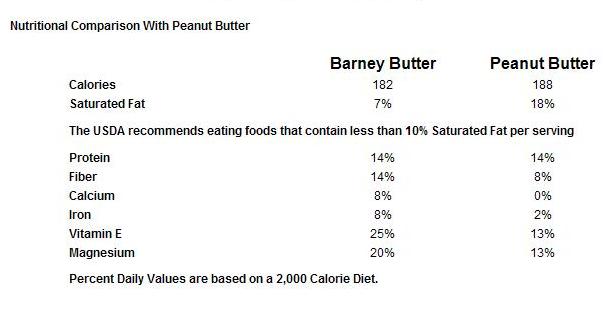 As you can see Almond butter is higher in fiber, calcium, iron, Vit E, Magnesium, and is also lower in saturated fat.
Further, I always buy raw almonds over roasted. Here's why:
"Roasting nuts at a temperature higher than 170F will cause a breakdown of their fats and the production of free radicals. When nuts roasted at the high temperatures used commercially are consumed, the free radicals they contain can cause lipid peroxidation-the oxidizing of fats in your bloodstream that can trigger tiny injuries in artery walls-a first step in the build up of plaque and cardiovascular disease." ~World's Healthiest Foods
164. Marianne asks, "Just curious – is the sodium content for the Green Monster mostly from the almond milk? I was just surprised at the number."
You got it! The majority of the sodium comes from the store bought Almond Milk (150 mg per cup). Sodium is lurking everywhere! For example, Kellogg's raisin bran has almost 350 mg of sodium per cup!!
165. Hallie asks, "Those burgers look great! I was curious, does your hubby eat the same things you do for dinners etc., or do you usually have his-and-hers meals? (Don't mind me if you've mentioned this before, I'm a semi-new reader.)"
That is a great question! Typically Eric eats whatever I cook. lol. He doesn't cook so he typically eats whatever I put on the table, which is great because I have got him eating tons of new foods. He absolutely loves veggie burgers now, for example! He eats St Ives veggie ground round in spaghetti as well. There are foods he doesn't like (he hates soup for some reason) so stuff like that I will just eat myself. He has come a long way from his university diet of chicken fingers, grilled cheese, and Delissio Pizza! He used to hate vegetables with a passion. This firmly supports my theory that the more you present a food to someone, the more they will eventually start to like the food. Familiarity is key. Other times, I just serve him food and don't bother mentioning what is in it. I'll serve him veggie beef spaghetti sauce and he thinks it is ground turkey sometimes! Lol.
166. Michelle asks, "Were you sore at all after using the elliptical?"
Not one bit! *smiles* I am happy to report I did not feel one twinge of pain. It is a great feeling.
167. Kristine asks, "I have a question:  are you trying to lose a specific amount of weight?  Do you KNOW that you gained weight since your injury and how much weight you gained or can you just feel it and you are trying to get back to your "perfect wedding dress weight?"  Sorry, that sounds confusing, haha, but I think you know what I mean! :)  Hopefully!  I just don't know if you are going by specific numbers or on how you feel! Thank you!"
I decided to kick the scale a while back and I knew if I weighed myself now, it could start up the bad habit again. That is the last thing I wanted. The way I see it is, I knew I gained a bit of weight because my dress was tight when it hadn't been last August. I know that the weight will be gone when it fits again. I asked myself, then why do I need to know a specific number? I don't. That is the beauty of it. I prefer to go by how my clothes fit me now, rather than by the often infuriating daily scale weigh ins.
168. Alice asks, "I've been doing the Kath thing with kale and toasting it in the oven – even unseasoned it is like chips. I don't have the guts to smoothie it – though if I did it would probably have to be buried in mango or raspberry or some other delicious fruit… Would raw cacao compliment the bitterness or be an abomination?"
To be honest with you, I really don't know. I tend to think that raw cacao is pretty bitter, so I would tend to think not. But perhaps a small amount would work. Personally, I find that bananas are the best thing to hide the bitterness of the kale. Smoothie combinations are hit and miss; you just need to take a leap sometimes to find what you like best. They are not a one size fits all. But it is so pleasing when you literally throw in random stuff and it comes out tasting great!
169. Carrie asks, "I would appreciate some tips on how to give up my sugar addiction."
See my Crap Free Week posts, where I talk a little bit each day on beating my sugar addiction. :)
170. Wiggs asks, "Could you explain to us a little bit about how the exercise machines calculate the calories burned, and how reliable this measure is?"
I actually use a Polar Heart Rate Monitor, the RS200 model. I love it and have had absolutely no problems with it. The strap goes around my chest and then I wear the watch. I also bought the Foot Pod that measures running distances, but I only wear it when outdoors. I have noticed that the exercise machines tend to overestimate my calorie burn by 50-150 calories. It varies a lot.
Thanks for all the great thought-provoking questions! Keep em coming! :)
Afternoon Snacks
Pre-gym: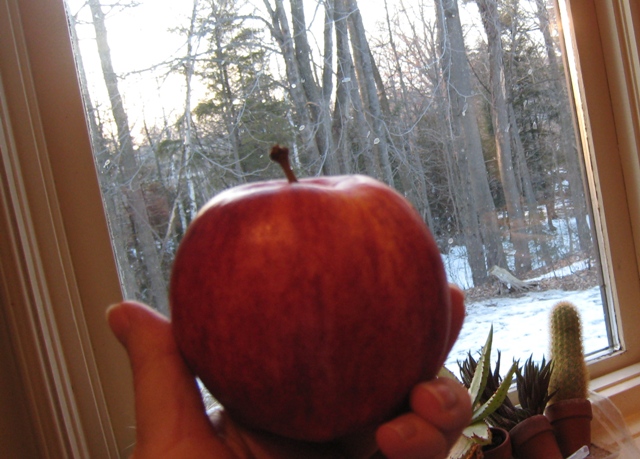 Workout:
My workout today was the elliptical once again! For some reason, today's workout went at a snail's pace. Well, I know why it did. It was because all there was on the TV was sports news, and two bad soaps. I didn't get to see Thr Dr's and I didn't have any workout music! Makes for a slow workout…but I'd still take it any day over an injury.
Duration: 37 mins
Incline 12, resistance 10
Feel the burn: 349 kcals
Max heart rate: 178 bpm
Avg heart rate: 161 bpm
Post-workout snack: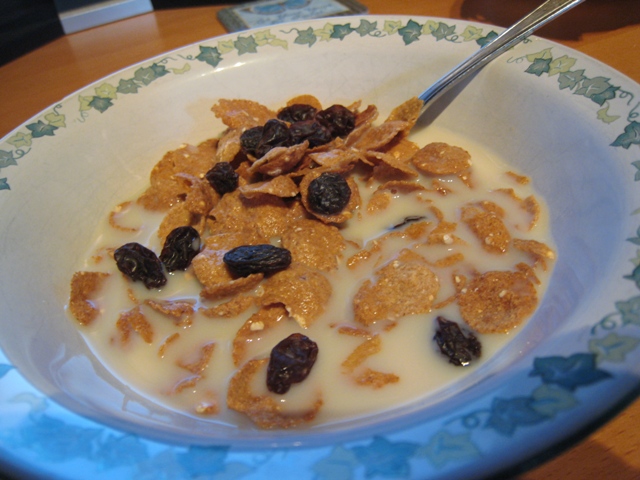 Spelt cereal + low fat soy milk + raisins. After this bowl I had a few more handfuls ;) Hey, I had to finish the 'crumbs'! lol.
Wedding Dress Plan: To help control portions, I used the smaller cereal bowl as opposed to the bigger one I normally use. Remember- smaller plates trick the eye to thinking you are eating more food!
 I also had a carrot with a couple tbsp. of avocado spread on it. Sorry about all the carrots lately, our fridge is desperately empty right now!! I am using up every last veggie and fruit.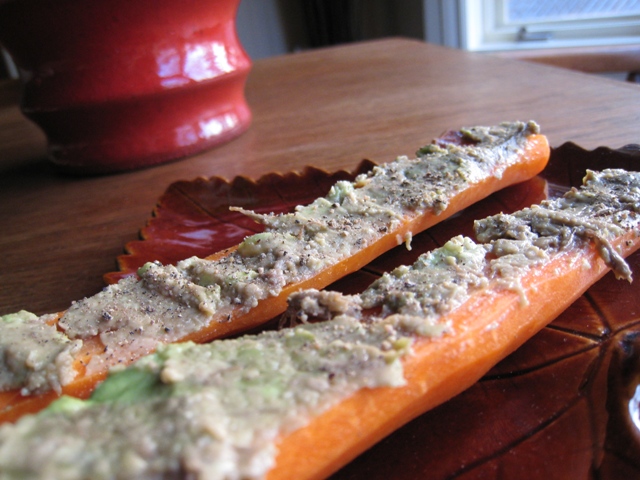 I loooved this combo!
Dinner: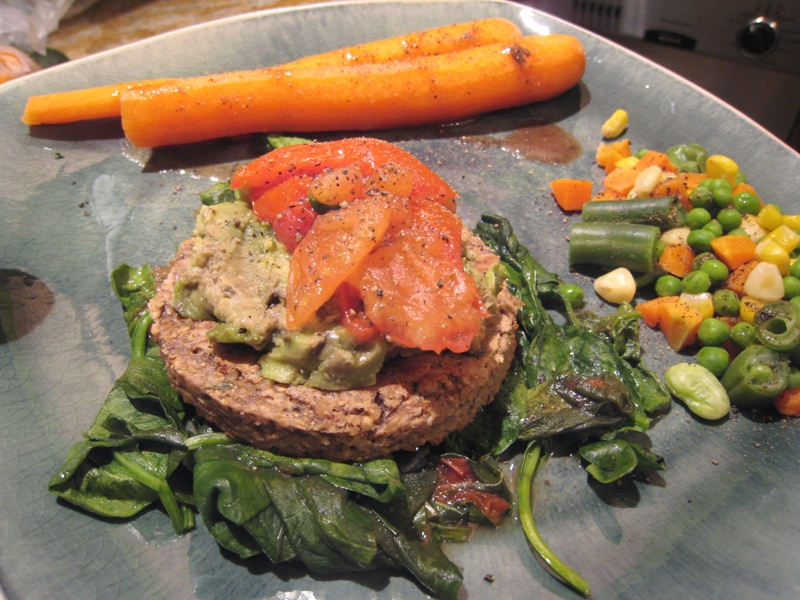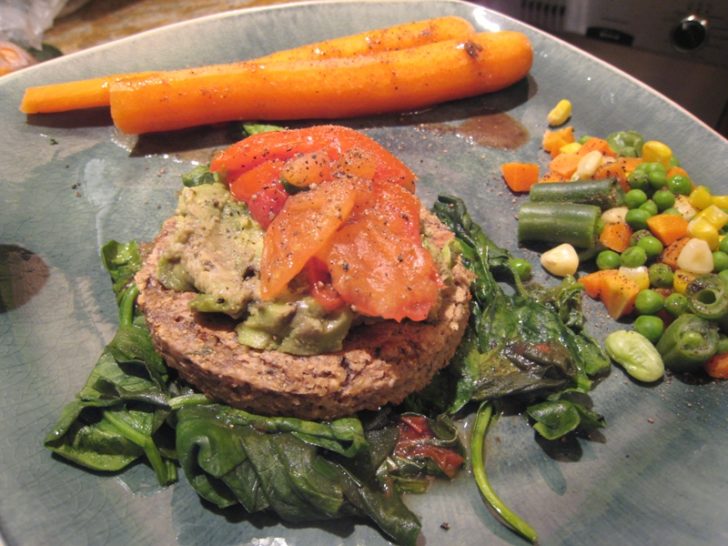 The spread:
1 Amy's Veggie Burger
2 handfuls baby organic spinach, sauteed in Kraft light balsamic vinagrette
2 tomato slices, sauteed in the above
1/2 cup frozen mixed veggies, boiled
2 raw carrots, drizzled with balsamic vinagrette
ground black pepper
1/2 avocado
Wedding dress plan: My 'bun' tonight was the delicious bed of spinach! I swear I enjoyed this bed of spinach more than actual bread. I saved about 150 calories by using the spinach in replacement of the bun.
Eric didn't eat all his veggies because I forgot he hates vinegar and I drizzled the vinagrette on his veggies by mistake. I happily cleared his veggies off his plate and had another 1/2 cup or so. Eric goes nuts over these veggie burgers though. They really are amazing and worth every penny ($7 for 4 patties!). And yes, I have contemplated making them myself…some day!
Dessert:
A juicy Orange! YUM!
Angela's Friday Challenge:
Did anyone try the mirror challenge today? I sure did. And I thought I would post some geeky pictures to document it: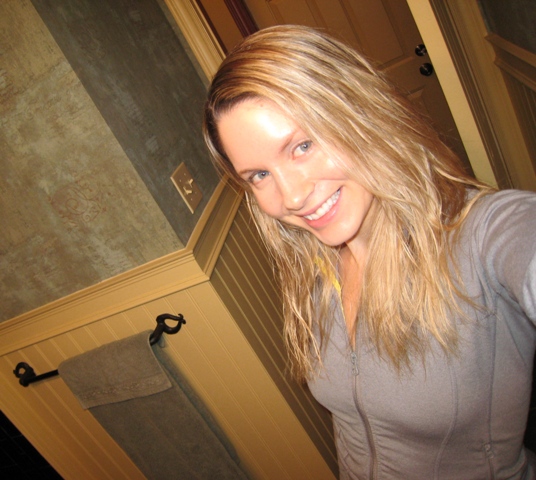 Yup, I felt silly. But I admit it did put a little bounce in my step.
 Negative thoughts POOF-BEE-GONE!
Oh She Glows Announcements:
1) For the Canucks- "10 reasons I love Canadians: From 'eh' to 'zed'" from I Am The Beholder. This post cracked me up!
2) You only have 2 more days to enter for your chance to win a copy of 30-Day Shred. What? You are getting sick of reading this? Well, I am damn near sick of posting about it! lol.
3) The launch of the new and wonderful Oh She Glows website is set for either tomorrow afternoon or Sunday– stay tuned for updates! I am going to work on it now to polish it off. I can't believe we Eric put this together in a week!
Have a super fun Friday night everyone!