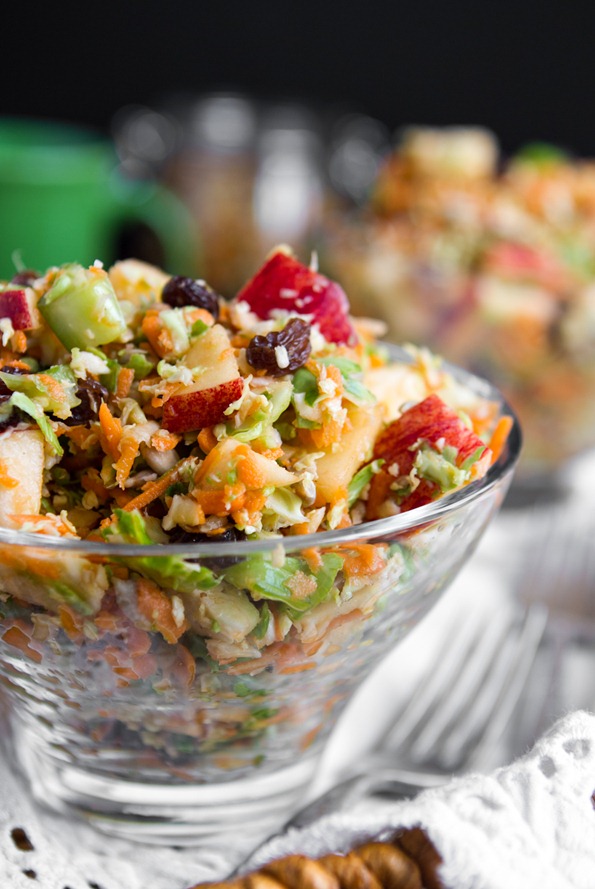 Thank you, thank you, thank you for making the Hurricane Sandy fundraiser such a success! As of Monday morning, we've raised an unbelievable $8,075. I've heard from so many of you all over the world who've donated and it really warms my heart to see so much support pour in.
As some of you may have noticed on Friday afternoon, we have a brand new fundraising page. A team member from Canadian Red Cross, Catherine, reached out to me on Friday offering us a fundraising page with zero transaction fees. Of course, I jumped on it. A big thank you to the entire Red Cross team who put together this spiffy web page in such a short amount of time.
If you donated through the original Canada Helps fundraising page – first, thank you, and second, please rest assured that I've added all of your names to my giveaway spreadsheet. The same goes for those of you who left your emails in the comments.
Due to the response this fundraiser has had, I'm extending the giveaway until the end of the day on Wednesday November 7th. This is also the same day my blogiversary Blendtec giveaway (don't forget to enter!) ends, so I will announce winners from both giveaways in my following post. As for the fundraiser itself, well, I'll keep that running as long as it's raising money. You can now find it on the right sidebar of my blog.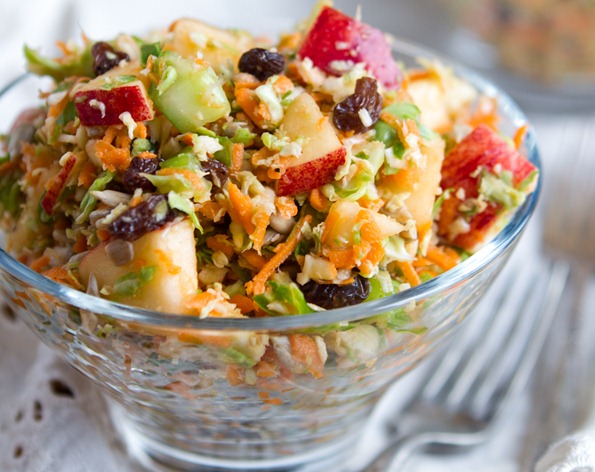 Now, let's talk feel good foods. This crunchy, nutritious, vibrant salad is what I like to call a bowlful of balance during a chocolate-filled October. I made this last week when my body declared it was time to give the Halloween candy a rest. The Detox Salad was on my mind, but I had to improvise with ingredients on hand – Honeycrisp apples, brussels sprouts, carrots, and celery. It turned out lovely! After I polished off this salad in less than 24 hours, I felt good enough to resume Twix eating once again. See? Balance.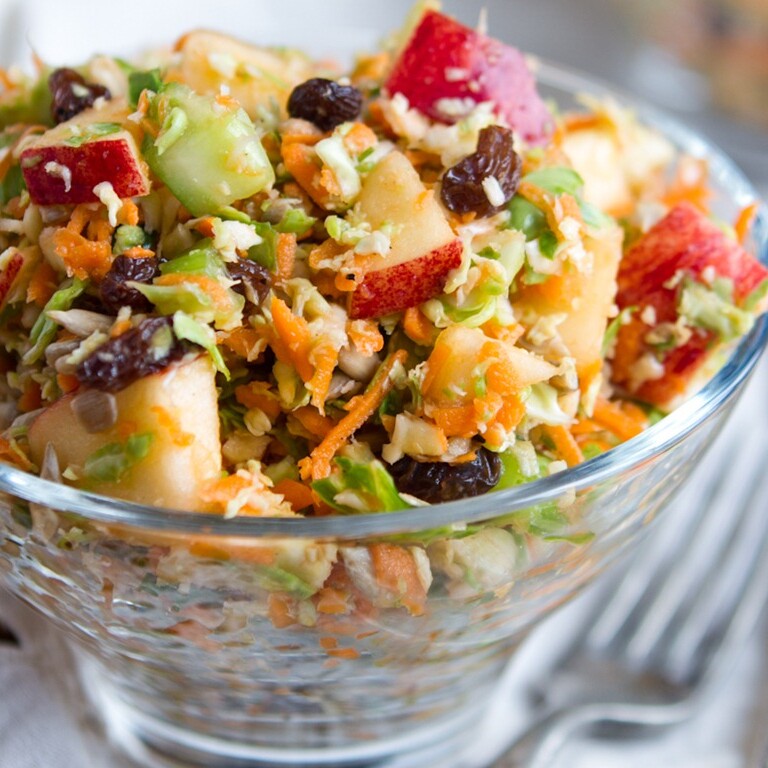 Fall Detox Salad
Vegan, gluten-free, oil-free, soy-free

Yield

8 cups
Prep time

Cook time

0 minutes
Total time

Ingredients
400 grams brussels sprouts (about 18), washed and stems removed
280 grams carrots (about 2 large), peeled
1 apple, diced (I used Honeycrisp)
1 large celery stalk, diced
1/2 cup sunflower seeds
4-6 tbsp raisins
2-4 tbsp fresh lemon juice, to taste
1/4 tsp fine grain sea salt or Herbamare, or to taste
1 tsp fresh Thyme leaves (optional), or other herbs of choice
Pure maple syrup, to taste
Directions
Add the grate/shred blade to food processor. Turn machine on and drop in the brussels sprouts to shred. Now drop in the carrots to shred. Alternatively, you can finely chop brussels and shred carrots with a hand-held grater. Transfer to a large mixing bowl.
Stir in the diced apple, celery, sunflower seeds, and raisins into the carrot and brussels sprout mixture.
Add lemon juice, salt, pepper, and optional fresh thyme to taste. Add a small amount of maple syrup (about 1/2-1.5 tsp) to take the edge off the lemon juice. Sprinkle with cinnamon if desired. Serve & enjoy!
Nutrition Information
(click to expand)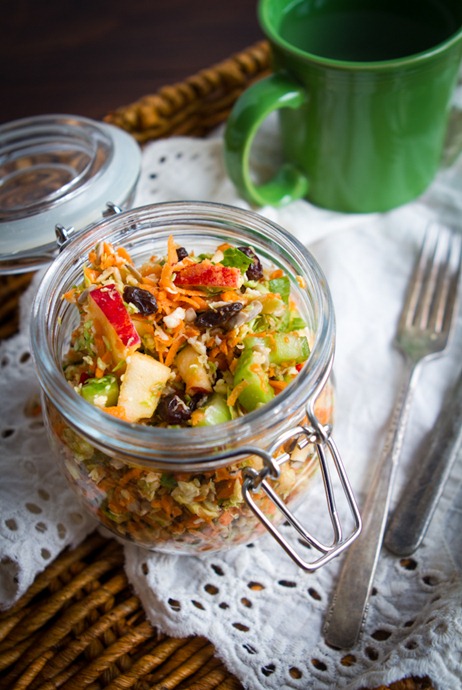 You may notice my blog header no longer looks like a gardening blog. I'm happy to be back to food – to be honest, I don't know what I was thinking with my last header. I now have an artist working on my blog logo, so that should be ready to show you by the end of the year. Baby steps… :)