Happy Friday night!
It has been a long time since I have done a fashion post on Oh She Glows!
The following trend report was inspired by Fashionising.
Trend #1: Over The Knee Boots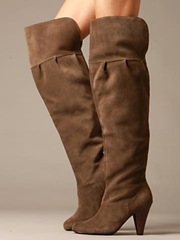 Boots are on the rise and getting higher and higher. From over the knee to thigh high, the sky seems to be the limit this Fall and Winter.
How I would wear this trend:
I love tall boots. I would happily purchase a pair of boots that were just over the knee. I think that is the perfect height for boots- especially here where the snow banks are frequently knee high or more. I don't really think thigh highs are really practical for me.
Trend #2: Ankle Boots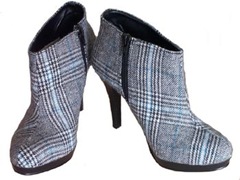 When I go to Toronto, it seems as if every woman is wearing some type of ankle boot! They are definitely the most popular trend right now.
How I would wear this trend:
At first glance, I did not like ankle boots and could not imagine wearing them myself, but I will admit they are starting to grow on me! Who knows if I would ever spend money on a pair though because they aren't very practical in the wintertime.
Trend #3: Capes, Cloaks, Wraps, and Shawls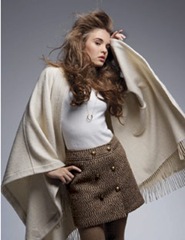 Wrap it, cloak it, and cover it. Whether you like them short and fitting or long and loose, there are a ton of wraps this season for you to select from.
How I would wear this trend:
I own a few Pashminas that I have purchased while traveling. I love them because you can dress them up or down. I used to bring them to classes or use them as a wrap for an elegant dinner out. I have never owned a cape, but I think they look really cute when they are cropped. My BIL's girlfriend has a cute cropped cape. She wears a form fitting knit sweater or turtleneck underneath and it looks really nice with the arms peeking out.
Trend #4: Female Dandy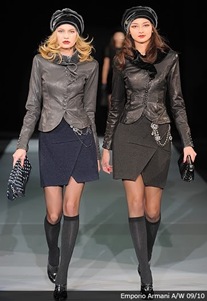 Prim, proper, and oh so fussy, dandy fashion is a huge trend this season. Belt it, jacket it, button it, and cap it. British fashion, high collars, tailcoats, and slim cut jackets are all ways you can make a statement. Just make sure to set your alarm extra early.
How I would wear this trend:
I love the look of this trend, but I wouldn't climb on board. Generally, it seems too fussy for me and I don't spend a lot of time putting together complicated outfits and getting dressed.
It also looks a bit uncomfortable. I am all about the comfort (unless that happens to be my 4" stilettos)!
Trend #5: Chunky Knits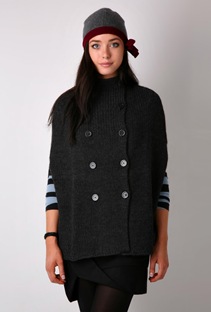 Chunky knits can come in all forms from sweaters and jackets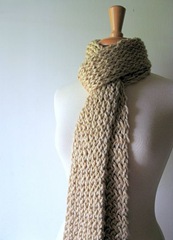 to hats and scarves. Trends include super, over-sized clothing and slim-cut and form-fitting knits.
How I would wear this trend:
I am not a huge fan of chunky knit sweaters (I always feel frumpy in them), so I would probably wear this trend with a huge chunky scarf or hat. I love those!
Trend #6: Ripped Tights and Stockings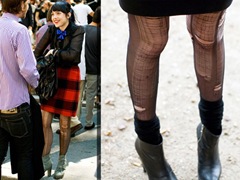 The Shred isn't just for Jillian Michaels anymore. Shred it, bend it, rip it, and tear it. Fashionising suggests wearing tights with lots of shredding or you will risk looking like you had an unfortunate run in your tights on the way to work.
How I would wear this trend:
I wouldn't.
Call me old fashioned but this is way out of my comfort zone. ;)
Trend #7: See through clothing
You have probably seen celebs everywhere wearing sheer and see through clothing to make eyebrows raise. Sheer and layered fabrics seem to be everywhere this season leaving many of us questioning how we would ever wear that in real life.
How would I wear this trend?
Sheer fabrics = beautiful. See Through? Not for me!
Trend #8: One-shouldered Dresses and tops: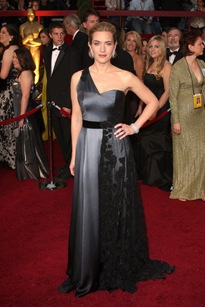 This trend seems like it has been around forever now!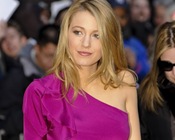 Apparently, we should only expect it to continue into the winter.
From swimsuits to elegant dresses, whatever piece of clothing you are looking for on top, you can probably guess that stores will have it in a one-shoulder option.
How I would wear it:
I love one-shoulder tops and dresses and I have owned a few over the years.
I find that they highlight the shoulders and arms in an elegant and subtle way without showing too much.
Trend #9: Military Trend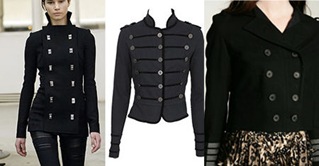 Gold detailing, skinny pants and military jackets are all ways you can jump on the military bandwagon this season.
How I would wear it:
I love military jackets and I am just itching to get my hands on one. However, I don't love all of them. I would be most likely to purchase a jacket like the one above on the far left. It is cute, embellished, but not over the top.
Trend #10: Ripped Jeans and torn demin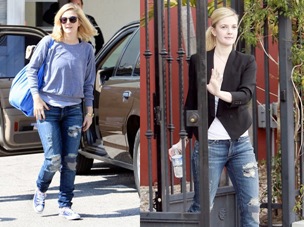 The grunge of the 80's is back whether we like it or not. From ripped skinny jeans to baggy hole-filled demin, there is something for the grunge in all of us.
How I would wear this trend:
I don't know about you, but I still have bad memories of wearing jeans with holes in them in high school. I used to purposely rip holes in my knees! Oh, my poor mother!!!! hahaha. I have absolutely no desire to have this trend resurface in my closet.
I'm curious…What Fall/Winter Trends would/do you wear?
What trends are currently popular in YOUR city?

See you tomorrow. I will be telling you what GREEN costume I may sport this Halloween!