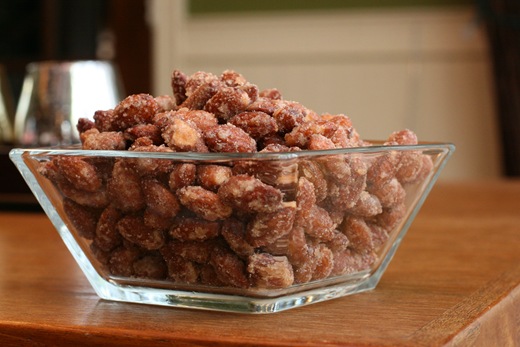 I first tried Candied Almonds at Thanksgiving. I was in love.
I filed Candied Almonds away in my mental 'must make before I die, but preferably sooner' folder.
With our 1st Annual Ugly Christmas Sweater Party coming up this Friday, I knew I had to make an appetizer game plan– it is already Wednesday and I haven't had a chance to even think about the party, let alone what Ugly Sweater I am going to wear!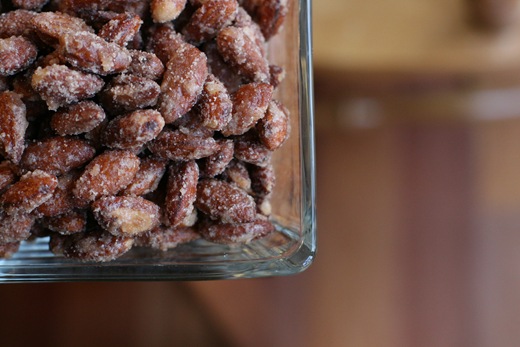 Vegan Candied Almonds
I used David Lebovitz's Candied peanuts recipe and modified it, of course.
Ingredients:
4 cups raw almonds
2 cups Turbinado sugar
1 cup water
a sprinkle of fine grain sea salt
1 T vegan margarine
Directions: Place sugar, water, margarine, and almonds into a large saucepan. Mix well and place over medium heat. Stir frequently making sure the sauce coats the almonds. After about 10-15 mins. the almonds will appear to harden and dry out, don't worry this is normal. When this happens place over low heat to avoid burning. When there is no syrup left, sprinkle with sea salt, and remove from heat giving one final stir and let cool completely before transferring to an air tight container.
For more detailed directions and photos, see here.
Am I ever glad that I made a double batch!!! It made this sized bowl plus another 1.5 bowls!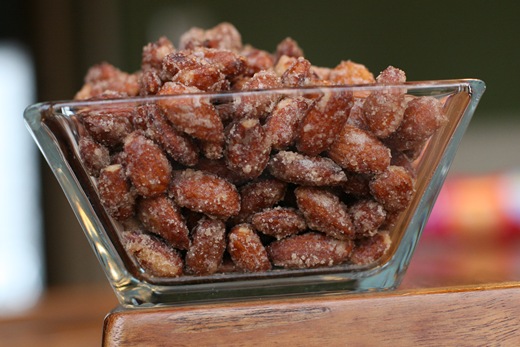 This is what I like to call Splurge Worthy.
I think this appetizer will go very quickly at the party. :D Hopefully I can get some too… ;)
Have you ever had homemade candied nuts? Do you like them? Have you ever made them yourself?
~~~~
Forgot to mention, Whittle My Middle recap is up on the abs page! Today's workout is also on the run page.
Stay tuned for more Holiday vegan appetizers leading right up to the party! I can't wait to show you what else I am making.
Have a great day everyone!