Oh do I have a fun treat for you today. It showcases one of my old favourites – carob. Have you tried carob powder before? The pods of the tropical carob tree contain a sweet pulp which is dried, roasted, and ground into powder form. Carob is caffeine-free and contains antioxidants as well as calcium, iron, potassium, and fibre. I love mixing a spoonful of it into my vegan overnight oats, banana soft serve, homemade almond milk, or tossing some into a smoothie for a natural sweetener. I usually buy it in bulk from Bulk Barn (a great way to sample it if you are on the fence), but certain brands like Bobs Red Mill also sell it by the bag in many grocery stores and you can also find it online.
Here's the kicker –
carob powder is naturally sweet which reduces the need for a lot of added sweeteners in a recipe – a total bonus if you ask me. If you can get over the fact that carob doesn't taste like chocolate, you are golden. Some people say carob has a flavour similar to dates. I think that's a better comparison, but you really just have to try it for yourself!
The makings of freezer fudge…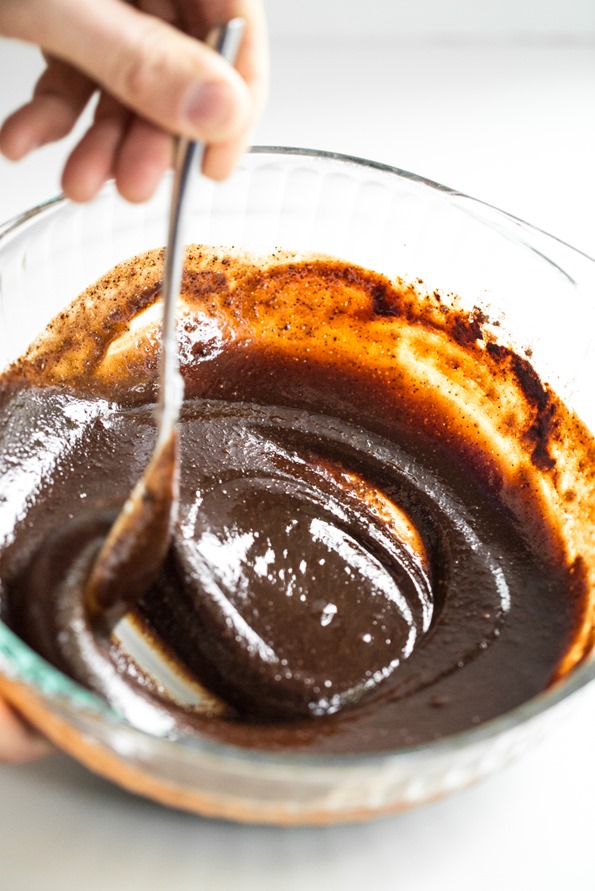 In this recipe, I paired carob with a touch of cocoa powder to add some chocolate flavour. You really can't go wrong when these two powders are combined as you get the sweetness from the carob and the rich chocolate flavour of the cocoa powder. Of course, if you want to skip the cocoa powder all together you can do that too. Or if you want to use all cocoa powder you can try that, although you'll need to add more liquid sweetener to the recipe to make up for carob's lost sweetness.
I worked off my favourite Seductive Raw Chocolate Walnut Freezer Fudge and this carob variation was born. This recipe has a fraction of the added sugar (about 75% less), but I promise you won't notice anything is missing. Now that's my kind of treat. Best of all it takes 10 minutes to whip up and only another 20 minutes to set in the freezer. The only downside is that the hubby keeps eating it all on me!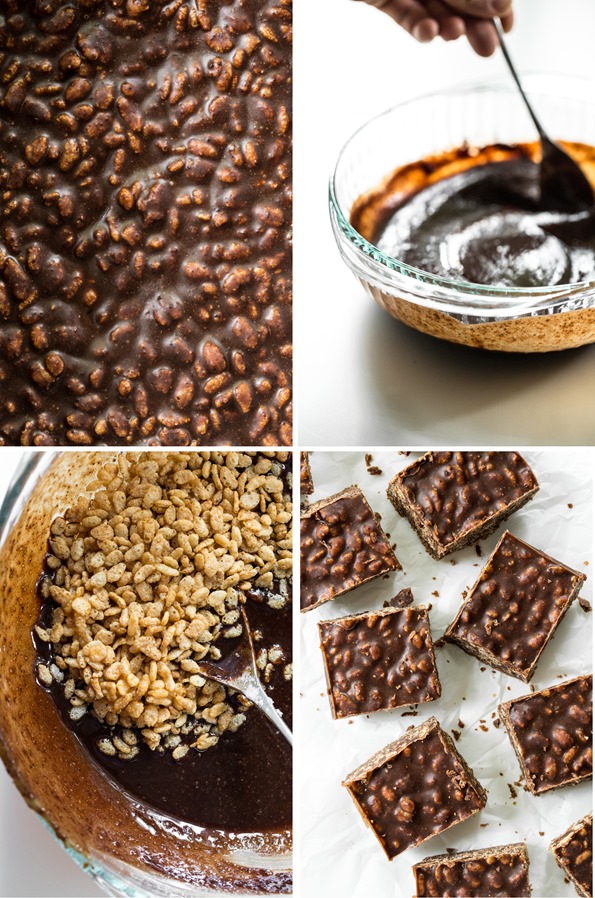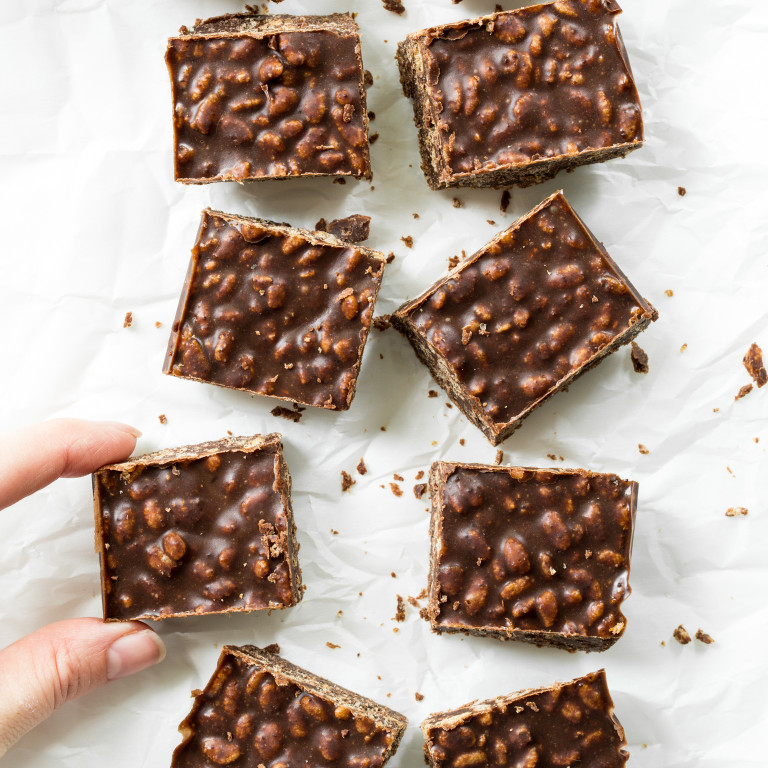 Carob Almond Freezer Fudge
Vegan, gluten-free, no bake/raw, refined sugar-free, soy-free

Yield

10 large or 16 smaller squares
Prep time

Cook time

0 minutes
Chill time

20 minutes
Total time

Ready in 30 minutes, this carob freezer fudge is low in sugar while still tasting quite decadent. Feel free to change up the nut butter, sweetener, and mix-ins as you see fit. The coconut oil is necessary in this recipe though as it helps solidify the fudge when chilled. It melts quickly so be sure to enjoy it straight from the freezer and don't let it sit on the counter for more than a couple minutes.
Ingredients
1/2 cup virgin coconut oil, melted
1/4 cup creamy natural almond butter (roasted or raw are both fine)
1/4 cup carob powder, sifted
1 tablespoon unsweetened cocoa powder, sifted
2-3 tablespoons pure maple syrup (or liquid sweetener of choice), to taste
1 teaspoon pure vanilla extract
1/8-1/4 teaspoon fine grain sea salt
1/2 cup gluten-free rice crisp cereal (to add crunch - optional)
Directions
Line a very small loaf pan (4" x 8") with plastic wrap for easy removal.
Mix all ingredients together in a large bowl until smooth.
With a spatula, scoop the mixture into the prepared pan and smooth out.
Freeze for about 20 minutes, or until solid.
Slice into squares and enjoy! Store leftovers in a container in the freezer as it melts quickly at room temperature.
Nutrition Information
(click to expand)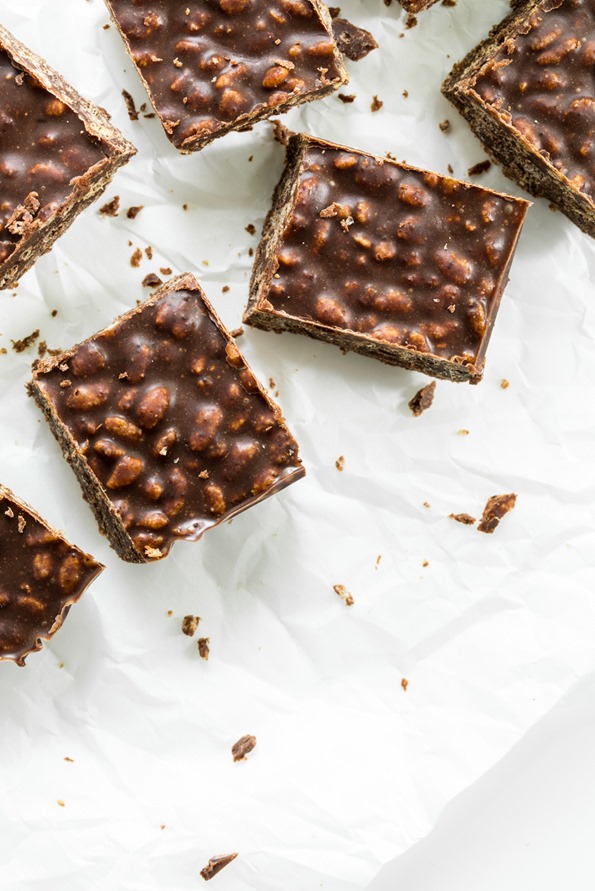 pssst – Bonus recipe alert! Carob powder makes a healthy "frosty" too. Just blend 1 large frozen banana, 1 1/2 tbsp carob powder, 3/4 cup almond milk, 1/2 teaspoon vanilla extract, 1 tsp cocoa powder, 1 ice cube, and 1 tbsp chia seeds until smooth, icy, and thick. Absolutely delish! It reminds me of the Wendy's frosty drinks of my youth.